Approximately eight percent of the UK population don't speak English as their first language, which can often present a big challenge for companies who want to make their communications accessible to everyone.
Wyvern Business Systems is an IT solutions provider which offers a complete range of IT services including a comprehensive online assistive technology software training portal for students.
With over 700 training videos it has been designed to help students with any query they have about using mainstream assistive technology software.
In order to make their online training portal and company website accessible to the growing numbers of students in the UK who don't speak English as a first language, Wyvern Business Systems turned to Recite Me.
We added the Recite Me custom toolbar to Wyvern Business Systems online training portal and website so that users can quickly and easily adapt them the way they need the sites to work for them. Users can now translate the content into over 100 languages at the click of a button.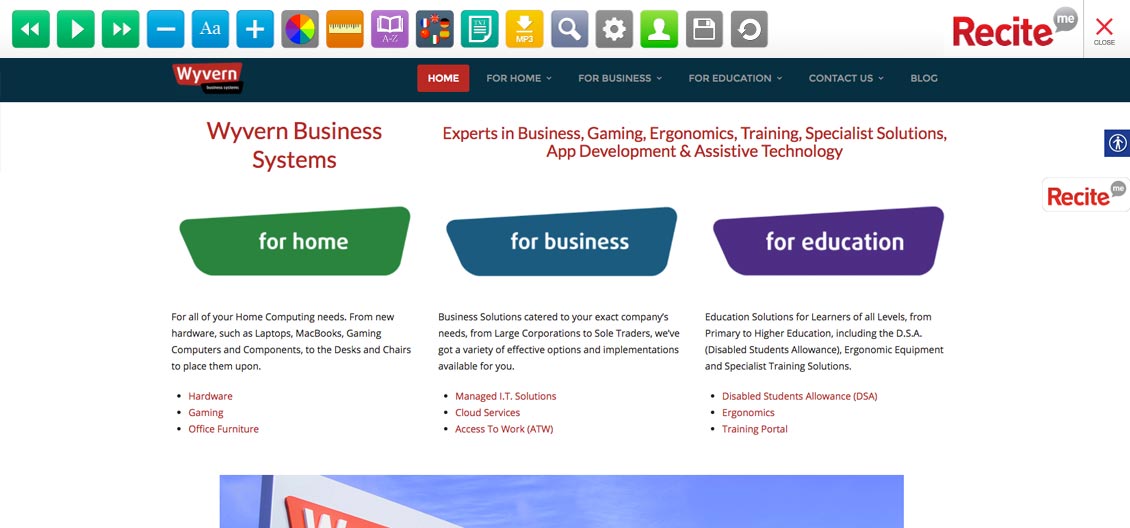 Recite Me's custom toolbar also provides Wyvern Business Systems with an easy way to make its training portal and website accessible to people with a learning difficulty, disability or sight loss.
Visitors can use Recite Me to do things such as change font sizes and colours, select a text-only version of the site, read text aloud (including PDFs), and customise the background colour.
David Atkinson, Wyvern Business Systems Business Development Manager, said the company was very pleased with the results.
"Recite Me has many benefits for us and it is a great tool. It's essential for us because our online training portal is aimed at students, many of whom don't speak English as their first language.
"Recite Me can now translate the training portal content into over 100 languages to make it accessible to everyone.
"Also, we think our company has a lot of empathy for people with learning difficulties and Recite Me is great because it makes our website and online portal fully accessible to them.
"Recite Me is great value for money compared to other similar products we looked at it, whilst it also outperforms them in terms of layout and ease of use."
To find out more about adding Recite Me's toolbar to translate your web content into over 100 languages book an appointment for a product demonstration and free 30-day trial now.