Web accessibility efforts are not a new concept in the European Union. Ever since the early 2000s, initiatives like the European Disability Strategy have been continuously pushing for more functional ways to provide equitable online experiences for EU consumers.
However, the introduction of the European Accessibility Act (EAA) has pushed web accessibility to the forefront of diversity and inclusion conversations across the continent in the last few years. Yet, there are still many questions about the pre-existing EU Web Accessibility Directive, how it differs from the new European Accessibility Act, and what it means for businesses.
Here's everything you need to know.
Who Needs Help with Digital Accessibility?
Research shows one in four Europeans (24%) have a disability. That's 87 million people. Of that number, around 70 million (about 80%) have neurological, cognitive, and linguistic disabilities. Many of these are invisible, but can still significantly impact people's ability to access information and services online. Examples include:
Visual impairments like blindness, partial blindness, deaf blindness, and colour blindness.
Neurodivergent traits like dyslexia, dyspraxia, hyperlexia, and dysgraphia.
Learning disabilities.
Language barriers.
Hearing loss.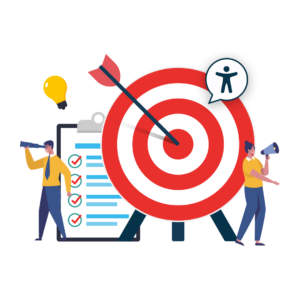 What is the EU Web Accessibility Directive and How Does it Help People?
Implemented in 2016, the EU Web Accessibility Directive is the most comprehensive of all continent-wide accessibility efforts to date. It is a 15-page directive that requires public sector websites and associated third-party vendors to meet minimum accessibility standards. This helps people by ensuring that essential service providers:
Provide an accessibility statement for each website and mobile app.
Design a feedback mechanism so users can flag accessibility problems or request information published in non-accessible content.
Are subject to regular monitoring and reporting.
What is the Difference Between the EU Web Accessibility Directive and the European Accessibility Act (EAA)
Both pieces of legislation aim to improve digital accessibility for people with disabilities. However, there are some key differences in terms of scope and the types of products and services they address.
Scope
EU Web Accessibility Directive addresses the accessibility of websites and mobile applications of public sector bodies within EU member states. In contrast, the European Accessibility Act (EAA) has a broader scope. It addresses accessibility requirements for private manufacturers and providers as well as public sector organisations.
Products and Services
The EU Web Accessibility Directive focuses primarily on the accessibility of digital content and services, with a specific focus on websites and mobile applications. The EAA addresses the accessibility of products and services beyond digital content, including physical technologies like smartphones, computers, ATMs, ticketing machines, e-books, etc.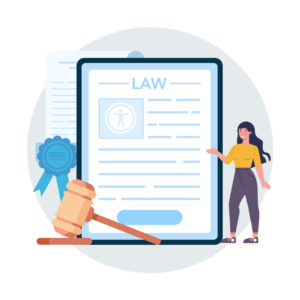 What Does the EU Web Accessibility Directive Mean for Your Organisation?
Broadly speaking, the EU Directive requires organisations to:
Design, develop, and maintain products and services in a way that ensures accessibility for people with disabilities.
Provide information and documentation in accessible formats, such as Braille, audio, and easy-to-read structure and layout.
Ensure websites and mobile applications are accessible to individuals who use assistive technologies such as screen readers and keyboard-only navigation.
If you're based in the European Union and your company is a public sector organisation or a third-party supplier to a public sector organisation, your website and mobile apps should already be in alignment with these expectations as the deadline for compliance was September 23, 2020 for websites and June 23, 2021 for mobile applications.
What Are The Specific Standards For Compliance
The Web Accessibility Directive is a 'minimum harmonisation' effort. That means the requirements stipulate the absolute minimum that public sector bodies across the EU must do to comply. So, it's likely some Member States may introduce additional measures that go beyond this.
There are detailed national transposition measures by country, and for specific regulations, organisations are directed to Standard EN 301 549 of the Accessible ICT Procurement Toolkit, which refers to the Web Content Accessibility Guidelines, version 2.1.
If you're not sure where to begin on your compliance efforts, familiarising yourself with the WCAG version 2.1 Level AA is the best starting point, as this is typically the minimum reference point used when discussing 'making a website accessible.'
What are the Web Content Accessibility Guidelines?
WCAG standards and updates are published by the Worldwide Web Consortium (W3C). The W3C was founded in 1994 to develop a common set of principles for the benefit of all internet users. Several member organisations and industry leaders contribute to W3C documents, including Tim Berners-Lee, the computer scientist credited with the invention of the World Wide Web.
WCAG was developed to be used by anyone involved in building and maintaining a website, including:
Web developers
Content writers
Graphic designers
Tool developers
Accessibility testers
Anyone else seeking to learn how to implement accessible online journeys.
What Are the Risks of Non-Compliance?
Organisations that fail to comply with the EU Web Accessibility Directive may face financial consequences in the form of fines from governing bodies and costly legal challenges from advocacy groups and individuals with disabilities.
What Changes Should Your Web Masters Have Made Already?
You can download our free Webmaster's Guide for a full list of criteria, but these are the first 8 steps we recommend companies to follow for a website that's easier to read, focus on, and understand.
Use a content management system that supports accessibility.
Utilise headings correctly to structure your content.
Include alt text for all images.
Give descriptive names to your links.
Be mindful of colour use and colour contrasts.
Ensure forms are designed for accessibility.
Optimise responsiveness on all device types (mobile, tablet and desktop).
Enable keyboard navigation.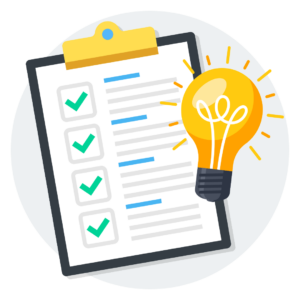 Online Accessibility and Inclusion Toolkit
This year we published our Digital Inclusion Toolkit that was developed to help businesses make a real difference to the lives of the millions of people around the world who encounter online barriers. The 40 page document provides practical advice covering the complete landscape of online accessibility from how to write an accessibility statement to our top tips for providing an inclusive recruitment journey.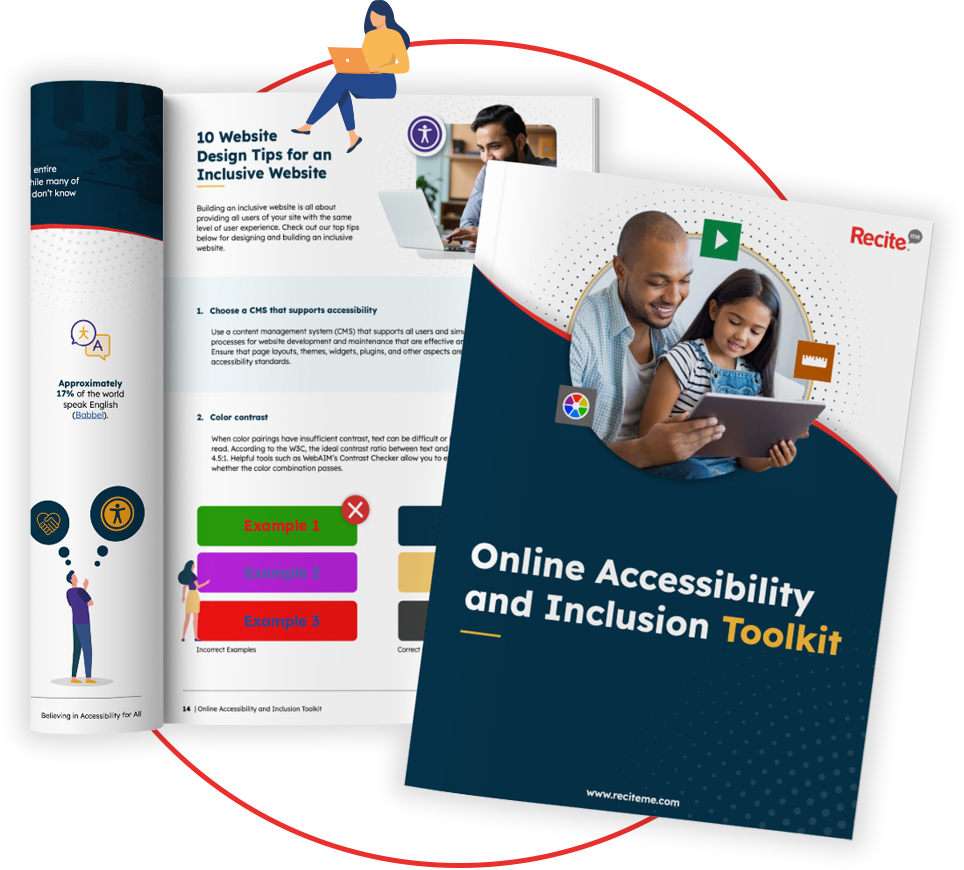 EU Web Accessibility Directive Compliance Made Simple
The Recite Me Accessibility Checker is changing the way organisations address web accessibility compliance issues on their websites. It audits back-end and front-end web development processes by running 390 separate compliance scans in line with WCAG 2.1 and breaking down the issues you should be working to fix, track, and share.
Step 1: Scan
The scan report includes an overview of errors, their location, and a comprehensive list of actionable steps to fix them.
Step 2: Check
Our software identifies areas of non-compliance and shows you what to fix and check in which order for the most significant improvement against your efforts, investment, and time.
Step 3: Track
Compliance tracking helps you manage your web accessibility improvements over time, with inbuilt guidance on which changes to make in what order and how to manage your fix queue.
Step 4: Share
You can share your accessibility reports, fix lists, and engagement analytics to demonstrate your commitment to developing an accessible website.
Start Your Web Accessibility Journey Today
The Recite Me team is here to help you build an inclusive and compliant website and save you time and money by highlighting what needs to be fixed first.
Get started today by contacting our team for more advice about the European Accessibility Act and how it affects your organisation, and run a free scan of your website for WCAG 2.1 AA compliance.