The Equality Act as we know it today came into place in 2010, updating a number of anti-discrimination laws relating to race, gender, age, disability, religious belief, and sexual orientation, among other factors. It encompasses information previously found in the Equal Pay Act of 1970 and the Disability Discrimination Act of 1995, and is the go-to piece of legislation that companies need to consider when it comes to making their websites accessible and inclusive.
Equality Act of 2010
Since the Equality Act came into effect, website owners have been obliged by law to ensure that their websites are accessible to all users, as it is illegal to treat those with disabilities less favourably.
The regulations set out in the Equality Act apply to all service providers. So it is particularly important to public sector organisations like transport providers, local authorities, law enforcement, healthcare providers, emergency services, education institutions, and infrastructure suppliers.
However, not being a public sector organisation doesn't necessarily mean that the rules don't apply to you. While the precise meaning of some of the terms in the Equality Act can be ambiguous, there is a general consensus that the 'provision of a service' applies to commercial web services just as much as it does to conventional public sector services.
What Does the Equality Act Mean to You and Your Business?
If you in the public sector, then the Public Sector Web Accessibility Deadline is your most pressing concern. Updates to the Equality Act that came into force in 2018 state that all public sector websites need to follow the principles of the Web Content Accessibility Guidelines (WCAG) accessibility Level AA by 23 September 2020. Based on our most recent data, only 74% of UK public sector sites currently comply with WCAG 2.1 AA.
If you are in the private sector, then the chances are you don't have a particular deadline on the horizon to work towards. But this doesn't mean that you shouldn't put the same amount of effort into making your website accessible to as many users as possible. Making your website accessible is the right thing to do, and the benefits include enhanced brand reputation, increased market share and profit, and reduced legal risk. Plus, the principles of the Web Content Accessibility Guidelines (WCAG) do still apply to private companies.
Understanding Accessibility Needs
Having an inaccessible website means that users with varying disabilities are unable to access your information, goods, and services. Not only is this discriminatory, but it is foolish when you consider that at least 1 in 5 people have a long term illness, impairment, or disability – and many more may have temporary disabilities that affect their ability to access your site. Specific barriers that can make your website inaccessible include:
Visual impairments

Deafblindness

Colour blindness

Dyslexia

Hyperlexia

Dyspraxia

ADHD

Speaking English as a second language

Epilepsy

Mobility and physical impairments
With such a broad spectrum of accessibility barriers, the pitfalls of an inaccessible website are wide-ranging, but the most common problems are with websites that:
Are not easy to use on a mobile

Cannot be navigated using a keyboard

Have inaccessible PDF forms that cannot be read using screen readers

Have poor colour contrast that makes the text difficult to read

Do not have adequate link descriptions and/or alt text descriptions on images

Use images containing text that is unreadable by speech synthesiser software
How to Comply with the Equality Act
The key for website owners is to adopt a design and layout that is clear enough so that most people can use it, while also supporting those who need to make adaptions. Many people assume this process would be complicated and costly, but that is generally not the case.
"Many of the most common accessibility issues making sites difficult or impossible to use in a non-traditional way can be easily fixed."

Sam Stemler, web accessibility author

 
Under the Equality Act, companies are required to make reasonable adjustments to their websites to make them more inclusive. The four cornerstones of the guidelines for compliance help eradicate the errors listed above, by requiring websites to be:
Perceivable – Accommodating for various sensory differences in vision, sound, and touch so that users can comprehend and consume the information in a way that is perceivable to them.
Operable – User interface and navigation components on a website must be usable by all.
Understandable – Both website information and operation of the user interface itself must be consistent and understandable.
Robust – The website must be standards compliant and able to function using all applicable technologies, including assistive software.
Assistive Technology Solutions
Software solutions like the Recite Me assistive toolbar helps websites to be totally inclusive through a suite of customisable accessibility and language options. When equipped with Recite Me accessibility software, websites become instantly accessible, readable, and much easier to understand.
The software has been designed with WCAG principles at the core of the product, but our goal is to do much more than simply 'tick the box' on compliance for reasonable adjustments. Recite Me is about creating a totally inclusive digital environment, where users can:
Personalise font size, type, and colour options to make each web page easier to read. This is beneficial to readers who have dyslexia, dyspraxia, colour blindness, or decreased vision in general.

Download content as an audio file, which is great for those with vision problems.

Access text to speak functions in 35 different languages, which is beneficial for all site visitors with English literacy issues. The text can be read aloud at different speeds with either a male or female voice, which is great for autistic users too.

Utilise the screen mask and ruler, allowing those with ADHD and other attention disorders to focus rather than being distracted by other content on the page.

Convert text content into over 100 different on-screen languages, which is ideal for those for whom English is not their first language.

Make use of the toolbar's built-in dictionary and thesaurus to check word definitions. This is particularly important for users with conditions like hyperlexia, who can read words but not necessarily understand their meaning.

Switch to "text-only" mode. This feature is favoured by those with conditions like Epilepsy, as they can strip away any media or graphics that may cause a seizure.
Download Our Digital Inclusion Toolkit to Support ALL Website Visitors!
The Recite Me Digital Inclusion Toolkit has been developed to help businesses make a real difference in people's lives. Download your copy today to learn more about:
Disability do's and don'ts.
Website design tips for an inclusive website.
Inclusive recruitment and workplaces best practices.
How to provide inclusive communications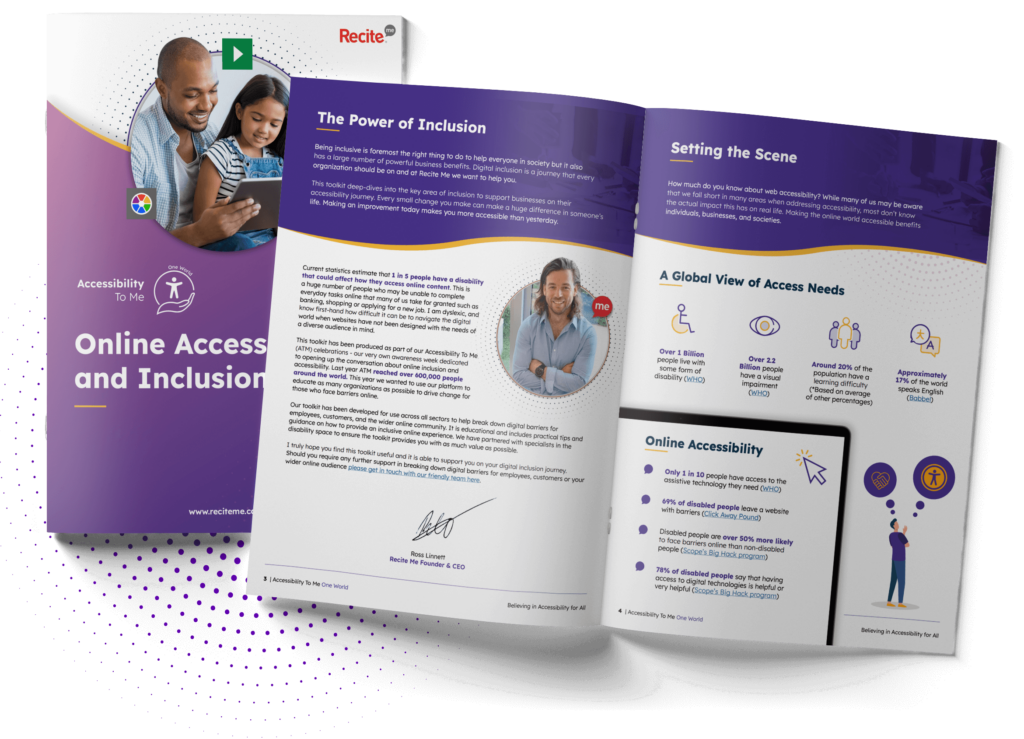 Want to Know More?
If you are still confused by any of the jargon and terms, or unsure whether your website meets the Equality Act criteria for compliance, feel free to contact our team for more advice and information. You can also schedule a demonstration of our toolbar in action if you'd like to get a better idea of how it works, and how it can help you attain a more perceivable, operable, understandable, and robust online offering. We also have the Recite Me web page accessibility checker.