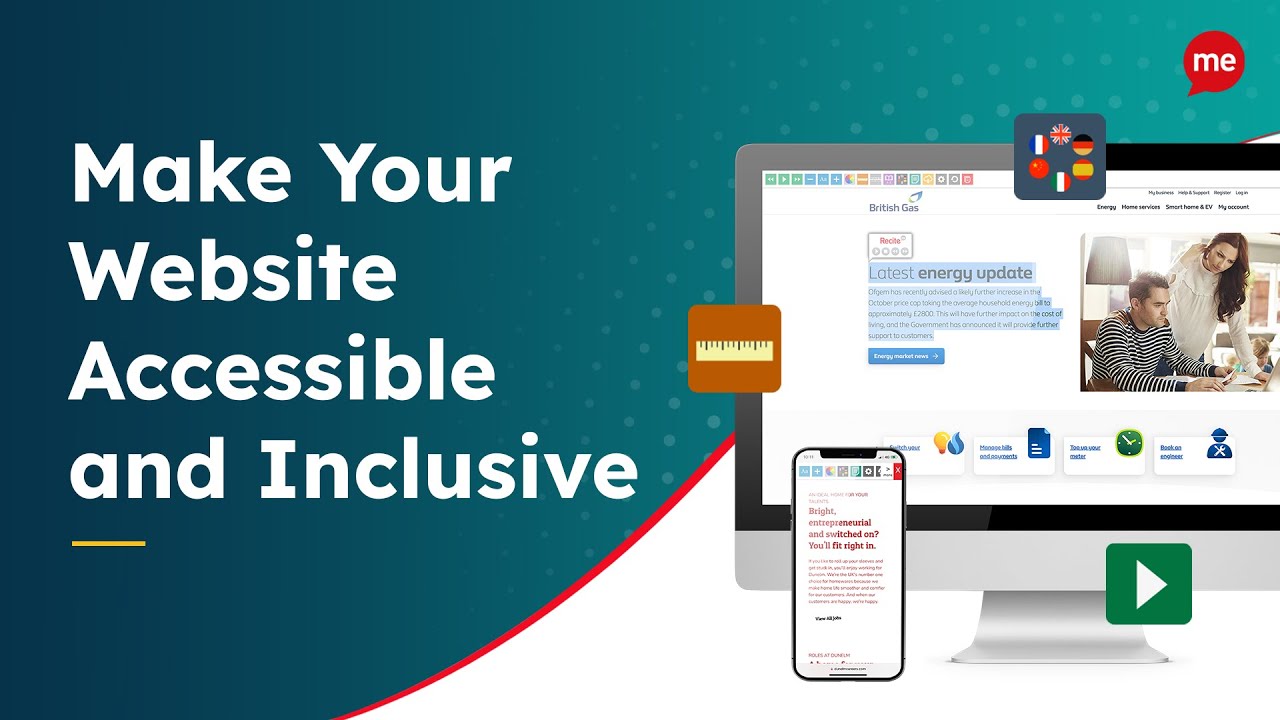 Why choose Recite Me assistive technology?
In today's world, everything we do is online, from booking holidays to looking after our finances and paying bills. Approximately one billion people globally have a disability and they can often face barriers when visiting inaccessible websites. Recite Me assistive technology provides your customers with the online tools needed to understand and engage with your products and services.
The right thing to do
Make your website not only accessible but useable by all. Everyone should have the opportunity to be able to access online content. Support people who are neurodiverse, visually impaired, speak English as a second language or of old age.
The smart thing to do
Become totally inclusive and enhance a user's journey and experience of your website. Open up your business to a wider audience by providing assistive tools for your visitors to engage and ultimately convert online.
The thing I must do
As our world moves online there are international and local laws and regulations in place to state how a website should be designed and built to be accessible. Avoid fines and lawsuits by providing accessibility support to your customers.
Cloud-Based Software
Every device covered from a single install. The Recite Me assistive toolbar is delivered as SaaS (Software as a Service). Once installed onto your website you will receive regular updates and always have the latest version.
1500+ Supported Websites
Recite Me assistive technology is installed on over 1500 websites, supporting people worldwide. Whether you're a charity, an education establishment, utility business, recruiter or transport provider, Recite Me can help with your online accessibility needs.
Continuous Product Improvements
We're always looking to provide the best in class personalisation options for your web visitors, and that means adding new features and improving the ones we already have on a regular basis.
Recite Me Accessibility Features
Give your visitors total control when viewing your online content. Discover the unique range of accessibility features to allow people to customise the way they interact with your website.
Pricing
Just as each of your web visitors is unique, so is every client we engage with. Our bespoke pricing plans are flexible to suit your business and budget, based on your digital landscape. Competitive packages are provided on an annual subscription for one to three years.
Associated Benefits
As well as supporting your website visitors with assistive technology Recite Me can provide you with the tools to promote your accessibility initiatives and report on your audiences' online needs.
Marketing
You're taking steps to improve accessibility and make visitor journeys through your website more inclusive. We think you should shout from the rooftops about this and we love to help clients do just that. Whether it's supporting with internal PR, helping with landing pages, or working together on social media posts we're on hand.
Reporting
Once you're up and running we can provide you regular reports showing the number of launches, feature usage and more. The Recite Me Google Analytics plugin will also allow you to track toolbar usage on individual pages and goal outcomes. Total transparency so you can get the insight you need to support your visitors and your business.
Ease of Implementation
Adding Recite Me to your website couldn't be easier. You simply drop some javascript into your site and decide what the launch button/link should look like.
WCAG Principles
Recite Me assistive technology is designed and delivered to support accessibility online by applying the four main principles of WCAG, Perceivable, Operable, Understandable, and Robust.
Perceivable
Perceivability means that a website user can identify content and interface elements by means of the senses. For many users, this means perceiving content primarily visually and others may be a matter of sound. The Recite Me assistive toolbar provides features that allow content to be perceived through sound or enhanced visually means.
Understandable
Understandable means that a website's content should be readable and users should be able to understand the content they are viewing. The Recite Me styling features allow people to change the way the content is displayed. Users are able to customise the websites colour scheme as well as the texts font style, size, colour and spacing.
Operable
Operability means that a user can successfully use controls, buttons, navigation, and other necessary interactive elements of a website. Recite Me assistive technology supports users with their location on page via screen reader navigation. The screen reader also supports content reading time by being able to control text speech speeds.
Robust
Content must be robust enough that it can be interpreted reliably by a wide variety of user agents, including assistive technologies. The Recite Me assistive toolbar is delivered as SaaS (Software as a Service). Once installed onto your website you will receive regular updates and always have the latest version.
Contact the team
Have a question to ask? contact the Recite Me team.