If you want to know how to make your website and other digital content accessible it's essential to understand the Web Content Accessibility Guidelines (WCAG) 2.1.
The guidelines are produced by World Wide Web Consortium (W3C), the main international standards organisation for the World Wide Web, which defines how to make a website build more accessible website against certain criteria. They are now the premium standard for web and digital across the world, including in the UK.
The guidelines offer layers of guidance (principles, guidelines, success criteria, and sufficient advisory techniques) that combine to provide guidance on how to make content more accessible. The guidelines were developed and released in 1999, and are updated periodically to reflect updates in technologies and best practices.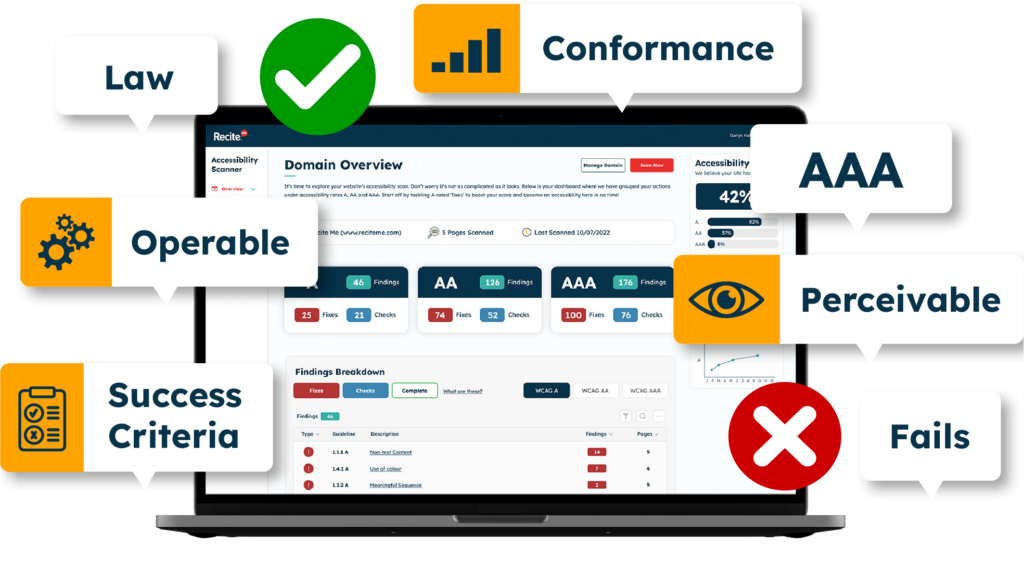 The Four Main Principles of WCAG
The guidelines and success criteria are organised around four principles, which set the foundation for anyone to access and use web content. By applying these principles, web designers and content creators can work toward making content more accessible to users with a range of abilities.
Perceivable
Information and user interface components must be presentable to users in ways they can perceive. This means accounting for sensory differences in vision, sound, and touch so that users can comprehend and consume the information in a way that is perceivable to them. To ensure all users can recognise and understand online content, a website should:
Provide text alternatives for non-text content. 
Provide captions and other alternatives for multimedia 
Present content in different ways without losing meaning 
Make it easy to see and hear content
Understandable
Information and the operation of the user interface must be understandable by users and assistive technology without additional effort.
Use simple language to make content readable and understandable
Ensure content appears in a predictable manner 
Help people prevent and fix mistakes
Operable
User interface and navigation components on a website must be usable by all. This means eliminating general design barriers and functions that limit input methods or result in time constraints. To meet operability requirements, a website should:
Ensure All Functionality is Available for KeyboardOnly Users
Give people enough time to consume content 
Help people find and navigate your site 
Refrain from using content that can cause physical reactions 
Make it easier to use other inputs besides keyboards
Robust
To maximise accessibility, websites should be standards-compliant and able to function using all applicable technologies, including assistive software. Content must be robust enough that it can be interpreted by a wide variety of tools, including browsers, browser extensions, media players, screen readers, and other applications.
Testable Success Criteria
For each guideline above, testable success criteria are provided to allow WCAG 2.1 to be used where requirements and conformance testing are necessary such as in design specifications and regulations. Three levels of conformance have been defined to meet the needs of different groups and various circumstances. Level AA is typically the minimum reference point when discussing 'making a website accessible.'
Level A: The most basic level of accessibility, comprising criteria that should be easy to achieve without much impact on website design or structure. For Level A conformance, a webpage must satisfy all Level A Success Criteria or a conforming alternate version.
Level AA: WCAG AA compliance is a legal requirement for certain sites and includes additional criteria to Level A. For Level AA conformance, a webpage must satisfy all Level AA Success Criteria or a conforming alternate version.
Level AAA: With even more benchmarks set above Level AA, this is the most comprehensive standard of accessibility compliance. For a website to achieve this rating, it must comply with every listed Level AAA success criterion or a conforming alternate version.
Download Our Digital Accessibility and Inclusion Toolkit 
Online inclusion doesn't stop at WCAG compliance, there is much more that needs to be adressed. Download your copy today to learn more about:
How to get started with digital inclusion

Website design tips for an inclusive website

How to write an accessibility statement for your website
How to provide inclusive company communications