The British Fashion Council is breaking down digital barriers for website visitors by providing Recite Me language and accessibility tools.
Formed in 1983 and based in London, The British Fashion Council (BFC) is leading the way through creative influence to strengthen British fashion positively in the global economy.
The BFC understands the differences of the diverse population, fully committing to eliminating any unfair or unlawful discrimination. They understand that the information distributed on its website needs to be accessible to everyone.
As part of this commitment, The BFC has implemented Recite Me's web accessibility software. The inclusion of this innovative toolbar plugin is beneficial to all digital visitors to www.britishfashioncouncil.co.uk as it allows them to access and consume the latest fashion news and trends in a way that best suits them.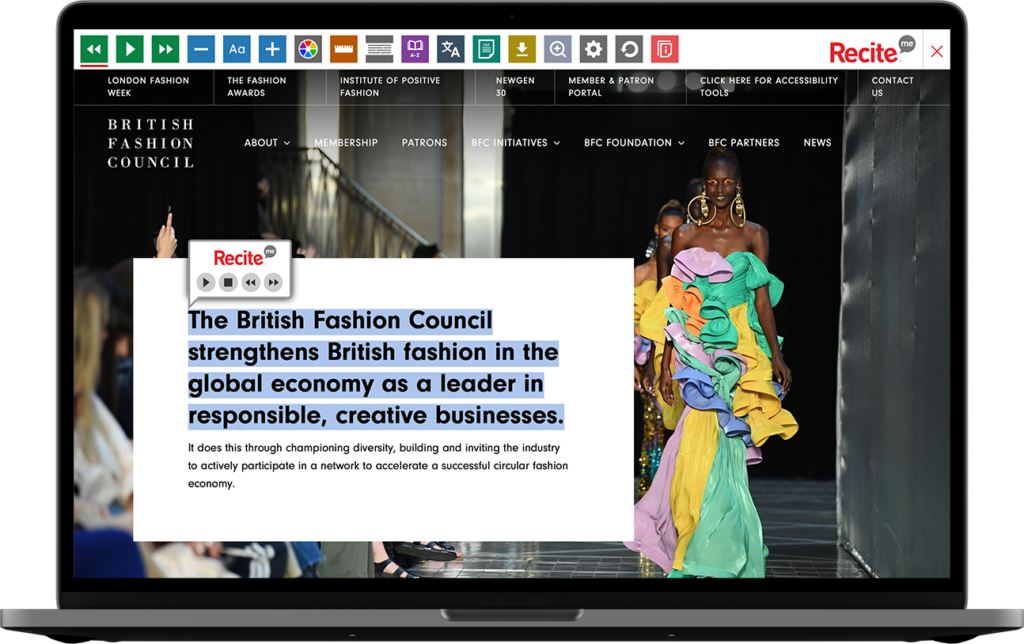 Caroline Rush, CEO, The British Fashion Council commented:
"The BFC is committed to addressing accessibility and we are delighted to be working with Recite Me to provide better access to our website for all. Where it may not be possible to provide the perfect solution for every eventuality, we listen to the needs of individuals to find solutions and put plans in place to ensure that everyone can easily access us, our events and the information we put out across our channels. Recite Me's web accessibility software allows us to provide all users with the opportunity to navigate the site in a way that works best for them, complimenting the video content across our social and digital ecosystem that always feature subtitles."
In a recent survey conducted by Click-Away Pound, it was found that 72% of participants with access needs said they experienced barriers on more than a quarter of websites they visit for the first time. Providing additional aid online is imperative to enhance the user experience for a diverse audience and to retain their attention.
The accessibility and language toolbar on the BFC website provides features such as screen reading functionality, multiple reading aids, customisable styling options, and an on-demand live translation feature that boasts over 100 languages including 65 text-to-speech and styling options.
If you would like more information on how your organisation can provide an inclusive online experience by using assistive technology, contact our team or book a real-time demonstration.