Why is web accessibility such a big deal? Because over 1 billion people worldwide are unable to make use of the information on your website if you don't make accessibility adjustments to meet their needs. Yes, you read that number right. And yes, that's around 20% of the entire global population.
Thursday 19th of May marks the 11th anniversary of Global Accessibility Awareness Day, which focuses on getting people to think and learn more about digital access and inclusion, and what it means for their business.
Here's what you need to know…
What Does Being Accessible Mean?
Over the past few decades, the world has made significant advancements in making the physical world more accessible to people with disabilities. But online accessibility isn't just about the stereotypical wheelchair-bound disabled user. Websites also need to be accessible to a wide range of hidden disabilities like cognitive and neurological disorders, visual impairments, and language barriers.

Being accessible means making reasonable adjustments for the entire range of disabled users so that they can read and use the information on your website. Otherwise, consumers are simply not able to do business with you.
Why Isn't My Website Accessible?
Take a moment to think about how much you use the internet. The international average is 145minutes per person per day – just under 2.5 hours.
Now imagine not having access to all of those websites and not having the information you need to complete activities like shopping, banking, paying bills, applying for jobs, and finding out information about local services, etc.
There are hundreds of specific conditions that create barriers to accessing information online. But broadly speaking, there are four key reasons why users cannot access your website.
People Can't Read It
For people with sight loss, colour blindness, and deafblindness, reading web copy can be difficult. The size of the text, the font used, and the colour contrast between text and background are all important factors – especially for users with learning difficulties like dyslexia, dyspraxia, and hyperlexia. People with more severe visual impairments may need to use a screen reader, or even have the content read aloud.
People Don't Understand It
All of the copy on your website needs to be clearly written, understandable, and run in a logical order, otherwise people with cognitive and neurological disorders cannot follow the flow of information. You also need to consider the number of website visitors who speak English as a second language and may not be able to comprehend the information without translation assistance.
People Can't Navigate It
Whether temporary or permanent, physical disabilities can make accessing websites via a smartphone or tablet extremely difficult, and using equipment like a mouse may be almost impossible. Therefore, it is imperative that your website can be navigated by keyboard-only functions, and that technology like voice readers can be used to allow visitors to search by verbal commands.
People Are Scared of It
Sounds dramatic, we know. But… what if site visitors have epilepsy or one of several conditions known to cause disorientation and/or confusion? Elements like flashing images, videos, or the overuse of image carousels can be a real danger here. Best case scenario, they become lost and unable to maintain their place on the page, and simply click away. But in the worst case, it could lead to a seizure. So options to change the layout of the page and strip away unwanted graphics for easier and safer reading are required.
Best Practices for Website Accessibility
The disabled market is the largest minority group in the world, so the benefits of including them should have fairly obvious ties to improved financial success. Essentially, web accessibility is now such an important consideration that you simply cannot afford for your site not to be accessible.
Many businesses shy away from making accessibility adjustments as they see them as being too complicated or expensive. But on the contrary, many solutions are simple and easy to execute.
Web Design
The whole point of having a website is to showcase your products and services to as wide an audience as possible. Follow these steps to make your website easier for everyone to read, focus on, and understand.
Use a content management system that supports accessibility.

Use headings correctly to structure your content.

Give descriptive names to your links.

Ensure forms are designed for accessibility.

Be mindful of colour use and colour contrasts.

Be keyboard-friendly.
You can read more about best practices for accessible web design here.
Content Errors
The most common examples of easy-to-fix accessibility failures include:
Low contrast text

Missing alt tag text

Empty links

Missing input labels on forms

Empty buttons

Missing document language
Recent accessibility testing by WebAIM surveyed over 1 million website home pages and found these details were missing way more often than they should be.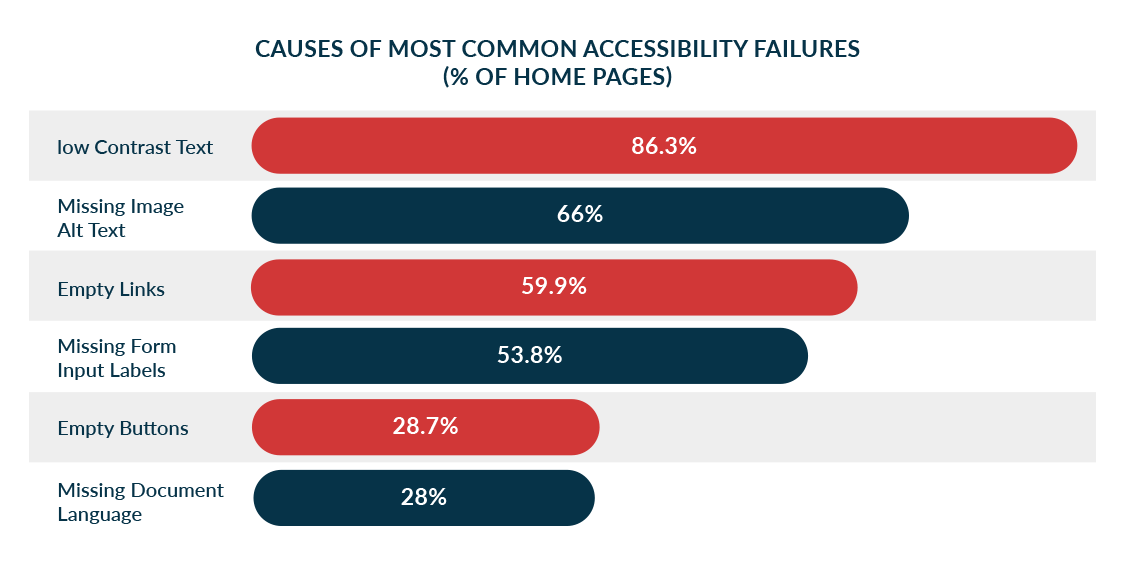 How to Make Your Website Inclusive
One of the quickest, easiest, and most cost-effective ways to make your website inclusive is with assistive technology like the Recite Me toolbar.
It's worth noting that even if your website is accessible, it may not be inclusive. Accessibility compliance alone does not provide users with a fully inclusive experience. True inclusion comes from giving people as many choices as possible so they can customise your site and consume the information in a way that is tailored to their needs.
"Accessibility guidelines are there to help us make websites more accessible. But they aren't the be-all and end-all of accessibility."

Nicola Steenhout, Consultant in Inclusion, Accessibility, and Disability
It is in this area of advocating accessibility, but also promoting inclusion at a much higher level, in which Recite Me sits.
How Assistive Technology Works
When you open a webpage that is equipped with our assistive technology, an accessibility toolbar pops up on the page. This alerts website visitors that additional accessibility options are available and that the site is a safe and welcoming space for them to enter.
The Recite Me assistive toolbar promotes inclusivity by allowing those with sight loss, cognitive impairments, learning difficulties, physical disabilities, and varying linguistic needs to access your website in a way that is best suited to them. Functions include:
Fully customisable text size, font, and spacing.

The ability to change text colour and background colour contrasts.

A screen mask to provide colour tinting and block visual clutter.

Additional reading aids such as an on-screen ruler and text-only mode.

Text-to-speech functions in 35 languages.

A real-time translation feature catering to over 100 languages.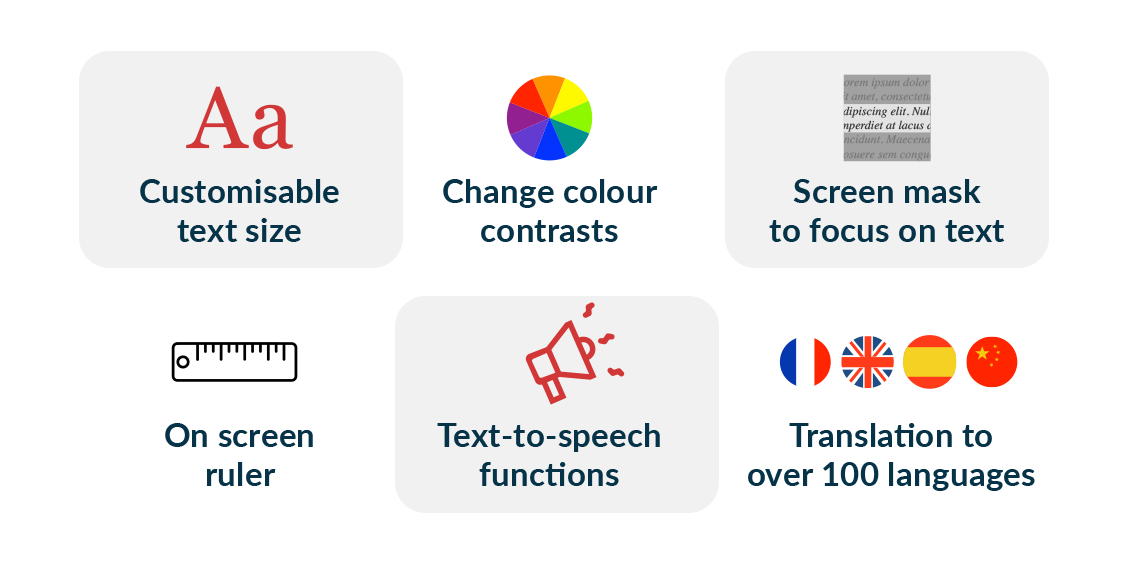 These functions account for singular adjustments and also more complex scenarios where multiple adjustments are required for ease of use. The software even remembers each user's preferences, so any page they open is automatically formatted to their preference.
By providing an inclusive website journey for those with disabilities, we are improving website experiences for everyone.
To find out more you can contact our team or book a free demo, and join the thousands of organisations who already use Recite Me to make the online world a more inclusive place.