Diversity and inclusion have been considered important topics in business for some time already. Companies want to be viewed as supporting equal opportunities, and many businesses have developed comprehensive policies that embrace a more diverse workforce and support their customers better in the physical world. But when it comes to considering diversity and inclusion online, it is often the case that not as much thought has been given to the process. It is here that companies stand to gain the most in terms of brand reputation.
Traditionally, diversity and inclusion policies have been focused on factors such as gender, race, sexual orientation, cultural background, age, and those with disabilities. In the online world, however, there are a whole host of additional conditions that put users at a disadvantage, yet we don't necessarily think of as a disability. This includes vision problems, motor difficulties, cognitive impairments, language issues, and learning difficulties.
There are over 1 billion people around the world who suffer from one or more of these disabilities, and their combined spending power is estimated to be around $6 trillion. So there are obvious financial benefits to being inclusive online, but there are also many benefits to your brand and reputation…
What are the Brand Benefits of Being Inclusive?
In short, welcoming people with varied disabilities and access needs allow you to promote your commitment to inclusion, the benefits of which include:
More people having positive experiences with your brand.

Building more brand ambassadors who are loyal to your brand.

Demonstrating corporate social responsibility and community support.

Better SEO results – SEO best practices and conformance to the Web Content Accessibility Guidelines (WCAG) already overlap more than people think, and early indicators suggest that Google and other search engines will soon be incorporating accessibility factors into their algorithms. Learn more about SEO & Web Accessibility here.
At Recite Me, we are confident that the resulting advantages outweigh any effort that is required to become inclusive, and there are several different ways to look at these benefits from different perspectives when conducting your cost-benefit analysis…
The Customer Perspective
If your company isn't viewed as being inclusive, some customers simply will not spend their hard-earned dollars on your products and services. Recently, Forbes reported that 52% of all adult online consumers consider a company's values when making a purchase. That rate is even higher among the Millennial and Gen Z generations, who are incredibly socially conscious in their purchasing habits. So to maximise sales, build stronger customer relationships, widen the customer base, and ultimately enhance profit margins, companies must be inclusive.
The Employee Perspective
Being an inclusive employer evokes a feeling of pride across the whole organisation, so there are benefits to be found in staff satisfaction, loyalty, and reduced turnover rates. Being inclusive also sets you apart as an employer of choice and will increase the pool of candidates who want to interview, work, and stay with you. And by attracting a more diverse team, you will gain a wider perspective and become more innovative.
Being 'The Good Guy'
Customers favour brands that care about helping others. In a world where consumers are increasingly value-driven, any company that actively promotes inclusivity in its operations will gain a more positive brand identity. Being a supporter of the community is important, and having empathy and making adjustments for the benefit of more marginalised members of our society is deemed a valuable quality. So prioritising web accessibility presents a great opportunity to generate positive PR.
Not Being 'The Bad Guy'
One of the main pitfalls of not being inclusive (along with reduced revenue and legal implications) is the increased risk of tarnishing your brand reputation. One of the best examples of this is Domino's Pizza, who were sued by Guillermo Robles, a blind man who was unable to order food on the company's website. Domino's response was to take the case to the Supreme Court by arguing that the American Disabilities Act (ADA) should not apply to the digital world. The lack of empathy shown by the company backfired, resulting in a particularly brutal brand bashing on Twitter, and an overall negative public response.
Becoming a Market Leader
Embracing accessibility and becoming inclusive to all customers sets you apart from your competition. As it stands, fewer than 10% of businesses have a targeted plan to access the disability market, and over 98% of homepages across 1 million popular websites failed to meet legal accessibility standards in 2019. So by prioritising accessibility and inclusion on your website ahead of your competitors, you have more chance of cutting out a niche for yourself and gaining more customers. Plus, your products and services will be perceived as more credible and authentic.
"Digital businesses with accessible websites are demonstrating leadership by example. They are showcasing proof that ethical accessibility practices can help increase brand credibility, inclusion for all, and online conversions."
Kim Krause Berg, Web Design Standards and Compliance Specialist
The Financial Incentive
Making an accessible website increases profits as well as brand attraction, and allows your company to compete for its share in the $6 trillion disability market. What's more, the initial outlay is normally negligible compared to the benefits, especially when you consider that:
71% of web users simply leave a site that they find hard to use.

83% of people with access needs limit their shopping to sites that they know are accessible.

86% of users with access needs would spend more if there were fewer barriers.

The annual online spending power of people with access needs is now £24.8 billion in the UK and $490 billion in the USA.
How to Make Your Website Inclusive
We hope by now the 'why' is clear, but just how exactly do you go about making your website inclusive? Many businesses allow accessibility and inclusion factors to slip to the bottom of their 'to do' lists, as they think them too complex, expensive, or difficult to work with. But the truth is, it's actually very straightforward and much more cost-effective than you'd think to make your website inclusive. The main steps to consider are as follows.
Your Website Build
Most web designers can coach businesses on the best practices for a build that will increase traffic and conversions through making content more accessible. There are many factors to consider, but a few key examples are:
Using a content management system that supports accessibility

Using headings correctly to structure your content

Including alt text for all images

Giving descriptive names to your links

Being mindful of colour use and colour contrasts

Ensuring forms are designed for accessibility

Being keyboard friendly
Compliance with Accessibility Legislation & Guidelines
It is expected by law that businesses and service providers do not treat those with disabilities less favourably. The Web Content Accessibility Guidelines (WCAG) provide minimum standards that all business globally should adhere to, and outside of this, there will be additional national and international standards and regulations. The ones that apply to your business will depend on where your company is based, but examples include:
The Equality Act of 2010 (UK)

The Americans with Disabilities Act (USA)
Utilising Assistive Technology
Software solutions like the Recite Me accessibility plugin promote inclusivity by allowing those with sight loss, cognitive impairments, learning difficulties, physical disabilities, and varying linguistic needs to access your website in the way that is best suited to them. Recite Me toolbar functions include:
Fully customisable text size, font, and spacing.

The ability to change text colour and background colour contrasts.

A screen mask to provide colour tinting and block visual clutter.

Additional reading aids such as an on-screen ruler and text-only mode.

Text-to-speech functions in 35 languages.

A real-time translation feature catering to over 100 languages.
Download Our Digital Inclusion Toolkit to Support ALL Website Visitors!
The Recite Me Digital Inclusion Toolkit has been developed to help businesses make a real difference in people's lives. Download your copy today to learn more about:
Disability do's and don'ts.
Website design tips for an inclusive website.
Inclusive recruitment and workplaces best practices.
How to provide inclusive communications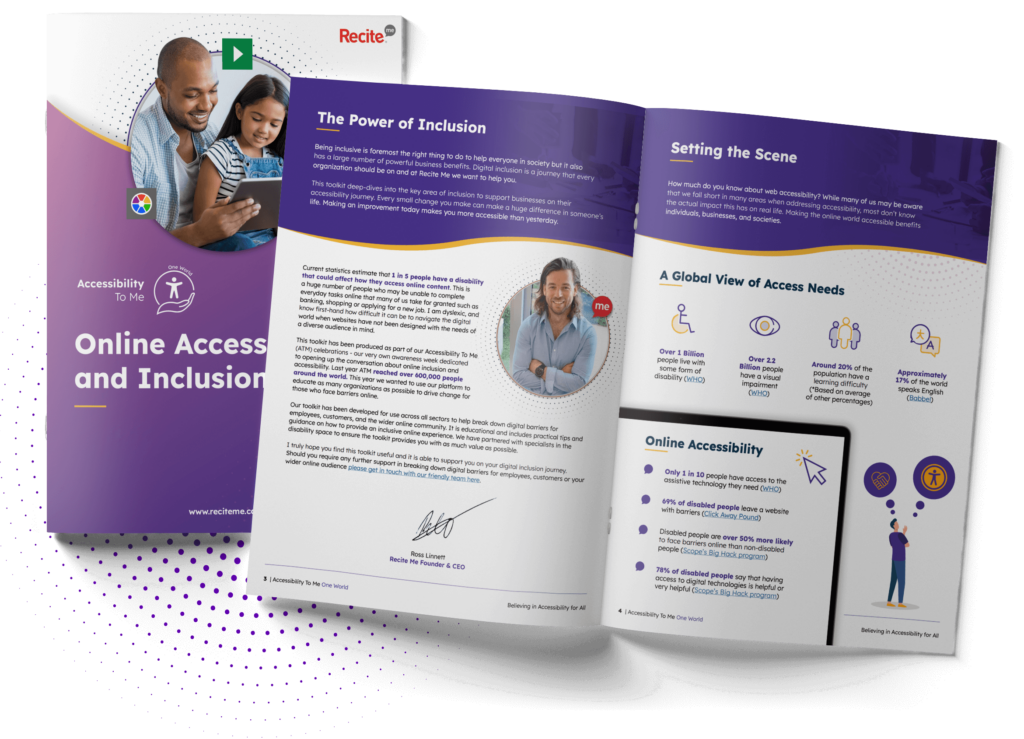 Learn More About Becoming Inclusive
If you would like to enhance your brand reputation by joining thousands of other businesses who have already made their websites inclusive, we invite you to contact our team for more information. We are happy to advise you on compliance procedures and guide you through the process, and we already have experience in installing our software on websites across a wide range of sectors. So whatever field your organisation lies in, we can make a big difference to your brand! Additionally, you can test out the Recite Me WCAG Compliance Checker for free.