Keeping your website operating at peak performance isn't easy. Software upgrades, SEO updates, security checks, server tests, and the addition of new products and services, etc. are just a few of the tasks that mean a webmaster's job is never done. This guide will provide an in-depth overview of how to make your website inclusive.
With online competition at an all-time high, the importance of creating a well-designed and easy-to-use website has never been greater. But if you're a website manager, you know that already. What you may not know is how to boost your website's traffic and conversion rate by making your website more accessible.
Varying Accessibility Needs
Your website may look great, but if it's not accessible to people with a range of access needs, then you'll never achieve optimum results. This includes making adjustments for internet users who struggle with disabilities including:
Visual impairments

Deafblindness

Colour blindness

Dyslexia

Hyperlexia

Dyspraxia

ADHD

Autism

Epilepsy

Mobility and physical impairments

Speaking/reading English as a second language
Common Web Design Flaws
Poorly designed websites make it incredibly difficult for people with disabilities to access your information and services. These are some of the most common barriers faced by internet users:
Not being able to read the text due to font, text size, or text spacing.

Not being able to read the text due to poor colour contrasts between background and foreground.

Not being able to use a mouse or touchpad.

Not being able to focus on the relevant section of text.

Being distracted by graphics and image carousels.

8 Steps to make an Inclusive Website
The whole point of having a company website is to showcase your products and services to as wide an audience as possible. Follow these steps to make your website easier to read, focus on, and understand.
Use a content management system that supports accessibility.

Use headings correctly to structure your content.

Include alt text for all images.

Give descriptive names to your links.

Be mindful of colour use and colour contrasts.

Ensure forms are designed for accessibility.

Ensure responsiveness on all device types (mobile, tablet and desktop).

Top Tip! When building or redesigning your website, check out the Web Content Accessibility Guidelines (WCAG) and aim for WCAG AA level. This is the standard of accessibility compliance that is legally required for certain sites, is the level that is typically referred to when discussing 'making a website accessible'.

 
Understanding the Web Content Accessibility Guidelines (WCAG)
If you want to know how to make your website accessibility complaint, it's essential to understand the Web Content Accessibility Guidelines (WCAG) 2.1.
The guidelines are produced by World Wide Web Consortium (W3C), the main international standards organization for the World Wide Web, and define how to design and code your website.
The guidelines and success criteria are organized around four principles, which set the foundation for anyone to access and use web content. They are perceivable, operable, understandable, and robust.
The 13 guidelines provide the basic goals that designers and content creators should work toward to make content more inclusive to users with different disabilities. For each guideline, testable success criteria are provided resulting in three levels of conformance: A (lowest), AA, and AAA (highest).
How many websites are compliant?
Each year, a comprehensive analysis of the top 1 million home pages is completed by WebAIM, a nonprofit web accessibility organization based at Utah State University in America. The program also studies hundreds of thousands of interior website pages to identify trends and areas for improvement. Sadly, the state of the internet from a disabled users' perspective still leaves much to be desired, as 2020 WebAIM statistics show that:
98.1% of home pages have Web Content Accessibility Guidelines (WCAG) compliance failures. This figure is up from 97.8% in the 2019 study.
The number of web accessibility errors overall increased by 2.1% between 2019 and 2020.
Home page complexity has increased significantly, meaning users with disabilities can expect to encounter accessibility errors on 1 in every 14 home page elements.
Assistive Technology is a Must
The work shouldn't stop at adopting a better website design and ensuring compliance with WCAG guidelines. All you've done at that point is make your site more usable from a build perspective, and while that's a great start, none of that makes your website truly inclusive.
What makes a website truly inclusive is giving people as many choices as possible so they can customize your site and consume the information in a way that is personalized and tailored to their own individual needs. That's where assistive technology comes in.
Inclusive Software & Assistive Toolbars
Recite Me's assistive toolbar supports a diverse range of internet users by providing a variety of tools that allow users to create a fully customizable experience. Its one of the best ways to make a website available to a wide variety of people. Our accessibility features can be used either individually or combined to make multiple adjustments for ultimate ease of use. Plus, once users have set their preferences for customizations, those settings persist across all websites and digital platforms they visit using our toolbar.
Users can:
• Personalise font size, type, and colour options to make each web page easier to read.
• Utilise the mask screen tool, which isolates parts of the page to help with focus.
• Use the ruler tool to make reading easier.
• Download content as an audio file as an alternative to reading.
• Convert page content into over 100 different on-screen languages.
• Have the page read aloud in a choice of 35 different languages.
• Customise PDF documents and have them read aloud or translated.

How to make your website inclusive and accessible with Recite Me
Recite Me software can be installed on any HTML-based website creation platform including Wix, Square Space, Shopify, and many more. Implementing the toolbar onto your website can usually be done in under 10 minutes, and normally involves the addition of just a few lines of JavaScript or the download of our WordPress plugin.
Once installed, you can:
Extended your recite Me license to work on additional domains like intranets, Moodle portals, and microsites.

Access automated monthly reporting on user numbers, feature usage, browser information, and mobile versus desktop usage etc, all linked through Google Analytics.

Take advantage of your dedicated account manager to get even more insights and learn how to market yourself as an inclusive organization.

Enhance your Websites Inclusivity today
"Having honed my expertise in web accessibility over the past six years, I can honestly and objectively say that I have never seen a product of the scope, quality and reliability of Recite Me. It has become my "go-to" web accessibility product."

Barbara Grehs, Senior Digital Professional

 
Our accessibility toolbar makes a real-world difference to your website visitors and gives your business the ability to grow by harnessing the spending power of the disabled market, which currently sits at £24.8 billion per annum in the UK.
Knowledge is power, and with Recite Me, you'll have all of the data you need to track users as they move through your website using our toolbar. This will help you to identify strengths, weaknesses, and opportunities for development that will benefit all of your website visitors, not just those who use accessibility software.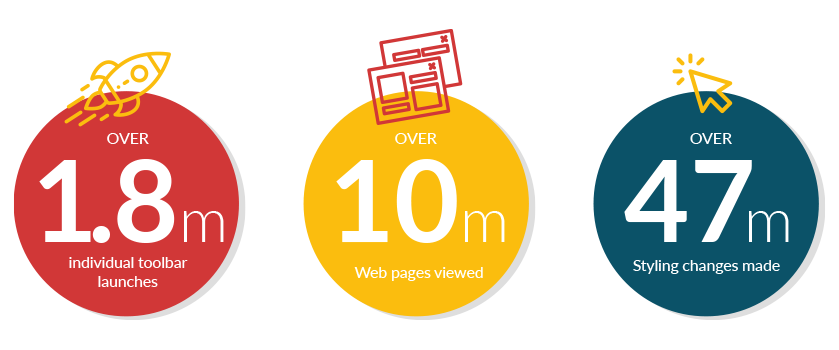 We already help hundreds of businesses to make the online world a more inclusive place for their customers, and last year alone we helped millions of people to access websites barrier-free:
Over 1.8 million individual toolbar launches

Over 10 million web pages viewed

Over 47 million styling changes made
If you'd like more information on how to optimise your website for inclusion with our cloud-based website accessibility technology, please contact our team or book a real-time demonstration of our toolbar. You can also trial our web accessibility checker for free at Recite Me.
Online Accessibility Guide for Webmasters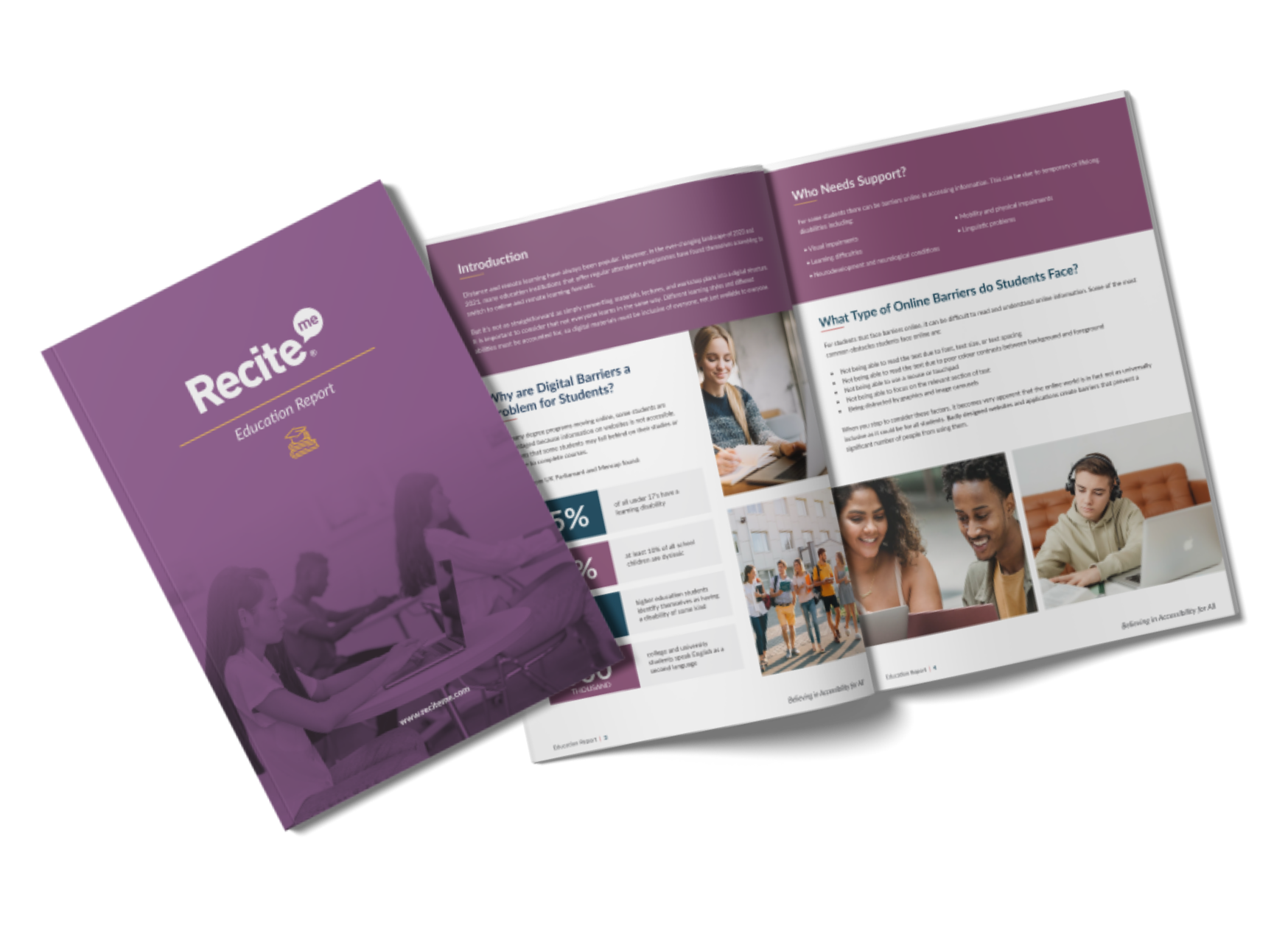 It's the responsibility of a website manager to create an accessible website. Download our guide to find out how to build an inclusive website and the benefits that can be unlocked when you embed inclusion and accessibility into your website.