A digital environment that is built with accessibility in mind drives your website toward WCAG AA compliance with every new piece of content and helps you to avoid fines and legal complications.
Whether you're taking the first step or accelerating towards accessibility goals, we can help and support you. Tell us where you want to take your accessibility efforts and we'll help you go faster and further.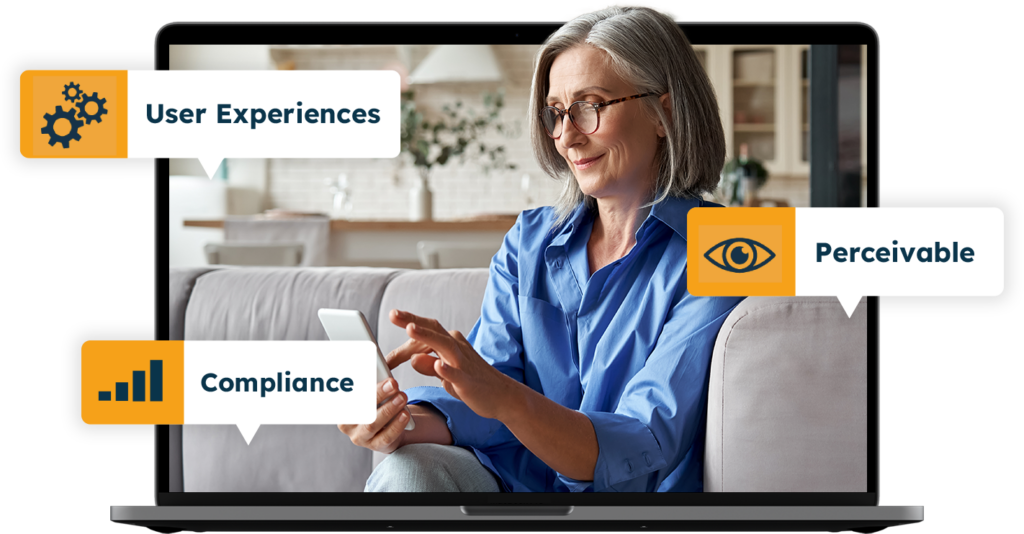 Why is Website Accessibility So Important in the Public Sector?
Ensuring a website is accessible and inclusive to all users is essential for any organisation. However, by the very nature of the services offered and the functions served by public sector bodies, it is arguably even more important for them. Here are just a few examples:
Local Authority/ Council Websites
Local authority and council websites provide information on a wide range of community provisions, including housing, traffic schemes, voting systems, recreation, environmental projects, and amenities like trash collection. 
An accessible website ensures that residents are not left in the dark about local rules, regulations, and what's going on in their communities. Plus, providing more practical and efficient ways for people to communicate online reduces waiting times and lowers the required number of call centre and customer service staff.
"A community that excludes even one member is no community at all."
Dan Wilkins, Author & Community Activist
Education Websites
Students at every level of education face accessibility barriers. To provide students with the skills, training and knowledge they need to succeed, education providers must ensure that information is accessible to all, rather than simply available to all. 
Access to education and skills training is vital in achieving economic growth and personal success, so students need to be supported from early childhood through to tertiary and corporate training levels. Providing an accessible public website is the first step in making your courses inclusive of everyone by accommodating students with varied access needs, learning styles, and abilities. 
"The students of the future will demand the learning support that is appropriate to their situation or context."
Marcus Specht, Professor in Digital Education
Emergency Services Websites
It is vital that law enforcement, fire, rescue, and emergency medical services offer reliable and practical solutions for everyone, including those with disabilities. Otherwise, vulnerable people could end up in dangerous situations during an emergency.
Additionally, valuable time and resources can be saved when more accurate and accessible information is available to everyone. This allows the brave men and women working in our emergency services sector to continue their essential work of solving crimes and saving lives.
"It is hugely important for us as an organisation to be accessible to the public we serve. Our website holds a lot of information which everyone should be able to access easily." Clare Kelly, Chief Executive, Bedfordshire Police and Crime Commissioner
Who Needs Help with Web Accessibility?
We tend to think of the internet as a place where everyone has instant access to the information they need at all times, but that's simply not the case. On average, one in five people has a disability which means they struggle to access information online.
Most people think of the term 'disability' in relation to wheelchair users. However, there's much more to disability than lifts and ramps. Statistics reveal that of the 1 billion people worldwide with a disability, only 1% need a wheelchair. People with physical disabilities dodo need to be supported, of course. However, for the millions of Brits with hidden disabilities, accessing the support they need is rarely easy. Examples include those living with:
Visual impairments
Learning difficulties
Literacy and language barriers
Neurological disorders
Developmental disorders
Temporary disabilities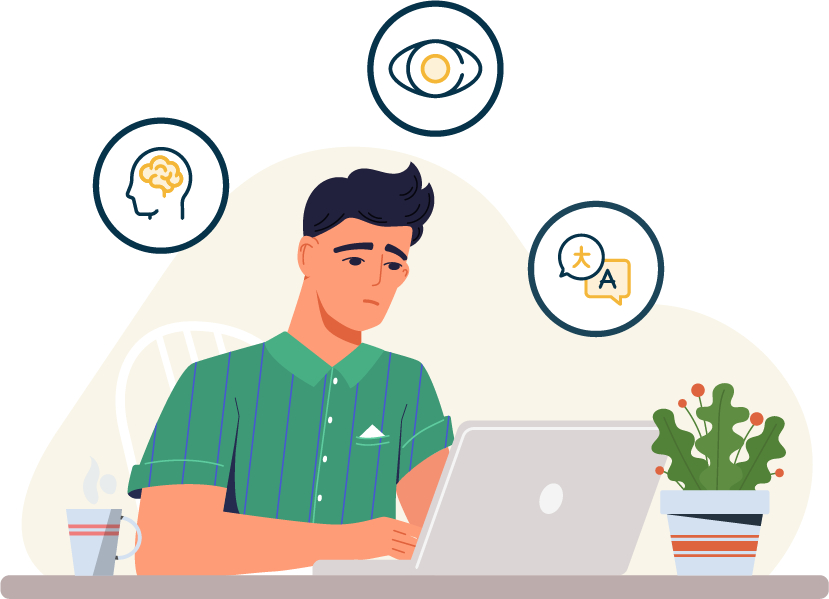 People in Vulnerable Circumstances
Inequality in access to information leads to an imbalance of access to services. For customers in vulnerable situations, this could lead to increased mental stress, feelings of exclusion, confusion, loneliness, and a real-world financial impact. Following website accessibility best practices helps people stay connected, keep up to date as information changes, and stops vulnerable people from falling further through the cracks.
Our Aging Population
There are currently almost 12 million people aged 65 and over in the UK, and it's estimated that by 2036, one in four of the population will be over 65 (Centre for Better Ageing). As the ageing population increases, so does the percentage of the population with disabilities, visual impairments, and hearing loss. Providing the tools needed to connect online is an essential element of allowing senior citizens to lead independent lives.
Think elderly citizens don't go online? Think again. Statistics from Martech Zone indicate that:
71% of elderly internet users go online daily, and 11% go online 3-5 times per week.
66% over 65s use the internet to get information about healthcare and medical services.
58% over 65s use the internet to access local businesses and government websites.
40% over 65s use the internet to stay updated with news and policy information that affects them.
What Online Barriers do People Face?
Some of the most common barriers faced by internet users include:
Not being able to read web copy due to font, text size, or text spacing.
Not being able to read web copy due to poor colour contrasts between background and foreground.
Not being able to use a mouse or touchpad.
Not being able to focus on the relevant sections of text.
Being distracted by graphics and image carousels.
Legal Obligations for Public Sector Web Accessibility in 2023
There are two primary pieces of legislation that you need to be aware of:
The Equality Act of 2010 – The Equality Act sets clear expectations on website accessibility standards, because it is illegal to treat those with disabilities less favourably. UK public-facing websites are required to consider reasonable adjustments for people with both physical and hidden disabilities. 
Public Sector Bodies (Websites and Mobile Applications) Accessibility Regulations – Enacted in 2018, this legislation states that "public sector bodies must comply with the accessibility requirement" to make websites perceivable, operable, understandable, and robust.  In other words, to align with the Web Content Accessibility Guidelines (WCAG) 2.1.
Connecting Web Accessibility Legislation and WCAG
Current legal regulations don't specifically mention WCAG 2.1. However, if your online content complies with the standards WCAG lays out,  your website will be aligned with the relevant legislative requirements. 
The WCAG 2.1 guidelines are compiled by the World Wide Web Consortium (W3C), an international community where member organisations, full-time staff, and members of the public work together to develop web standards.
Because technology is constantly evolving, so too are the guidelines. So updates to conform with current WCAG standards at a minimum are essential, as WCAG 3.0 guidelines have been in the drafting process throughout 2022 and are expected to be published later this year.
The Risks of an Inaccessible Website
Legal obligations aside, online accessibility is as much about providing a friction-free user experience as it is about building a compliant website. A poorly designed and built website has real-world impacts, which include:
Providing poor user experiences.
Creating unnecessary digital barriers within online journeys.
Attracting negative brand sentiment and possible reputational damage.
Experiencing a downturn in website performance and SEO impact.

In today's modern-day societal mindset, where there is more focus on equity and inclusion than ever, these are not risks your organisation should be taking. Yet, research by Scope identified that:
60% of local authority websites' home pages still aren't accessible to people with disabilities
90% of the county council websites tested failed to meet regulations.
Accessibility issues include confusing layouts, problems enlarging text, poor colour contrasts, using keyboard navigation, and difficulties with screen reader accessibility.
Web Accessibility On Demand
Recite Me is here to remove the fear and complexity from your journey toward web accessibility compliance. Assistive technology makes your website accessible to all, ensuring that information about public services and facilities is readily available to those who need it. 
Our web accessibility products support you in both back-end and front-end web development processes, enabling you to:
1. Build a website that is WCAG compliant.
2. Providing much-needed additional support to create an inclusive user experience.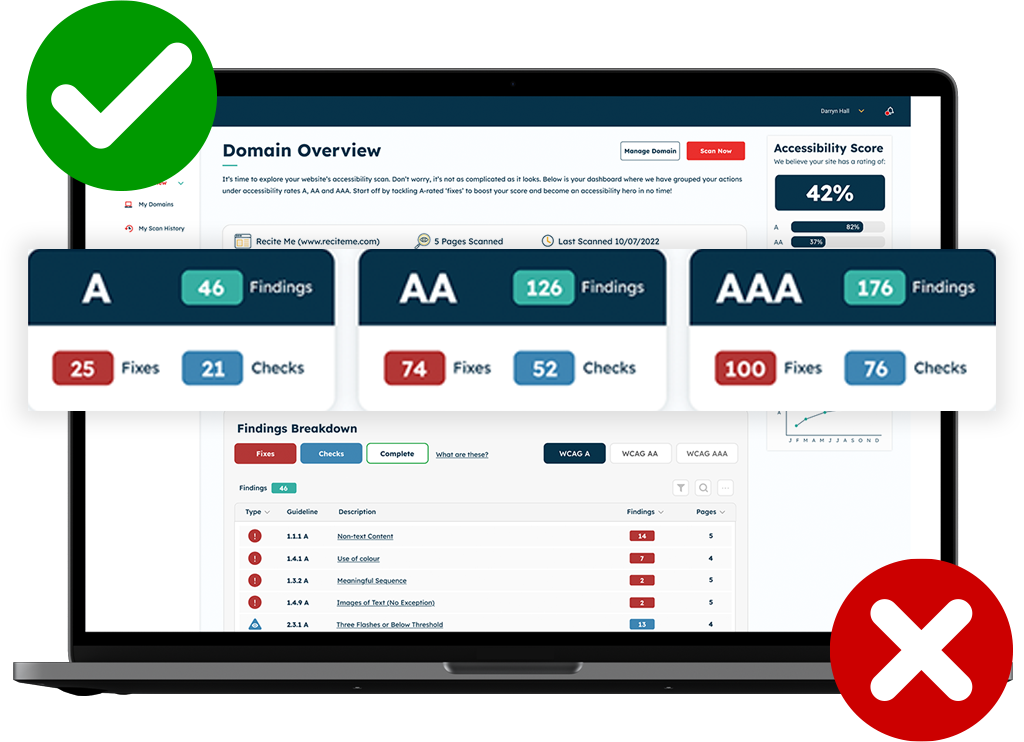 The Recite Me Scanner
The way a website is built is an essential consideration in accommodating varied accessibility needs. The Recite Me scanner enables you to:
Identify any areas of non-compliance with WCAG criteria.
Show you what to fix.
Outline how to make the most effective improvements.
Manage your fix queue.
Track your improvements over time.
Help you share your accessibility report to showcase your continuing commitment to digital inclusion.
A digital environment that is built with accessibility in mind drives your website toward WCAG AA compliance with every new piece of content and helps you to avoid fines and legal complications.
Whether you're taking the first step or accelerating towards accessibility goals, we can help and support you. Tell us where you want to take your accessibility efforts and we'll help you go faster and further.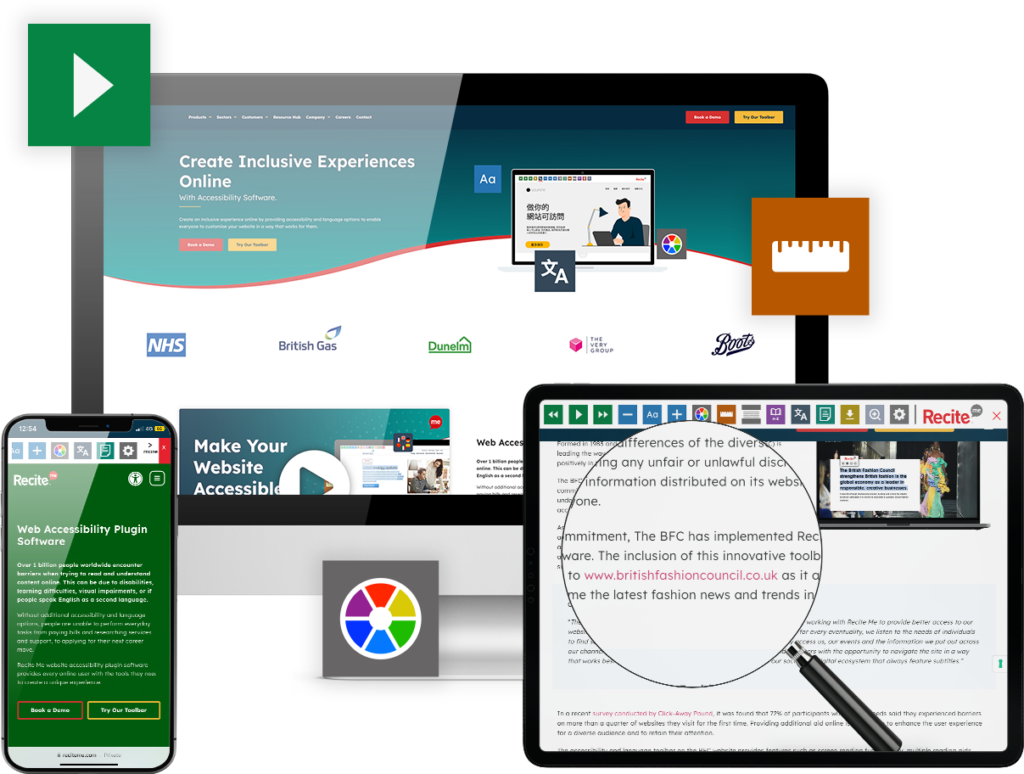 The Recite Me Toolbar
With the back-end website build taken care of, the Recite Me assistive toolbar boost's your website's usability by allowing website visitors to make individual or multiple adjustments for ultimate ease of use. Users can:
Personalise font size, type, and colour options to make each web page easier to read.
Choose the exact colour contrast between the text and background. 
Utilise the mask screen tool, which isolates parts of the page to help with focus.
Use the ruler tool to make reading easier.
Download and save any written web content as an MP3 file an alternative to reading.
Convert page content into over 100 different on-screen languages.
Have the page read aloud in a choice of over 40 different languages.
Customise PDF documents and have them read aloud or translated.
Zoom in on any part of a webpage.
Use the built-in spell-checker and a fully integrated dictionary and thesaurus.
The Proof is in the Data
Over the last few years, the number of public sector organisations using our web accessibility software has soared across all sectors, including education, government, health, and emergency services.
Recite me is now installed on over 5,000 websites. Over the last 12 months, our data shows that:
Our assistive toolbar was launched over 5.4 million times.
33.2 million web pages were viewed using the toolbar.
Over 9.5 million individual styling changes were made.
Over 62 million pieces of content were translated into different languages.
More than 57 million pieces of content were read aloud.
The average number of web pages viewed per visit was 6.8, well above the average of 2.8.
Start Your Online Accessibility Journey Today
Don't wait to begin your accessibility journey. Start improving online inclusion today by completing at least one of these action points:
Contact our team for more advice and information on the Equality Act and WCAG 2.1. 

Request a free scan of your website for WCAG compliance. 

Schedule a free demonstration of our scanner or assistive toolbar in action to better understand how our technology can help you.

Download our Online Accessibility and Inclusion Toolkit to access a wealth of practical advice covering the complete landscape of online accessibility.