You'd think that all travel companies would all be accessible these days, right? After all, the Equality Act of 2010 sets clear stipulations requiring companies to make adjustments for disabled users and those with additional access needs.
Yet, feedback from the disabled community and accessibility campaigners suggests there are still significant gaps in accessibility provisions, both with public transportation like trains and buses, and at airports and on airplanes.
"When stories about disability discrimination come out in the press, people shake their heads at the disgraceful treatment of disabled people. Everyone agrees it's unacceptable and shouldn't be happening in twenty-first century Britain. Then. Then…well, nothing really. Nothing much changes. Talks subside until the next dreadful incident, and people with disabilities and others with additional needs struggle to live independently."

Sam Renke, Actress and Disability Campaigner
So, perhaps it shouldn't come as a surprise that many travel websites are not up to speed with accessibility issues either.
Why is an Accessible Website Important for Travellers?
People go to online travel and transport websites for multiple reasons, including:
Researching a trip

Comparing prices

Assessing facilities at train stations, airports, and bus depots, etc

Booking tickets

Checking timetables

Changing Itineraries

Checking in online
Everyone should have the same opportunity to decide whether a particular destination or service is right for them. That means having equal access to information and reservation processes.
"When I'm trying to book a holiday on a travel site, I quite often feel like I'm going in the wrong direction. Travel sites with poor accessibility have stopped me from making purchases in the past and hampered my experiences. I think businesses are guilty of not considering accessibility from the beginning of the design process and almost trying to incorporate accessibility features as an afterthought – which shouldn't be the case."

Molly Watt, Usability and Accessibility Consultant
Common Accessibility Problems on Travel Websites
Lack of information is a barrier in its own right, and for many internet users, travel websites are simply not accessible:
Using colour to convey booking availability – a calendar that uses colour alone to convey availability can be inaccessible to people with visual impairments.
Missing form labels on booking forms – without labels users who use a screen reader may be uncertain what to input into the field when making a booking or an enquiry.
Flashing images – travel websites often have flashing images to promote 'hot deals' which can trigger epileptic website visitors.
Website only available in English – People who speak English as a second language cannot adequately understand the content. Without a translation option, they will simply leave the page and book with a competitor.
Missing ALT text – ALT text is a short-written description of an image and is read aloud to users by screen reader software. If no ALT text is provided a screen reader would only be able to say "image" or perhaps read the file name.
Small text on comparison tables and calendars – people with vision impairments cannot read information online when the font size is too small.
Who Needs Website Accessibility Assistance?
In short, more people than you think! Accounting for at least 15% of the global population, the disabled are the world's largest minority group. In the UK, it's estimated that nearly 1 in every 5 people has some sort of disability. So improvements are required as soon as possible to tap into this incredibly lucrative market.
In the travel sector, it's arguable that physical and hidden disabilities are more prevalent than in others a higher percentage of the market is likely to encounter accessibility barriers. For example, there are currently almost 12 million people aged 65 and over in the UK alone, many of whom have disposable income to spend on travel but are more likely to struggle with vision problems and mobility issues. Also, many tourists and travellers do not speak English as a first language.
Accessibility Barrier Examples
Online access barriers occur when an element of a website's design or presentation makes it difficult to read or interact with the content. Let's look at some real-life examples.
Ann is partially sighted. She wants to book a train tour around Scotland, but the website she's looking at does not have appropriately-coded headings, so her screen reader cannot skip to the sections she wants to read. Plus, many images are missing alt tags, so she receives no helpful contextual information from images.
Dave has dyslexia. He wants to book flights directly with an airline, but their website is overcrowded with information. The text is too small, the text is not suitably aligned, and the poor colour contrast between text and background makes it impossible for him to read the text or makes sense of the availability calendar.
Shonda does not speak or read English as a first language. She's trying to buy an annual bus pass but is struggling to understand the information. Plus, because the booking form is missing labels, she doesn't understand where to click to make a reservation. She eventually finds an explainer video on YouTube, but the auto-generated captions are inaccurate and create even more confusion.
The Cost of an Inaccessible Travel Website
The spending power of those with disabilities is commonly known as the Purple Pound, and financial losses from consumers who click away from your website and shop on more accessible sites is known as the Clickaway Pound. The value of the UK's 'click away' spending on more barrier-free sites is £17.1 billion.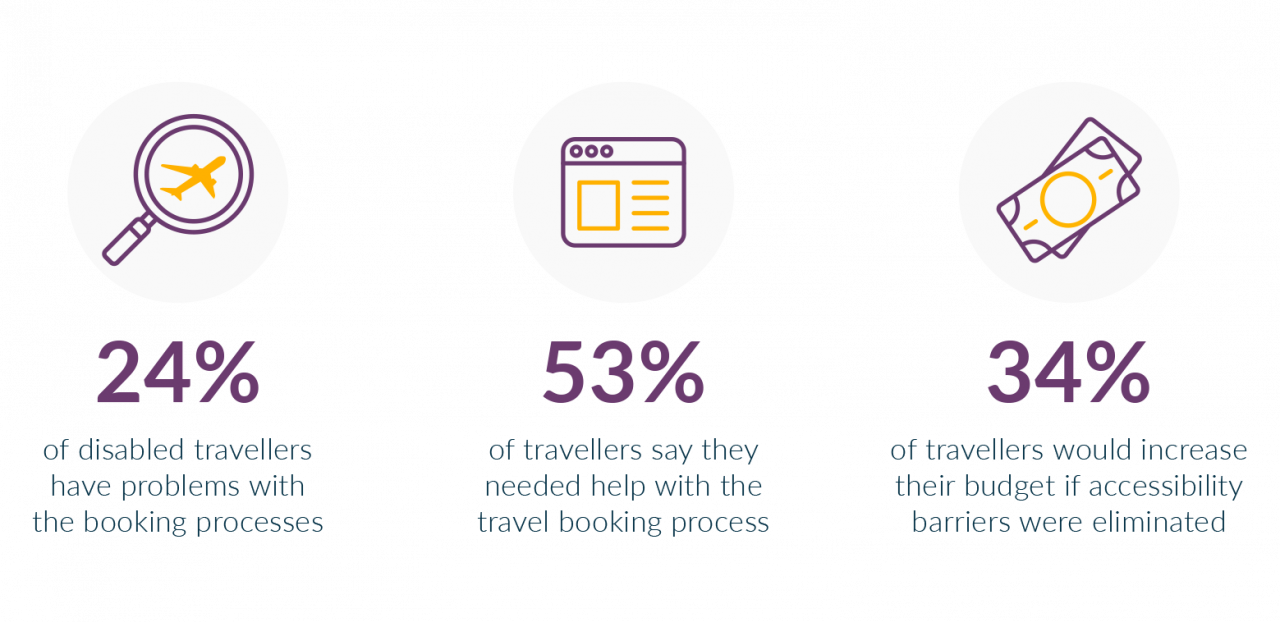 Top Tips to Create an Accessible Travel Website
When building or redesigning a website, check out the World Content Accessibility Guidelines (WCAG) and aim for WCAG AA level. This is the standard of accessibility compliance that is legally required for certain sites, is the level that is typically referred to when discussing 'making a website accessible'.
In addition, your webmaster should follow these steps to make your website easier for everyone to read, focus on, and understand.
1. Use a content management system that supports accessibility.
This includes ensuring that layouts, themes, widgets, and plugins are compatible with WCAG standards. Some of the most popular content management options for travel, tour, and activity operators include WordPress, Typo3, Drupal, Magento, and Contao.
2. Think about the layout
Group relevant topics under separate and fully descriptive labels. For example, options for train travel, bus travel, flights, and car rental should all be under their own separate tab. You can include drop-down or click-through links to other relevant content by destination, price, etc.
3. Use headings correctly to structure your content.
Visitors use headings to quickly scan a page to see if the content is relevant to them. If they are looking for information about a particular route, destination, service, or price point, using headers effectively can increase engagement and bookings. For example, you could use H2 titles on a special offers page to promote 'round trips for under £100', 'round trips for under £200', 'round trips for under £500', etc.
4. Include alt text for all images.
Descriptions evoke feelings that have the power to increase sales. So, aside from simply including alt tags, it's worth putting some effort into the descriptions. For example, possible descriptions for the same picture could include:
Family in the sea

Family playing in the sea at sunset

Parents and children wearing white playing in the sea at sunset
See the difference?
5. Be mindful of colour use and colour contrasts.
When designing availability calendars and pricing tables, bear in mind that the newest WCAG recommendations require a contrast ratio of 4.5:1 for normal text (14 point) and 3:1 for large text (18 point +). Because red/green colour blindness is the most common, avoiding green on red or red on green is best. If you're not sure about your colour options, the WebAim Contrast Checker allows you to check any two colours against each other to gauge contrast suitability.
6. Ensure documents are designed for accessibility.
Many links to tickets and booking confirmations are programmed to open in a new window and display as a PDF. This is not accessibility friendly to many disabled website visitors using assistive technology like screen readers. Often, that means contacting the company directly to obtain documents in accessible formats.
7. Optimize for navigation
Your website should be easy to navigate using a mouse, trackpad, keyboard, and ideally, voice-activated assistive technology. You can learn more about keyboard navigation and recommendations on the W3C website.
How Recite Me Can Help
A proven way of supporting people online is by utilising assistive technology. Recite Me's assistive toolbar supports a diverse range of users by providing tools that allow website visitors to create a fully customisable experience. Our accessibility features can be used individually or combined to make multiple adjustments for ultimate ease of use. Users can:
Personalise font size, type, and colour options to make each web page easier to read.

Utilise the mask screen tool, which isolates parts of the page to help with focus.

Use the ruler tool to make reading easier.

Download content as an audio file as an alternative to reading.

Convert page content into over 100 different on-screen languages.

Have the page read aloud in a choice of 35 different languages.

Customise PDF documents and have them read aloud or translated.
What the Data Says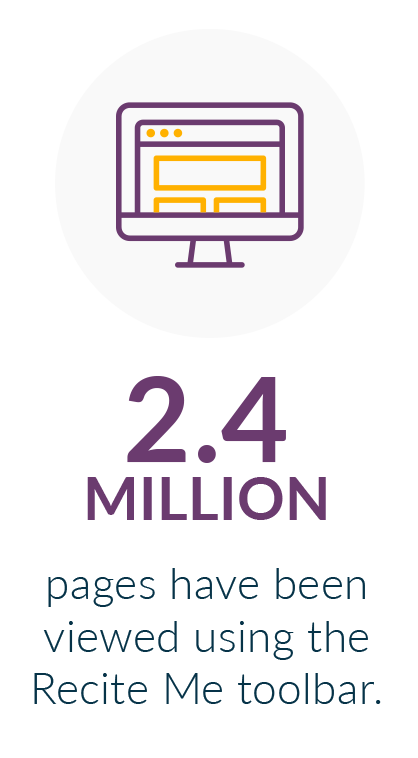 Recite Me software is already installed on over 3500 websites. We are proud to work with numerous organisations in the travel and transport sector already, including Gatwick Airport, London City Airport, and Orlando International Airport. We are delighted that so many companies are committed to providing inclusive online journeys for the public they serve. Our most recent 12-month stats from our travel and transport sector clients show that:
Over 2.4 million pages have been viewed using the Recite Me toolbar.
On average website visitors who use the Recite Me toolbar on travel and transport viewed 7.12 pages, which is higher than the average internet journey depth of just 2.8 pages per visit.
2.8 million pieces of content were read aloud.
2.8 million pieces of content were translated into different languages.
Key Takeaways
The travel and transport sector is a lucrative market, and businesses that are not accessible to people with a range of access needs are missing out on up to 20% of the market share.
Common accessibility issues are easily fixed by adapting your website to meet our list of best practices.
All business websites should aim to comply with WCAG Level AA.
Assistive technology can support people with varied access needs by allowing them to make customisations for easy reading and navigation.
If you'd like more information on how to optimise your website for inclusion with our cloud-based website accessibility technology, please contact our team or book a real-time demonstration of our toolbar.