The vast majority of charities rely on the internet not just to communicate with their subscribers and recipients, but to communicate their values and attract supporters, ambassadors, and benefactors. This is something that becomes increasingly difficult when websites are not accessible. 
The digitisation of services we've witnessed so far in the 2020s is leaving many charities behind. While some organisations recognise that change is required, many struggle with how to make their websites accessible for people with physical disabilities like motor issues and dexterity problems, and those with hidden disabilities like learning difficulties, vision impairments, cognitive differences, and people who speak English as a second language.
Why Web Accessibility Matters on Your Charity Website
Charities provide a wide array of services, including information, advice, training, education, and digital resources. As such, charity websites are often among some of the most complex for users to access, making web accessibility a top priority.
By their very nature, charities actively work towards equality and inclusion for all. So much of our everyday life takes place online these days that people become excluded if we don't take web accessibility seriously. 
When left untackled, digital exclusion leads to a two-tiered society, something the charity sector works incredibly hard to avoid. So the shared values between charity goals and the benefits of web accessibility are evident.
The charity sector is well known for supporting some of the most vulnerable members of our society, and inclusivity is especially important because the target audience is so diverse and varied. The simple fact is that the more an organisation does to provide access to information, the more people it can reach. So it makes sense that charities should take the lead in tackling web accessibility and ensure their websites are fully inclusive of everyone, including those with disabilities.
As of 2020, there were over 168,000 registered charities in the UK, and at least another 20,000 not-for-profit organisations with charitable status. The overall goal of most charities is the same: to bring people who care about a cause together so that they can make a difference.
Charities help in many different ways, but the main focus is usually on providing direct help, giving information, or raising awareness of an issue. So how do you make your charity stand out? One way is to mitigate all of the ways digital accessibility barriers could stop people from finding out more about your organisation.
Competing in the Online World
It's no surprise that the charitable donations landscape changed considerably during the global pandemic. People became more tech-savvy, and we saw a pronounced shift away from cash donations in favour of online giving. This trend shows no sign of abating, even though many charities are now back to operating as usual. In 2019, 51% of Charities Aid Foundation (CAF) study of household donor behaviour respondents said they donated in cash, compared to 38% at the start of 2020. This figure slumped to 9% later in the year. By August 2021, the percentage of cash donations had risen to 18%, but it seems unlikely it will rise back to previous levels. 
Given that the future of giving is online, many charity organisations fall short when it comes to digital strategies by failing to focus marketing and fundraising efforts on tapping into online donations:
Only 3% of charities rate their board and executive leadership as digitally savvy (NPSource). 
66% of charities are worried they miss out on digital fundraising opportunities (NPSource).
50% of charities don't have any specific digital strategy (Enthuse). 
Plus, many charity websites lack the organisation, structure, finesse, and functionality needed to maximise subscriptions and donations. Research shows that 51% of high-end donors prefer to give online. However, a survey by Target Analytics found that:
47% of potential donors are turned off by usability problems relating to page and site design, including unintuitive information architecture, cluttered pages, and problems related to payments.
53% of potential donors are deterred by content issues like confusing terms, unclear information and missing context. 
On 17% of sites, users couldn't find where to make a donation.
How Can Recite Me Support Your Charity?​
A proven way of supporting people online is by utilising assistive technology. The Recite Me toolbar provides a suite of online tools that support ambassadors, benefactors, and beneficiaries, allowing charities to champion their causes as efficiently as possible.
Our software supports a diverse range of users by providing tools that allow website visitors to create a fully customisable experience. Accessibility features can be used individually or combined to make multiple adjustments for ultimate ease of use. Users can:
Utilise the mask screen tool, which isolates parts of the page to help with focus.
Download content as an audio file as an alternative to reading.
Convert page content into over 100 different on-screen languages.
Have the page read aloud in a choice of 65 different languages.
Accessible documents such as PDFs that have translate and read aloud features.
Personalise font size, type, and colour options to make each web page easier to read.
Use the ruler tool to make reading easier.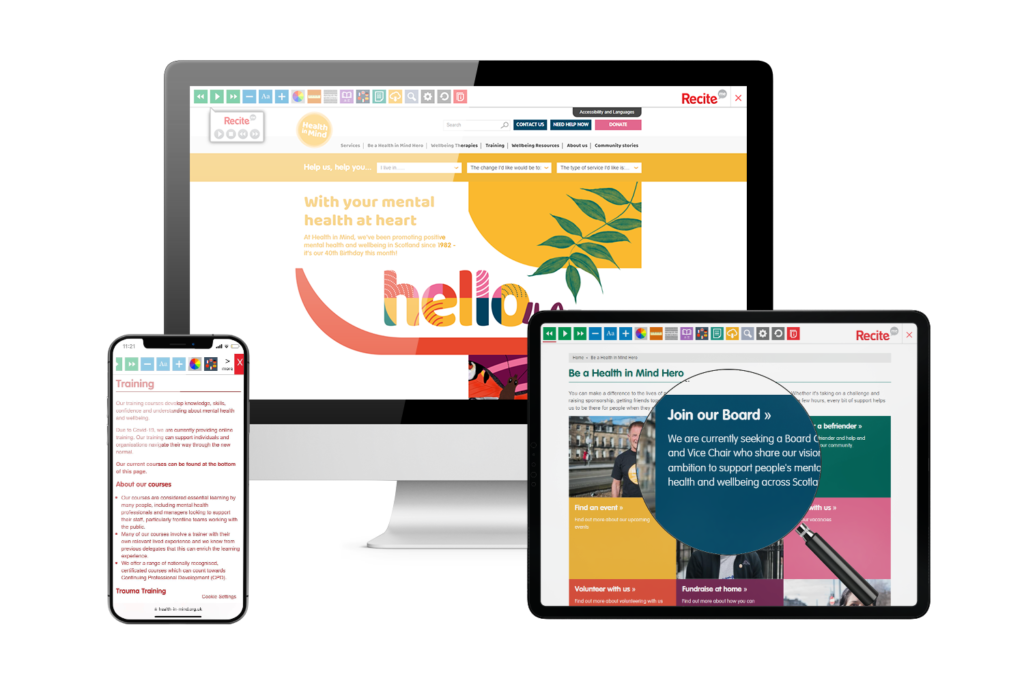 Charities Leading the Way with Digital Inclusion
At Recite Me, we are proud to work with numerous organisations in the charity and non-profit sectors already. We are delighted that so many entities are committed to providing inclusive online journeys for the causes they serve. Our current client list includes: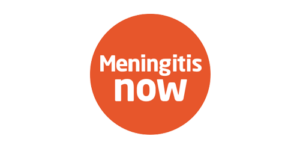 "We believe everyone should be able to access our information and services barrier-free, and Recite simply helps us deliver this in a way that is straightforward for the user and, for a charity that doesn't receive government funding, in a cost-effective manner."
David Clifford, Digital Marketing Manager at Meningitis Now
By embedding our software on their websites, the charities we work with have been able to boost donations, memberships, volunteer sign-ups, petition signatures, and increase the size of their mailing lists. Over the last 12 months, our data shows that:
Nearly 645,230 unique users activated the Recite Me assistive toolbar to view charity websites.
Over 2.26 million charity web pages were viewed using the toolbar.
On average, the number of pages viewed per session using the Recite Me toolbar is 10% higher than the industry average.
If you'd like more information about how to optimise your charity website for inclusion with our cloud-based website accessibility technology, please contact our team or book a real-time demonstration of our toolbar. You can also try our free WCAG checker here.