FTSE 250 recruitment company, Michael Page is breaking down accessibility barriers by calling on the recruitment industry to do more to help people with disabilities to get into work.
To do this, Michael Page has partnered with Recite Me to offer a suite of customisable digital online tools to remove recruitment barriers for those with visual impairments, learning difficulties, who speak English as a second language, and neurodivergent.
Established in the UK in 1976, Michael Page has grown to become one of the world's best-known and respected recruitment consultancies. Operating in 37 countries, Michael Page has taken responsibility to lead the way in providing inclusive recruitment to diversify talent pools across the globe.
Michael Page CEO, Steve Ingham, is paving the way for this change within the recruitment industry. This follows a survey of over 1,000 UK business leaders which highlighted that almost three-quarters (74%) feel that there are barriers to hiring people with disabilities.
Job seekers can access the Recite Me toolbar in action in eight markets on the Michael Page and Page Personnel websites to support those with additional needs online. The customisable tools on offer include screen reading functionality, multip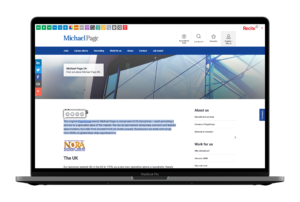 le reading aids, customisable styling options, and an on-demand live translation feature that boasts over 100 languages including 65 text-to-speech.
Michael Page CEO, Steve Ingham said, "For the past six months we've seen job vacancies skyrocket, with many suggesting that the market is 'candidate short'. But the fact of the matter is that there are hundreds of thousands of disabled or neurodiverse candidates who are unable to access roles due to inaccessible recruitment processes.
"With most job searches taking place online, the Recite Me toolbar opens the door to diverse talent to grant everyone access to their dream career, increasing the number of candidates applying for roles.
"At PageGroup, we are determined to create change. Whether that's the industry-leading work our award-winning DE&I team does internally, the support we give our clients through our DE&I Client Solutions team, or our new accessibility resources for businesses across the country – this is a priority that runs through the very core of our business."
In the last 12 months over 25 million web pages have been made accessible with the Recite Me accessible toolbar. If you would like more information on how your organisation can provide inclusive recruitment by using assistive technology, contact our team or book a real-time demonstration of our toolbar, together building a more inclusive digital world for all. You can also start your accessibility journey with a free WCAG compliant scan of your websites homepage, to detect and provide solutions to inaccessible website features.