Colt Technology Services provides an inclusive online experience with the adoption of Recite Me accessibility and language tools.
Colt is a multinational telecommunications company that connects 900+ data centres across Europe, Asia, and North America's largest business hubs, with over 29,000 on net buildings and growing.
With the implementation of the website accessibility plugin on Colt's website, users with a disability, learning difficulty, visual impairment, or those who speak English as a second language can customise their digital experience to best suit their individual needs.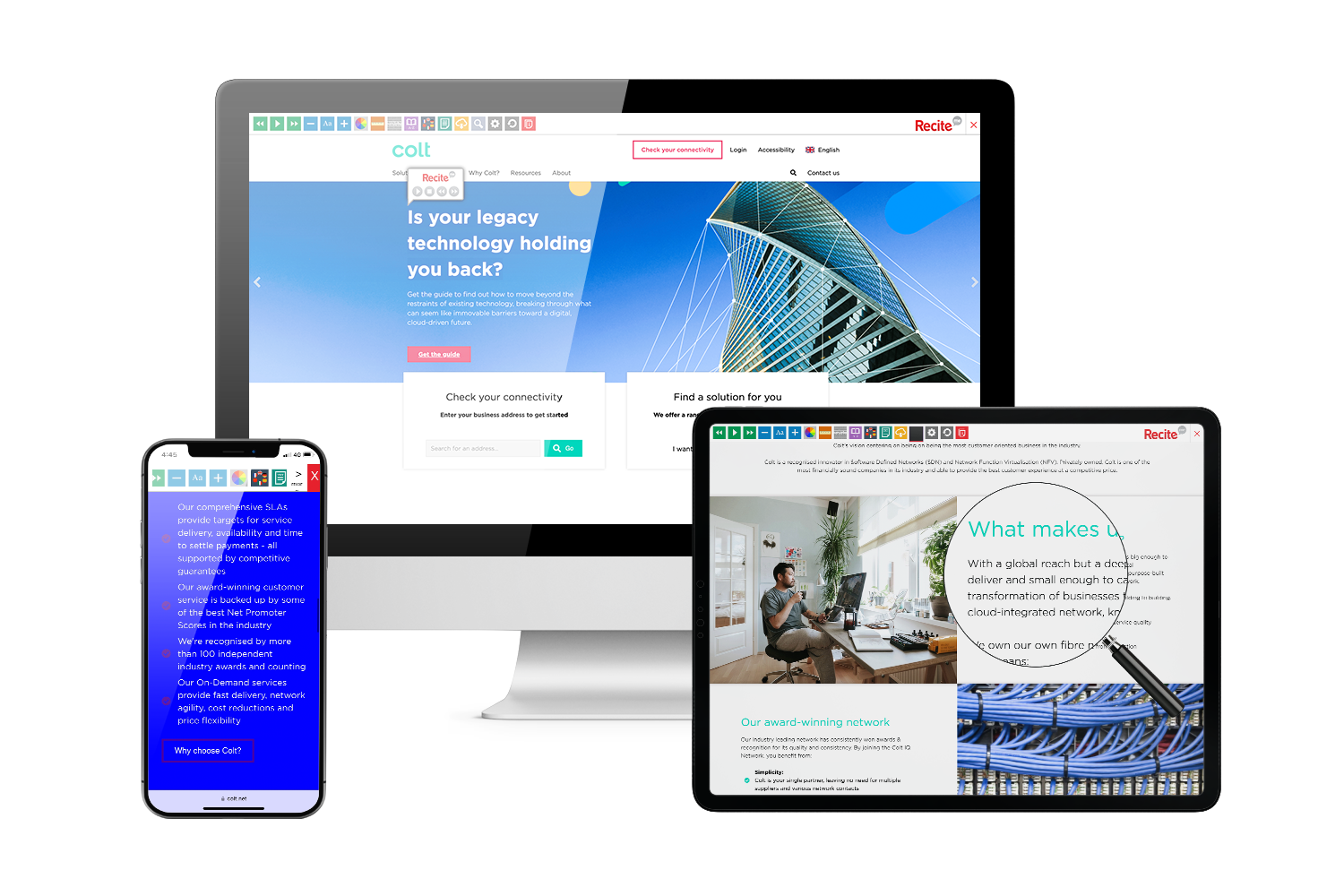 According to the World Health Organisation (WHO), more than a billion people (15% of the world's population) are estimated to live with some form of disability, which may put individuals at a disadvantage when accessing online information and services.
The Recite Me assistive toolbar on Colt's website includes screen reading functionality, multiple reading aids, customisable styling options, and an on-demand live translation feature that boasts over 100 languages including 35 text-to-speech and styling options.
Rachel Collins, Head of Inclusion and Diversity at Colt commented,

"Across the internet there is little information available in accessible formats, and the communication needs of people with disabilities are left unmet. We want to provide accessibility to everyone and make sure everyone gets the most out of our website when they visit.
With the implementation of Recite Me on our website we can reach a diverse range of people who can read and understand the information easily and inclusively on our website."
To raise awareness about digital access and inclusion, Colt is exploring the benefits of accessibility tools and how they are paving the way to a future of barrier-free information and services for those with disabilities. To find out more about the benefits of accessibility tools and use their assistive toolbar go to Colt's website.
Recite me is quick and easy to implement on your website. For more information on how you can provide an inclusive digital world, go to Recite Me or contact a member of our team. Alternatively, be sure to check out our accessibility site checker, as this tool can help you analyse your sites performance based on a variety of accessibility metrics.