Airports are complicated and challenging environments at the best of times, and even more so for travellers with disabilities. Most modern airports have adapted to meet the needs of passengers with mobility issues, but the vast majority are still failing to provide appropriate assistance for passengers with hidden disabilities. For these travellers, accessibility issues begin way sooner in the customer journey, from the very first time they click on an airport's website…
Airports & Online Accessibility
Globally, airport websites receive millions of clicks every day and the diversity of site visitors is incredibly wide-ranging. Airport websites are invaluable for passengers looking for arrival and departure information, and for those wanting to book ahead for airport services like car parking, left luggage, lounge access, and special assistance etc. Unfortunately, these details are often inaccessible to the millions of passengers who struggle to access information on websites due to:
Vision problems – examples including partial blindness, colour blindness, and deafblindness.

Physical disabilities – such as decreased upper body motor function that limits keyboard use, or epileptic customers who may be triggered by graphics on a web page.

Learning difficulties – like dyslexia, ADHD, or hyperlexia.

Language issues – many foreign tourists do not speak English as a first language.
These often-ignored hidden disabilities are perhaps more prevalent in the aviation market than any other, as the sector comprises, by default, a large number of those who are more likely to encounter accessibility barriers:
Any tourists who don't speak English as a first language.

Older people with disposable income to spend on travel, but who are more likely to struggle with vision problems and mobility issues.

All travellers with hidden disabilities who spend several weeks – or even months – researching their holiday plans online.
Data suggests that there are over one billion people globally who have disabilities that form barriers to website accessibility. In the case of airport website visitors specifically, this prevents potential travellers from acquiring the information they need to support them on their journey. Many industry experts claim that this is one of the areas requiring the most attention and improvement, and that by applying principles from the hospitality and travel industry in general, airport operators should be able to improve their inclusion ratings.
"The hospitality industry, with its insistence on superb customer service at every customer contact point, shows the direction where airports should be going."

Chris Radcliffe, Accessibility Specialist at Maber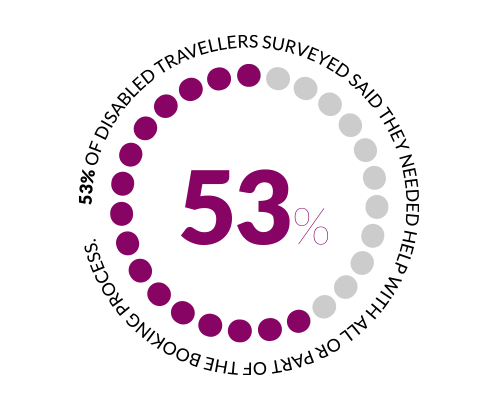 The Importance of the Disability Market
We already know from industry reports by AMADEUS and The Open Doors Organisation that inaccessible websites are a major barrier for people with disabilities who want to travel. In fact, 53% of disabled travellers surveyed by AMADEUS said they needed help with all or part of the booking process.
Accounting for 15% of the global population, the disabled are the world's largest minority group, so improvements are required as soon as possible to tap into this incredibly lucrative market:
Inaccessible websites are the biggest barrier preventing people with disabilities from researching, planning, and booking trips online, with 24% of disabled travellers saying they have problems with the searching, shopping, or booking processes.

Adults with disabilities spend an estimated $17.3 billion on travel every year.

Travellers would increase their travel budget by up to 34% if accessibility barriers were eliminated.

Ultimately, the findings of these reports demonstrate that airports and aviation companies can expand their market, sales, and revenue significantly if they remove the barrier of inaccessible websites.
"In both the United States and Europe, the growth in demand for accessibility services is now outpacing the overall rise in passenger numbers."

Laurel van Horn, Open Doors Organisation
Accessibility Legislation & Guidelines for Airports
It is commonplace in developed countries that there are laws in place to prevent businesses from discriminating against those with disabilities. In the UK, this is covered under the Equality Act of 2010, and in the USA it falls under the Americans with Disabilities Act (ADA). Both laws require companies to make accommodations for people with disabilities, including making websites accessible, yet an astounding number of websites are still not in compliance.
"The ADA is the strongest disability nondiscrimination law in the entire world, yet there are far too many businesses and organisations that still either aren't aware of what the law is, or think they can get away with not complying."

Stacy Cervenka, Nebraska Commission for the Blind and Visually Impaired
In the transport and aviation industries specifically, there are further regulations laid out in the Air Carrier Access Act (ACAA), and the Department of Transport (DOT) requires that businesses are in compliance with Web Content Accessibility Guidelines (WCAG 2.0) Level AA. The DOT has also developed a series of informative materials to assist passengers travelling with disabilities to better understand their rights. However, as many of these are digital, they may not be accessible to those who struggle with hidden disabilities, so their effectiveness is somewhat limited.
Industry Leaders
Embracing accessibility and becoming inclusive to all customers sets businesses apart from their competitors, and some airports are already leading the way by making information about their services more accessible on their websites
One of the best ways to become inclusive is to utilise assistive technology like the Recite Me assistive toolbar. Several airports have already taken this step and are seeing the benefits. Our clients include:
Heathrow International Airport

All of these providers use Recite Me software to let travellers with a wide range of disabilities and impairments easily access their websites and web content.
"Gatwick Airport aims to be the UK's most accessible airport, giving everybody an equal opportunity to fly, and as part of this, it is important for us to make our website easy to use for as many people as possible."

Mandie Armstrong, Digital Communications Manager, Gatwick Airport
Assistive Technology Solutions
Software solutions like the Recite Me assistive toolbar helps websites to be totally inclusive through a suite of customisable accessibility and language options. When equipped with Recite Me software, websites become instantly accessible, readable, and much easier to understand.
The toolbar has been designed with WCAG principles at the core of the product, but our goal is to do much more than simply 'tick the box' on compliance for reasonable adjustments. Recite Me is about creating a totally inclusive digital environment, where users can:
Personalise font size, type, and colour options to make each web page easier to read. This is beneficial to readers who have dyslexia, dyspraxia, colour blindness, or decreased vision in general.

Download content as an audio file, which is great for those with vision problems.

Access text to speak functions in 35 different languages, which is beneficial for all site visitors with English literacy issues. The text can be read aloud at different speeds with either a male or female voice, which is great for autistic users too.

Utilise the screen mask and ruler, allowing those with ADHD and other attention disorders to focus rather than being distracted by other content on the page.

Convert text content into over 100 different on-screen languages, which is ideal for those for whom English is not their first language.

Make use of the toolbar's built-in dictionary and thesaurus to check word definitions. This is particularly important for users with conditions like hyperlexia, who can read words but not necessarily understand their meaning.

Switch to "text-only" mode. This feature is favoured by those with conditions like Epilepsy, as they can strip away any media or graphics that may cause a seizure.
What The Data Says
On average, airports providing Recite Me accessibility and language support witness: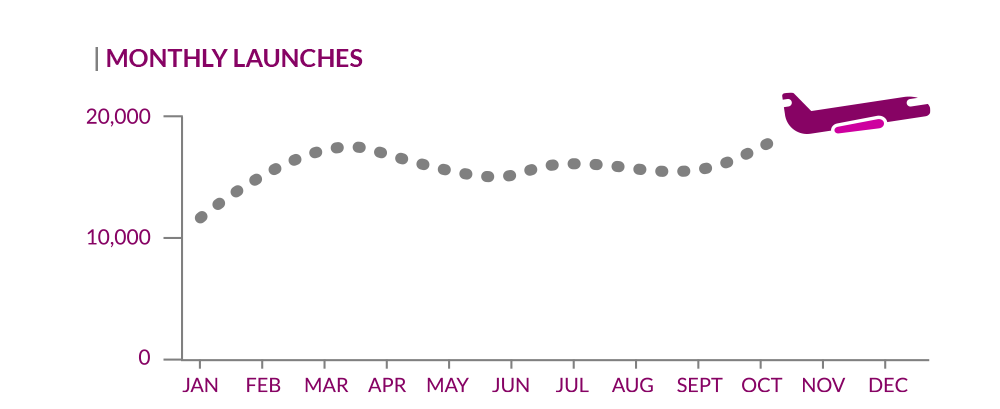 Over 20,000 launches of the toolbar every month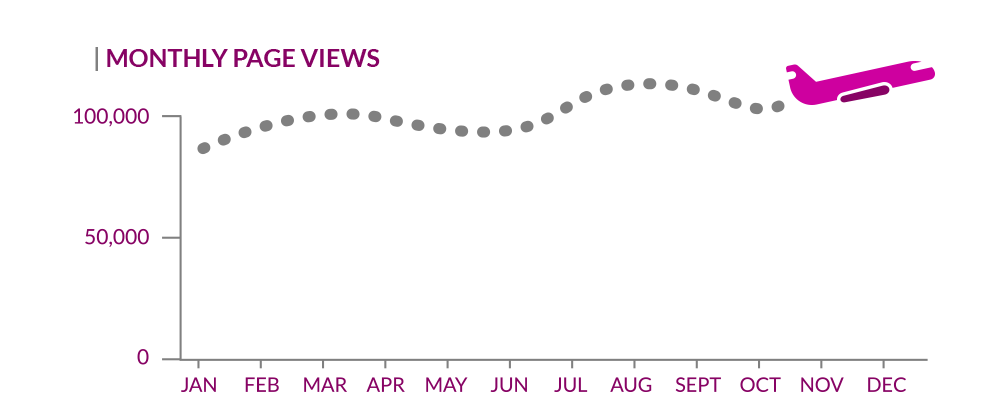 Over 98,000 pages being viewed every month
​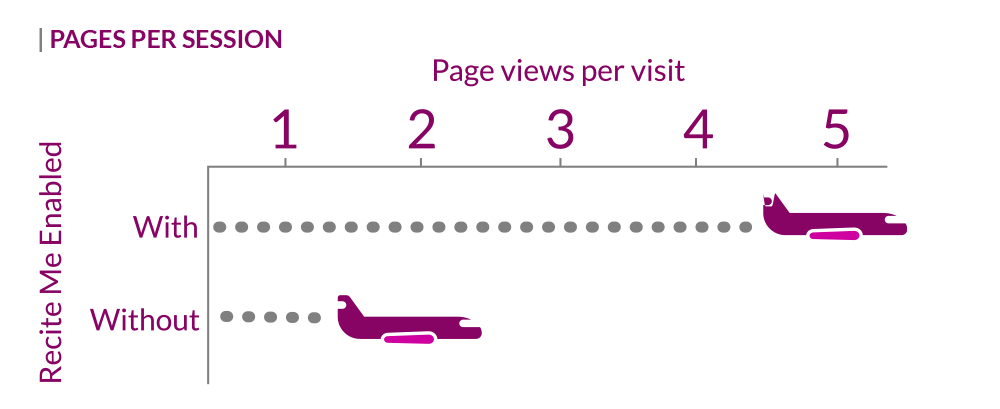 View time of almost 5 pages per session, compared to the average internet journey depth of just 2 pages per visit.
Toolbar Feature Usage
Across a range of actions including checking flights times, researching access information, or booking parking or hotel stays etc., the breakdown on usage of our toolbar features is:
Screen Reader – 58%

Translation – 28%

Styling – 14%

This data proves a more inclusive experience with site visitors using a range of accessibility functions, choosing to stay on accessible websites for longer, and in many cases continuing to point of sale to book services. With accessibility factors having such a significant impact on sales (and therefore revenue and profit), the business case for adopting assistive technology to create a more inclusive customer journey is clear.
It's not simply the logical thing to do, however, being inclusive is the right thing to do. Why should some people miss out on the same travel opportunities and privileges as the rest of society, just because they struggle to access or assimilate information in the same way? And especially at a time when the sector is already struggling to bounce back from the economic downturn caused by COVID-19, businesses should be casting their net as wide as possible in order to achieve a larger customer base.
Get Recite Me for Your Website
It has never been more important that all customers can access and understand information online, so now is the time to join the thousands of companies who have already made positive steps towards becoming digitally inclusive by installing Recite Me assistive technology on their websites.
If you'd like more details on how your business can use our assistive technology, please feel free to contact our team or book a demonstration of our toolbar.