Streamlining accessibility compliance at a major UK law firm
In the UK alone, it is estimated that 11 million people have some form of disability. This includes sight loss and learning disabilities. As more companies and organisations move their operations online, this can present a significant challenge to the millions of people around the world who are visually impaired. As the rise of websites and e-commerce will continue to grow at an exponential rate, these challenges will become even more significant in the years to come.
Recently, Ward Hadaway, one of the UK's Top 100 law firms with offices in Newcastle, Leeds and Manchester, implemented Recite Me's innovative software to improve its web accessibility.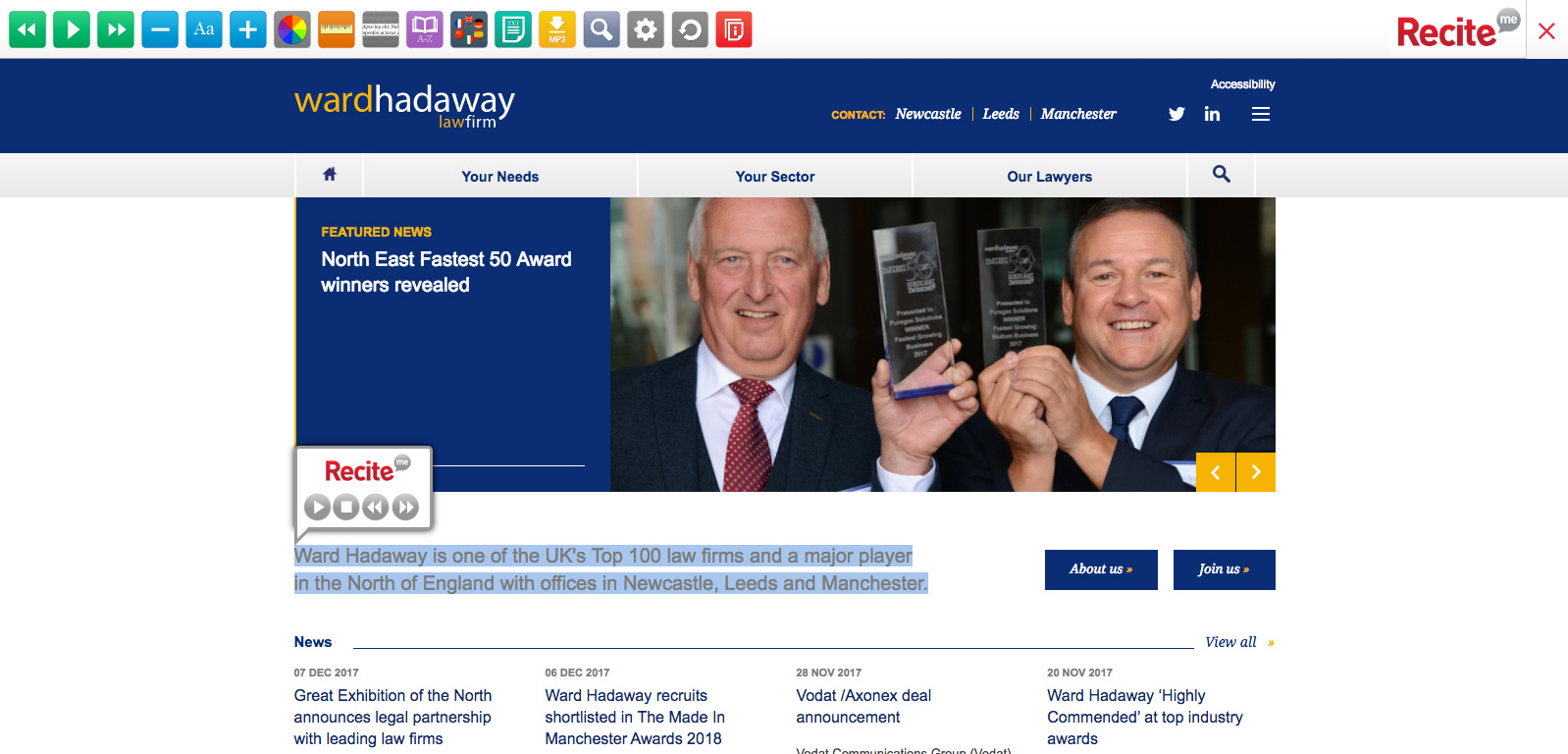 James Sykes, Head of Marketing at Ward Hadaway, said: "In my experience, the various regulations around accessibility are quite often unclear and at times regressive. As such they aren't necessarily in the best interests of all users, including those with special needs."
When the firm came across Recite Me earlier this year, they found a simple and straightforward approach that would cater to clients with special needs, as well as satisfying compliance regulations. It also enhanced rather than restricted the contemporary nature of the site. With the simple click of a button, visitors to the site can now hear audio descriptions, alter the text size, change fonts and languages, and even enable a ruler or screen mask to help users read lines of text more easily.
James added, "We've always made sure that the site is compatible [for those with special needs] via screen readers, variable font sizes and other browser-controlled tools. When we came across Recite, we saw it would provide all of those tools in a very simple way, which was appealing to the firm to increase the obvious accessibility of the site across multiple platforms and devices."
James is confident that these steps will go a long way in addressing accessibility concerns, and will improve the overall web experience for all users. He adds, "With what we've already done, plus the Recite Me toolbar, we're very confident that we now offer solutions for a whole range of users who may be browsing the site."