Recite Me is delighted to announce a new partnership with Volcanic, the global leader in designing and building recruitment websites. Volcanic design and build recruitment and staffing websites for organisations all over the world on their market-leading SaaS platform. Built exclusively for recruiters, the platform has been developed to deliver the best candidate and client experiences.
This partnership will provide Volcanic clients with the information, ideas, and support they need to create an inclusive experience online enabling all candidates to have equal access to job opportunities.
14.1 million people in the UK have a disability and often encounter obstacles online when applying for jobs. By providing accessibility and language support recruiters and employers can remove barriers for those with disabilities, visual impairments, learning difficulties and for those who speak English as a second language.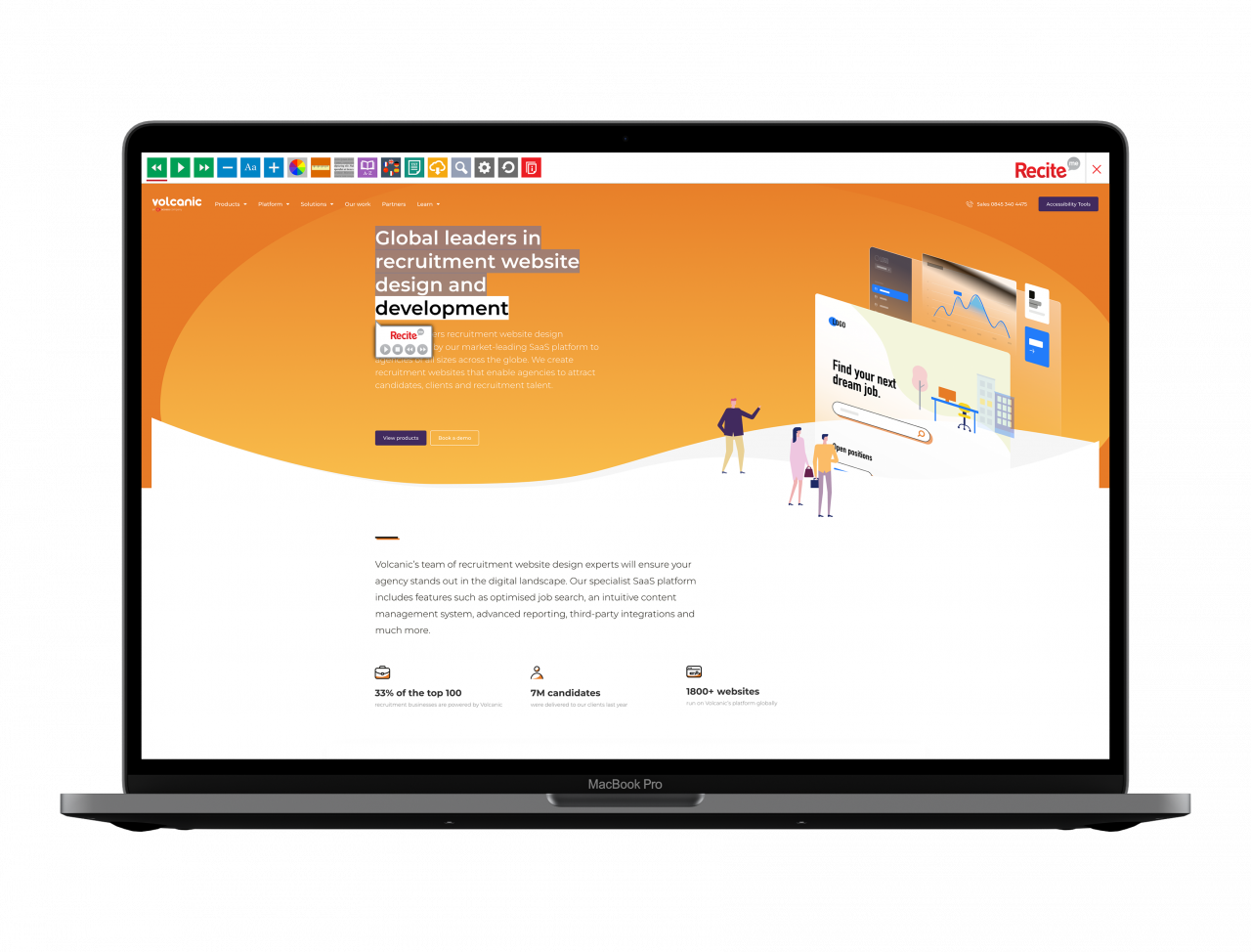 Rachael Moss, Head of Marketing at Volcanic (Access Recruitment) commented
"Volcanic is proud to be partnered with a business that makes such a positive difference for people who may face barriers online. Recite Me's accessibility software is used by many Volcanic customers as a way to enable their candidates to personalise the experience of searching and applying for jobs on their website. In fact, we believe in the tool so much we have added it to our own volcanic.com website, as well the careers site of our parent company, The Access Group. We were thrilled to have Recite Me contribute to our latest eBook, Creating an Inclusive Candidate Experience on your Recruitment Website, and look forward to doing more great work together to influence much needed change in this area."
With only 51% of applications from disabled people resulting in an interview, assistive technology offers support to website users to enable them to understand information, making it easier to apply for jobs online.
With the Recite Me assistive toolbar website users can use features such as translating content into different languages, reading aloud and styling assistance. This includes adjustments to colour, font type and size.
To find out more about the Recite Me toolbar and how it can help create an inclusive candidate journey online please contact the team or book a demo and make sure to mention that you are a Volcanic client. You can also try our other accessibility product, the website accessibility checker, which you can use to run a free scan of your homepage.