NorthLink Ferries is a progressive and inclusive company, developed from the ground up with accessibility in mind across its entire operation. Physical accessibility has always been a priority. And now, with the addition of the Recite Me Toolbar, the NorthLink Ferries website has become an effective tool in providing the assistance passengers need to guarantee inclusive journeys.
NorthLink Ferries implemented Recite Me in 2019. Over the past 12 months since travel routes have reopened, the website has supported over 8000 unique users with styling and translation assistance.
Why Web Accessibility is Essential in the Travel and Transport Industry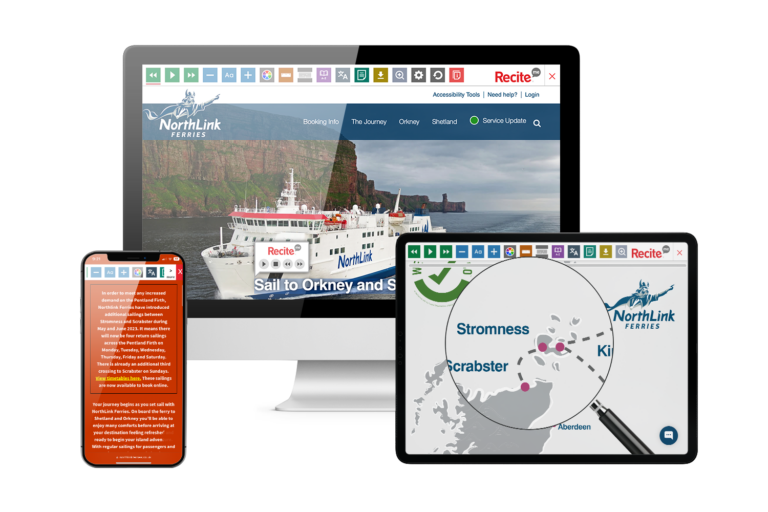 Nobody should have to miss out on the opportunity to travel and explore just because they can't access information in the same as everyone else. Therefore, removing online barriers so everyone can research, plan, and book trips is essential. 
People visit the NorthLink Ferries website for several reasons, including:
Researching destinations
Checking routes
Accessing service updates
Booking tickets
Yet, for passengers with disabilities, these seemingly simple tasks can be much more complex than you'd think. And we're not just talking about physical disabilities – although making physical accessibility adjustments is undeniably an essential consideration. 
In the online world, up to one in 5 people has a disability that can make accessing information challenging, complex – or simply impossible. This includes passengers with physical disabilities who may be unable to use a mouse or trackpad. It also includes the hundreds of thousands of people with hidden disabilities like cognitive and neurological disorders, learning difficulties, visual impairments, and those who face language barriers.
The Cost of an Inaccessible Website
Approximately 63% of all shopping journeys start online, and the spending power of people with access needs in the UK is £24.8 billion. So the business case for ensuring that websites are accessible should be fairly obvious. Plus, in the travel and transport sector, it's arguable that physical and hidden disabilities affect more customers than in other industries because a higher percentage of the market is likely to encounter accessibility barriers. For example, there are currently almost 12 million people aged 65 and over in the UK, many of whom have disposable income to spend on travel but are more likely to struggle with vision problems and mobility issues. Also, many tourists and travellers do not speak English as a first language. 
Making sure products and services are available to everyone is vital because research shows that:

Travellers would increase their budget by an average of 34% if accessibility barriers were eliminated (World Travel & Tourism Council).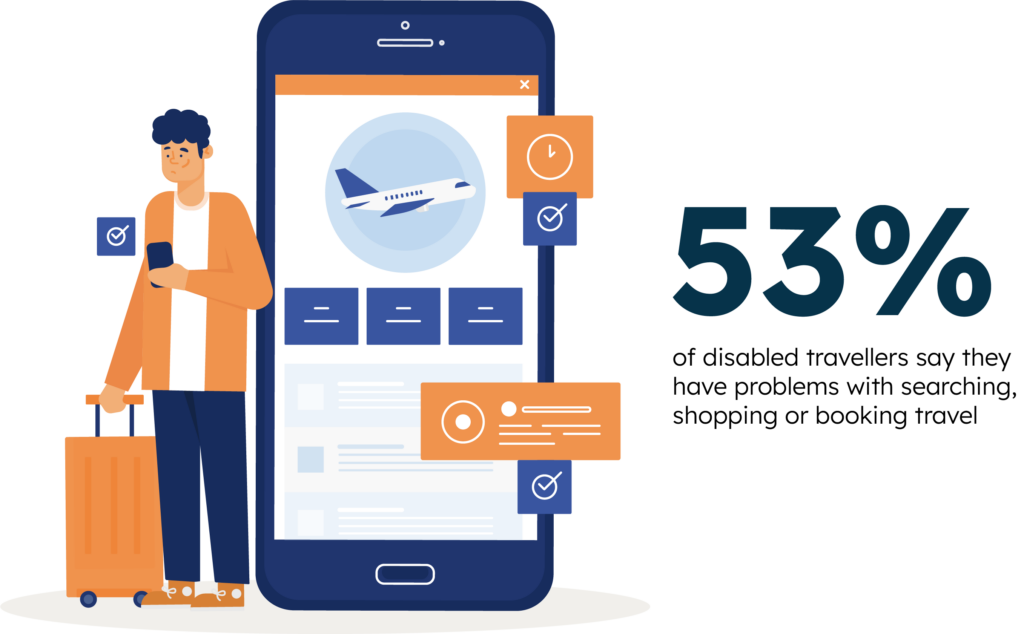 NorthLink Ferries Journey to Accessibility
NorthLink has always prioritised physical accessibility. The company operates numerous routes connecting the mainland ports of Aberdeen and Scrabster to Orkney and the Shetland Islands. But, even before passengers step onto a ferry, their journey of inclusivity has begun. All terminals, boats, and buildings are wheelchair friendly and can be accessed by customer lifts and level walkways. There are also lower customer-facing desks, hearing loops, a sign language service, large-print brochures, and signage in Braille.
Now with the implementation of the Recite Me Assistive Toolbar on the NorthLink website, accessibility has become just as easy in the online world as in the physical one. Recite Me assistive technology promotes inclusivity by allowing people to access the NorthLink Ferries website in the way that is best suited to them. Once activated, accessibility features can be used individually or combined to make multiple adjustments for ultimate ease of use. Users can:
Personalise font size, type, and colour options to make each web page easier to read.
Utilise the mask screen tool, which isolates parts of the page to help with focus.
Use the ruler tool to make reading easier.
Download content as an audio file as an alternative to reading.
Convert page content into over 100 different on-screen languages.
Have the page read aloud in a choice of 35 different languages.
Customise PDF documents and have them read aloud or translated.
"We're keen to let people know how easy it is to reach Shetland and Orkney, and the amazing suite of accessibility tools provided by Recite Me makes using the NorthLink Ferries website much easier to use in order to find out more. We love all the tools that Recite Me has to offer our passengers.""We're keen to let people know how easy it is to reach Shetland and Orkney, and the amazing suite of accessibility tools provided by Recite Me makes using the NorthLink Ferries website much easier to use in order to find out more. We love all the tools that Recite Me has to offer our passengers." Magnus Dixon, Northlink Ferries
Inclusivity Backed by Data
With Recite Me software installed, NorthLink Ferries has access to numerous reports demonstrating the return on investment to improve the accessibility of their products and services. Over the last 12 months, toolbar data shows that:
NorthLink Ferries webpages were viewed over 36,000 times using the Recite Me toolbar.
Over 8000 unique users were supported with styling and translation assistance.
On average, website visitors stayed on the NorthLink site to read an average of 4.48 web pages per visit – which is higher than the average website journey of just 2.8 pages per visit.
Over 80,000 pieces of content were read aloud using the screen reader.
Over 91,000 pieces of content were translated into different languages using on-page translation.

Aside from proving a financial return on investment through increased enquiries and bookings, toolbar data can also provide invaluable insights into market trends, helping the company to be more efficient in its marketing and communications. For example, by pinpointing that 30% of on-page translations were made in German, the company can design bespoke marketing campaigns that tap into German markets, knowing there's a guaranteed demand.  
We're delighted that our accessibility tools are making such a positive difference to the NorthLink Ferries team and all of their passengers, and we're looking forward to helping even more travel and transport companies to achieve similar results in 2023. 
Interested in learning more about the Recite Me Toolbar or accessibility WCAG checker? For further information, please contact our team or book a real-time demonstration to see our software in action.