All organisations want their websites to be accessible to as many people as possible. But where do you start on this journey, how do you make our websites accessible, how do we make them compliant?
The world of accessibility and making your website compliant with a law or standard can be a confusing and daunting subject. Until now.
Building upon the vision of Recite Me's Founder & CEO, Ross Linnett, to make the online world barrier free for all, Recite Me embarks on a new chapter dedicated to transforming digital accessibility and the way websites are built. This remarkable endeavor takes shape through the introduction of their latest breakthrough innovation, the Recite Me Accessibility Checker.
This revolutionary product redefines how you approach accessibility issues on your website. Our primary objective is to streamline the process, offering expert knowledge that goes beyond mere issue identification. With our checker, you will receive comprehensive guidance on resolving accessibility challenges, allowing you to achieve compliance with a range of standards and regulations. 
Web Accessibility Doesn't Have to be Hard 
We appreciate that web accessibility can feel complex and daunting. Wrapping your head around Web Content Accessibility Guidelines and the legislation that affects your company is just the beginning. You also need to allocate a budget for improvements, hire someone to action them, then find a way to measure the results and keep on top of progression. It's a lot to take on board. So, it's no surprise that many businesses shelf web accessibility and WCAG as a 'nice to have' idea rather than a 'must do' actionable item on their to-do list. 
Sound familiar? We get it. We really do. But the good news is it doesn't have to be that way.  The Recite Me Checker offers a refreshingly transparent accessibility solution that removes all of the stress and scary bits so you can fast forward to the end result: an accessible website that fosters inclusion for all of your online visitors.
But, How? (Spoiler Alert: It's WCAG-Related)
The simple answer: because our checker has been developed with Web Content Accessibility Guidelines (WCAG) 2.1 at its core. 
Stick with us. We know the mere mention of WCAG is sometimes enough to send organisations running for the hills – often understandably. Feedback from our clients suggests that most companies find WCAG standards incredibly complex to understand. If that's the case for you, you'll find our article on Understanding the Web Content Accessibility Guidelines helpful. But, for now, let's stick with an abridged version…
The WCAG is a set of recommendations for making websites and mobile apps accessible to people with disabilities. It has changed over time, but the current version in terms of a globally acceptable standard of accessibility is WCAG 2.1 Level AA. 
Wherever your organisation is based, legislation is in place to ensure that disabled website visitors are not treated less favourably online. Almost without exception, all countries use WCAG 2.1 Level AA as the foundation for compliance. You can learn more about the laws that apply to you in our Web Accessibility Legislation Overview.
How the Recite Me Accessibility Checker Works
The Recite Me Checker audits back-end and front-end web development processes by running 396 separate compliance scans in line with WCAG 2.1 and breaking down the issues you should be working to fix. The methodology follows a simple four-step process to help you increase your accessibility score: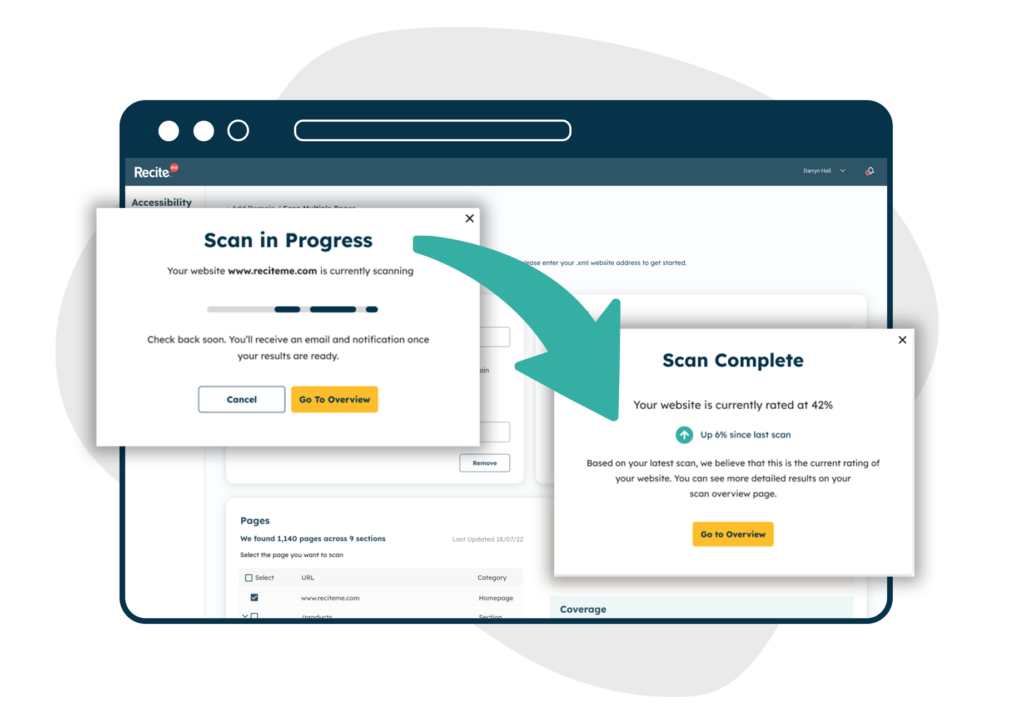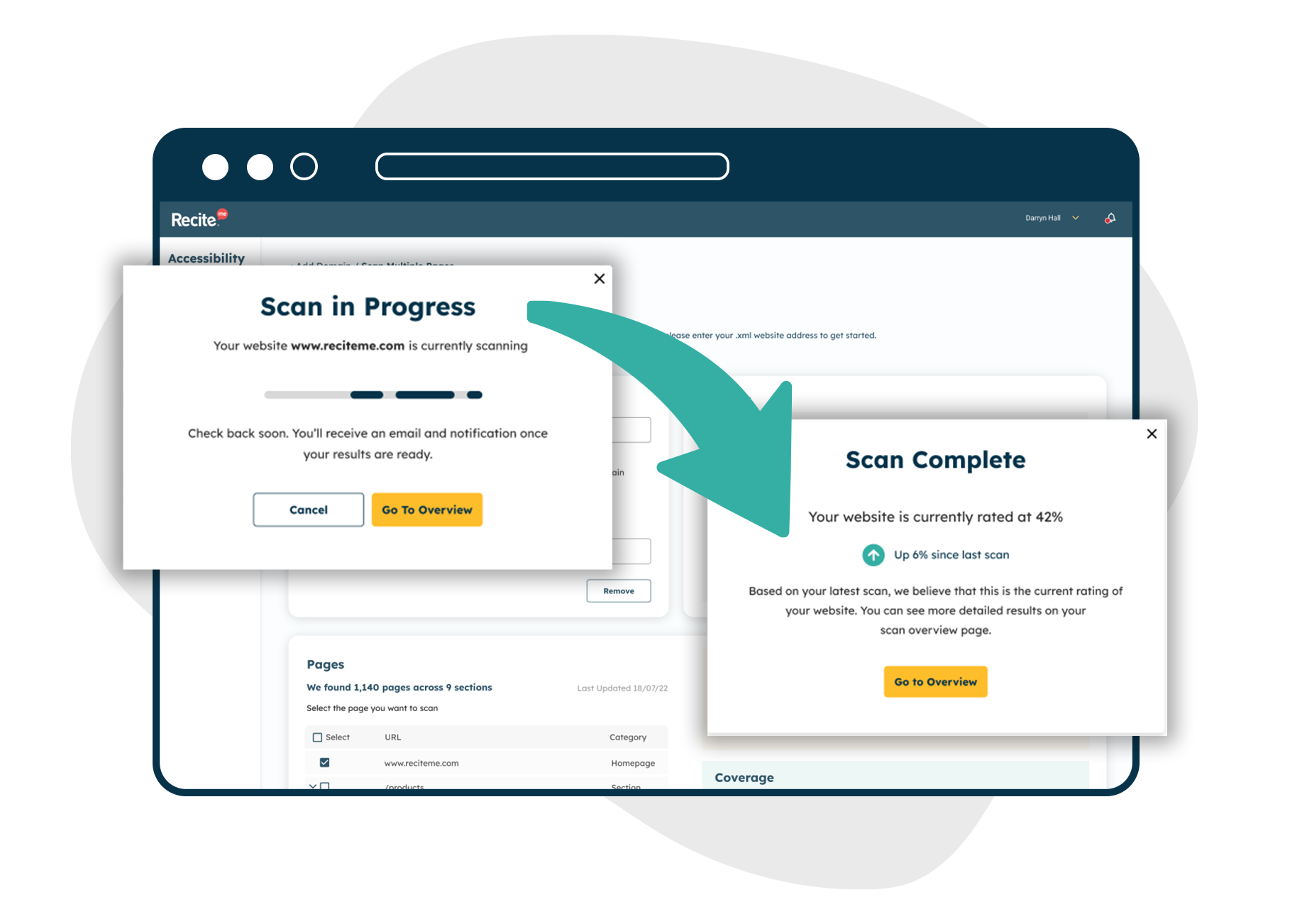 Step 1: Scan Your Domains
You can scan a single page for a quick snapshot or multiple pages for a more comprehensive view. Either way, you're one step closer to greater accessibility.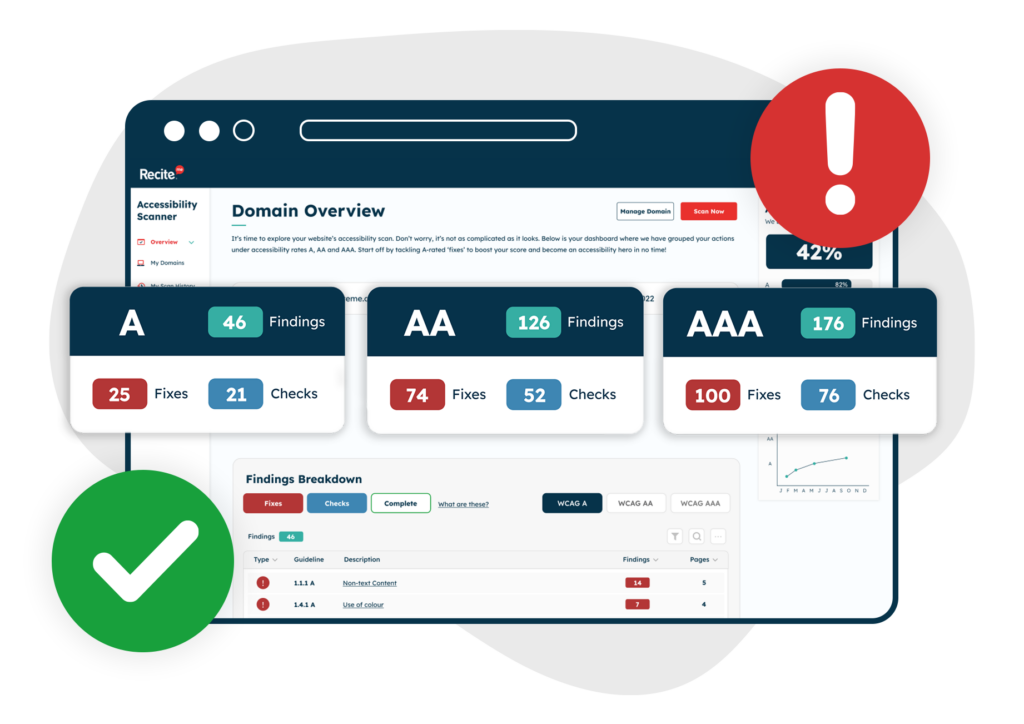 Step 2: Identify Accessibility Issues
Our intuitive dashboard helps you identify the most common accessibility issues. Your report includes an overview of errors, the locations of each error, and guidance on what to tackle first for the best results.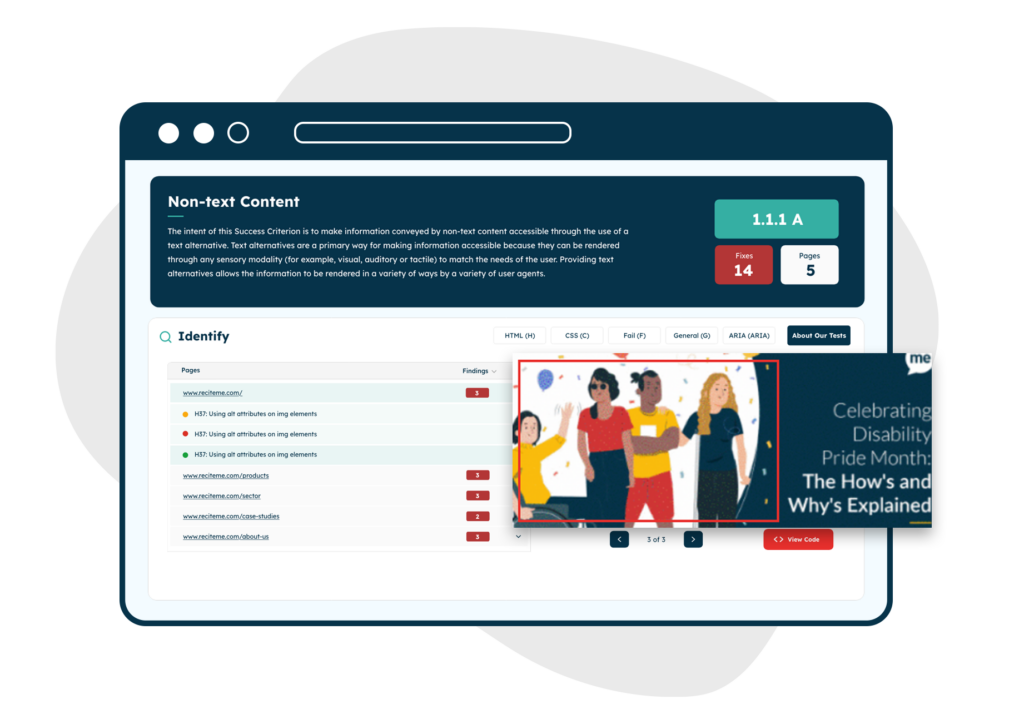 Step 3: Fix Accessibility Errors
Our software groups your actions under accessibility rates A, AA and AAA. Start off by tackling A-rated fixes to boost your accessibility score. Then move on to AA and AAA criteria to become an accessibility hero in no time!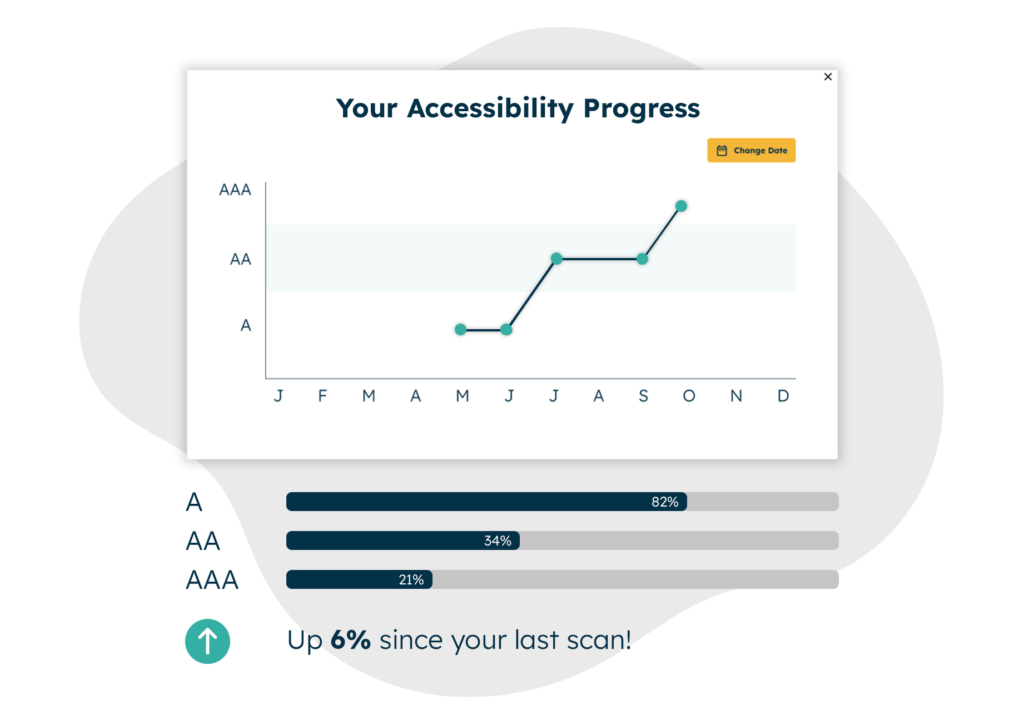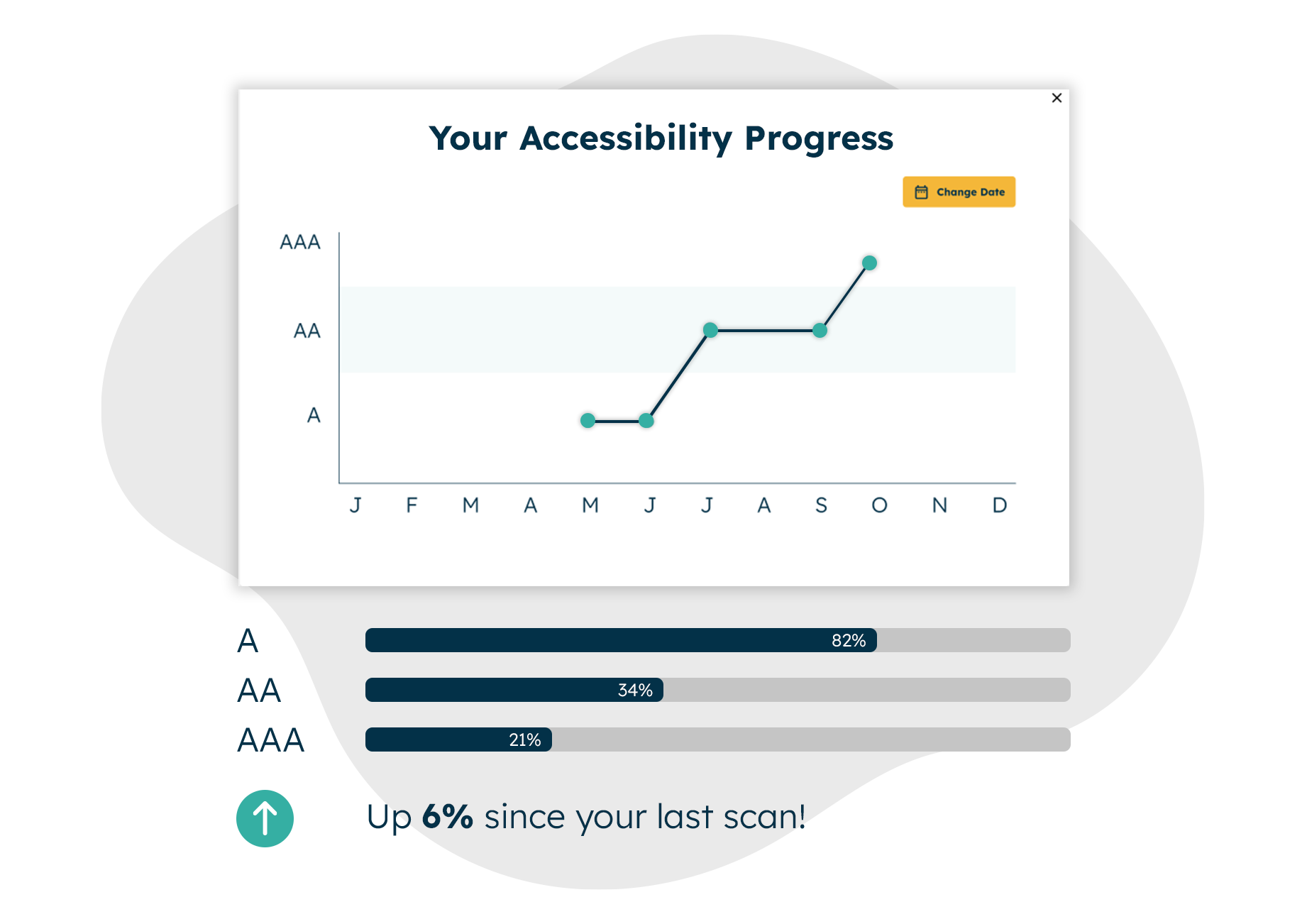 Step 4: Track Your Progress 
Track your accessibility journey in real-time by creating custom reports to share with your team, and look ahead by road mapping the next WCAG issues in your fix queue. Our scoring system for each rating lets you see all the places where you're already Level AA compliant at a glance, and where there's work still to be done.
Web Accessibility Checker: Key Features
When we launched beta testing in 2022, we received some fantastic feedback that helped us re-evaluate, update, and improve our technology before officially launching the Recite Me Checker as a market-ready product in 2023.
The Checker you see today is fast, user-friendly, and comes complete with additional tools and features to make your journey toward online accessibility as smooth and stress-free as possible. 
 Accessibility at Scale
We understand that some websites are constantly changing. Our sitemap-driven architecture provides a clear picture of your website as it evolves over time, reducing the administration of entering individual URLs and freeing up more time to dedicate to fixing issues.
Enhanced User Interface (UI)
Deliberately designed to simplify a seemingly insurmountable task, our software automates more than 200 tests/fails to check on any given webpage. Our UI is programmed to take the complexity out of your accessibility journey and replace it with an easy-to-understand snapshot of how well you're doing and what improvements you can make to be even better.
Developer Support
The accessibility checker gives developers the tools they need to organise their work. They can add statuses to issues (such as 'To-do ', 'In progress' & 'Completed') and add notes to share information on individual fixes between team members.
Effortless Team Management
We appreciate that many organisations have employees working in cross-functional teams and across departments to achieve shared accessibility goals. So we've made it easy to collaborate on individual accessibility issues and onboard new team members so that the right people always have access to the right information at the right time.
Resource Hub 
Access a wide range of accessibility, WCAG, and Checker information to boost your knowledge and understanding, and accelerate your journey to providing an accessible website for all. Examples of supplementary materials include articles, videos, slideshows, FAQs, and complete breakdowns of testing methodologies
Why Choose the Recite Me Accessibility Checker?
Using the Recite Me Accessibility Checker to shine a light on WCAG issues across your website has many benefits to help people and your business.
From meeting web accessibility standards and mitigating the risk of litigation, to creating a greater user experience and attracting a wider audience.  Here's some other reasons why you should choose us…
A Holistic Approach
Some of our competitors encourage organisations to become lax by providing tools that fill in the gaps of poor practice. We'll never do that. As your accessibility partner, Recite Me will help you identify areas for improvement and encourage you to fix them holistically rather than applying quick fixes for you. Our approach helps clients to increase the value of their digital real estate over time and position accessibility as a key driver of digital innovation.
A Culture of Accessibility
We see accessibility as an organisational commitment and an ongoing journey. We recognise the need to adopt a continuous improvement culture regarding accessibility so that your website can advance organically and with minimal hassle.  So, instead of simply highlighting issues, we encourage platform users to continually improve their accessibility performance over time, over what we've dubbed 'The Accessibility Journey'. 
An Ever-Expanding Roadmap
You can rely on us to innovate on your behalf as technology and your audiences evolve. As the newest product in our portfolio, clients using the Recite Me Accessibility Checker benefit from an ever-improving service. As new accessibility concerns are identified and standards update, you'll be the first to know, meaning your accessibility journey is continually strengthened with every improvement. This includes the anticipated change to WCAG standards, WCAG 3.0, due to come into force within the next two years.
Brand Association Benefits
End-users and industry-leading organisations around the world already trust Recite Me to deliver an effective and stable service to improve web accessibility and inclusion from both front-end and back-end perspectives. We don't just offer an accessibility plugin or Checker; we offer a partnership towards our vision of Accessibility for All. The Recite Me community comprises a steadily growing fanbase of people committed to making the online world a more welcoming space for everyone. 
Start Your Web Accessibility Journey Today
Online accessibility is a journey, not a destination. However, with Recite Me by your side, you can find the most efficient route easily because we provide accessibility on demand by uniting accessibility and usability factors to foster true inclusion.
Our team is here to help you every step of the way to provide an inclusive and compliant website. We save you time and money by highlighting what needs to be fixed first for the most effective results and significant return on investment. 
Get started on your online inclusion strategy today by working through these action points: