During the COVID-19 pandemic, internet usage soared as many everyday tasks like shopping and banking became almost exclusively online experiences. This surge in internet activity led to a rapid increase in demand for assistive technology. Even as the world has gradually returned to normality after the pandemic, the demand for our toolbar only got stronger. Many individuals across the country still opt for online methods to manage their finances, such as online banking, insurance shopping, and pension plan management.
Over 1 Million Pages Viewed Using the Recite Me Assistive Toolbar
In the space of 12 months, we have seen the number of pages viewed on finance websites using the Recite Me web accessibility toolbar climb from 48,778 pages to 110,665 pages per month – a 127% increase! This equates to more than 1 million web pages being viewed using the toolbar in the past year. 
The number of people using the toolbar on finance websites has also increased by 64%, users climbed from 16,175 to 26,557 a month in the past 12 months.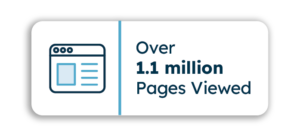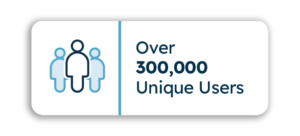 How are People Using the Toolbar on Finance Websites? 
The Recite Me Toolbar is broken down into four main areas, screen reader, translation, styling, and reading. The information below shows how people have used the toolbar on finance websites. The most popular language people translated content to was Spanish Castilian which totalled over 1 million pieces of content. Online users also used the toolbar to increase the text size and on 15,354 occasions pages were viewed in text-only mode.
Why is it Important to Support Your Online Visitors?
People with disabilities represent a significant and growing share of the world's population. One in every five people has a disability that can make accessing online content challenging. Disabled consumers and their families represent a colossal consumer spending power – around GBP 7 trillion in annual spending, spread across 3.4 billion people when you include family members and caregivers of people with disabilities.
Aside from the business case for inclusion, discrimination by banks on the grounds of disability violates universal human rights, and failure to comply with the requirements of accessibility legislation could land firms in legal hot water. Under the new Financial Conduct Authority (FCA) guidelines organisations will be required to focus on the diverse needs of their customers. That means including those in vulnerable circumstances at every touchpoint of the customer journey including websites and online portals.
Finance Organisations Supporting Customers with Recite Me Assistive Technology
At Recite Me, we are proud to work with numerous organisations to ensure everyone can access and use financial service websites.
"I am thrilled that Halifax customers can now use the Recite Me toolbar on our website. Along with our commitment to ensuring our websites and apps are inclusive for all customers, the toolbar can add a further level of personalisation for those wanting a little extra help when they're online."
James Fulker Chief Digital Officer, Halifax
"We're committed to making it easy for all of our customers to interact with us in the way they choose. That's why, as well as continuing to invest in and grow our branch network to ensure our communities maintain access to face-to-face financial services, we're making it simpler for members to manage their personal finances online, by making our website accessible to everyone."
Jennie Pitt, Head of Equality, Diversity and Inclusion at Newcastle Building Society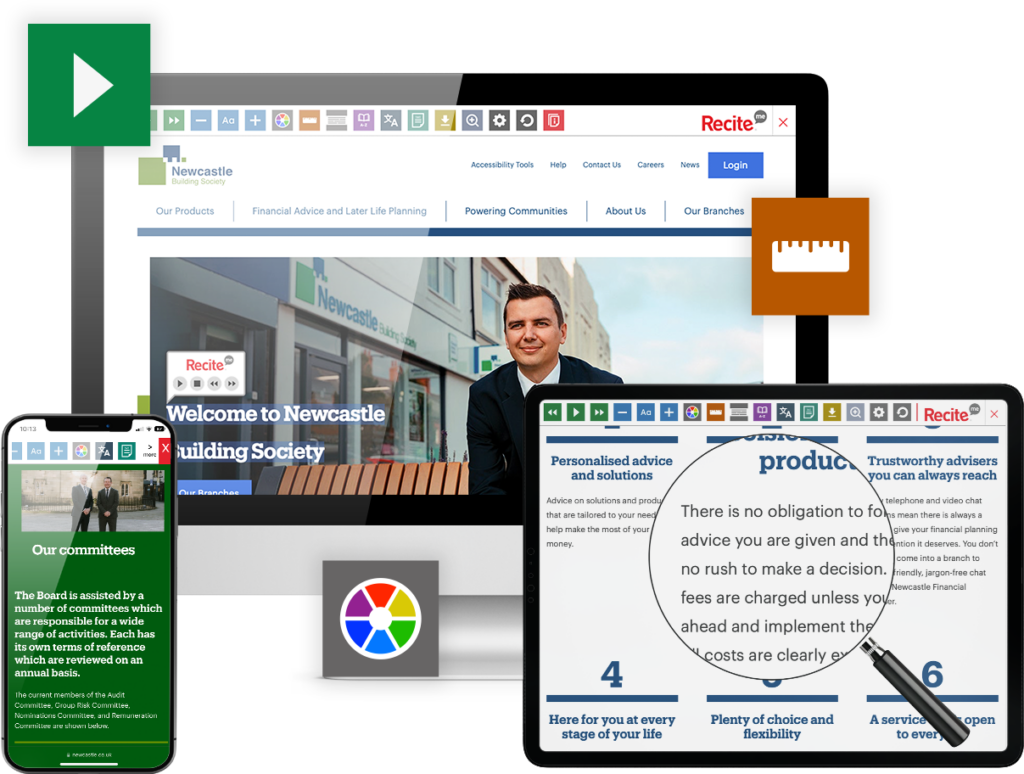 Start Your Digital Inclusion Journey
Our team is here to help you on your mission to provide more inclusive online experiences. Get started on your online inclusion strategy today by trying our toolbar or scheduling a free demonstration to see the difference it can make to your business.