As more small businesses have expanded their online presence in recent years, the Federation of Small Businesses (FSB) has implemented assistive technology to encourage a simple and seamless interaction for users of its site.
Making change and influencing policies, FSB offers members a wide range of vital business services including advice, financial expertise, support, and a powerful voice heard in government. One recent example of this is the increase in the Employment Allowance for small employers from £4,000 to £5,000, announced in the Spring Statement, which came about thanks to FSB's efforts on behalf of its members.
To ensure an accessible digital space, FSB has lowered digital barriers for those with disabilities, learning difficulties, visual impairments, and those who speak English as a second language.
Dave Eastwood, Marketing and Campaigns Manager at the Federation of Small Businesses, commented: "A visit to your website is often the first interaction a potential customer has with your business. Whether a consumer is in search of your opening hours, product information, or testimonials from happy clients, you want to make the experience simple.
"If you're an ecommerce business reliant on online sales, having an accessible and effective digital shop window is even more important to the success of your business."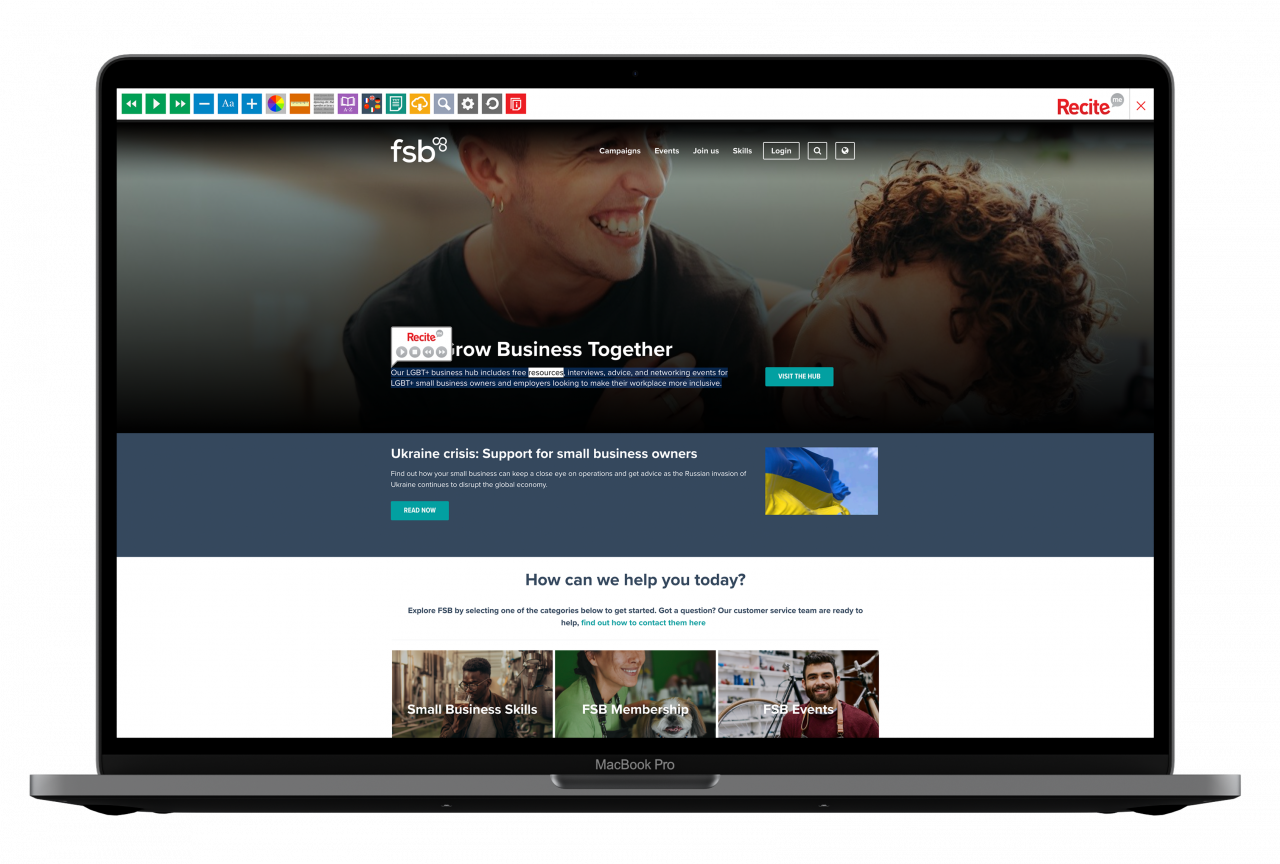 The Recite Me accessibility and language tools on FSB's website includes features such as, screen reading functionality, multiple reading aids, customisable styling options, and an on-demand live translation feature that boasts over 100 languages including 35 text-to-speech and styling options.
Approximately 20% of people in the UK sit in the disability market. In the UK alone, the spending power of disabled people and their families is worth a staggering £274 billion and is estimated to be growing by 14% per year, yet less than 10% of organisations have a targeted plan to access the disability market.
To support those with access needs online, FSB is raising awareness of the importance of meeting accessibility standards, and the small steps you can take to start your accessibility journey.
To explore the customisable accessibility toolbar on the FSB website select the pink and white accessibility symbol in the top right hand corner.
For more information on how you can provide an inclusive online experience book a demo with a member of our friendly team. Alternatively, you can run a free scan of your website yourself, the Recite Me accessibility checker will assess your websites homepage on a range of WCAG criteria for free.