Leading UK property company, British Land is taking a responsible approach to reducing digital barriers by utilising online assistive technology.
By thinking differently, British Land has unlocked the power of physical and digital innovations to change lives for those with disabilities, learning difficulties, visual impairments, and those who speak English as a second language.
Taking their commitment to diversity and inclusion further, British Land has created a customer advocacy group, 'Access for All' that encourages their customers to share their knowledge and ideas to help improve customer experience, with topics such as retail accessibility, what makes an accessible workplace, and digital accessibility.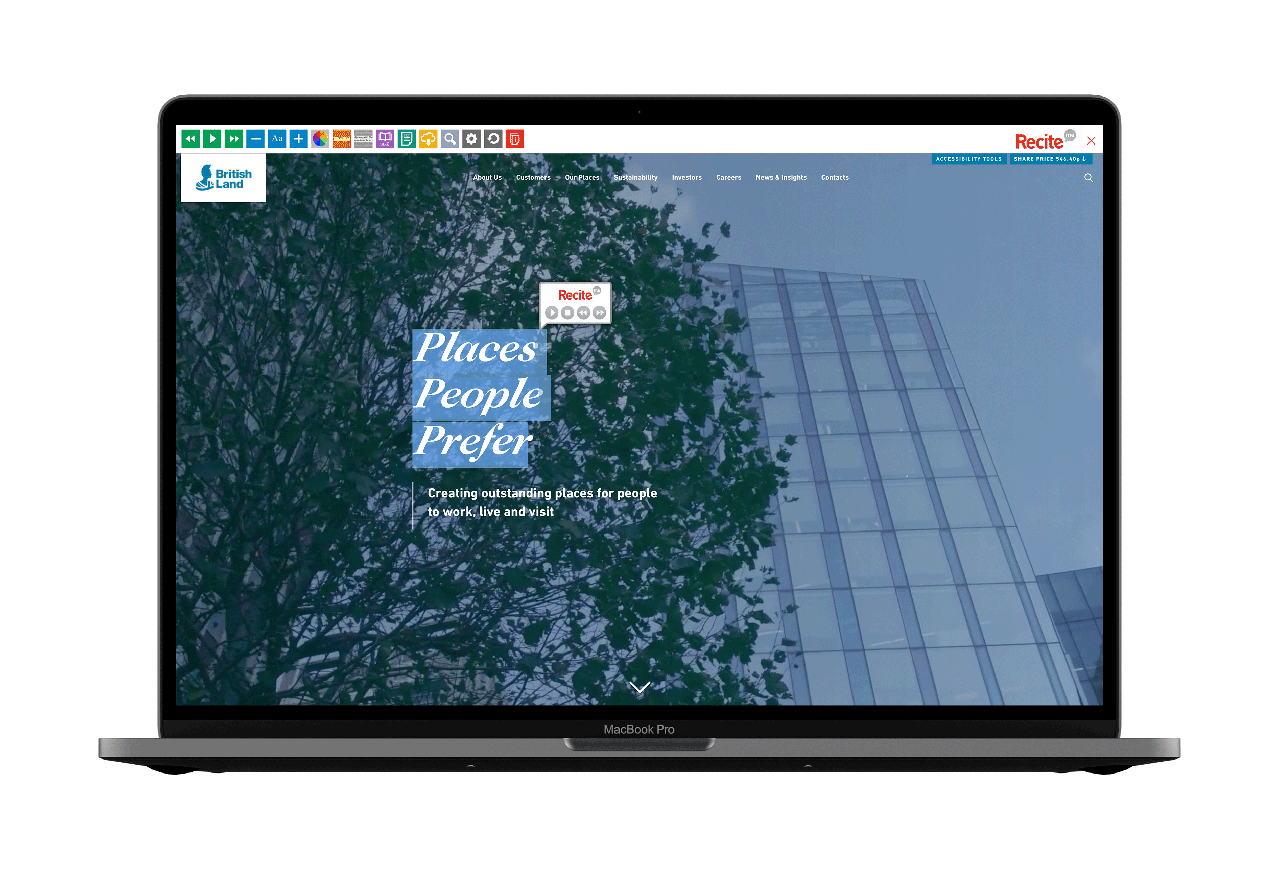 Last Wednesday, Recite Me had the pleasure of joining British Land at their quarterly 'Access for All' event, along with two other panellists, Darren Rowan, Global Program Manager and Accessibility Lead for Eli Lilly and Patricia McLoughlin, Director of Change Management at GSK. Ross Linnett joined the group to discuss digital accessibility and the effect assistive technology has on the e-commerce and recruitment industry.
Statistics show that the online spending power of those with a disability and their families in the UK is £24.8 Billion. However, fewer than 10% of businesses have a targeted plan to access this disability market.
British Land's leadership in this space was recently recognised by the Business Disability Forum who awarded them a Disability Smart business accreditation.
The accessibility tools on the British Land website enable users to customise their digital experience in a way that best suits them. Features include screen reading functionality, multiple reading aids, customisable styling options, and 35 text-to-speech and styling options.
Ginny Warr, Head of Procurement at British Land commented, "We started looking around for accessibility tools and the options that were available to meet British Land's requirements. The Recite Me tool offered a cost effective, fast to implement solution. The key attraction of this accessibility solution was that we did not need to make significant investment in our existing web site and intranet platforms to implement this accessibility tool kit.
Ginny concluded by saying 'This is not about disability; this is about taking a responsible approach to making sure that all of our digital content is available to all our customers and employees. We believe that everyone should have equal access to these online resources – barrier free."
To access your selection of assistive tools on the British Land website select 'Accessibility Tools'.
For more information on how you can provide an inclusive online experience book a demo with a member of our friendly team. Don't forget there is also our accessibility checker for WCAG compliance, that you can try out for free today.