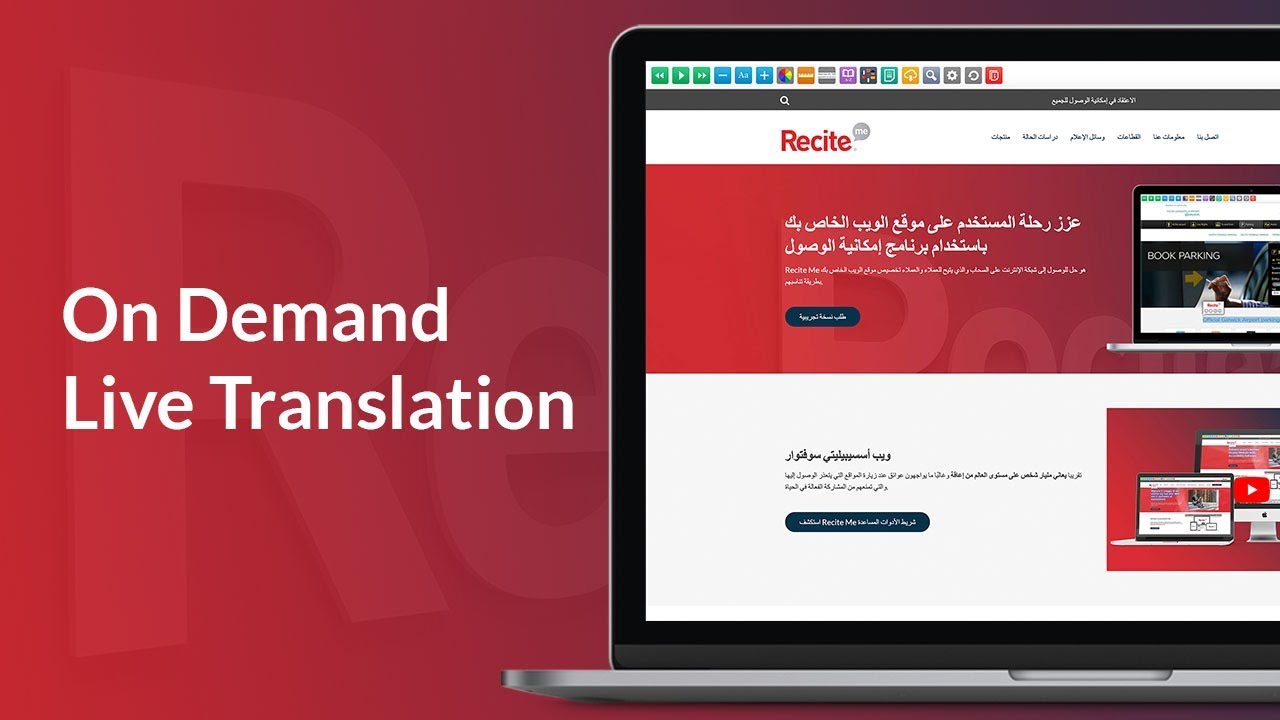 Live Translation
One in ten people don't speak English as their first language. Recite Me quickly and easily translates on demand all your web content into over 100 languages, including 35 text to speech voices.
Which disabilities can Recite Me support?
Recite Me assistive technology exists to support people with disabilities. Everyone should have the ability to use the world wide web in the way that it is intended.
Dyslexia
For people with dyslexia Recite Me support their content viewing experience by being able to customise the look and feel of a website. To support reading a user can customise the text font, colour, sizing and spacing. They can also customise the colour of the website background, links, reading mask and ruler.
Visual Impairments
People with a visual impairment need to have the ability to customise a website in order to view content in a way that's works best for them. To aid viewing website content visitors can customise the websites background colour and the text, font style, size and colour with Recite Me assistive toolbar. People can also use text only to reposition text on a screen.
Autism
Children and adults with Autism can face distinct challenges when reading. Recite Me can support website visitors with a totally customisable screen reader, that allows text to read out aloud at different speeds, and in different languages either with a male or female voice.
ADHD
To support people with ADHD and reading content online, the Recite Me toolbar offers a screen mask or a rule allowing them to focus and stop being distracted by other content on the page.
Epilepsy
For extreme Epilepsy Recite Me can support people online by using the "text only" feature to strip away any media or graphics that may cause a seizure. A user can also change the style of website page if different colours effect their epilepsy.
Hyperlexia
Recite Me provide a fully integrated dictionary and thesaurus. People with Hyperlexia will be able to read words but they may not understand their meanings. Having a built-in dictionary allows them to understand wording without leaving the website.
WCAG Principles
Recite Me assistive technology is designed and delivered to support accessibility online by applying the four main principles of WCAG, Perceivable, Operable, Understandable, and Robust.
Perceivable
Perceivability means that a website user can identify content and interface elements by means of the senses. For many users, this means perceiving content primarily visually and others may be a matter of sound. The Recite Me assistive toolbar provides features that allow content to be perceived through sound or enhanced visually means.
Understandable
Understandable means that a website's content should be readable and users should be able to understand the content they are viewing. The Recite Me styling features allow people to change the way the content is displayed. Users are able to customise the websites colour scheme as well as the texts font style, size, colour and spacing.
Operable
Operability means that a user can successfully use controls, buttons, navigation, and other necessary interactive elements of a website. Recite Me assistive technology supports users with their location on page via screen reader navigation. The screen reader also supports content reading time by being able to control text speech speeds.
Robust
Content must be robust enough that it can be interpreted reliably by a wide variety of user agents, including assistive technologies. The Recite Me assistive toolbar is delivered as SaaS (Software as a Service). Once installed onto your website you will receive regular updates and always have the latest version.
Contact the team
Have a question to ask? contact the Recite Me team.