Recite Me is pleased to announce the implementation of the assistive toolbar on Gaia Learning's internal website so that every learner can access their online content and services.
Gaia Learning is a world-class education system built for neurodivergent children. The introduction of Gaia Learning came in 2019 when Kirstin Coughtrie, Founder and CTO of Gaia, discovered mainstream schooling wasn't working for their family.
And now, Gaia Learning's resources work and can be accessed by everyone, regardless of their ability, with the addition of the Recite Me toolbar.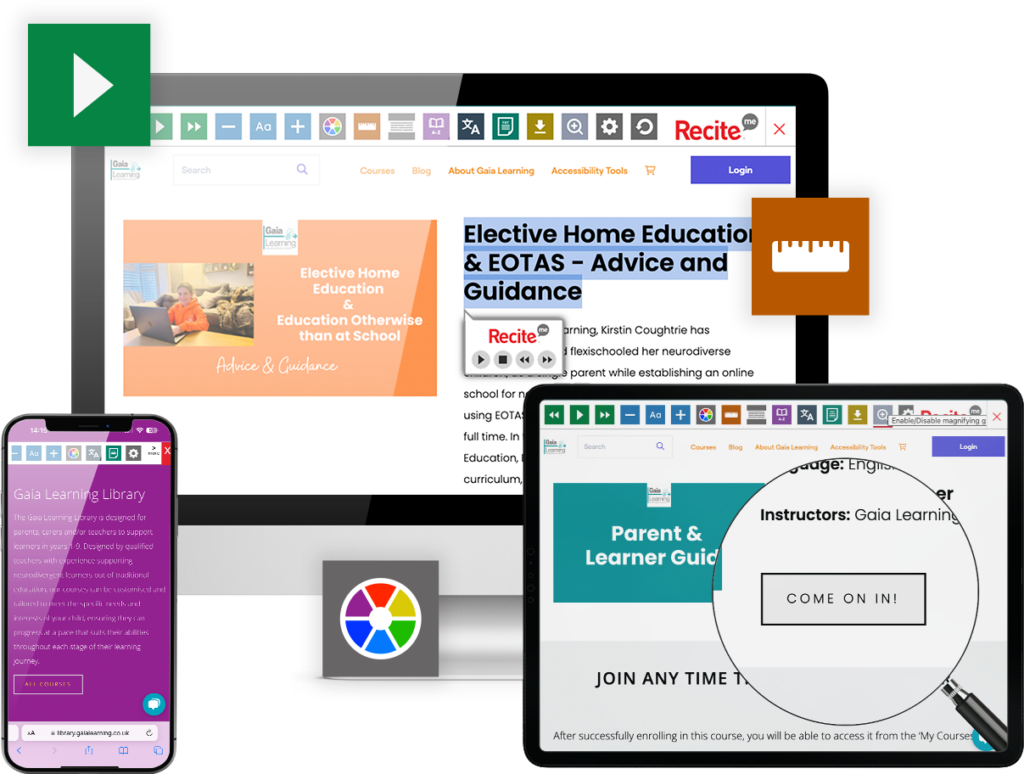 Kirstin Coughtrie, Head of Innovation at Gaia Learning, spoke on the PRLOG website about the inclusion of Recite Me's assistive technology:
"The inclusion of language translation is particularly exciting as it renders our personalised curriculum accessible to parents, educators, and learners from across the globe. This not only opens up Gaia Learning courses to markets everywhere but also fosters cohesive conversations about learning amongst all stakeholders, irrespective of their geographical location."
Its importance was underlined by Jodie Evans, a Student Mentor at Gaia Learning who uses the Recite Me toolbar among other tools to lessen her dyslexia struggles:
"The Recite Me bar is so important for me. Yes, I can read and access the course without it, but due to my processing, it would take me a lot longer to read and extract what I need from the text… It's a godsend for neurodiverse individuals like me, but also a great tool for everyone, showing how inclusive having software like this on a website can be."
The Recite Toolbar boasts a wealth of features for those who struggle to access information by providing a screen reading functionality, multiple reading aids, customisable styling options, and an on-demand live translation feature capable of interpreting over 100 languages, including text-to-speech.
It's fantastic to hear feedback from users such as Jodie and Recite Me hope that the assistive toolbar can help many more students wanting to access the internet barrier-free.

For more information on the Recite Me toolbar, please contact a member of our team, or book a real-time demonstration.