Recite Me is delighted to announce our partnership with Sign Solutions; an award-winning on-demand, interpretation, translation, and training provider for seamless communication between deaf and hearing people.
With 11 million people in the UK who are Deaf or hard of hearing, we are thrilled to announce this partnership to tackle inequality for those with disabilities, learning difficulties, visual impairments, and those who speak English as a second language.
Using the Sign Solutions service "InterpretersLive", visitors to the Recite Me website are now able to contact the team with a British Sign Language video interpreter. 
Providing this line of communication enables Deaf or hard of hearing people to be able to communicate with Recite Me easily to discuss products and services. This is another step forward on Recite Me's mission to remove barriers for everyone online.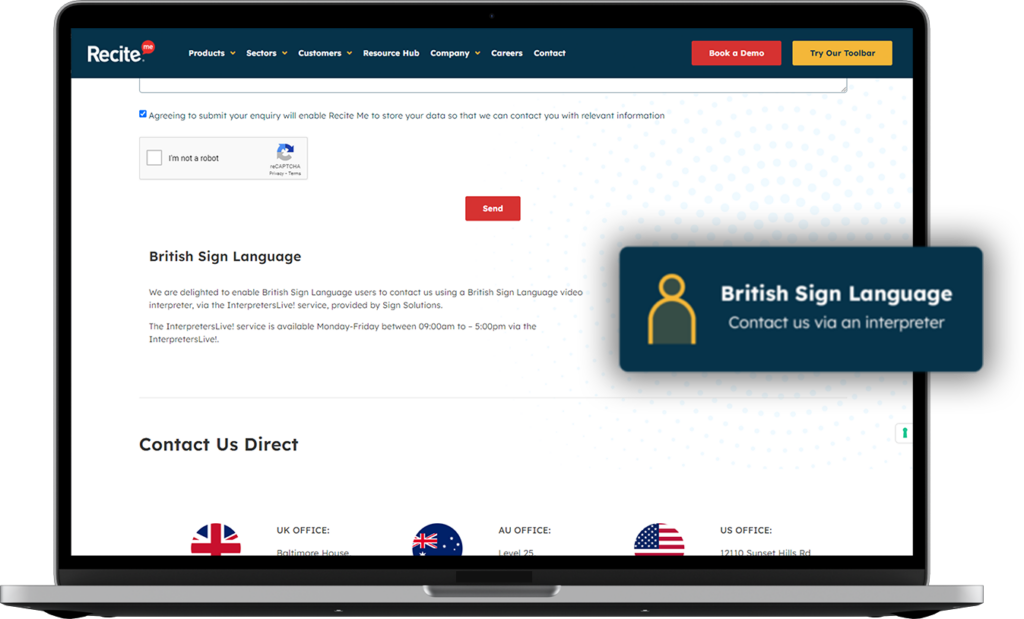 To access this service visitors need to navigate to the 'contact page' and select the "BSL Contact" button to launch a video call. Once connected a 3-way conversation will start between the caller, Sign Solutions and Recite Me.
Sophie Kang, Business Development Manager at Sign Solutions commented, 
"I first became aware of Recite Me through a mutual client of ours and I was intrigued to understand their service. Once I understood their products and company values it became clear that they aligned exactly with that of Sign Solutions.
"Sign Solutions' aim is to break down the barriers in communication for Deaf people and combat inequality. It made perfect sense for us to partner as Recite Me shares in our vision of accessibility for all and our mission of creating a more inclusive society for everyone. We offer clients a complete solution to accessibility and want to ensure nobody with a disability faces a barrier in accessing services. We look forward to seeing where our partnership takes us."