Key Takeaways
Within the next three years, nearly all of the 1,007 remaining ticket offices, except those at the busiest stations, will be shut down.
This means passengers will need to rely more heavily on digital platforms and online ticketing systems.
Customers with disabilities and access needs may face digital barriers that will stand in the way of purchasing tickets.
Making your website inclusive removes online barriers and allows equal access for customers. Various technologies are available to help you including the Recite Me Checker and the Recite Me Assistive Toolbar.
What are the Proposed Changes to Ticket Offices?
In an effort to modernise the railway system and reduce costs, rail firms in England have recently announced plans for the mass closure of ticket offices. The decision, pushed by the government, has been confirmed by the Rail Delivery Group – the industry body overseeing the operation of the railways. 
Within the next three years, nearly all of the 1,007 remaining ticket offices, except those at the busiest stations, will be shut down. This move is expected to bring about significant changes in the way passengers access and purchase tickets.
How will this Change the Way Train Tickets are Purchased?
The closure of railway ticketing offices will bring about a significant shift in the way train tickets are purchased. With the traditional brick-and-mortar ticket offices closing down, passengers will need to rely more heavily on digital platforms and online ticketing systems. This transition means that purchasing train tickets will increasingly take place through websites and mobile applications.
How will this Impact Customers with Disabilities and Access Needs? 
While the transition to online ticketing presents numerous benefits, it also poses challenges for disabled customers. Disabled individuals may face barriers when accessing and navigating websites, due to factors like visual impairments, motor disabilities, or cognitive limitations. The reliance on online ticketing may inadvertently exclude or create difficulties for disabled customers who rely on traditional ticket stations or require additional assistance.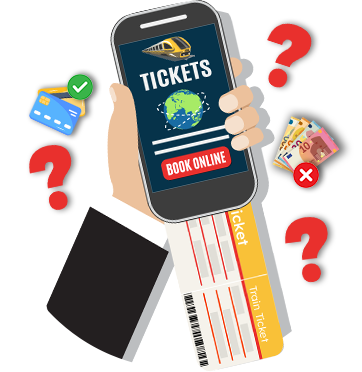 Why is it Important for Train Providers to Provide a Digitally Inclusive Experience?
Having an accessible website demonstrates your brand's commitment to providing exceptional service from the very first customer touchpoint. So, first and foremost, it's the right thing to do. But of course, there's more to it than that.
Equal Access
People go to online train provider's websites for multiple reasons, including:
Researching a trip
Comparing prices
Assessing train station facilities
Booking tickets
Checking timetables
Everyone should have the same opportunity to decide whether a particular destination or service is right for them. That means having equal access to information and reservation processes.
Revenue
There's a significant financial incentive to become inclusive because the spending power of people with online access needs is £24.8 billion – around 15% of the UK's total online spending. A digital marketing strategy that provides inclusive customer journeys is therefore essential, because:
24% of disabled travellers say they have problems with the searching, shopping, or booking processes(Amadeus).
82% of users with access needs would spend more if there were fewer barriers (ClickAwayPound). 
75% of disabled people and their families have walked away from a business because of poor accessibility or customer service (We Are Purple).


Your Reputation
Your brand is everything and the way potential customers perceive you can be critical to them choosing you over your competitor. Customers favour brands that care about helping others, and in a world where consumers are increasingly value-driven, any company that actively promotes inclusivity in its operations will gain a more positive brand identity.
How Can You Address Accessibility Challenges on Your Ticketing Website?
Recite Me's innovative suite of accessibility on-demand tools makes websites accessible and inclusive for a diverse range of people: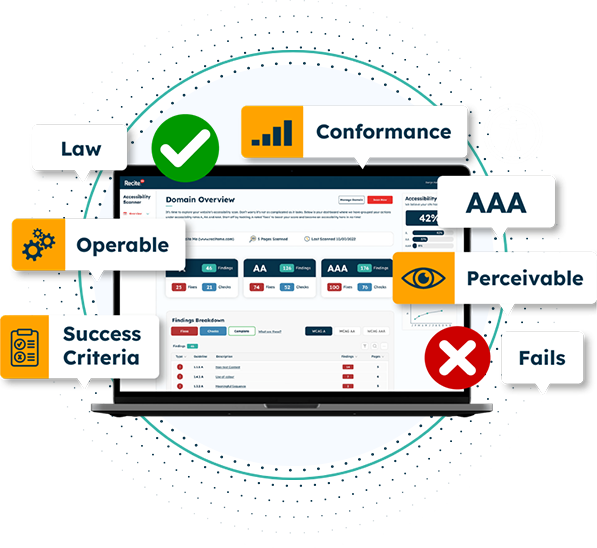 Website Accessibility Checker
Our accessibility checker takes care of accessibility considerations for you, and in doing so, tackles several usability issues. It audits back-end and front-end web development processes by running 396 separate compliance scans in line with WCAG 2.1 and breaks down the issues you should be working to fix. The methodology follows a simple four-step process to help you increase your accessibility score.

Run a Free Check of Your Homepage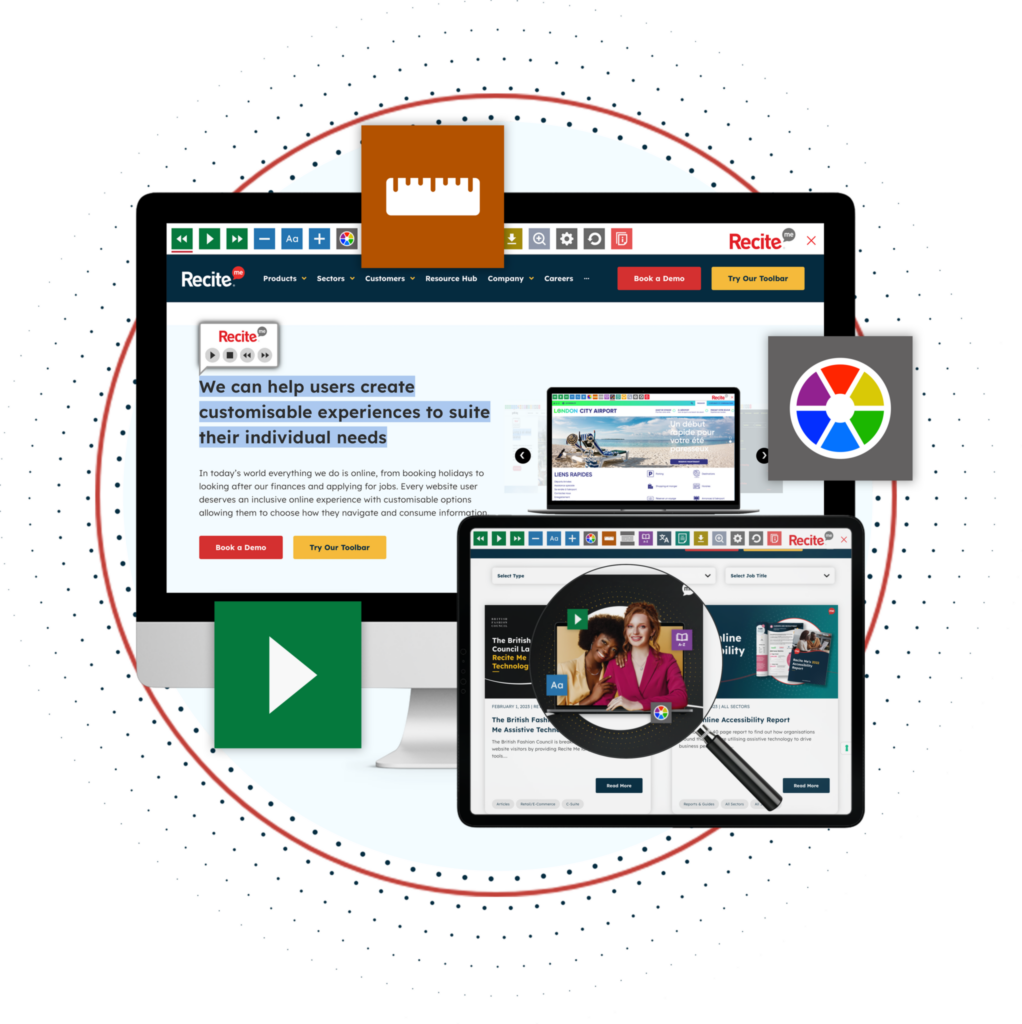 Assistive Toolbar
Our accessibility toolbar promotes online inclusion by allowing end users with sight loss, cognitive impairments, learning difficulties, physical disabilities, and varying linguistic needs to access your website per their individual needs and preferences. Users can make styling changes to the page, translate the content into over 100 on-screen languages, have content read aloud and much more.
Train Operators Leading the Way with Inclusion
We are proud to work with numerous organisations in the transport sector already, to break down online barriers for their customers.
West Midlands Trains
In 2020-21, West Midlands Trains (operator of West Midlands Railway and London Northwestern Railway) were responsible for 13.6 million passenger journeys, so it was vital to give website visitors full access to online information in a way that is suited to their needs.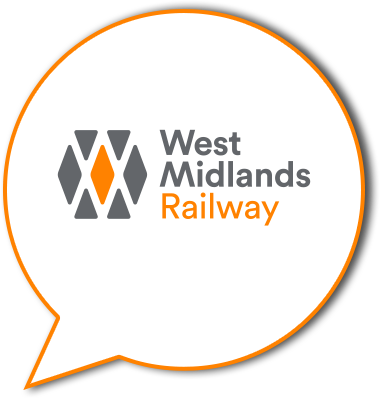 Peter Williamson, Accessibility Strategy & Projects Manager at West Midlands Trains commented,
"West Midlands Trains is very excited to adopt Recite Me on both the West Midlands Railway and London Northwestern Railway websites, including the digital Delay Repay forms to assist customers registering compensation claims. We're always looking at ways in which we can develop our products and services to ensure they meet the needs of our customers and increase inclusivity."
Great Western Railway
Great Western Railway (GWR) is a leading transport company that manages over 200 train stations and its trains call at over 270 stations.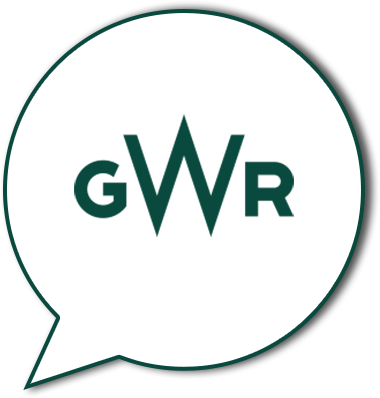 Kevin Jones, Digital Product Manager at GWR commented
"As a company, GWR understands how important access and inclusion are for all of our customers. And while it's crucial to consider physical accessibility for our customers, it's also essential to consider digital accessibility. Adding Recite Me means our website is now more accessible for the one in five people in the UK (13 million) who have a disability. It also means people who don't speak English as their first language can now translate all the content into over 100 languages at the click of a button. Thanks to Recite Me, GWR is now confident that we are providing digital access and inclusion to all of our customers. We would definitely recommend Recite Me to anyone who wants to make their website more accessible to everyone."
What the Data Says
By embedding Recite Me software on their websites, several leading train operators have already made significant progress in supporting disabled customers online. With inclusive online access, it is much easier for everyone to check timetables, book train tickets and access travel updates.
Results from our 2022 annual report show that over the previous 12 months:
The Recite Me toolbar was active on over 5000 websites
Individual toolbar usage increased by 59% to over 5.5 million users. 
We made 34.4 million pages of web content inclusive.
On average, Recite Me toolbar users viewed 6.33 web pages per session – more than double the internet average of 2.8 pages per session.


For a complete breakdown of how the Recite Me toolbar can be utilised on travel and transport websites, check out our Guide for Online Inclusion in the Transport Sector.
Start Your Digital Inclusion Journey
Our team is here to help you make your online ticketing platform more inclusive. The great thing about accessibility and usability updates is they can be addressed in any order. So, get started on your online inclusion strategy today by either:
Running a free check of your website for WCAG 2.1 AA compliance. 
Schedule a free demonstration of our Assistive Toolbar