Trent Bridge Nottingham has launched Recite Me accessibility and language tools online, to ensure all cricket fans can be kept up to date with all cricket news and events barrier-free. 
As one of England's biggest and most famous cricket grounds, holding 17,500 people, it was vital that Trent Bridge provided online accessibility tools to help supporters with disabilities, learning difficulties, visual impairments, the elderly, or anyone who finds it easier to use the internet using assistive tools. 
The Recite Me web accessibility toolbar on the Trent Bridge website allows users to read text aloud and change the appearance of website pages. This includes changes to colours, font type and sizing. Also, improve the ease of reading with additional aids such as a ruler and screen mask.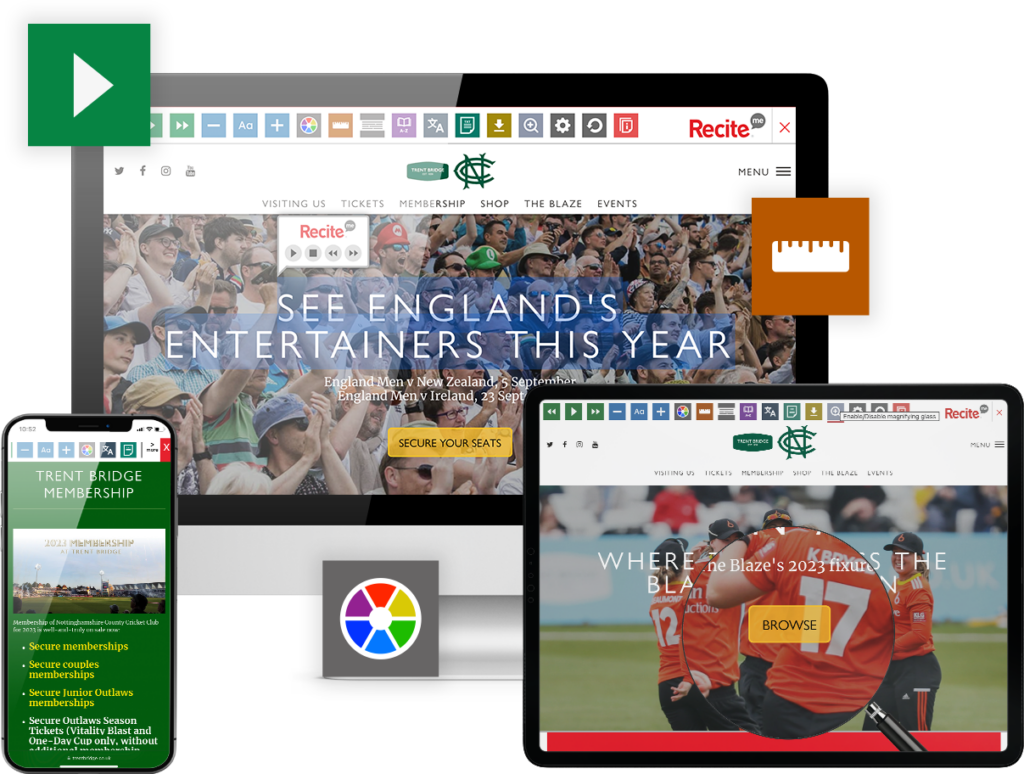 Matthew Freeman, Digital Marketing Manager at Trent Bridge commented,
""We've worked really hard to make our venue as welcoming as possible to all – and that work will continue – but we know that many supporters' first interactions with us will come via our website.
The impression people get when they access our homepage is, in reality, as vital as the warm reception they receive in person from our stewards and staff.
From international visitors to those with difficulties with their sight, reading or comprehension, this toolbar will help an increasingly diverse audience to feel that cricket is a sport for them.
This is not the end of our efforts to improve accessibility – that will be an ongoing, indefinite commitment – but it is a significant step forward in ensuring our online presence is welcoming to those of differing audiences and backgrounds."
Nottinghamshire's Equity, Diversity and Inclusion plan for 2022/23 includes commitments to remove barriers to attendance, diversify routes to engage with the game and communicate effectively with a diverse range of supporters.
Thousands of companies are doing the same, with over 5,000 companies with Recite Me implemented, including the likes of Tesco, Newcastle United Football Club, England and Wales Cricket Board and much more. 
For more information on the Recite Me toolbar please contact a member of our team or book a real-time demonstration.