Lord's Cricket Ground, owned by Marylebone Cricket Club (MCC), started working with Recite Me back in 2020 and has been stumping out digital barriers ever since.
With the cricket season heating up, keeping up to date with all the action online can be difficult for 16% of the world's population, who live with a disability.
Cricket should be a sport that all can enjoy and this belief shines through at the legendary Lord's Cricket Ground.
To support website visitors to navigate the Lord's website to book tickets and stay up to date with the latest news and events they have provided the Recite Me Assistive Toolbar for many years. With the cricket season in full swing the number of pages viewed using the toolbar on www.lords.org have increased by a staggering 5943% between January and May 2023 – this equates to over 62,000 pages. It doesn't stop there – toolbar launches also increased by 5040%!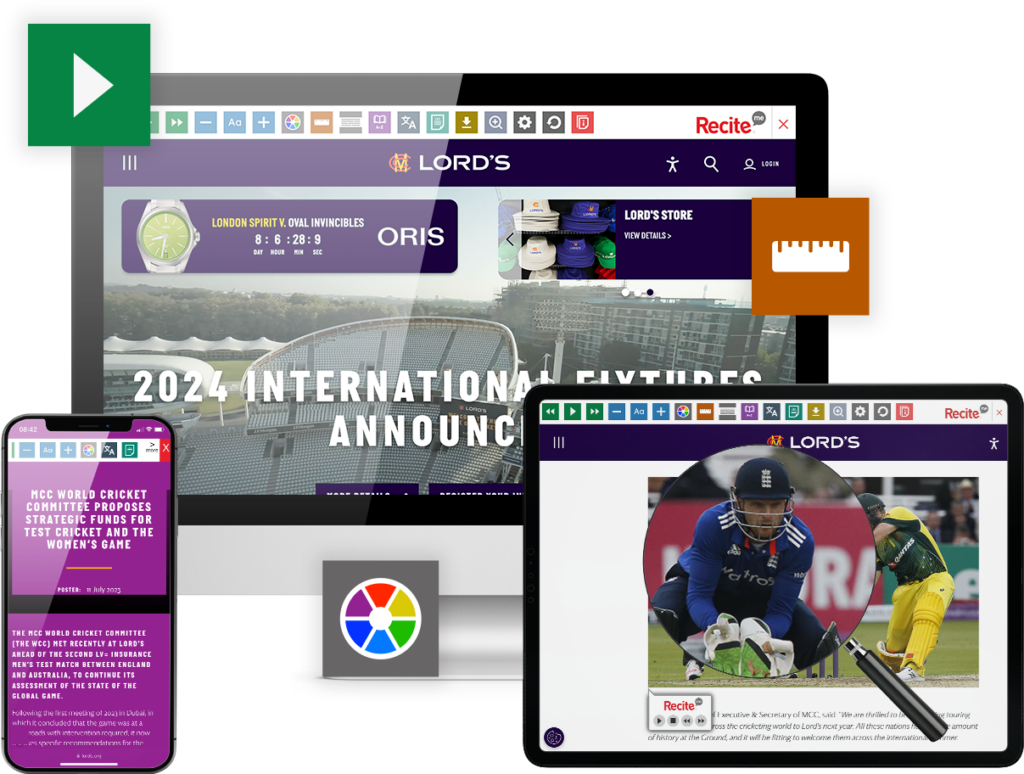 Guy Lavender, Chief Executive & Secretary at Marylebone Cricket Club commented,
"It's very important to us that everyone who wishes to engage with Lord's and MCC using our digital tools can do so. Sometimes this might be the start of their journey to becoming a lifelong cricket fan. We believe that cricket should be as accessible as possible, to as many people as possible, and with no limitations. We'll continue to invest in tools, activities, and initiatives that support this belief and enable wider participation among the disabled community."
The Recite Me Assistive Toolbar offers a variety of features, including screen reading capabilities, several reading aids, customisable stylistic options, and an on-demand live translation capability with over 100 languages, including 65 text-to-speech.
You can assist digital users to enjoy the content on your website also – contact the team or book a demonstration here.
Sports Online Accessibility and Inclusion Guide
Download this guide to learn how to kickstart your journey to provide a digitally inclusive online experience on your sports website.
Learn about: 
Why digital barriers are a problem on sports websites
Who needs help with website accessibility 
Website build tips for inclusive sport and fitness websites
Digitally inclusive sports organisations
Overview of Recite Me data