As National Apprenticeship Week draws to a close, we are celebrating alongside some of our amazing apprenticeship clients on the positive impact they bring to employers, individuals, and the economy.
QA Higher Education (QAHE) provides learning solutions and the right skills for tomorrow's challenges, driving the digital revolution. The private UK higher education provider works in partnership with universities, colleges, and education specialists to recruit, market and deliver a range of programmes from foundation level to undergraduate and postgraduate degrees.
QAHE and its partners have more than 10,000 students studying from over 100 courses, across 9 teaching locations in the UK. Diversity has always been a central focus for QAHE, and the digital developments are pivotal in ensuring educational resources and courses are available to all audiences. Online accessibility tools are sophisticated and necessary to open digital resources in an inclusive way.
2020 brought unprecedented challenges, from lockdowns to isolation and remote studying and working, forcing us all to develop new routines and workarounds to the ways we were accustomed to carrying out our everyday tasks. Students were forced to transition to online learning, almost overnight and educational institutions needed to move quickly to address their learners' needs.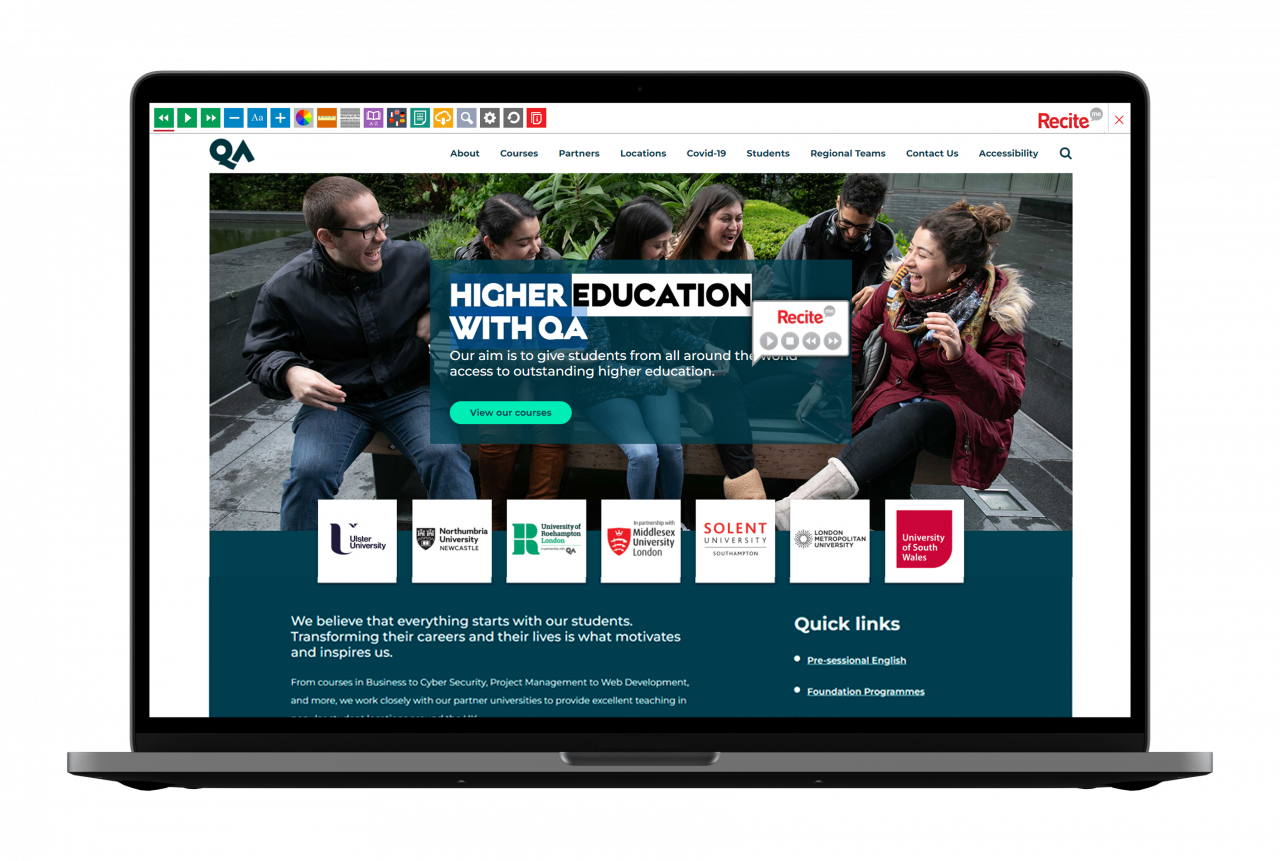 At its heart, QAHE is championing education for the digital revolution to equip students with the potential to thrive in their chosen careers by powering their potential. Recognising that not everyone learns or comprehends information in the same way, QAHE has removed online barriers to ensure everyone is supported online including people with disabilities, learning difficulties and visual impairments using customisable assistive technology. Learn more about assistive technology in education here.
QAHE Website Manager, Estelle Marasigan, explains why accessibility is so important:
"QA Higher Education prides ourselves on being a company that goes the extra mile to offer our audiences the highest quality of service, communication and educational resources.
Introducing Recite Me's assistive technology on our website to help make our online experience inclusive and equal to all of our audiences is central to our mission as an educational provider and part of our ethos. Recite Me functionality enables everyone to customise their web page in a way that works best for them."
The Recite Me assistive toolbar on QA Higher Education website includes screen reading functionality, multiple reading aids, customisable styling options and more to support our diverse range of visitors.
You can explore the customisable toolbar on the QA Higher Education website by selecting the Accessibility button at the top of the page.
For more information on how you can provide inclusive remote learning, book a demo with a member of our friendly team. Or check out our accessibility compliance checker here for free.