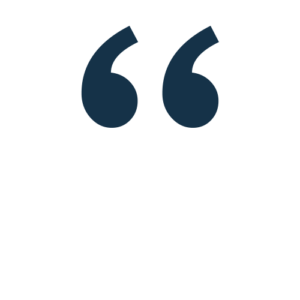 The United Nations Convention on the Rights of Persons with Disabilities defines disability as follows: 
"Persons with disabilities include those who have long-term physical, mental, intellectual, or sensory impairments which in interaction with various barriers may hinder their full and effective participation in society on an equal basis with others."
Source: Eurostat
While physical disabilities are the most commonly referenced, there is also a range of neurological, cognitive, linguistic, and other hidden disabilities that affect a significant percentage of the population. In fact, invisible disabilities like vision problems, learning difficulties, and language barriers account for as many as 80% of all disabilities, affecting nearly 70 million Europeans.  
Any disability can be problematic when using the internet, as online barriers prevent disabled website visitors from navigating, reading, and understanding the content. That's why legislation is in place to prevent discrimination based on disability.
Why Do We Need Europe-Wide Web Accessibility Legislation?
Website accessibility legislation is essential to ensure that people with disabilities have equal access to  online information and services. However, the lack of consistent and enforceable web accessibility standards across Europe has made life difficult for disabled website visitors by creating barriers that prevent them from fully participating in society.
The European Accessibility Act and European Web Accessibility Directive seek to address these barriers by establishing a harmonised set of accessibility requirements for products and services across the EU. This will help to ensure that people with disabilities can access information and services online, regardless of where on the continent they are located.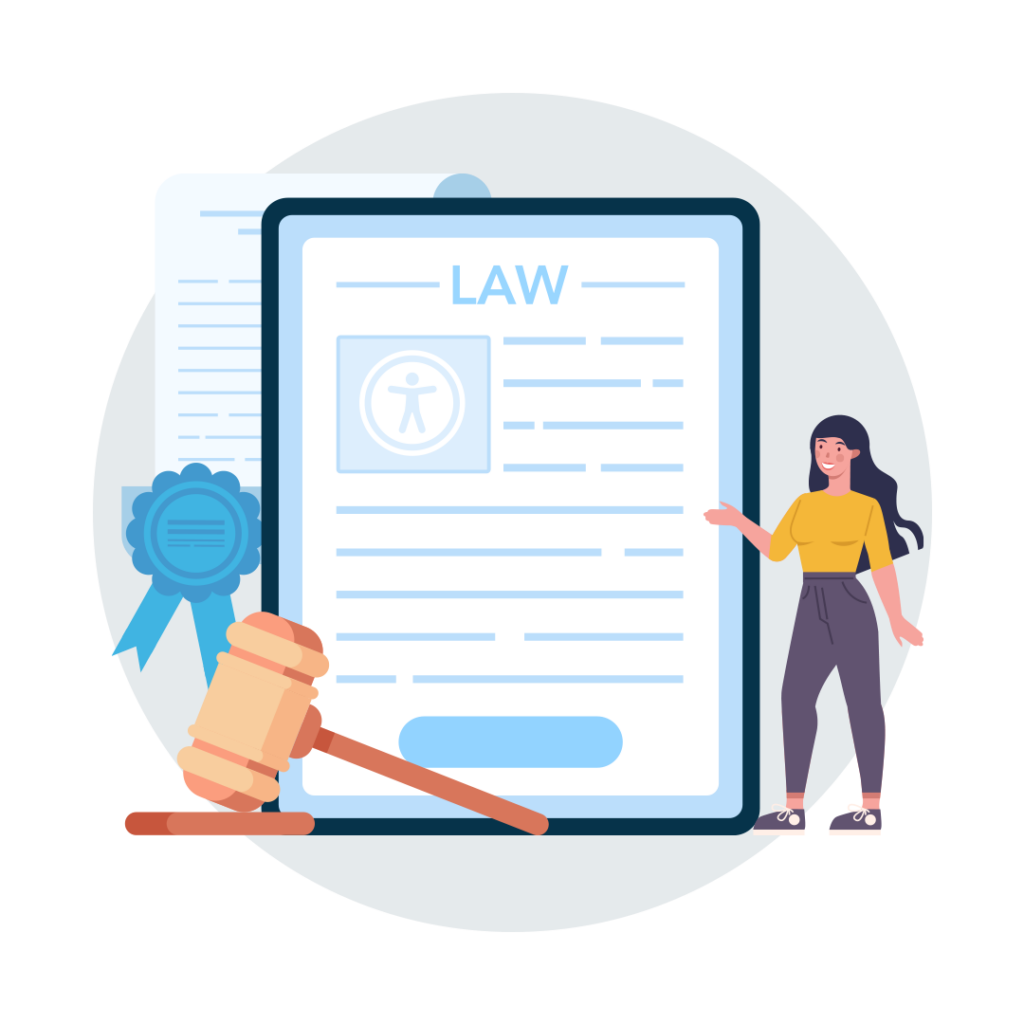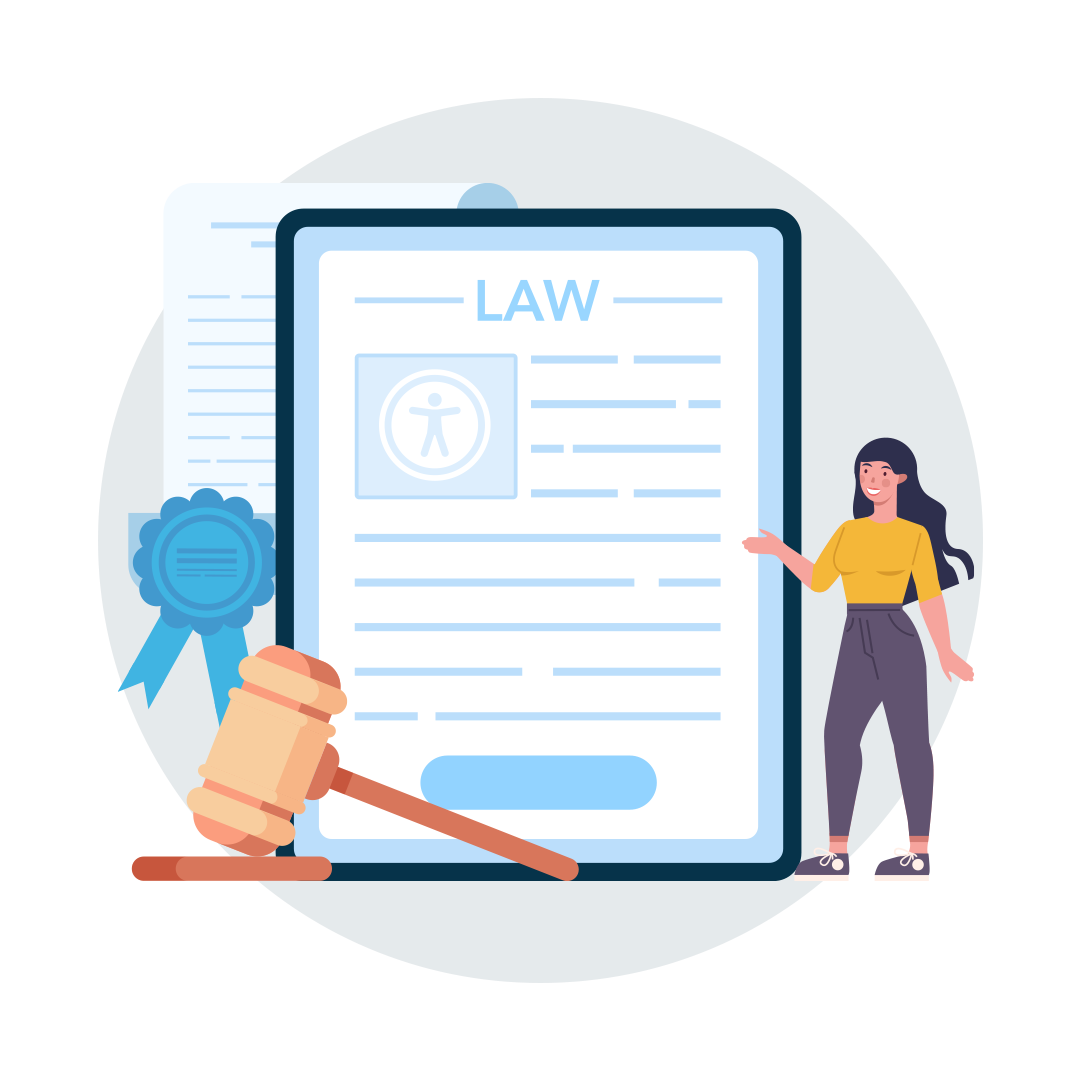 What is the European Accessibility Act?
The European Accessibility Act (EEA) was enacted in 2019 to ensure that digital products and services in the EU are accessible to everyone. The legislation applies to a wide range of private businesses as well as public sector organisations:
Public sector bodies that provide information and services online.
Private sector companies that provide essential public services like banking and healthcare. 
Manufacturers and providers of information communication technology (ICT) used by either business type above.
The threshold for acceptable accessibility best practices is based on the Web Content Accessibility Guidelines (WCAG) 2.1 at the AA level – which is widely regarded as the minimum reference point for organisations looking to make their websites accessible.
What is the European Web Accessibility Directive? 
Implemented in 2016, The E.U. Web Directive requires public sector websites and third-party vendors to meet minimum accessibility standards, which include:
Providing an accessibility statement for your website and mobile app.
Designing a feedback mechanism so users can flag accessibility problems or request information published in non-accessible content.
Conducting regular monitoring of public sector websites and apps by the Member States and reporting on the results.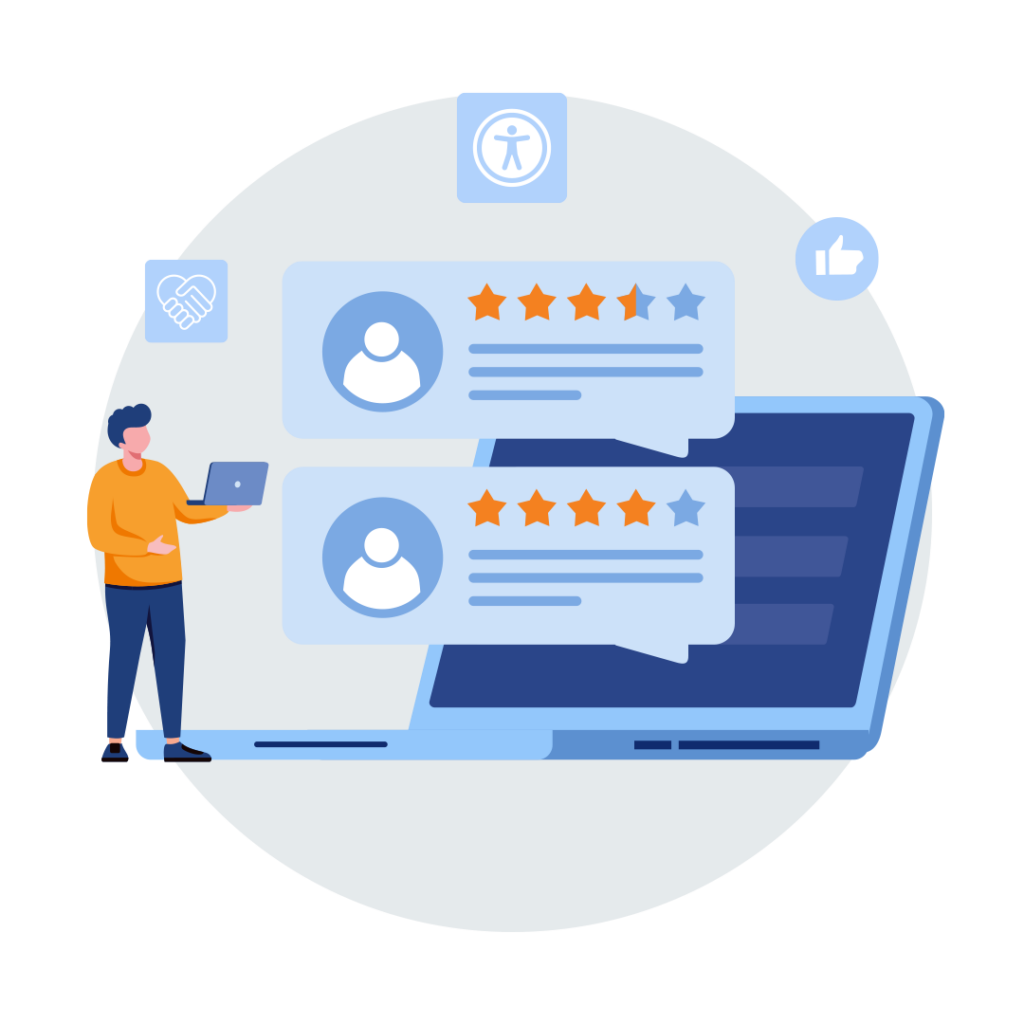 What are the Web Content Accessibility Guidelines?
The Web Content Accessibility Guidelines (WCAG) were developed to be used by anyone involved in building and maintaining a website, including web developers, content writers, graphic designers, tool developers, accessibility testers, and anyone else seeking to learn or better understand how to implement accessible online journeys.
WCAG standards and updates are published by the Worldwide Web Consortium (W3C). The W3C was founded in 1994 to develop a common set of principles for the benefit of all internet users. Several member organisations and industry leaders contribute to W3C documents, including Tim Berners-Lee, the computer scientist credited with the invention of the world wide web.
What Does the European Accessibility Act Mean for Businesses?
Under the EEA, public sector bodies must ensure that their websites and mobile applications are fully accessible by 2025, while private sector companies have until 2027 to comply. Broadly speaking, that means organisations must make concerted efforts to: 
Design, develop, and maintain products and services in a way that ensures accessibility for people with disabilities.
Provide information and documentation in accessible formats, such as Braille, audio, and easy-to-read structure and layout.
Ensure websites and mobile applications are accessible to individuals who use assistive technologies such as screen readers and keyboard-only navigation.


What Specific Changes Will Website Owners and Developers Need to Make?
Several changes and updates may be required to remove the online barriers that make websites inaccessible. Here are some examples of the most common errors and fixes:
Poor Site Structure 
If a website doesn't use headers or present information in a logical order, visitors using screen readers can't scan content to find the information they need.  Utilising hierarchical headings (H1, H2, H3, etc.) and semantic HTML tags (<header>, <article>, and <footer>) provides a clear structure, making it easier for assistive technologies to understand and navigate the content.
Insufficient Colour Contrasts
When colour pairings have insufficient contrast, or when colour alone is used to provide information, text can be difficult or impossible for visually impaired users to read. Best practices for fixes include:
Using tools like the WebAim Contrast Checker to check text and background colours against each other to gauge contrast suitability. The most up-to-date WCAG recommendations require a contrast ratio of 4.5:1 for normal text (14 point) and 3:1 for large text (18 point +).
Avoiding grey scaling, which can cause headaches and eye strain, and make CTAs and links look indiscernible or disabled.   
Ensuring that links and primary buttons are not identified by colour alone.


Lack of Descriptive Links 
Screen readers utilise keyboard shortcuts to list the links on each page to navigate more efficiently. Non-descriptive hyperlink text like 'click here' and 'read more' do not adequately indicate where the link goes. Updating link names to reflect the context of the content on the target page helps disabled users understand precisely where clicking the link will take them.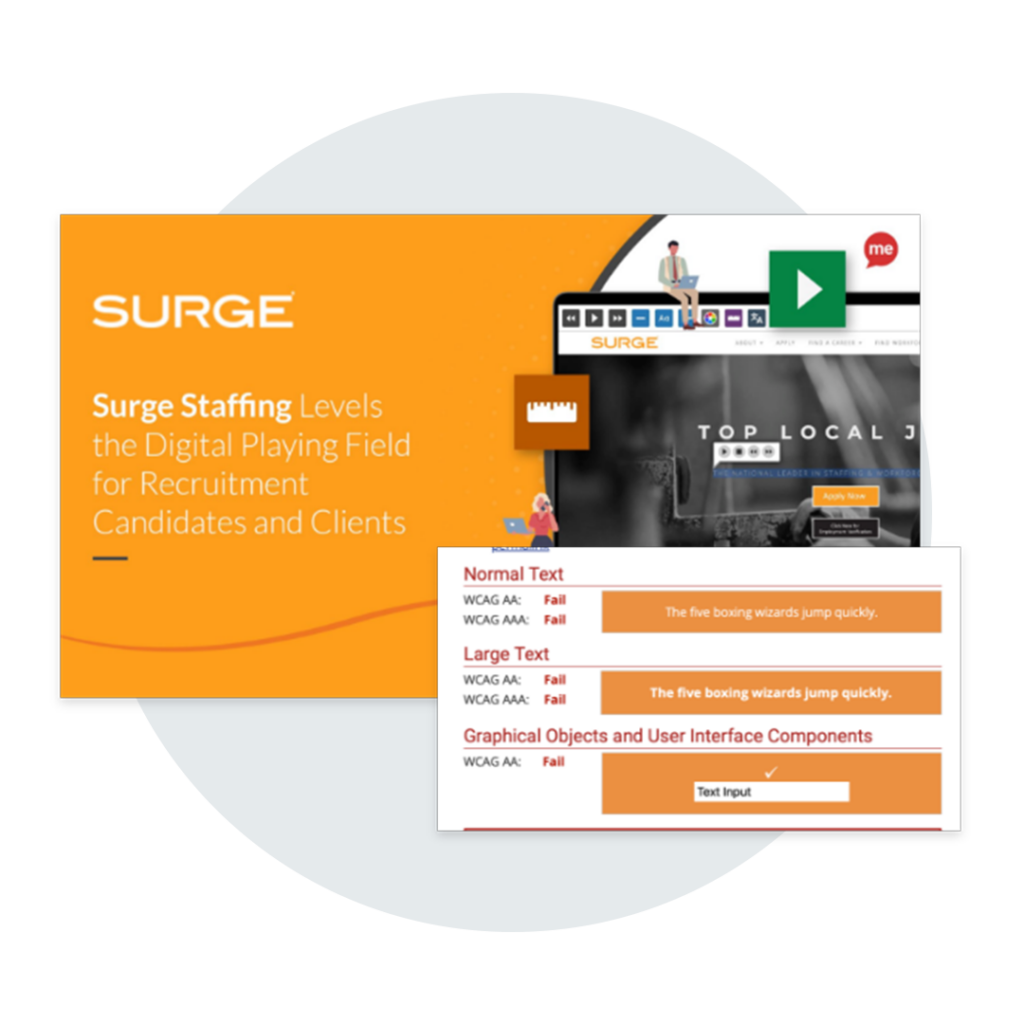 Missing ALT Text
Pictures, illustrations, and charts make no sense to visually impaired website visitors without adequate descriptions to provide context. All elements on your webpage should have descriptive names, and including keywords gives Google a better idea of what is pictured, which helps your ranking too. So, it's best practice to avoid having images with names like 'JPEG00462' or 'service-page-header.' Instead, give visual elements titles that provide context and add value.
Insufficient Keyboard Navigation  
Those with physical disabilities or conditions like Parkinson's disease, arthritis, or Multiple Sclerosis may have decreased upper-body motor function and be unable to navigate websites that are not keyboard friendly. Keyboard navigation allows every interactive element of a web page to be selected using the tab key, which enables full access and improves usability for website visitors who cannot use a mouse or trackpad.  
Inaccessible Online Forms 
Online forms represent some of the most complicated interactions a user can have with a website. Accessible forms provide a clear relationship between labels and their corresponding fields and options to extend time limits for form completion. Best practices include:
Optimising for keyboard navigation.
Using clear visual labels rather than placeholder text. 
Coding programmatic labels for screen readers.


The Risks of Non-Compliance
Failure to comply with the European Accessibility Act can result in various legal and financial consequences for organisations. Possible outcomes of non-compliance include:
Loss of Business
Inaccessible products and services result in lost sales, market share, and revenue because people with disabilities take their business elsewhere when they're unable to use a website. The resulting loss can be significant given that the disabled community is the world's largest minority group, and that:
71% of users leave a site that they find hard to use.
For 81% of users, ease of use is more important than price. 
82% of consumers with accessibility issues said they would spend more if there were fewer barriers.
Source: ClickAway Pound


Fines
Organisations that fail to comply with the European Accessibility Act may be subject to fines and penalties. The exact amount of the fine will depend on the severity of the violation and the jurisdiction where the violation occurred, because EEA violations will be penalised under the relevant national laws.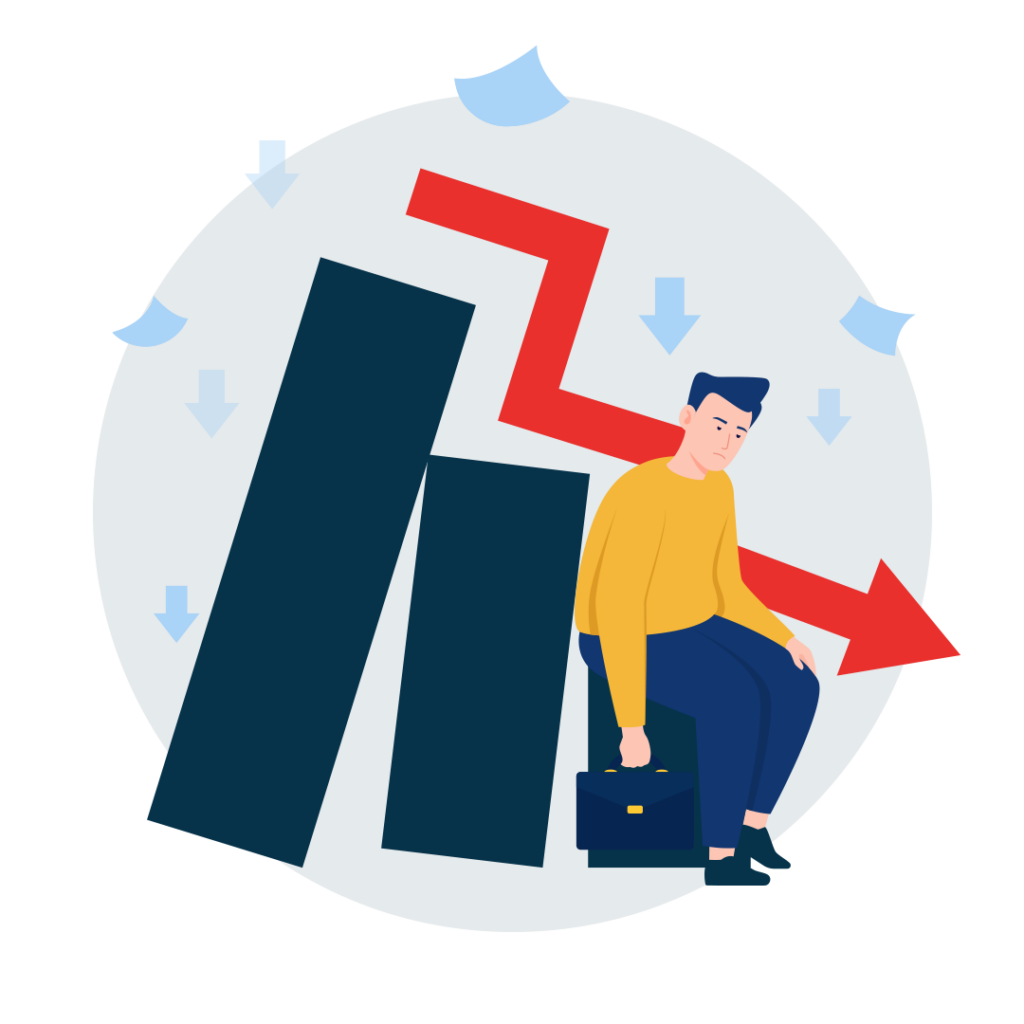 Direct Legal Action
People with disabilities who cannot access products and services due to non-compliance may choose to take direct legal action against the organisation, resulting in costly legal fees and damages. While web accessibility lawsuits in Europe are not as common as in the US, 
Reputational Damage
The negative publicity associated with non-compliance could severely damage an organisation's reputation and impact customer trust and loyalty. Employees and stakeholders may also lose respect for the organisation, which may have a significant knock-on effect on recruitment, retention, and the ability to attract investors. 
Inability to Bid for Public Contracts
Some jurisdictions may exclude non-compliant organisations from the bidding process on public contracts. It's worth noting here that in addition to ensuring their own websites and mobile applications are accessible, public sector bodies are also required to ensure that their suppliers comply with EAA accessibility standards.
Web Accessibility Compliance Made Simple
If all of this sounds a bit complex, that's because it can be. But it doesn't have to be that way. 
The Recite Me Accessibility Checker is changing the way organisations address web accessibility compliance issues on their websites. Whether your organisation is a private company, public body, or charity, our goal is to simplify the process of fixing non-compliant components and provide you with the expert knowledge you need to continue your website accessibility journey and help you succeed in your organisational goals.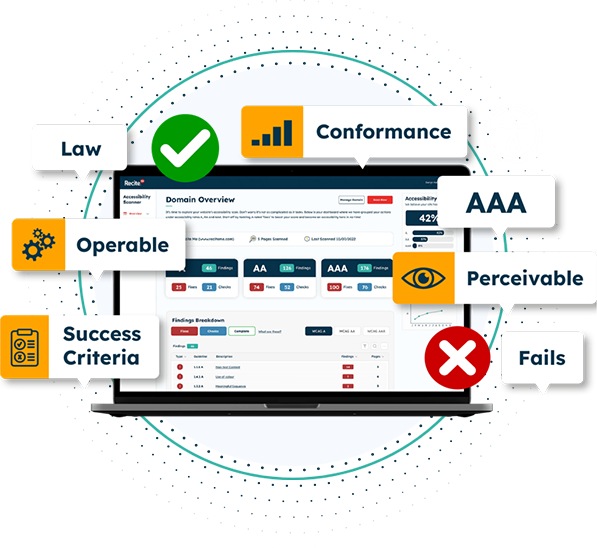 Introducing the Recite Me Checker
The Recite Me Checker audits back-end and front-end web development processes by running 390 separate compliance checks in line with WCAG 2.1 and breaking down the issues you should be working to fix, track, and share.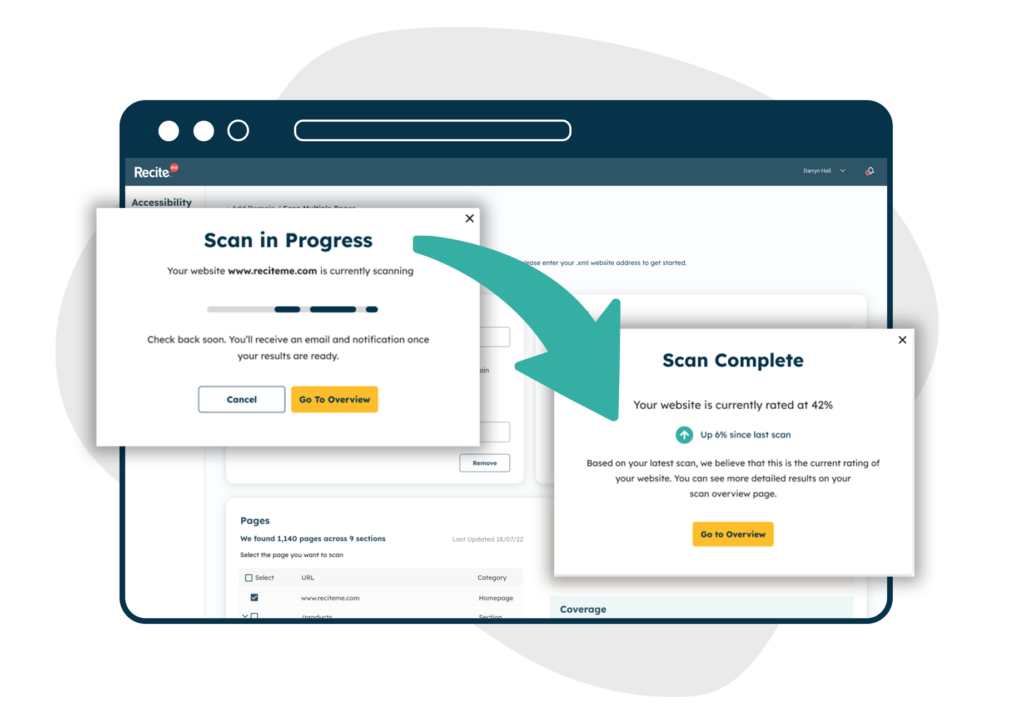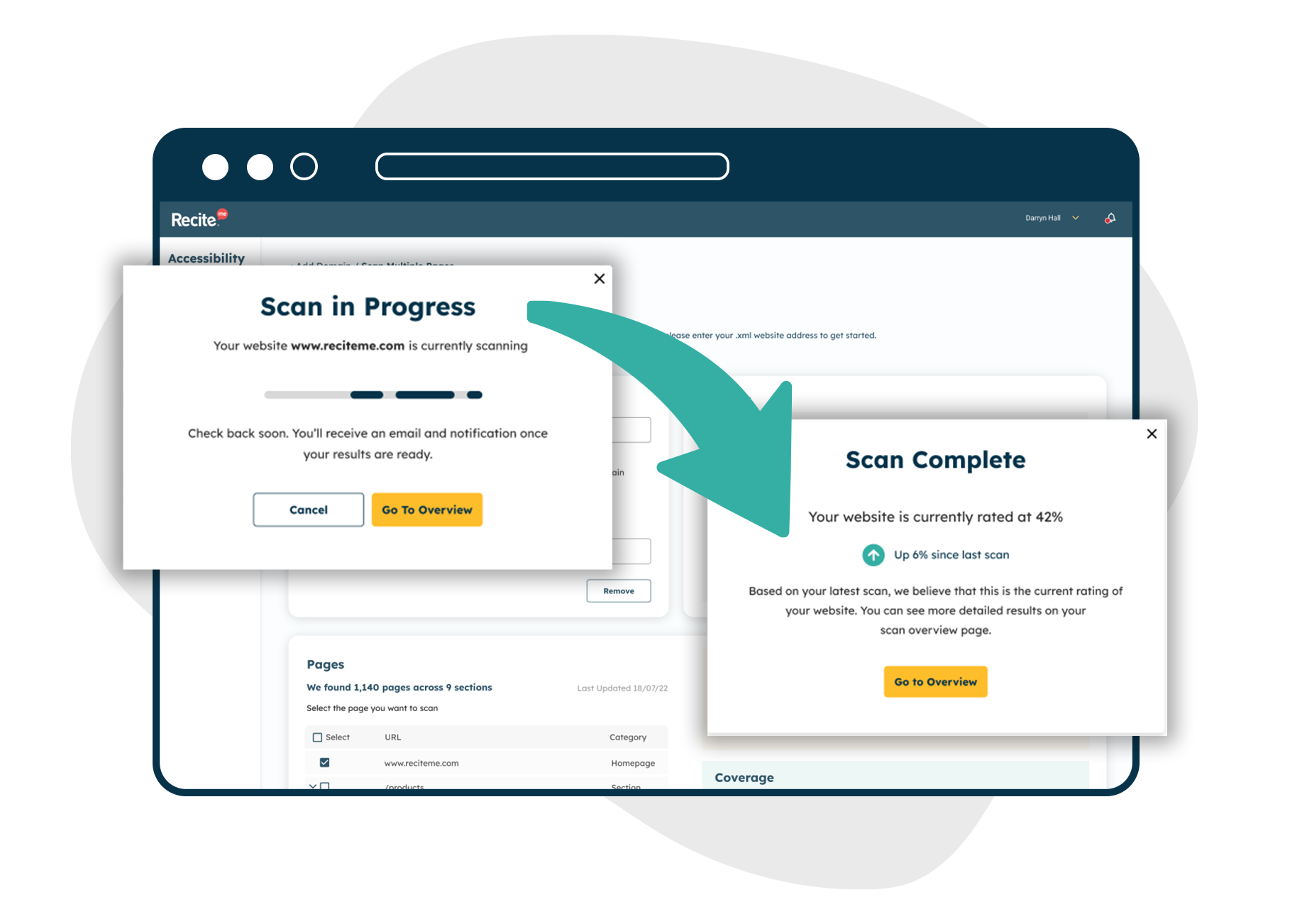 Scan
Your accessibility journey starts here with a scan of your website covering WCAG 2.1 success criteria encompassing:
Site performance overview
Accessibility scoring
Findings per rating
Error breakdown


The scan report includes an overview of errors, the locations of errors, and a comprehensive list of actionable errors to fix and check.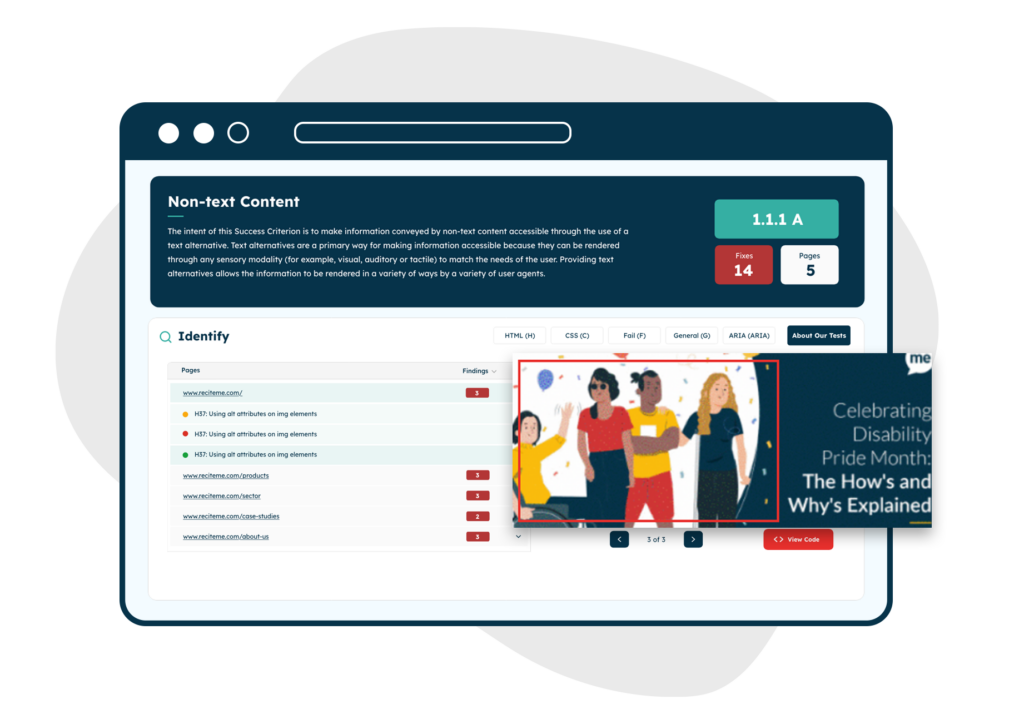 Fix and Check
Our software identifies areas of non-compliance and shows you what to fix and check in which order for the most significant improvement against your efforts, investment, and time.
Fixes are confirmed fails identified via an automated scan.
Checks are potential errors that a human needs to verify. 


For example, a computer can determine whether an image on a website has an alt-tag attribute or not. However, a human eye is needed to ensure that the alt-tag text accurately describes the image.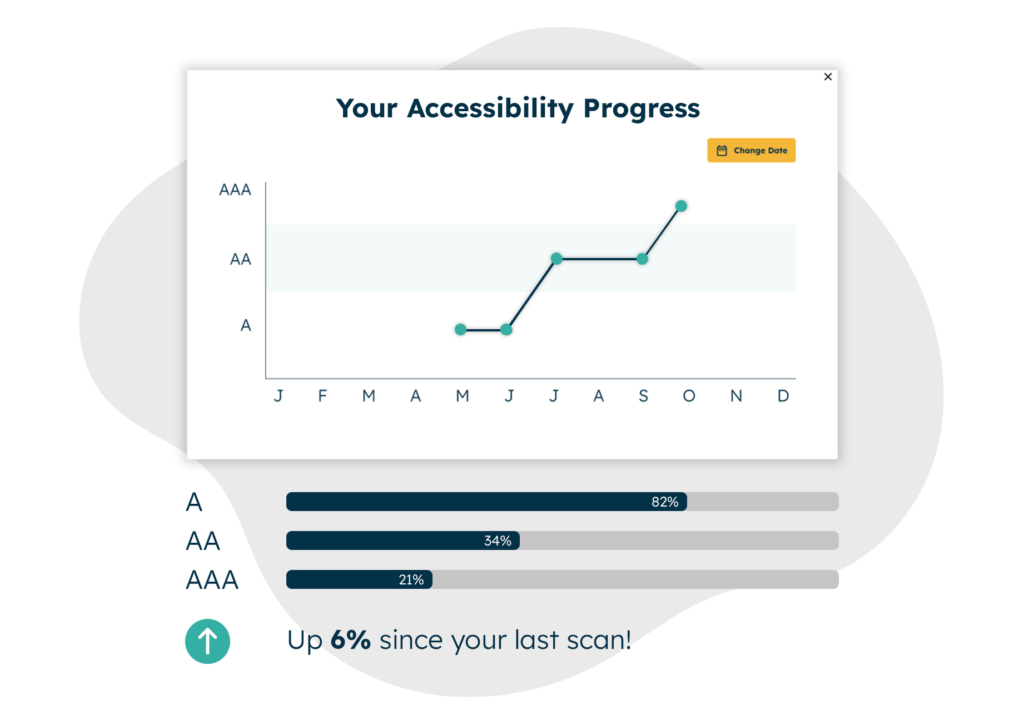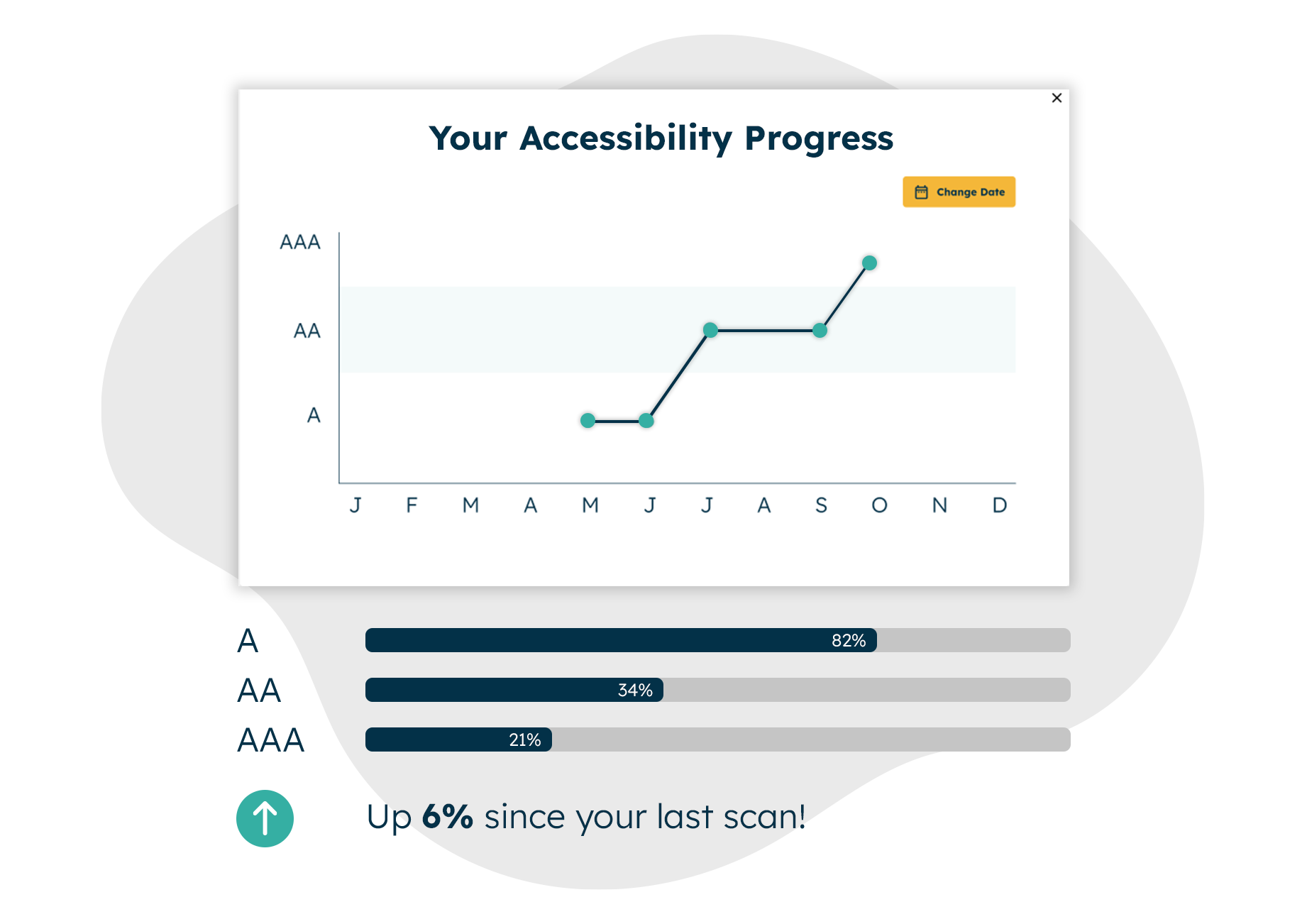 Track
Our compliance tracking service helps you manage your web accessibility improvements over time, make the most effective changes in the correct order, and manage your fix queue. You can examine various elements of WCAG compliance by exploring different scans and downloading your scan accessibility score and report to track your positive journey.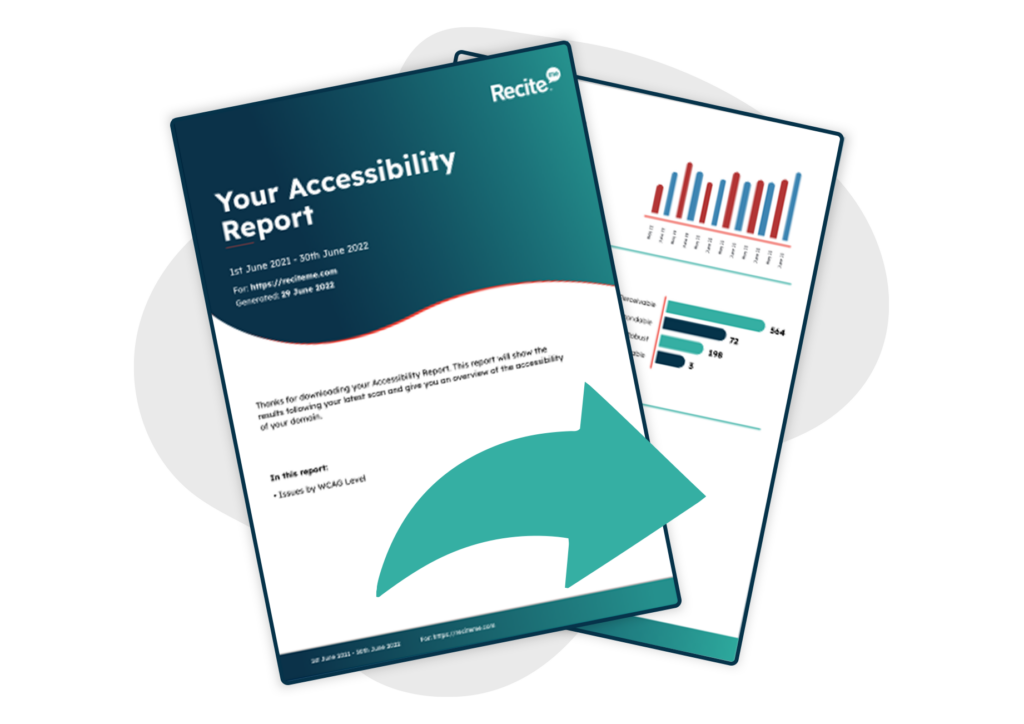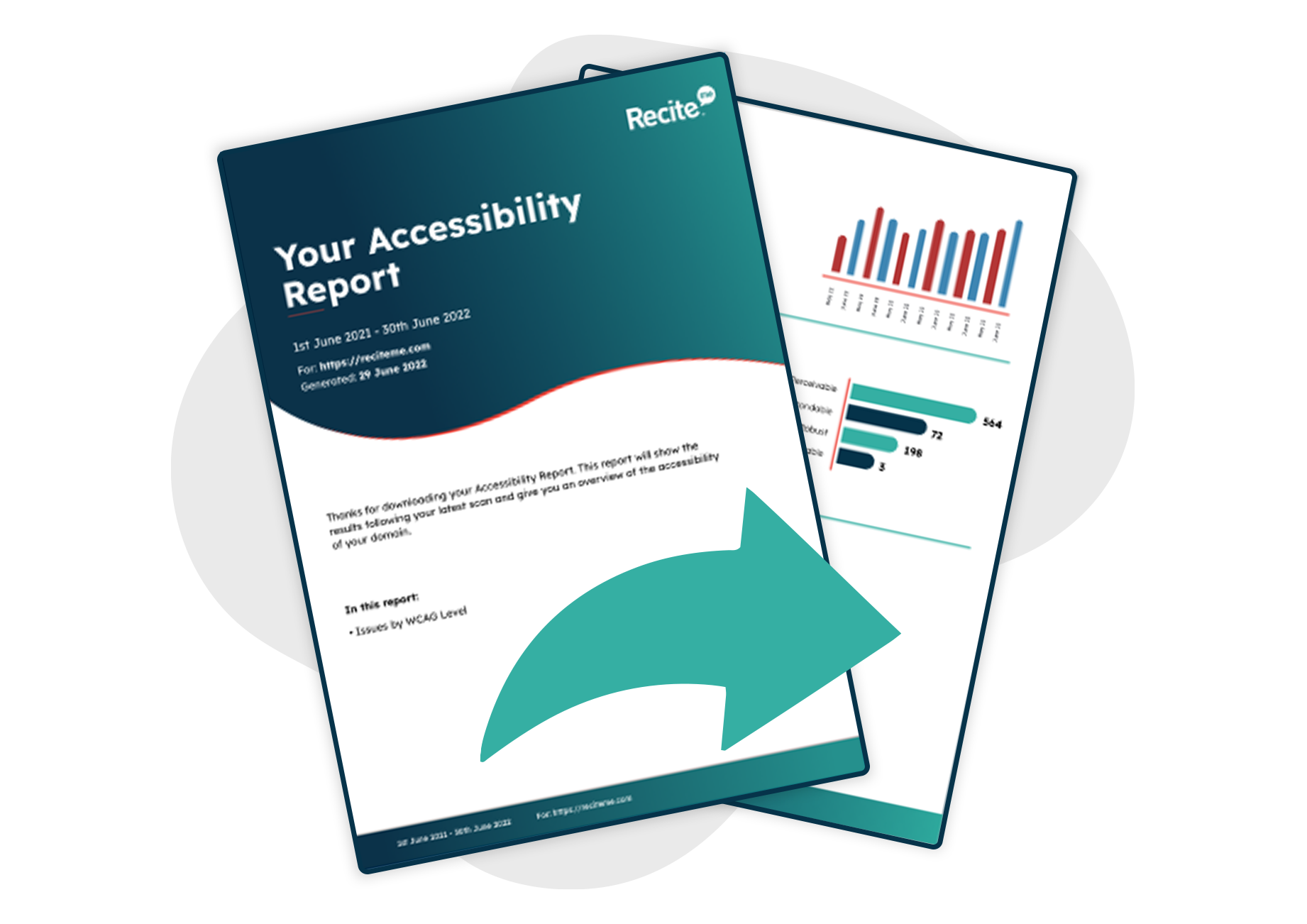 Share
We give you all the tools you need to demonstrate your commitment to developing an accessible website. You can share your accessibility report and score to showcase your digital inclusion goals and achievements via:
Custom monthly reporting
Ongoing engagement analysis
Accessibility scoring
Downloadable fix lists
Access to the Recite Me Hub, featuring materials that highlight the depth of information behind your website's scan and results. Resources include FAQs, complete breakdowns of testing methodologies, and 'how to' videos. 
Start Your Web Accessibility Journey Today
Online accessibility is a journey, not a destination. Recite Me is here to help you every step of the way to provide an inclusive and compliant website. We save you time and money by highlighting what needs to be fixed first for the most effective results and significant return on investment. 
Get started on your online inclusion strategy today by working your way through these action points: