Established in 1993 as a small independent charity, the 'Let's Kick Racism Out of Football campaign was created in response to widespread calls from clubs, players, and fans to tackle racism in football.
Kick It Out was then established as a body in 1997 as it widened out its objectives to cover all aspects of discrimination, inequality, and exclusion.
Working throughout the football, educational, and community sectors to challenge discrimination, encourage inclusive practices, and campaign for positive change, Kick It Out is at the heart of the fight against discrimination for everyone who plays, watches, or works in football.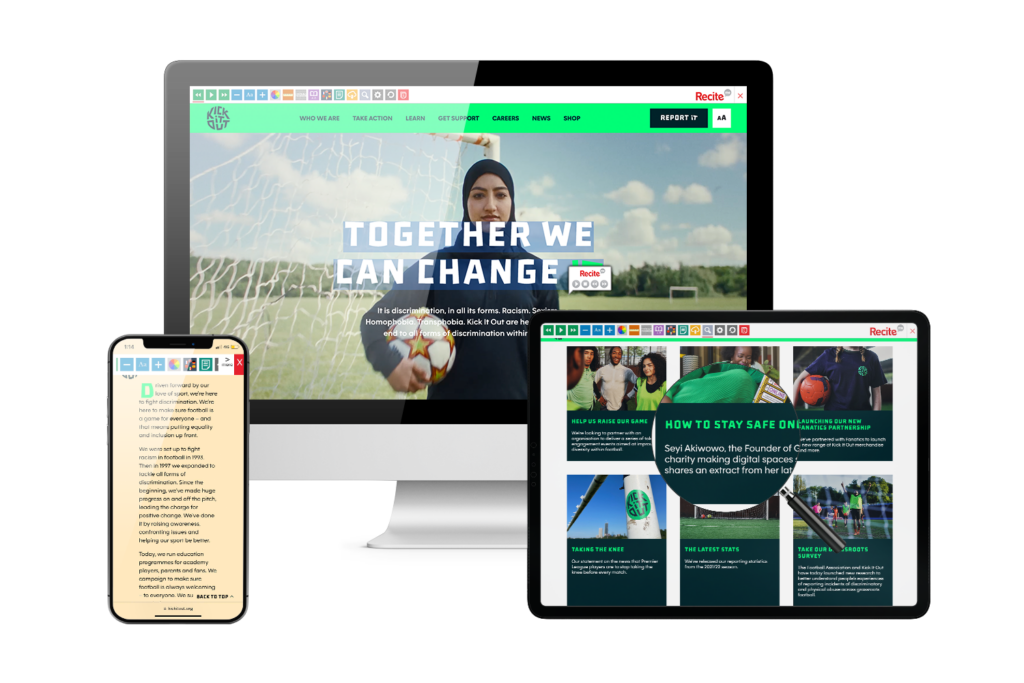 Kick It Out wanted to increase the awareness of diversity and inclusion not only on the pitch but for fans online.
As part of the "The Next Generation" campaign, accessibility online plays a big part in raising awareness of diversity and inclusion for young fans and their understanding of disabilities. Fans of all ages and regardless of their disability or difference should be able to come together online to share their passion for football.
To allow visitors who may be disabled, visually impaired or speak English as a second language the Kick It Out website needed to provide accessibility support to allow all visitors to engage with their website content.
To support accessibility online Kick It Out introduced Recite Me onto their website to allow visitors to customise their website in a way that works best for them.
By simply clicking the accessibility button at the top of the website, all of the Kick It Out online content has been made immediately accessible.
Visitors can now fully customise the style of the website which includes changing the background colour and the text font, size, and colour. All content can be read aloud with the built-in screen reader feature, which can be customised to suit the viewer. To support reading the toolbar provides five main features; a ruler, screen mask, magnifier, margins, and a dictionary.
To support international visitors the Recite Me assistive toolbar translates on-demand all web content into over 100 languages, including 65 text-to-speech voices.