It can be challenging for government bodies to stay up to date with US web accessibility laws and best practices. Learning what to change in the right order and making an action plan for future improvements can feel like a Herculean task. We get that. We really do. After all, your department or agency exists primarily to help your voters and residents – and, chances are, there aren't many website experts on your team.
However, by not doing due diligence on web accessibility in today's modern digital age, you risk ostracizing the very people your services are designed to support and protect. Statistics show that one in four Americans have a disability. That's 25% of our population that require some form of modification to be made to online content so they can read and understand it and enjoy equal access to your services.
Not sure what the rules are, which laws apply to your department, and how to move forward? Here's everything you need to know.
Which Website Accessibility Laws Apply to You?
Federal, state, and local governments are all expected to make their websites accessible under various pieces of web accessibility legislation. Compliance ensures that you provide equal access to online information for individuals with varied access needs, including citizens with:
Visual impairments
Hearing impairments
Mobility issues
Neurological and cognitive differences
Language barriers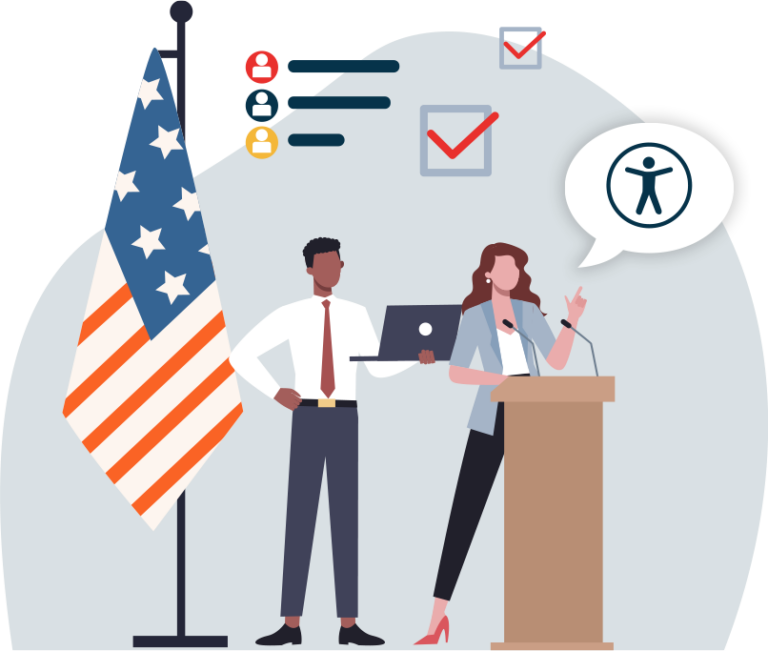 The Risks of a Non-Compliant Website 
First and foremost, making your online content accessible to everyone is the right thing to do. However, web accessibility lawsuits are becoming increasingly common, and tying up valuable time and funding on fines, settlements, and lawsuits is a waste of government resources:
You can be fined up to $75,000 for your first ADA violation and $150,000 for any subsequent violations (ADA Archive).
You'll typically be given only 3-6 months to make improvements. Otherwise, you're at risk of repeat and additional fines.
Web Accessibility Lawsuits
It's also possible that individuals can sue government entities on the grounds of insufficient website access. The number of website accessibility lawsuits has been increasing year on year over the last decade, with 2,387 filed in 2022. Some of the most memorable examples involving government bodies include:
Is Your Government Website Accessible?
In all likelihood, probably not. In a survey of the 72 most popular government domains, the Information Technology and Innovation Foundation found that 30% of homepages didn't meet minimum web accessibility standards.
One of the biggest issues with government websites is that most house numerous inaccessible PDFs that cannot be opened, read, or submitted by individuals using screen readers and other assistive technologies.
However, PDFs are by no means the only access barrier. And it doesn't matter how good your website looks. If it's not built with accessibility in mind, your site will fall short because many visitors will not be able to read, navigate, or understand content due to:
Incorrect font, text size, or text spacing.
Insufficient color contrasts between the text and background.
Insufficient options for touchpad and keyboard navigation.
Poorly organized and formatted pages that make using a screen reader challenging.
Distracting graphics and image carousels.


4 Steps to ADA and Section 508 Compliance
Ultimately, technology that benefits people with disabilities helps everyone, and upping your game on inclusion is not as scary, complicated, or costly as you may think. Here are the steps to follow:
1. Know What's Expected
You can't improve if you don't know what you're doing wrong. In addition to ensuring you meet the requirements of ADA and Section 508 compliance, it's also a good idea
WCAG was developed to be used by anyone involved in building and maintaining a website, including web developers, content writers, graphic designers, tool developers, accessibility testers, and anyone else seeking to learn or better understand how to implement accessible online journeys.
There have been several iterations of WCAG over the years, and the ADA and Section 508 currently require compliance with version 2.0. However, WCAG 2.1 Level AA is typically the minimum reference point for organizations looking to make their websites accessible. Plus, complying with WCAG 2.1 means you'll automatically check all the criteria listed in the ADA and Section 508 of the Rehabilitation Act.
You can read more about the Web Content Accessibility Guidelines here.
 2. Update Your Website Design
Adapt your website build to ensure you are following best practices for accessibility. Key factors include:
Using a content management system that supports accessibility.
Using headings correctly to structure your content.
Including alt text for all images.
Giving descriptive names to your links.
Being mindful of color use and color contrasts.
Ensuring forms are designed for accessibility.
Ensuring responsiveness on all device types (mobile, tablet, and desktop).
Being keyboard friendly.
3. Clarify Your Communications Processes
Give clear direction about how you want your customers to communicate with you, and provide online customer service portals that account for a wide range of users and their varied needs and preferences.
4. Invest in The Right Technology
A 'big-bang' audit route might seem like a viable option for large private sector entities with deep pockets. But it's unlikely the best fit for budget-conscious public sector entities. Plus, one-time-and-done audits have short-term actionability at best.
At Recite Me, we know your website is constantly changing as content is updated, edited, and removed, which can make trying to meet and maintain WCAG Level AA feel like hitting a target from a moving vehicle. That's why we developed a unique scanning solution that removes complexity and tackles compliance head-on by finding issues and fixing them on a consistent basis.
How Can Recite Me Help?
Recite Me's innovative suite of accessibility on-demand tools makes websites accessible and inclusive for a diverse range of people:
The Recite Me Checker audits back-end and front-end web development processes by running 396 separate compliance scans in line with WCAG 2.1 and breaking down the issues you should be working to fix.
The Recite Me Toolbar promotes inclusivity by allowing end users with sight loss, cognitive impairments, learning difficulties, physical disabilities, and varying linguistic needs to access your website per their individual needs and preferences.
Improved Accessibility Backed By Real World Data
Thousands of organizations using Recite Me technology are already benefitting from their investment. Results from our 2022 annual report show that during the previous 12 months:
The Recite Me toolbar was active on over 5,000 websites
Individual toolbar usage increased by 59% to over 5.5 million users.
We made 34.4 million pages of web content inclusive.
On average, Recite Me toolbar users viewed 6.33 web pages per session – more than double the internet average of 2.8 pages per session.
Government Organizations Leading the Way
We are proud to work with numerous organizations in the public sector already. We are delighted that so many local and national entities are committed to providing inclusive online journeys for the public they serve. Our current client list includes:
Orange County NY
Nevada DD Council
Louisiana Housing Corporation
Nevada DD Council
New Mexico Legislature
Louisiana Workforce Commission
Union County, NJ / Dept of Human Services
WA DD Council
City of Pharr
Red Hook Village
Start Your Web Accessibility Journey
Our team is here to help you on your mission to provide more inclusive online experiences. Get started on your online inclusion strategy today by working through these action points:
Try our toolbar or schedule a free demonstration to see the difference it can make to your customers, clients, and employees.