When you're designing or updating a website, you need it to be inclusive of as many people as possible so you can reach the widest audience. But it's not just the right thing to do or a solid business move. Most countries have legislation that makes it illegal to discriminate against disabled people in the online world. 
Website accessibility legislation is usually included in each country's disability and equality laws. So, alongside business best practices and ethical considerations, it is a good idea to ensure your website complies with the relevant legislation and standards to minimize legal risk.
Website Accessibility: Disabilities Defined
The definition of disability is very broad and includes people with physical conditions, neurological differences, and hidden impairments. Examples include:
Vision deficits
Deafblindness
Color blindness
Dyslexia
Hyperlexia
Dyspraxia
Autism
ADHD
Speaking English as a second language
Epilepsy
Mobility and physical impairments
An accessible website has content and functionality that is fully available to as many people with disabilities as possible.
Website Accessibility Legislation by Country
Here's a rundown of the legislation that applies to our clients worldwide. 

The USA
Disability Prevalence
1 in 4 people (CDC).
USA Web Accessibility Legislation
There are two critical pieces of website accessibility legislation to follow. Title III of the Americans with Disabilities Act (ADA) prohibits discrimination based on disability. Section 508 Amendment to the Rehabilitation Act of 1973 requires all Federal agencies' electronic and information technology to be accessible to those with disabilities.
Current Web Accessibility Indicators
70% of websites in the USA have critical accessibility issues (Bureau of Internet Accessibility).
Learn more about USA web accessibility laws.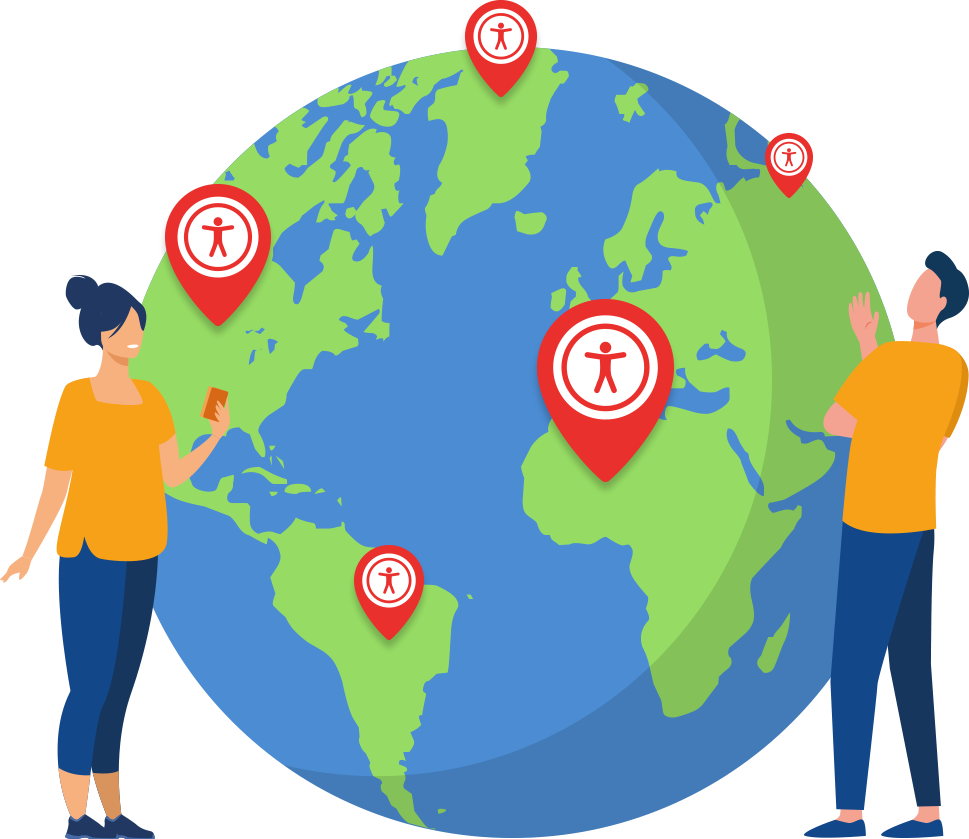 Canada
Disability Prevalence
22% of the population (Government of Canada).
Canadian Web Accessibility Legislation
The Accessible Canada Act (ACA) requires all Government of Canada websites and web applications to conform to World Content Accessibility Guidelines (WCAG) 2.0 Level AA. In addition, several individual provinces have their own independent accessibility acts that apply to private and public sector organizations alike. Examples include Ontario, Manitoba, and Nova Scotia.
Current Web Accessibility Indicators
96.8% of home pages fail to comply with WCAG best practices (WebAim).
Learn more about Canadian web accessibility laws.
The UK
Disability Prevalence
1 in 5 people (Office of National Statistics).
UK Web Accessibility Legislation
Web accessibility legislation in the UK falls under the Equality Act of 2010. The Equality Act encompasses information previously found in the Equal Pay Act of 1970 and the Disability Discrimination Act of 1995. Under the Equality Act, companies must make reasonable adjustments to make websites more inclusive. Public sector bodies are also expected to comply with the Public Sector Bodies (Websites and Mobile Applications) Accessibility Regulations of 2018.
Current Web Accessibility Indicators
Less than 1% of website home pages are likely to meet accessibility standards (AbilityNet).
Australia
Disability Prevalence
1 in 6 people (Australian Institute of Health and Welfare).
Australian Web Accessibility Legislation
The Disability Discrimination Act (DDA) requires equal online access for people with disabilities. Section 5 describes explicitly that inaccessible web content is discriminatory against people with disabilities. Since January 2018, all federal agencies and contractors must comply with the World Content Accessibility Guidelines (WCAG) accessibility Level AA.
Current Web Accessibility Indicators
90% of websites are inaccessible to people with disabilities who rely on assistive technology (AbilityNet).
The European Union
The European Union (EU) Directive on the Accessibility of Websites and Mobile Applications requires EU member states to ensure their websites and mobile apps meet common accessibility standards. The Directive uses the four principles of the Web Content Accessibility Guidelines (WCAG) 2.0. As per the European Accessibility Act, businesses operating in the e-commerce sector must meet minimum accessibility requirements. However, each country also has specific laws that govern public and private sector web accessibility in more detail.
France
Disability Prevalence
1 in 5 people (Disability: In)
French Web Accessibility Legislation
Law N° 2005-102 ensures that disabled citizens have equal rights and opportunities. Businesses with an online presence are legally required to provide full online access to everyone under the Référentiel Général d'Accessibilité pour les Administrations (RGAA). RGAA legislation is based on WCAG guidelines with additional accessibility metrics and requirements for all public websites.
Current Web Accessibility Indicators
Only 2% of all websites meet best practice guidelines (AdWeek). 
Germany 
Disability Prevalence
1 in 6 people (Federal Anti-Discrimination Agency).
German Web Accessibility Legislation
There are two key pieces of web accessibility legislation. The Disability Equality Act (BGG) protects people with disabilities against discrimination, ensuring they have the same rights and opportunities as everyone else. The Federal Ordinance on Barrier-Free Information Technology BITV 2.0 goes even further to provide benchmarks on website accessibility specifically, based on WGAC.  
Current Web Accessibility Indicators
Only 3% of the internet is accessible to people with disabilities (Forbes).
Spain
Disability Prevalence
8.5% of the population (Disability:In).
Spanish Web Accessibility Legislation
The two primary website accessibility laws in Spain are Law 34/2002 and Law 51/2003. Both require government websites to conform to WCAG standards. Plus, legislation updates in the form of UNE 139803:2012 requires the websites of several non-government and government-funded organizations to be accessible. 
Current Web Accessibility Indicators
Across one million home pages, an average of 51.4 accessibility errors can be found on each page (WebAim).
How to Comply with Website Accessibility Legislation
The Recite Me Accessibility Checker is changing the way organizations address compliance issues on their websites. Whether your run a private company, public body, or charity, our goal is to simplify the process of fixing non-compliant components and provide you with the expert knowledge you need to continue your website accessibility journey and help you succeed in your organizational goals.
Introducing the Recite Me Checker
The Recite Me Checker audits both back-end and front-end web development processes by running 390 separate compliance scans in line with WCAG 2.1 and breaking down the issues you should be working to fix, track, and share.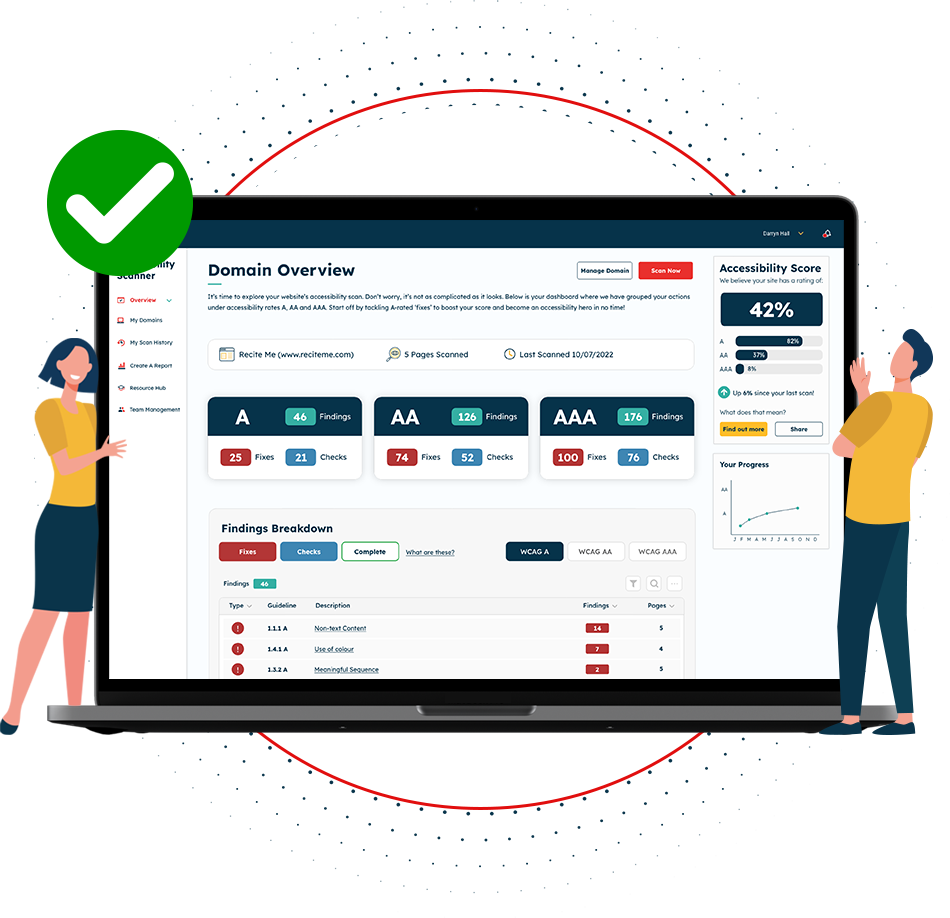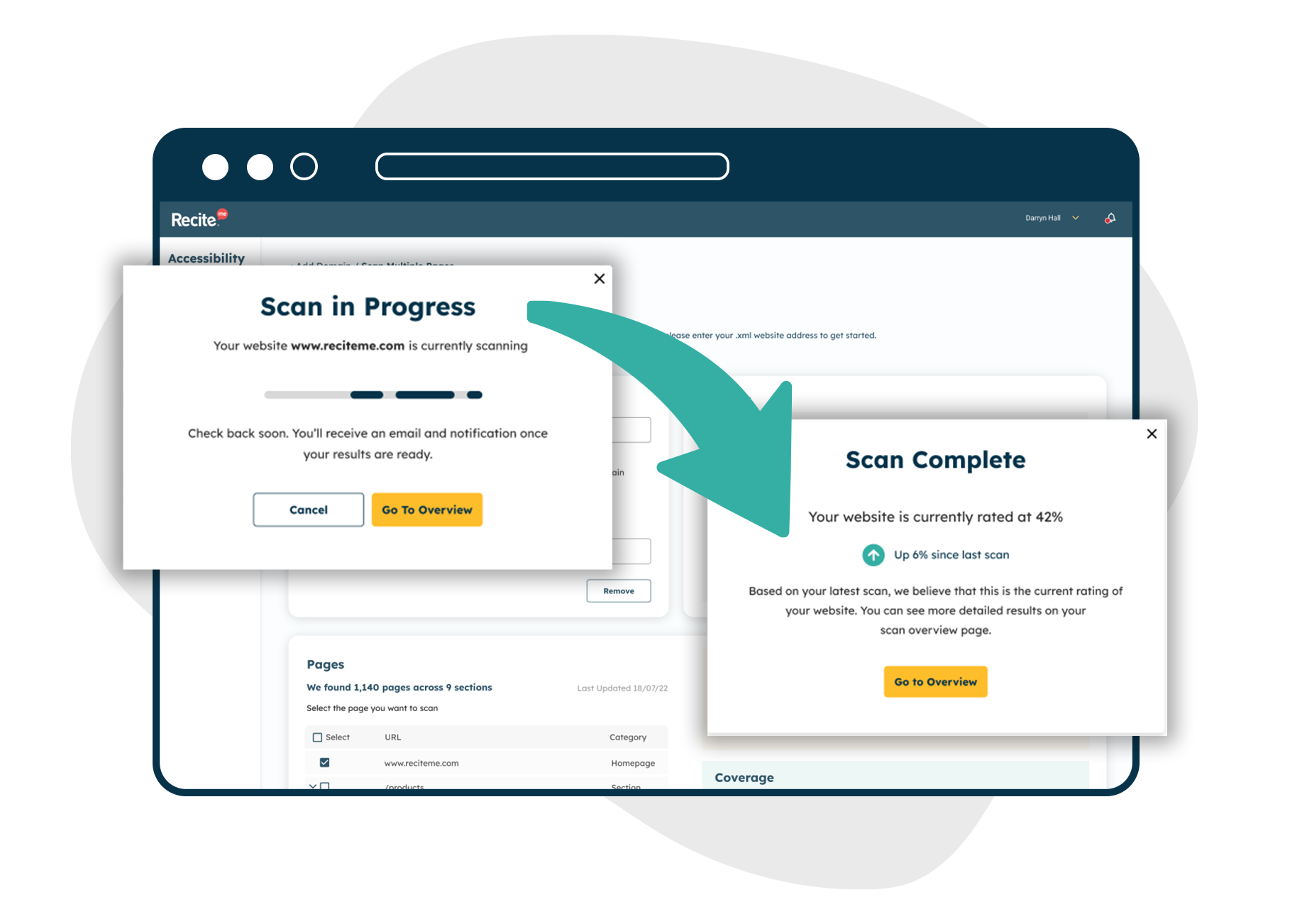 Scan
Your accessibility journey starts here with a scan of your website covering WCAG 2.1 success criteria encompassing:
Site performance overview
Accessibility scoring
Findings per rating
Error breakdown
The scan report includes an overview of errors, the locations of errors, and a comprehensive list of actionable errors to fix and check.
Fix and Check
Our software identifies areas of non-compliance and shows you what to fix and check and in what order for the biggest improvement against your efforts, investment, and time. Fixes are confirmed fails identified via an automated scan and checks are potential errors that a human needs to verify. For example, a computer can identify if an image on a website has an alt-tag attribute or not. However, the human eye is needed to make sure that the alt tag text describes the image.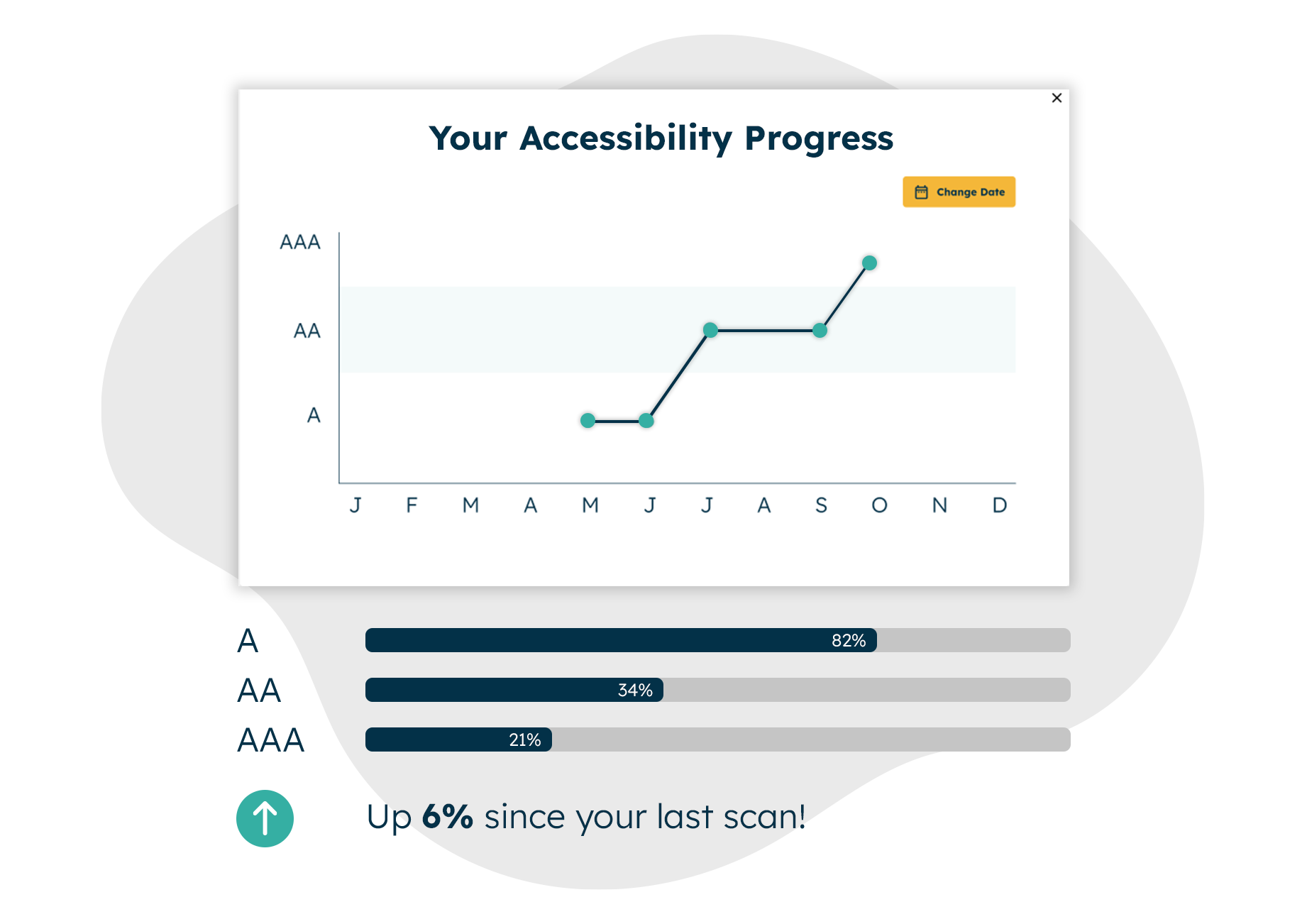 Track
Our compliance tracking service helps you manage your web accessibility improvements over time, make the most effective changes in the right order, and manage your fix queue. You can examine various elements of WCAG compliance by exploring different scans and downloading your website's scan accessibility score and report to track your positive journey.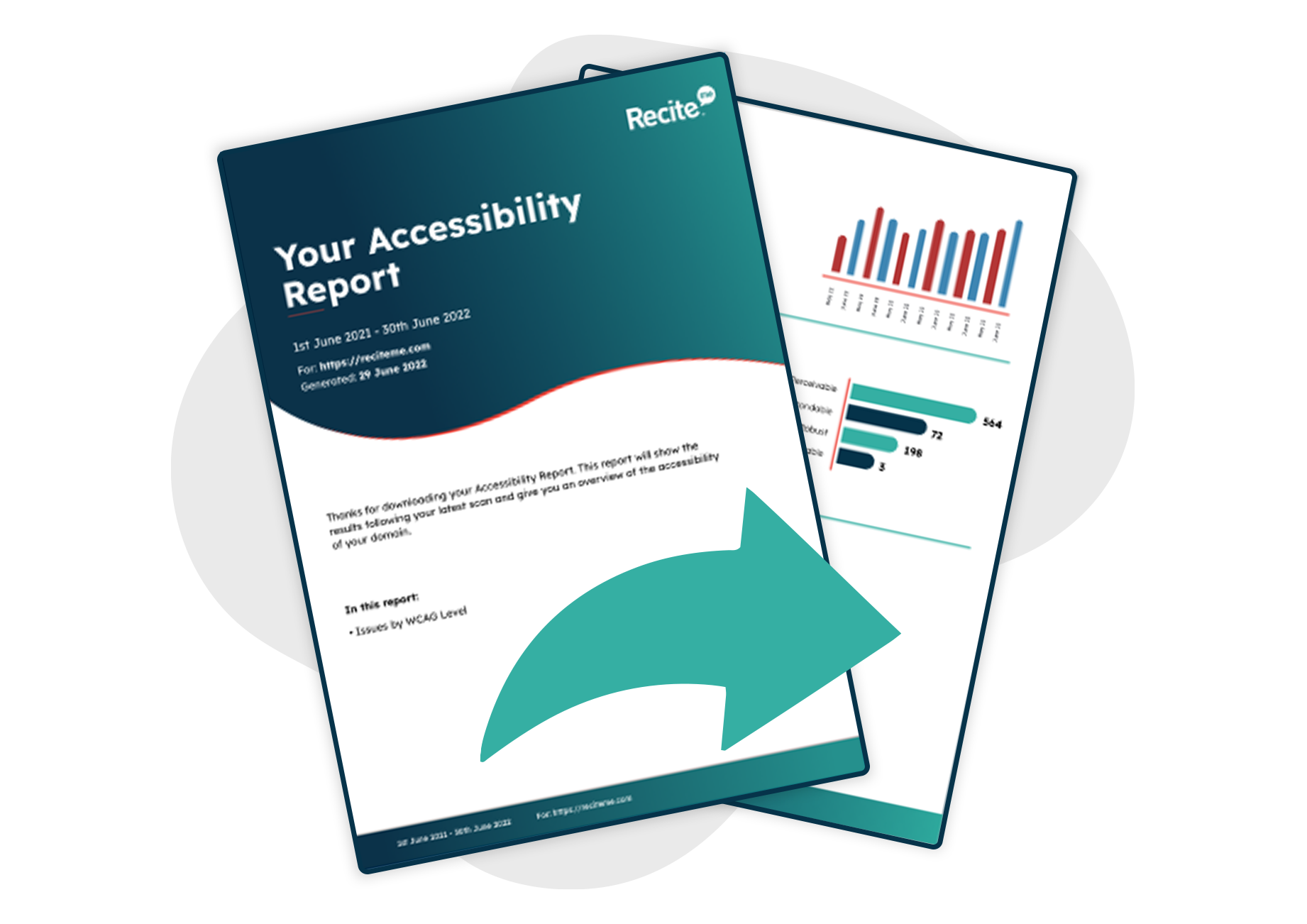 Share
We give you all of the tools needed to demonstrate your commitment to developing an accessible website. You can share your accessibility report and score to showcase your digital inclusion goals and achievements via:
Custom monthly reporting
Ongoing engagement analysis
Accessibility scoring
Downloadable fix lists
Access to the Recite Me Hub which features materials highlighting the depth of information behind your website's scan and results. Resources include FAQs, full breakdowns of testing methodologies, and 'how to' videos.
Start Your Web Accessibility Compliance Journey Today
Online accessibility is a journey, not a destination. Recite Me is here to help you every step of the way to provide an inclusive and compliant website. We save you time and money by highlighting what needs fixing first for the most effective results and the most significant return on investment. 
Get to work on your online inclusion strategy today by running a free check of your website for WCAG 2.1AA compliance.