Research shows one in four Americans (26%) have a disability. That's more than 61 million people.
When we hear the word 'disabled,' we tend to think of people in wheelchairs and those with mobility issues. And, while physical disabilities are the most common (affecting one in seven people), there are a range of neurological, cognitive, linguistic, visual disabilities and other hidden disabilities that affect a significant percentage of the population.
Any disability can be problematic when using the internet, as online barriers prevent disabled website visitors from navigating, reading, and understanding the content. That's why legislation is in place to prevent discrimination based on disability.
Web Accessibility laws in the United States
A poorly designed website excludes people with disabilities just as much as steps at the entrance of a physical location would exclude someone in a wheelchair. Web accessibility legislation removes unnecessary online barriers to provide everyone and people with disabilities equal access to information.
The Department of Justice has prioritized web accessibility over other laws in recent years because, in our modern-day society, we rely on the internet more than ever before in many aspects of daily life. There are two critical pieces of website accessibility legislation to be aware of:
The Americans with Disabilities Act (ADA)
Section 508 Amendment to the Rehabilitation Act of 1973
Both pieces of legislation make it illegal to discriminate against disabled people online. Let's look into each law in more detail.
The Americans with Disabilities Act (ADA Accessibility)
The ADA prohibits discrimination based on disability. Various sections of the ADA apply to specific businesses and business types:
ADA Title I
Title I of the ADA prohibits employment discrimination, requiring employers to make reasonable accommodations for qualified candidates and employees with disabilities. That means having an accessible website and providing employees an inclusive candidate journey. Any business with at least 15 full-time employees operating for 20 or more weeks every year is governed by ADA Title I regulations.
ADA Title II
Title II applies to state governments and local governments and prohibits discrimination against people with disabilities in all services, programs, and activities. Authorities and agencies are required to take steps to ensure communication is equally as effective for disabled citizens as for non-disabled residents, including the ability to:
File tax documents

Apply for an absentee ballot

Pay government fees and tickets

File a police report

Apply for state benefits

Enroll in school programs
ADA Title III
Title III stipulates that all public-facing businesses make reasonable adjustments to provide full and equal enjoyment of their goods, services, facilities, privileges, advantages, or accommodations to people with disabilities. Examples of businesses and facilities that fall under Title III include:
Banks

Retail stores

Restaurants and bars

Hotels, inns, and motels

Hospitals and medical offices

Auditoriums and theaters

Sports arenas
Section 508 Amendment to the Rehabilitation Act
Section 508 is a US accessibility law that relates specifically to electronic information and communication technology at the Federal level. Its states that, regardless of the type of medium of the technology:
Federal employees with disabilities must have equal access to, and use of, information and data as their non-disabled counterparts.

Members of the public seeking information or services from a Federal department or agency must have comparable access to, and use of, information and data as non-disabled citizens.
What Types of Barriers Do Accessible Websites Solve?
Online barriers come in several forms. Here are some examples of the most common errors that can make a website inaccessible:
Poor site structure – If a website doesn't use headers and present information in a logical order, visitors using screen readers can't scan content to find the information they need.
Insufficient color contrasts – When color pairings have insufficient contrast, or when color alone is used to provide information, text can be difficult or impossible for visually impaired users to read.

Lack of descriptive links – Screen readers utilize keyboard shortcuts to list the links on each page to navigate more efficiently. Non-descriptive hyperlink text like 'click here' and 'read more' do not adequately indicate where the link goes.

Missing Alt text – Pictures, illustrations, and charts make no sense to visually impaired website visitors when no text alternative is provided to convey their purpose. Learn how to write accessible image alt text
Missing captions – When videos don't have captions, people with hearing disabilities may be unable to understand the information.
Insufficient keyboard navigation – Some people with disabilities cannot use a mouse or trackpad. Keyboard navigation should allow every interactive element of a web page to be selected using the tab key.
Inaccessible online forms – Online forms represent some of the most complicated interactions a user can have with a website. Accessible forms provide a clear relationship between labels and their corresponding fields and options to extend time limits for form completion.
The Risks of an Inaccessible Website
Making your website accessible is the right thing to do. From both a legal perspective, in terms of meeting specific US accessibility law and from a moral perspective. But it's also the cost-effective thing to do from sales, customer satisfaction, and legal perspectives. If a huge section of the population can't access your website, it's going to hurt your bottom line.
Revenue
If your website isn't accessible, your organization misses out on 25% of the potential market share. The total disposable income for U.S. adults with disabilities is about $490 billion, and there's no shortage of statistics that prove that investing resources in web accessibility upgrades is a wise move:
71% of users leave a site that they find hard to use.

For 81% of users, ease of use is more important than price.

82% of consumers with accessibility issues said they would spend more if there were fewer barriers. Source: ClickAway Pound
Customer Satisfaction
Most organizations know attracting and retaining new customers costs much more than keeping existing ones. Yet, studies reveal that many disabled customers are dissatisfied with their local government and private employers' current levels of accessibility:
73% of disabled customers experience barriers on more than one in four websites they visit.

75% of disabled people and their families have walked away from a business because of poor accessibility or customer service.

83% of people with access needs limit their shopping to sites that they know are accessible.
Source: PurplePound
Legal Risk
Despite legislative efforts to provide online equity, many websites still fail to meet minimum accessibility standards. As a result, web accessibility lawsuits are becoming increasingly common in the United States. A record number of 2,387 website accessibility lawsuits were filed in 2022. The most common businesses targeted were:
Consumer Goods, Services & Retail – 1,378 lawsuits.

Apparel, Durables & Beauty – 247 lawsuits.

Food, Beverage & Tobacco – 234 lawsuits.

Health & Medical – 147 lawsuits.

Tech, Software & Internet Services – 112 lawsuits. Source: Bureau of Internet Accessibility
WCAG: The Key to Web Accessibility Compliance
To follow US accessibility compliance and ADA laws, that make your website and other digital content accessible, it's essential to understand the Web Content Accessibility Guidelines (WCAG). WCAG was developed to be used by anyone involved in building and maintaining a website, including web developers, content writers, graphic designers, tool developers, accessibility testers, and anyone else seeking to learn or better understand how to implement accessible online journeys.
If you're just starting out on your website accessibility journey, you should make changes to align with WCAG 2.1 Level A guidelines as soon as possible. However, bear in mind that WCAG 2.1 Level AA is typically the minimum reference point for organizations looking to make their websites accessible. Plus, complying with WCAG 2.1 guidelines means you'll check all the criteria listed in the ADA guidelines and Section 508 of the Rehabilitation Act.
How Accessible are American Websites?
The short story: not all internet companies are as accessible as they should be. Despite the vast market potential, ethical best practices, and increased legal risks of having an inaccessible website, research shows that:
70% of websites in the USA have critical accessibility issues (Bureau of Internet Accessibility).

Of the 72 most popular government domains studied by the Information Technology and Innovation Foundation, 30% of the homepages didn't meet the required standards for accessibility (FCW).

43% of consumers feel the majority of websites are not designed around end-user needs (Tech Radar).
Introducing the Recite Me Checker
The Recite Me Checker audits both back-end and front-end web development processes by running 390 separate compliance scans in line with WCAG 2.1 and breaking down the issues you should be working to fix, track, and share.
ADA Compliance Made Simple
The Recite Me Accessibility Checker is changing the way organizations address ADA compliance issues on their websites. Its tailored specifically to help you with various state and local government ADA website compliance laws. Whether your organization is a private company, public body, or charity, our goal is to simplify the process of fixing non-compliant components and provide you with the expert knowledge you need to continue your website accessibility journey and help you succeed in your organizational goals.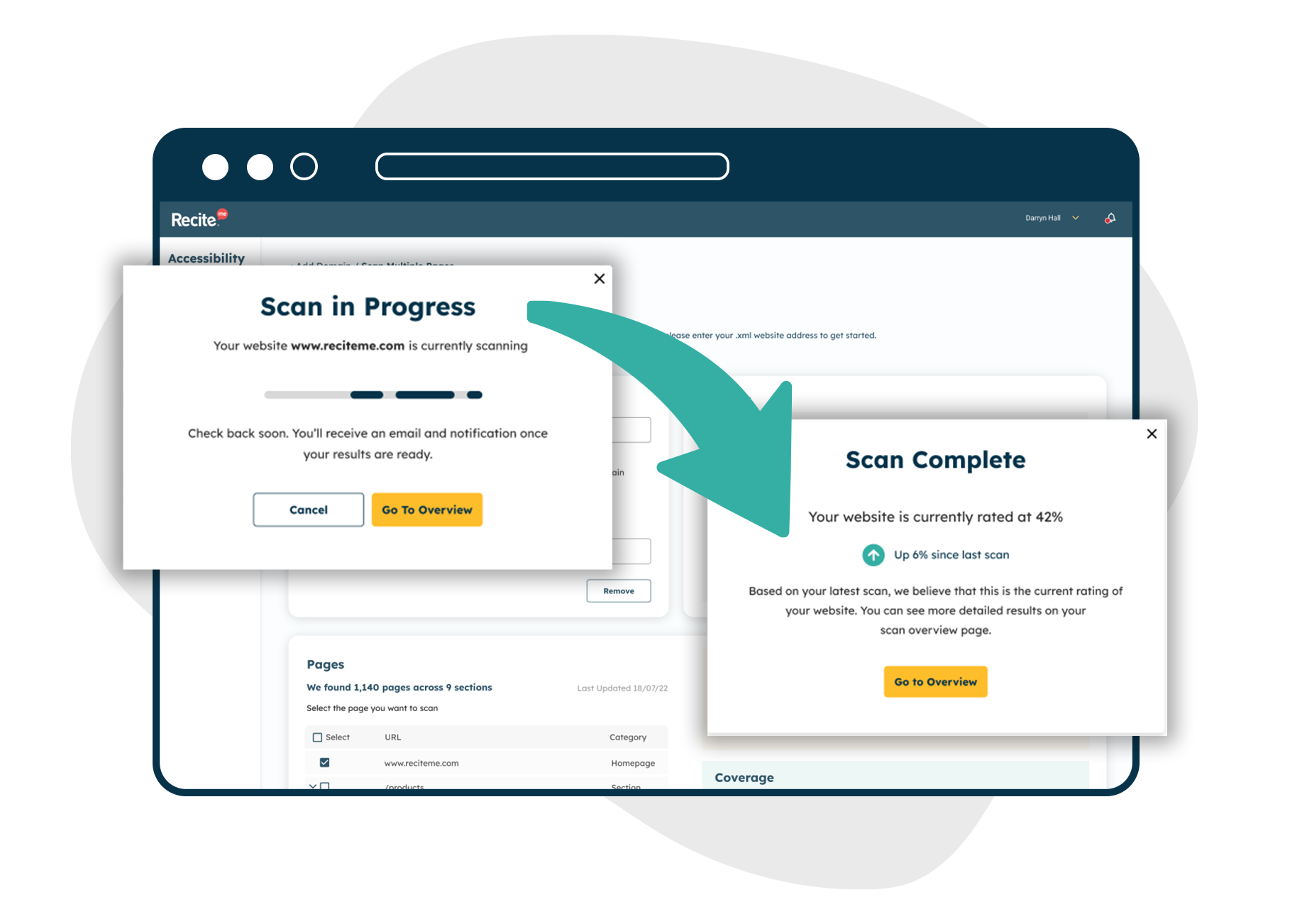 Scan
Your accessibility journey starts here with a scan of your website covering WCAG 2.1 success criteria encompassing:
Site performance overview
Accessibility scoring
Findings per rating
Error breakdown

The scan report includes an overview of errors, the locations of errors, and a comprehensive list of actionable errors to fix and check.
Fix and Check
Our software identifies areas of non-compliance and shows you what to fix and check and in what order for the biggest improvement against your efforts, investment, and time. Fixes are confirmed fails identified via an automated scan and checks are potential errors that a human needs to verify. For example, a computer can identify if an image on a website has an alt-tag attribute or not. However, the human eye is needed to make sure that the alt-tag text describes the image.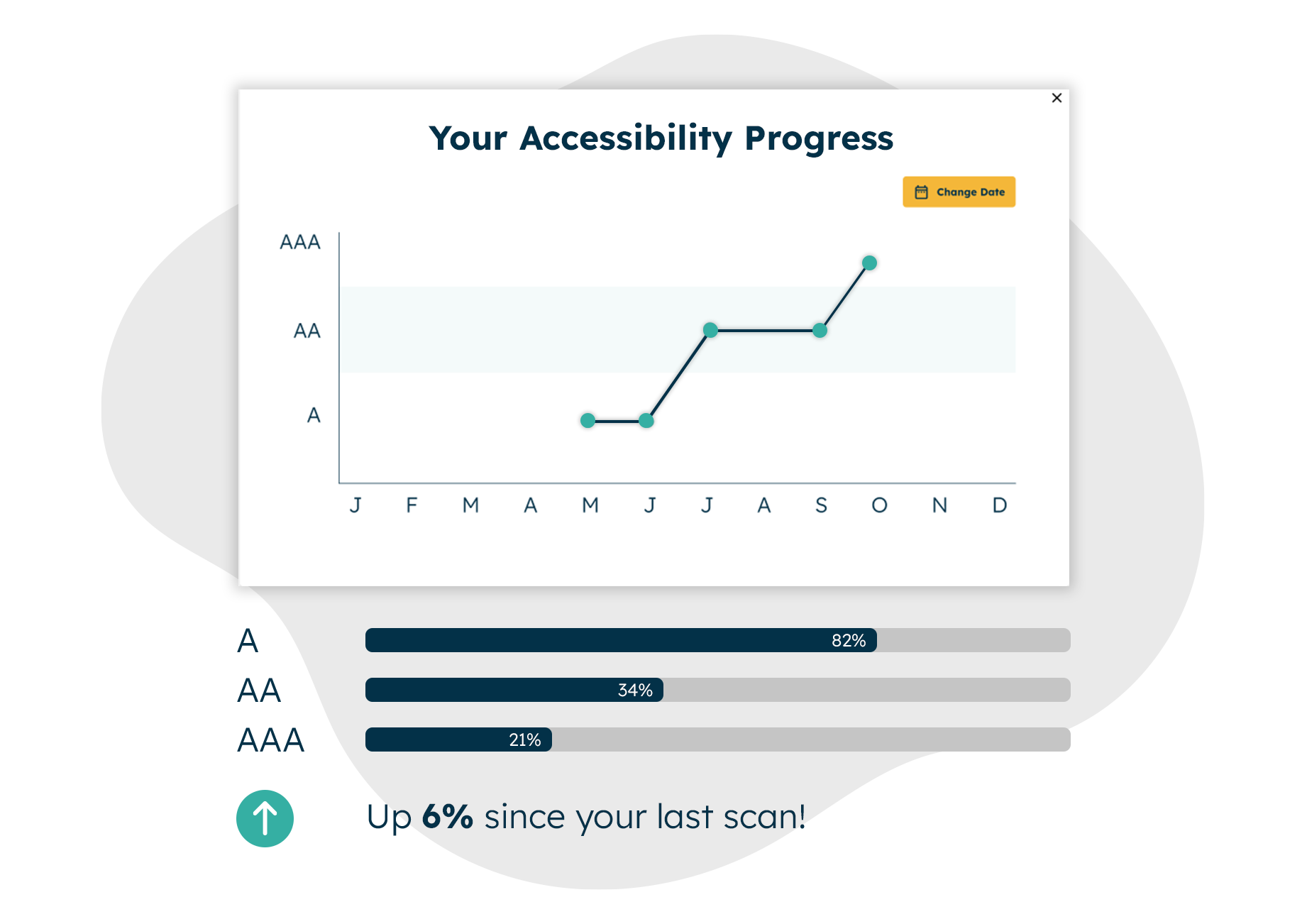 Track
Our compliance tracking service helps you manage your web accessibility improvements over time, make the most effective changes in the right order, and manage your fix queue. You can examine various elements of WCAG compliance by exploring different scans and downloading your website's scan accessibility score and report to track your positive journey.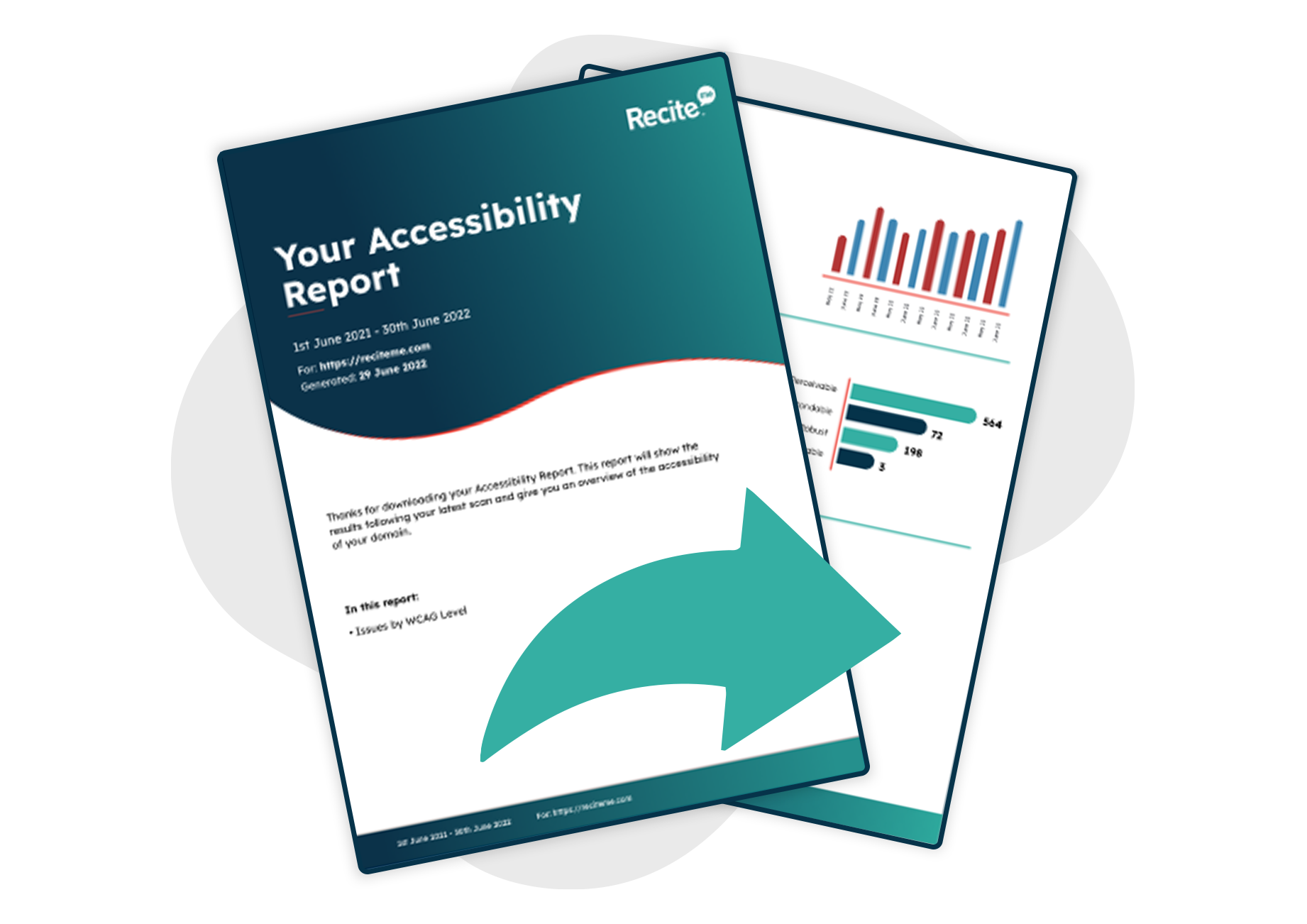 Share
We give you all of the tools needed to demonstrate your commitment to developing an accessible website. You can share your accessibility report and score to showcase your digital inclusion goals and achievements via:
Custom monthly reporting
Ongoing engagement analysis
Accessibility scoring
Downloadable fix lists
Access to the Recite Me Hub which features materials highlighting the depth of information behind your website's scan and results. Resources include FAQs, full breakdowns of testing methodologies, and 'how to' videos.
Start Your Web Accessibility Compliance Journey Today
Online accessibility is a journey, not a destination. Recite Me is here to help you every step of the way to provide an inclusive and compliant website. We save you time and money by highlighting what needs fixing first for the most effective results and the most significant return on investment. 
Get to work on your online inclusion strategy today by running a free check of your website for WCAG 2.1AA compliance.