Canada has long been a leader in promoting accessibility and inclusivity for all citizens, including those with disabilities. The country has implemented a range of policies and laws aimed at making public spaces, buildings, and services accessible for everyone, regardless of their ability.
When it comes to digital accessibility, Canada has taken several steps to enact accessibility legislation to ensure that websites, mobile apps, and other digital platforms are accessible to all users, including those with disabilities. This is in addition to long-standing non-discrimination laws, such as the Canadian Human Rights Act of 1977, which prohibit the restriction and discrimination of individuals, including those with disabilities.
Canadian Province Accessibility Acts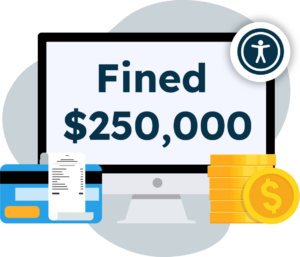 The Accessible Canada Act (Bill C-81)
A federal piece of legislation in Canada aimed at creating a more inclusive and accessible society for people with disabilities. The act was passed in June 2019 and aims to remove barriers and create a level playing field for people with disabilities in areas such as employment, transportation, communication and information technology, and the built environment. The act requires that federal organizations take proactive measures to identify and remove barriers and to ensure that new policies and programs are designed with accessibility in mind.
The Accessible Canada Act establishes an Accessibility Commissioner who is responsible for promoting accessibility and ensuring that federal organizations comply with the act. The commissioner also has the authority to investigate complaints and impose penalties for non-compliance.
Requirements of the bill will follow the international standard, Web Content Accessibility Guidelines (WCAG) 2.1 Level AA, thus, ensuring web and digital accessibility. Organizations that fail to comply with the act could face a fine of up to $250,000.
Canadian Standard on Web Accessibility
The Canadian Standard on Web Accessibility, updated in 2013, requires all government websites and web applications in Canada to adhere to the WCAG 2.1 Level AA standards accessibility standards. It went into effect on August 1, 2011, with the goal of promoting a high level of accessibility across all Canadian government websites.
Ensuring digital accessibility is not only a legal requirement in Canada, but it is also an important part of creating a more inclusive society. By making digital content accessible to everyone, we can help to break down barriers and ensure that everyone has equal access to information, services, and opportunities, regardless of their ability.
Canada's to introduce digital accessibility legislation, including the implementation of WCAG 2.1, is a critical step toward ensuring digital inclusivity for all citizens. By providing clear guidelines and requirements for digital accessibility, the country is helping to create a more accessible and inclusive digital environment for everyone.
What are the Web Content Accessibility Guidelines (WCAG)?
WCAG 2.1 accessibility requirements provides a set of guidelines and requirements for making digital content accessible to everyone, including people with disabilities. The guidelines cover a wide range of accessibility issues, including color contrast, text size and spacing, keyboard accessibility, and the use of alternative text for images. WCAG 2.1 web accessibility standards provide comprehensive guidance over three levels of conformance:
Level A – Level A criteria comprise a list of things you must do to provide a basic level of accessibility on your website. Level A compliance is typically easy to achieve without much impact on website design or structure.
Level AA – Level AA criteria include more advanced compliance points than Level A, comprising a list of things you and your development teams should do to meet an industry-accepted standard of accessibility. WCGA 2.1 Level AA is typically the minimum reference point when discussing 'making a website accessible' and is the standard to which websites are currently expected to comply.
Level AAA – With even more extensive benchmarks, this is the most comprehensive standard of accessibility compliance detailing all of the things you could do to offer enhanced accessibility. For a website to achieve this rating, it must comply with every listed success criterion.
Across these 3 levels of web accessibility standards, ratings sit, 78 criteria, 508 testing techniques, and over 1000 technical checks to make sure websites are sufficiently perceivable, operable, understandable, and robust for all visitors.
Website owners must adopt a level of design and functionality that is compliant with WCAG 2.1. But, exactly what does that mean and how can people monitor and track what changes are needed to meet the expected compliance standards?
WCAG 2.1 Compliance Made Simple
The Recite Me Accessibility Checker is changing the way organizations can address WCAG issues on their websites. The goal is to simplify the process of fixing non-compliant components and provide expert knowledge and guidance and help people build and maintain an accessible website to WCAG 2.1 compliance standards.
The Recite Me Checker audits both back-end and front-end web development processes by running 390 separate compliance scans in line with WCAG 2.1 and breaking down the issues you should be working to fix, track, and share.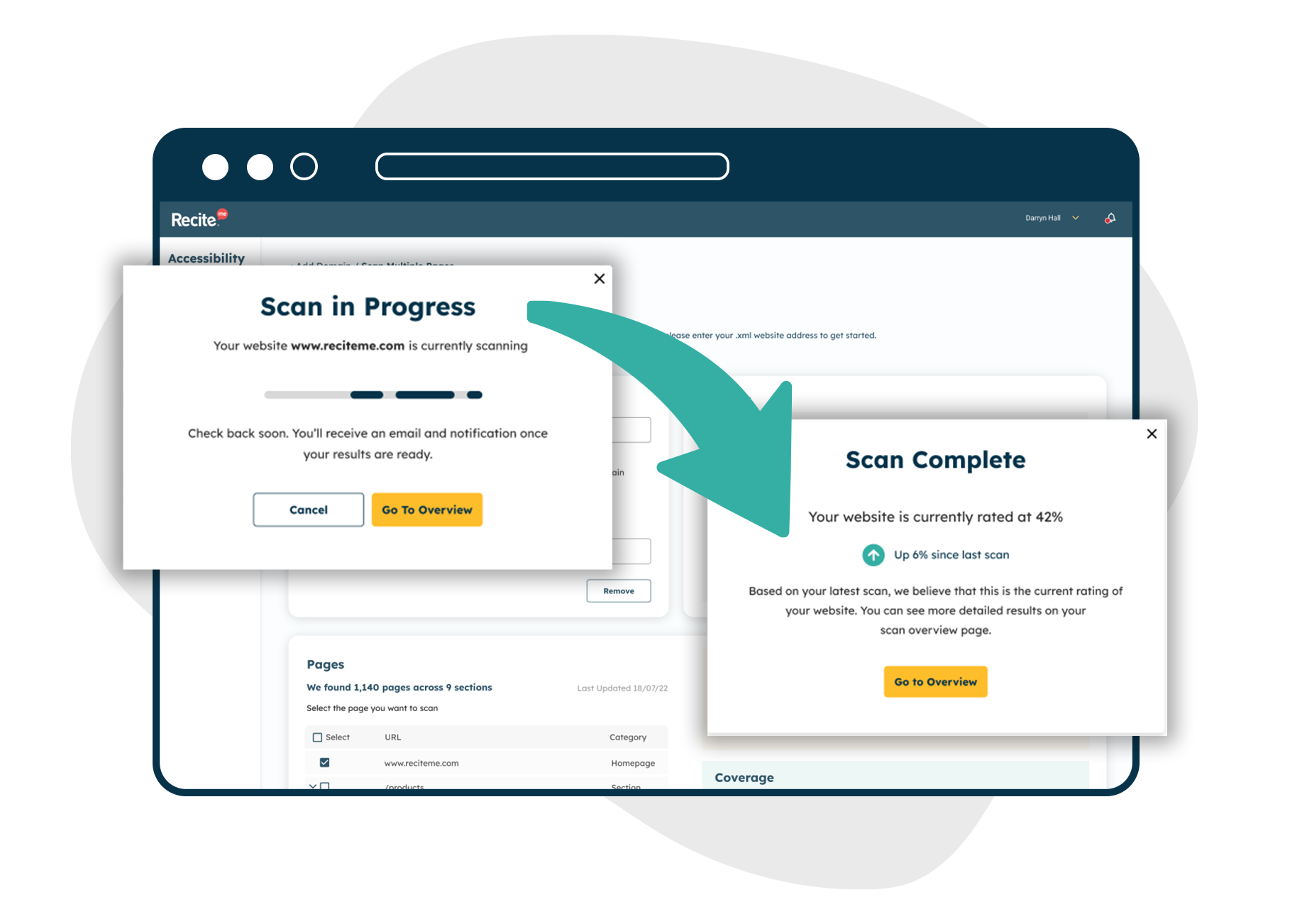 Scan
An accessibility journey starts with a scan of a website covering WCAG 2.1 success criteria encompassing:
Site performance overview
Accessibility scoring
Findings per rating
Error breakdown
The scan report includes an overview of errors, the locations of errors, and a comprehensive list of actionable errors to fix and check.
Fix and Check
Recite Me software identifies areas of non-compliance and shows what to fix and check and in what order for the biggest improvement against efforts, investment, and time.
Fixes are confirmed fails identified via an automated scan and checks are potential errors that a human needs to verify. For example, a computer can identify if an image on a website has an alt-tag attribute or not. However, the human eye is needed to make sure that the alt-tag text describes the image.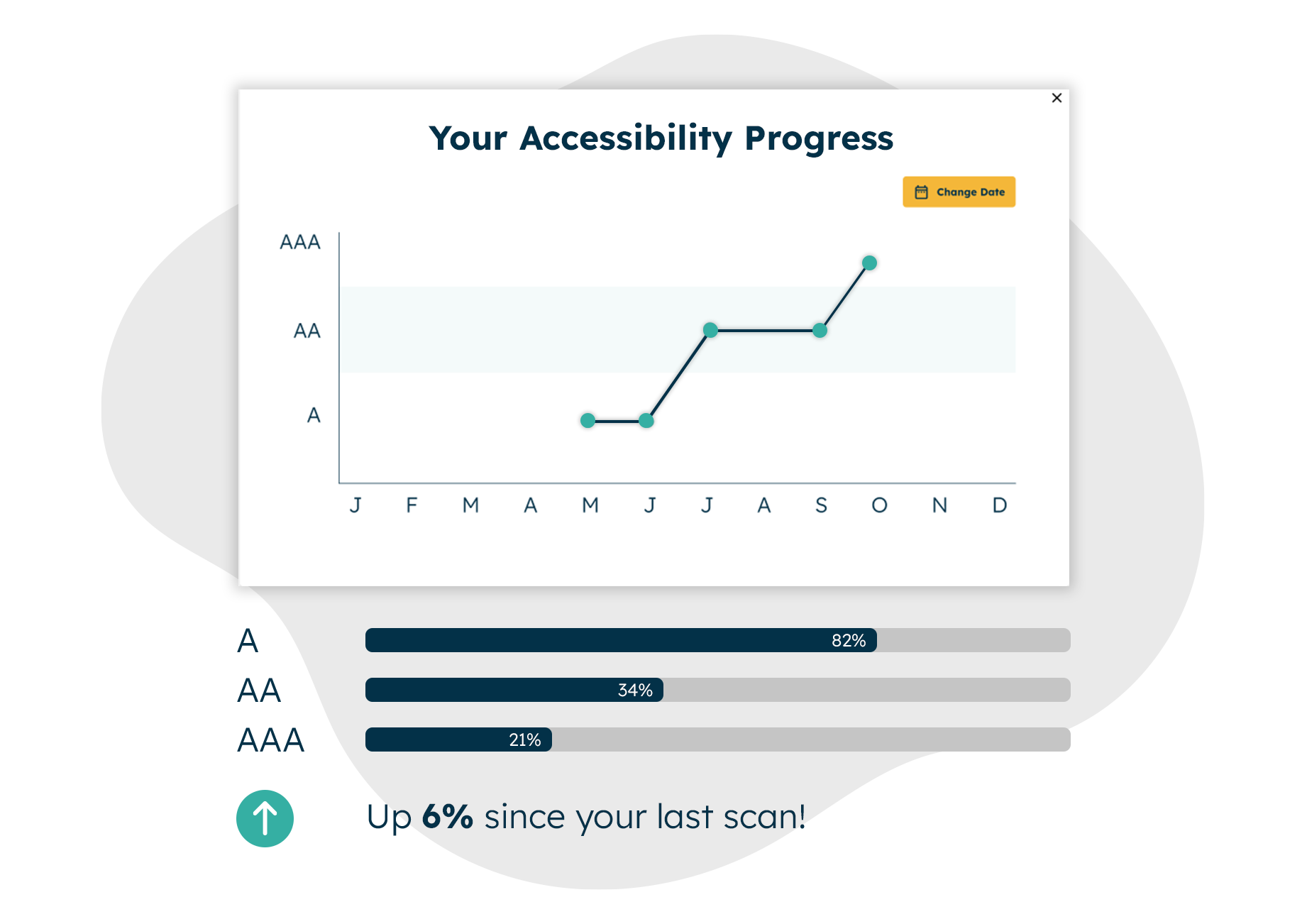 Track
Compliance tracking services help manage web accessibility improvements over time, making the most effective changes in the right order, and managing a fix queue. Examine various elements of WCAG compliance by exploring different scans and downloading website scan accessibility scores and reports to track positive journeys.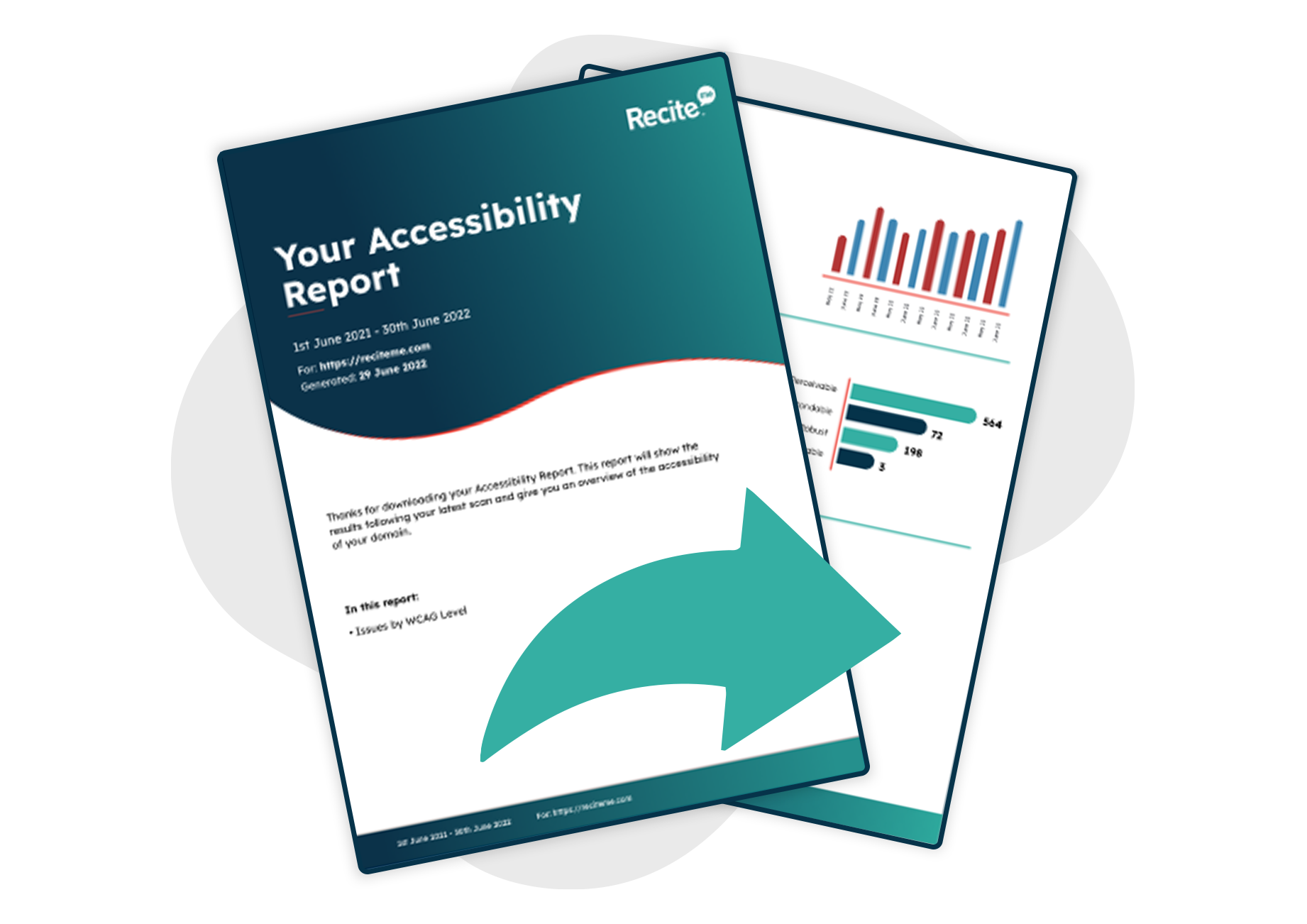 Share
Tools are on hand to demonstrate commitment to developing an accessible website. Users can share accessibility reports and scores to showcase their digital inclusion goals and achievements via:
Custom monthly reporting
Ongoing engagement analysis
Accessibility scoring
Downloadable fix lists
Access to the Recite Me Hub which features materials highlighting the depth of information behind your website's scan and results. Resources include FAQs, full breakdowns of testing methodologies, and 'how to' videos.
Download Our Digital Inclusion Toolkit to Support ALL Website Visitors!
The Recite Me Digital Inclusion Toolkit has been developed to help businesses make a real difference in people's lives. Download your copy today to learn more about:
Disability do's and don'ts.
Website design tips for an inclusive website.
How to write an accessibility statement for your website.
Inclusive recruitment and workplaces best practices.
How to provide inclusive communications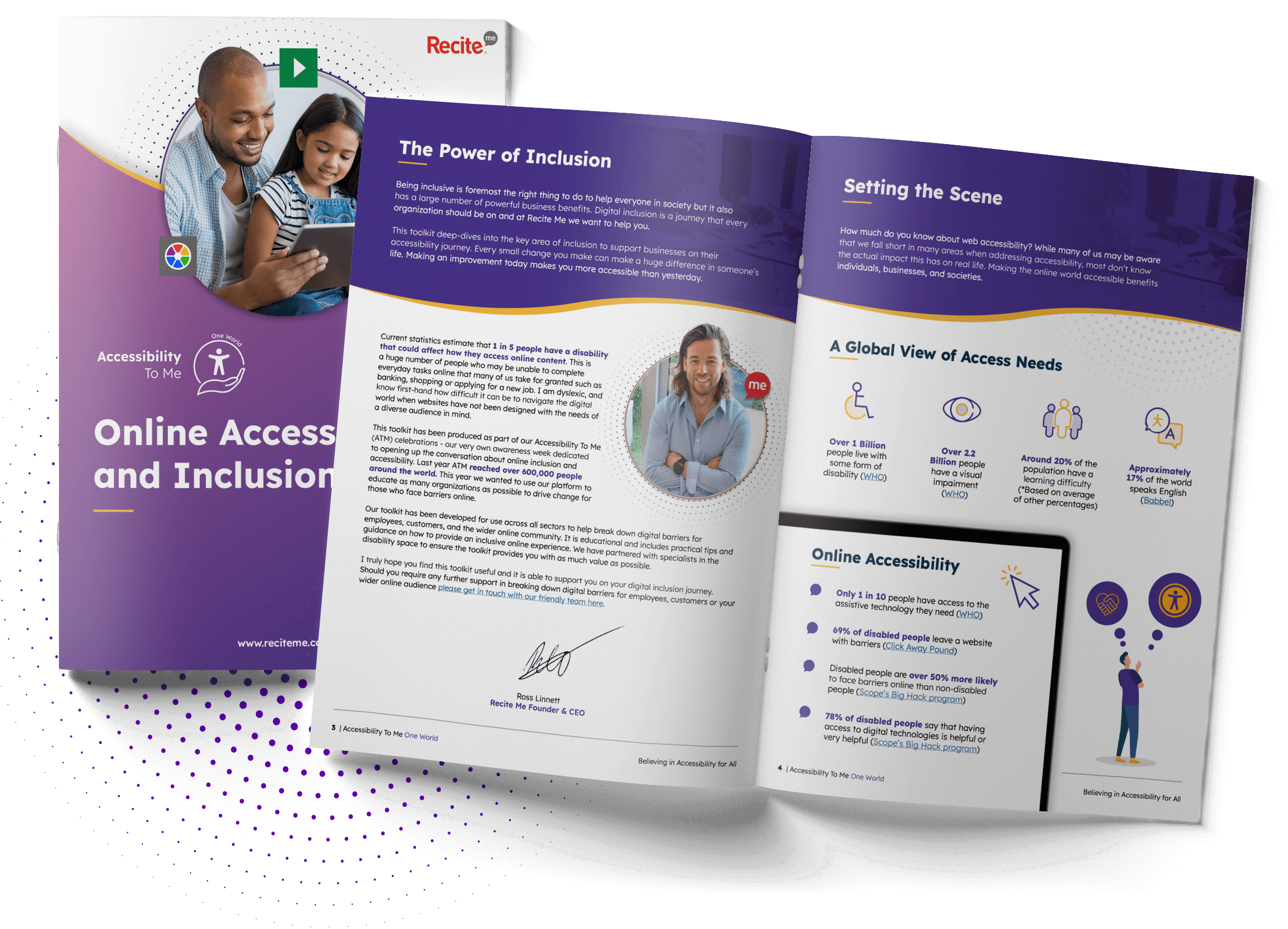 Start Your Web Accessibility Compliance Journey Today
The Accessible Canada Act (Bill C-81) and other Canadian Province Accessibility Acts clearly state that all websites and mobile applications must ensure WCAG 2.1 compliance. But online accessibility is a journey, not a destination. Recite Me is here to help every step of the way to provide equal access to an inclusive and compliant website.
Recite Me saves time and money by highlighting what needs fixing first for the most effective results and the most significant return on investment.
Get to work on your online inclusion strategy today by running a free check of your website for WCAG 2.1 compliance.