The Ulster County Library Association (UCLA) is breaking down digital barriers by providing Recite Me language and accessibility tools. 
The Ulster Library Association creates an opportunity for the public libraries in Ulster County to collaborate. The goal is to best use their resources to offer:
Secure funds on behalf of county libraries 
Coordinate the dissemination of information on library services and activities 
Provide a forum to encourage free communications among Member libraries 
Define and execute special projects for the benefit of Member libraries 
Encourage gifts, endowments, and bequests to the Association
As part of this commitment, UCLA has implemented Recite Me's web accessibility software. The inclusion of this toolbar is beneficial to all digital visitors to all 20 libraries part of the https://ulsterlib.midhudson.org/ and allows them to access and consume information and services on the website in a way that best suits them.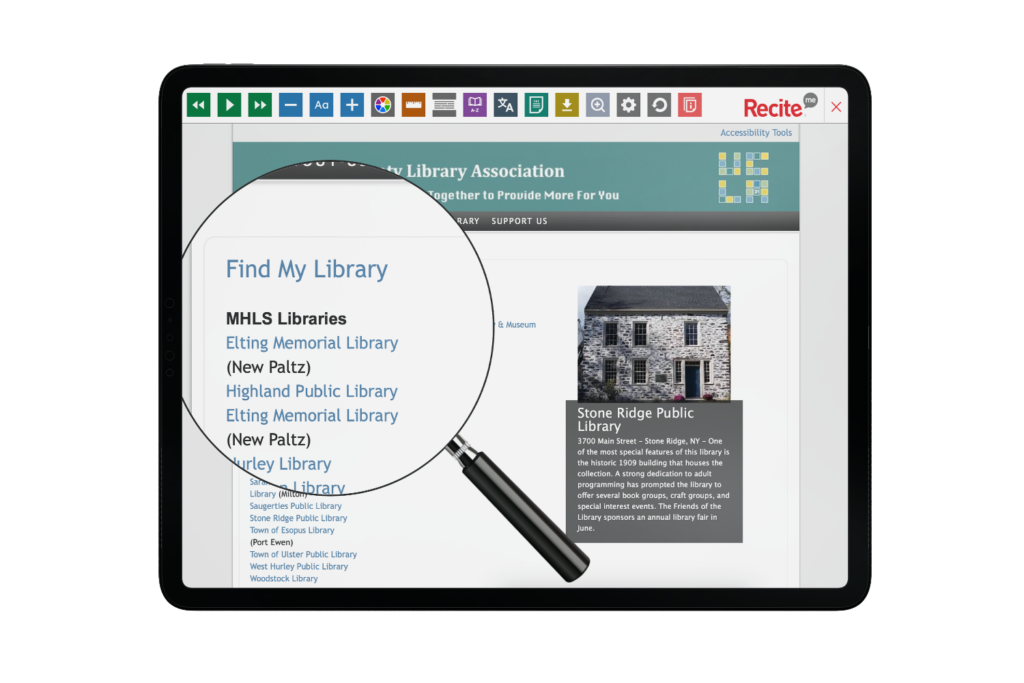 Kara Lustiber, Treasurer, Ulster County Library commented:
"When the Ulster County Library Association reviewed Recite Me, it was one of the few projects that received universal approval and excitement. It just makes so much sense to make our web resources available to as many people as possible, regardless of physical disability or language needs. Once we purchased the platform, it was so easy to implement that we breathed another sigh of relief. Although the platform is affordable, its value exceeds the amount we paid for it."
In a recent survey conducted by Click-Away Pound, it was found that 72% of participants with access needs said they experienced barriers on more than a quarter of websites they visit for the first time. Providing additional aid online is imperative to enhance the user experience for a diverse audience and to retain their attention.
The accessibility and language toolbar on the Ulster County Library Association websites provides features such as screen reading functionality, multiple reading aids, customizable styling options, and an on-demand live translation feature that boasts over 100 languages including 65 text-to-speech and styling options.
If you would like more information on how your organization can provide an inclusive online experience by using assistive technology, contact our team or book a real-time demonstration. Moreover, you can try out the free Recite Me accessibility checker today.