In today's fast-paced and dynamic business landscape, savvy organizations recognize the link between diversity, equity, and inclusion (DEI) and overall business success. But, exactly what is an inclusive workplace, and how can companies harness the capability of DEI to drive innovation, productivity, and sustainable growth?
A truly inclusive work environment fosters diversity and enables every individual to fully contribute and excel, including disabled employees. In this guide, we'll take an in-depth look at inclusivity in the workplace, examining its overall importance, factors that allow disabled employees to thrive within your organization, and how leveraging assistive technology can help bridge the gap to ensure equal opportunities for all employees.
Defining Inclusivity
Perhaps the easiest way to define inclusivity is by explaining what it isn't. For example, inclusivity isn't about:
True inclusivity goes much deeper than that. It refers to the active and intentional creation of an environment that values and respects the diverse backgrounds, perspectives, and abilities of every employee. That means creating a person-centric atmosphere where everyone feels valued, included, and empowered to contribute their unique skills and perspectives.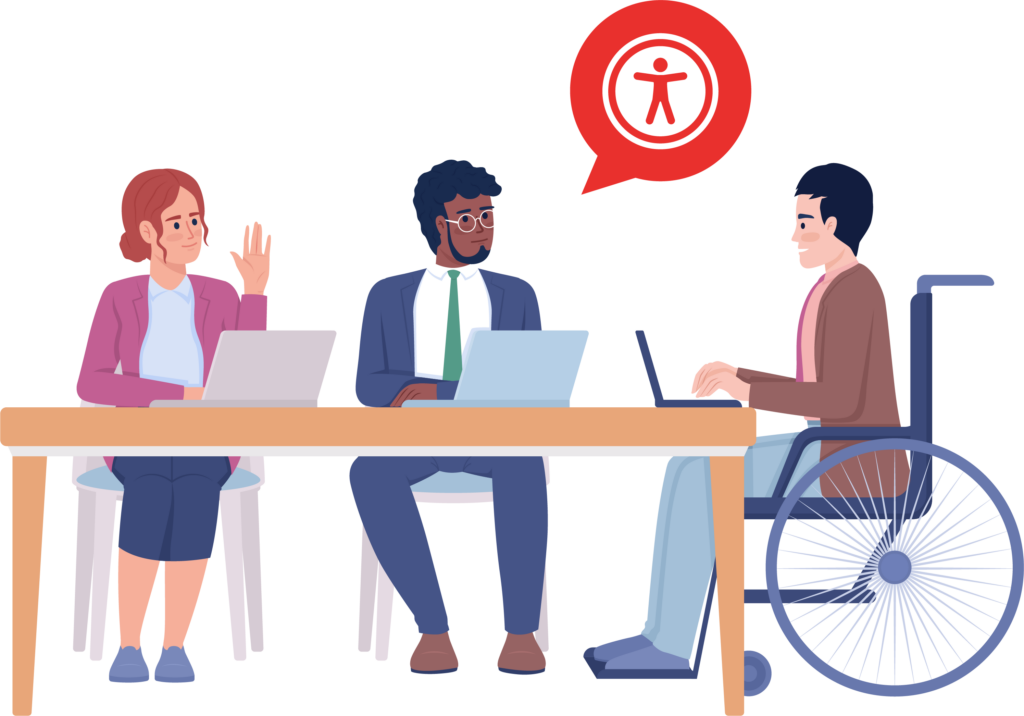 "It all comes down to treating people as individuals. When people feel valued and supported, they naturally perform to the best of their abilities, so the value of being a compassionate organization works both ways."

Ross Linnett, Founder and CEO, Recite Me
How Does Diversity Fit into Inclusion?
Diversity is a fundamental aspect of inclusivity. Along with disability, it encompasses a wide range of differences among individuals, including race, ethnicity, gender, age, sexual orientation, religion, and socio-economic background. The business case for creating a diverse workforce is widely accepted, with 96% of CEOs agreeing that Diversity and Inclusion should be a strategic priority. Why? Because research shows that:
Diverse companies drive 2.3 times more cash flow (Forbes).
A robust diversion and inclusion policy is a common denominator among high-performing businesses (Research Gate).
Diverse companies are 70% more likely to capture new markets and are better at decision-making (Zenefits).
How Inclusive of Disabled Employees Are American Businesses?
Although an estimated 80% of American employers have DEI initiatives in place, there is concern among experts that a much smaller percentage have a sufficient understanding of how to implement effective policies. Plus, studies show that many companies grossly underestimate how many disabled employees they have. A study by Boston Consulting Group discovered that:
25% of employees said they have a disability or health condition that limits a major life activity. This is a significant variance, as most large-scale enterprises state their percentage of employees with disabilities is between 4-7%.
Employees with disabilities are 6 percentage points less likely to be happy at work than their non-disabled peers, and nearly 15 percentage points more likely to say that work negatively impacts their mental and physical well-being.
Disabled employees are 1.5 times more likely to experience discrimination at work than non-disabled employees.
Why Being Inclusive Matters
At a time when many organizations are reporting employee and skills shortages, tapping into a more diverse talent pool is a no-brainer.
"If you haven't got the best talent you're not going to be the best, and if you're not representing properly the available pool of talent then you're missing an opportunity."

Alex Wilmot-Sitwell, EMEA President at Bank of America
There are millions of talented people across America with disabilities that don't affect their ability to perform at work. In fact, it's estimated that one in four Americans has a disability. Of course, not all disabilities are visible. As many as 80% of disabilities are hidden, encompassing vision deficits and cognitive and neurological conditions such as:
Partial blindness
Deafblindness
Color blindness
Dyslexia
Hyperlexia
Dyspraxia
Autism
ADHD
Epilepsy
What Common Barriers Do People with Disabilities Face?
Every individual is different, so the specific hurdles that employees must navigate are varied. However, here are some examples of common areas in which disabled employees may encounter problems in the workplace.
Physical Barriers
Inaccessible facilities such as buildings without ramps or elevators, narrow doorways, and inadequate restroom facilities are just the beginning for employees with mobility impairments. Many workplaces also feature poorly designed workstations, inaccessible seating arrangements, and have limited space for maneuvering.
Communication Barriers
Lack of accessible communication can be a significant issue for individuals with hearing or speech impairments. This includes insufficient accommodations for sign language interpretation, limited access to closed captioning, and inaccessible written materials. Examples include PDF documents, memos, and notices that are not provided in accessible formats such as large print, braille, or electronic text.
Technological Barriers
Incompatibility or lack of accessibility features on digital platforms, software, and websites can exclude individuals with disabilities from navigating the site, accessing information, and filling in forms, etc. The same applies to learning materials that fail to accommodate different learning styles or provide alternative formats.
Attitudinal Barriers
Negative attitudes, stereotypes, and unconscious biases towards individuals with disabilities create hostile and unwelcoming working environments that hinder the full integration, collaboration, and advancement potential of individuals with disabilities. Plus, work environments that encourage fast-paced completion, frequent task-switching, or strict deadlines can be challenging for individuals with cognitive differences who may require more time for processing and focus.
What Solutions Can Employers Provide?
Checking the box on diversity hires is not enough. To successfully create diverse and equitable working environments for everyone, employers must fully integrate DEI considerations into their processes. Here are the steps and action points to follow.
Put Conscious Effort into Developing a Diverse, Equitable, and Inclusive Work Environment
A company's culture doesn't just become inclusive by willing DEI policies into existence. Leaders need to develop a comprehensive understanding of diverse accessibility requirements and incorporate accessibility standards from the start by:
Make Adjustments for Disabled Employees
Many businesses shy away from tailoring solutions to meet individual needs, deeming accessibility adjustments too complicated or expensive. But on the contrary, many solutions are simple to execute, and 49% of adjustments are completely free. Some examples of adjustments include:
Making workstation modifications – Like adjustable desks and ergonomic chairs, keyboards, and computer mouses.
Updating documentation and communication – Examples include using dyslexia-friendly fonts, providing documents in alternative formats, and installing tactile signage.
Providing accessibility tools – Such as magnifiers, screen readers, text-to-speech software, voice recognition software, dictation tools, and customizable assistive technology solutions.
Commit to Continuous Improvement
Encouraging and ensuring the adoption of more inclusive practices and policies takes active effort from the top down to:
Develop an inclusive technology infrastructure.
Gather regular employee feedback.
Provide a support system for disabled employees (think open door policies, employee assistance plans, etc.).
Include employees with disabilities in decision-making processes.
Stay informed about emerging assistive technology trends.
Collaborate with assistive technology experts and organizations.
How Can Recite Me Help?
As technology continues to evolve at a rapid pace, leveraging assistive technology has become an essential element in fostering inclusive digital accessibility, because:
Inaccessible websites prevent disabled employees from finding out about your job listing.
Online recruitment portals without accessible forms and PDF documents exclude talented disabled individuals from submitting applications.
Assessments and skills tests in inaccessible formats prevent disabled candidates from showcasing their abilities and potential.
Inaccessible training materials impede the learning and professional development of disabled employees.
Lack of assistive technology in the workplace hinders disabled employees' productivity and ability to perform.
Recite Me's innovative suite of accessibility-on-demand tools makes websites accessible and inclusive for a diverse range of people.
The Recite Me Checker
The Recite Me Checker audits back-end and front-end web development processes by running 396 separate compliance scans in line with WCAG 2.1 and breaking down the issues you should be working to fix. The methodology follows a simple four-step process to help you increase your accessibility score:
Step 1: Scan Your Domains
Step 2: Identify Accessibility Issues
Step 3: Fix Accessibility Errors
Step 4: Track Your Progress
However, it's worth noting that even if your website is accessible, it may not be inclusive. Accessibility compliance alone does not provide users with a fully inclusive experience. True inclusion comes from giving people as many choices as possible so they can customize your website and consume the information in a way that's tailored to their specific needs. That's where the Recite Me Toolbar comes in.
The Recite Me Toolbar
The Recite Me Toolbar promotes inclusivity by allowing end users with sight loss, cognitive impairments, learning difficulties, physical disabilities, and varying linguistic needs to access your website as per their individual needs and preferences.
The toolbar can be installed across various digital resources, including your company's primary website, careers website, staff intranet, and internal learning platforms. When site visitors open a webpage equipped with the Recite Me toolbar, it pops up automatically, alerting them that accessibility options are available. Functions include:
Fully customizable text size, font, and spacing.
The ability to change text color and background color contrasts.
A screen mask to provide color tinting and block visual clutter.
Additional reading aids such as an on-screen ruler and text-only mode.
Text-to-speech functions in 35 languages.
A real-time translation feature catering to over 100 languages.
Start Your Organizational Journey Toward Digital Inclusion Today!
Join the thousands of websites already using Recite Me technology to provide more equitable online experiences. Together, we can all help create a better digital world where everyone feels included.
Our team is here to guide you on your mission to achieve digital inclusion. Get started on your online inclusion strategy today by working through the following action points:
Contact our team for expert advice on digital inclusion, tailored toward your specific organizational needs and goals.
Run a free check of your website for WCAG 2.1 AA compliance.
Schedule a free toolbar demonstration to see the difference our technology can make for your disabled applicants and employees.
Try our toolbar or schedule a free demonstration to see the difference it can make to your customers, clients, and employees.