The family services sector in America encompasses a wide range of organizations that focus on providing support, assistance, and resources to individuals and families. While there is often an overlap between family services and charitable and nonprofit foundations, most family services organizations sit within the public sector sphere, meaning they must comply with the Americans with Disabilities Act (ADA). That makes having an accessible website a 'must have' rather than a 'nice to have' feature.

However, even for family services websites that aren't legally bound by the ADA, taking steps to ensure the information on your website is inclusive and available to everyone is essential.
What is an Accessible Website?
An accessible website is one which is designed and developed to be inclusive and usable by a wide range of individuals, including those with disabilities. The definition of disability is very broad and includes people with physical conditions, neurological differences, and hidden impairments. Examples include:
Vision deficits
Deafblindness
Color blindness
Dyslexia
Hyperlexia
Dyspraxia
Autism
ADHD
Speaking English as a second language
Epilepsy
Mobility and physical impairments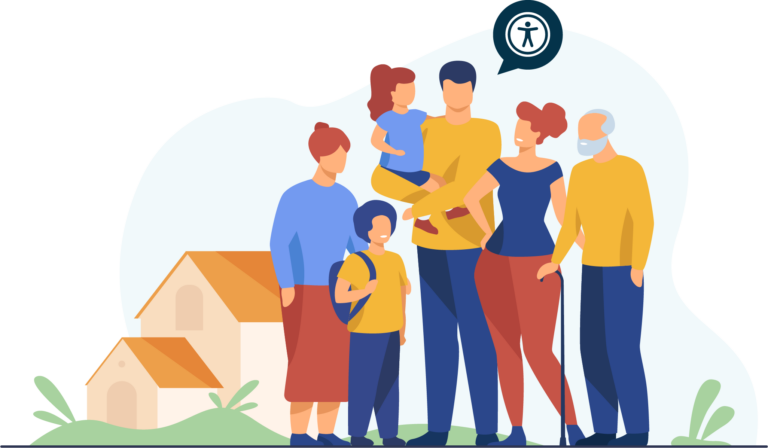 Why Should Your Family Services Website be Accessible?
People use family services websites for multiple reasons to access support and assistance covering a range of issues, including:
Childcare services
Youth and teen services
Parental support
Elderly care
Adoption and foster care
Family counseling and therapy
Financial assistance
Domestic violence and abuse
Health and wellness
Legal Advocacy
It's vital to note that each individual or family's situation is unique, and the needs of those who seek assistance and support from family services organizations can be diverse and multifaceted. That said, the majority share a common bond in that they are already vulnerable in one way or another, and that barriers to accessing information could lead to even further suffering or disparity. Here are some examples based on some of the typical profiles of family services clients:
Low-income families – There is a proven link between inaccessible websites and financial vulnerability. Inequality in access to information leads to unequal access to services and support for basic needs such as food, housing, utilities, and affordable healthcare. In challenging circumstances, vulnerability levels increase, and financial situations can worsen even further.
Older adults and caregivers – Senior citizens are some of the heaviest users of many public sector services, and over 65s are expected to account for more than 20% of the national population by 2030. As the aging population increases, so does the percentage of the entire population with disabilities, visual impairments, and hearing loss, meaning multiple adjustments are often required for people to be able to use and interact with websites.
Immigrant and refugee families – Many families may need assistance with language translation. Statistics show that 44.8 million people (13.7% of the population) living in America were born in another country, and 67 million Americans speak a language other than English. In fact, between 350 and 430 languages are spoken in the US, making it one of the most linguistically diverse countries in the world.
What Online Barriers Do People Face?
An accessible website has content and functionality that is fully available to as many people as possible. This is an essential consideration, given that one in four Americans has a disability that can make accessing information online challenging. Some examples of online barriers people face when your website fails to meet minimum accessibility requirements include:
Navigation Issues
People with cognitive and neurological disorders cannot follow the flow of information if a website isn't clearly written and doesn't run in a logical order.
Website visitors with learning difficulties like ADHD cannot find the information they need on poorly formatted web pages.
Those with physical disabilities may be unable to navigate a website if keyboard navigation isn't an option.
Readability Issues
People with vision problems like partial blindness, color blindness, and deafblindness cannot read information online when the font type, sizing, and spacing are unsuitable.
Those with severe visual impairments need to use an accessible screen reader to have content read aloud.
Users with learning difficulties like dyslexia, dyspraxia, and hyperlexia struggle with reading due to insufficient color contrasts between the text and background.
Comprehension Issues
Website visitors who speak English as a second language may need translation assistance to comprehend content.
Deaf patrons are denied information when on-page video content is not presented with captions.
Visually impaired users may struggle to find context when images are missing suitably descriptive alt tags.
How to Make Your Online Content More Accessible
To ensure your information, services, and resources are available to as wide an audience as possible, you may need to make several adjustments across the following areas: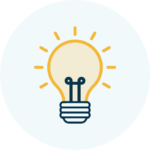 Content management
– Adopting a content management system that supports accessibility helps to ensure your layouts, themes, widgets, and plugins are compatible with the broadest possible audience.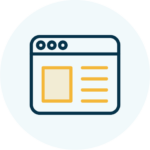 Headings – Using headings correctly to structure and organize page content helps disabled website visitors scan a page to see if the information is relevant.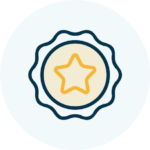 Images – All images should have suitably descriptive and contextually relevant alt tags. Where text is overlaid onto images or videos, the image opacity should be increased to make the text readable.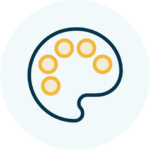 Color
– To ensure sufficient contrast between the text and background color, color alone should never be used to convey meaning on links, forms, or call-to-action buttons.
However, before you get going on any of that, you need to develop a thorough understanding of the standard of web accessibility you're looking to achieve. Follow these steps to get started:
1. Familiarize Yourself with WCAG Guidelines
Worldwide accessibility guidelines are in place to help you make your website more accessible. The Web Content Accessibility Guidelines (WCAG) are the gold standard, and level AA is typically the minimum reference point when discussing 'making a website accessible.
2. Comply with National and Local Web Accessibility Legislation
There are two critical pieces of website accessibility legislation in the US: Title III of the Americans with Disabilities Act (ADA) and Section 508 Amendment to the Rehabilitation Act. Both exist to ensure that disabled website visitors are not treated less favorably online.
3. Invest in Assistive Technology
A proven way of supporting people online is by utilizing assistive technology. Embedding accessibility software on your website allows you to support a diverse range of users by providing tools that allow them to create fully customizable online experiences.
How Can Recite Me Help?
Recite Me's innovative suite of accessibility on-demand tools makes websites accessible and inclusive for a diverse range of people:
The Recite Me Checker audits back-end and front-end web development processes by running 396 separate compliance scans in line with WCAG 2.1 and breaking down the issues you should be working to fix.
The Recite Me Toolbar promotes inclusivity by allowing end users with sight loss, cognitive impairments, learning difficulties, physical disabilities, and varying linguistic needs to access your website per their individual needs and preferences.
Organizations Leading the Way
We are proud to work with numerous organizations in the family services sector already, helping to make online information more accessible and inclusive to the vulnerable clients they serve. Our current client list includes:
Kids' Voice of Indiana
SCAN
Jewish Family Services San Diego
Infancy Onward
South Carolina Victim Assistance Network
Jewish Family Service Las Vegas
Jewish Council for Youth Services
Humanities Kansas
Hands on Nashville
Transition Tennesse
Opening Doors and Breaking Down Barriers
Thousands of organizations using Recite Me technology are already benefitting from their investment. Results from our 2022 annual report show that during the previous 12 months:
The Recite Me toolbar was active on over 5,000 websites
Individual toolbar usage increased by 59% to over 5.5 million users.
We made 34.4 million pages of web content inclusive.
On average, Recite Me toolbar users viewed 6.33 web pages per session – more than double the internet average of 2.8 pages per session.
Start Your Web Accessibility Journey
Our team is here to help you on your mission to provide more inclusive online experiences. Get started on your online inclusion strategy today by working through these action points:
Try our toolbar or schedule a free demonstration to see the difference it can make to your customers, clients, and employees.