Construction, engineering, manufacturing, and oil & gas are perhaps not typically sectors you think of as high priority for web accessibility software.
But you'd be wrong.
Over the last decade, the industrial sector has experienced rapid growth and development due to the introduction of new technologies. Gone are the days of on-site offices covered in paperwork. Cloud-based progress reports, sign-offs, and document storage coupled with automated workflow software have significantly propelled the industrial sector forward.
And now it's time to tackle online inclusion.
Why Does the Industrial Sector Need to be Inclusive?
The main reasons to provide inclusive website journeys are to:
Ensure the broadest possible audience of consumers

Maximise customer spending

Ensure that recruitment processes are comprehensive enough to attract the best potential candidates
Information and Services
A recent article by Forbes Magazine identified customer demand for personalization as one of the key trends driving the industrial sector. Great products and services are no longer enough. Consumers also expect exceptional customer service and customized solutions throughout the entire buyer journey. The article also called for more technology and servitisation to improve operational efficiency and develop new business models.
Nearly one in five people have some form of disability that could affect their capacity to access information online. Data from the Click Away Pound Survey shows that:
70% of people with access needs click away from inaccessible websites

83% limit their shopping to sites that they know are accessible

86% choose to pay more for products from accessible websites than purchase from websites that are harder to use.

Only 8% of users with access needs will contact the site owner about accessibility barriers they experience.

This puts the onus on businesses to identify the needs of their online consumers and adapt to meet them.
Employment
Without sufficient accessibility measures, companies across all industries struggle to reach and onboard employees from the widest pool of talent. In this respect, businesses focusing on construction and engineering, etc., are in the same position as every other organization.
Historically, people with disabilities have either been exempted from work or asked to make adjustments themselves, rather than businesses making accommodations for diversity. This attitude has been particularly predominant in this sector, as employers tended to imagine people with impairments and injuries were simply not suited to industrial roles.
Thankfully, this kind of stigma is fast becoming a thing of the past. To discover and attract a wider pool of talent, unearth great people, and discover unique skill sets, businesses need to ensure their digital landscape is one where anyone can access information and apply for their perfect job online.
"Our ambition is to be the best place to work and the best builder in the UK. That means having a company that represents the people of Britain, without exception. I am proud to deliver this inclusive project as it represents our dedication to ensuring we hire great talent from diverse backgrounds and abilities." "

Nadeem Mirza, Head of Resourcing & Talent Acquisition, Sir Robert McAlpine

 
Leaders in Their Field
It's key to remember that not all disabilities are visible. Hidden disabilities like cognitive and neurological disorders, visual impairments, learning difficulties, and language barriers can all impact web accessibility. Here are just a few examples of the type of industry leaders non-accessible employers could be missing out on:
Dean Kamen – Dean describes himself as a "very slow learner" due to his dyslexia. But he has over 400 patents to his name and is credited with inventing the Segway.
Arash Zaghi – Arash is an associate professor with ADHD. He's also a world-renowned expert in bridge design and earthquake engineering.
Peter Flom – Struggling with a nonverbal learning disability didn't stop Peter from becoming a statistician, author, and valued board member.
Just think…
Your next superstar engineer could be out there, but they can't read your online job ad.
The next big name in design and innovation could be on your team, but they can't navigate your website to apply.
Your perfect-fit analyst is currently looking for a job, but the application forms on your website aren't accessible to them.
What are Companies Doing to Help?
It's more important than ever that everyone can understand online information, and we're happy to see that many industrial firms are embracing assistive technology as a way of providing more inclusive customer journeys and recruitment processes.
We are proud to work with numerous organizations in the sector, including several industry leaders in construction and engineering. Our client list includes:
MACE Group

The British Land Company Plc

Anglian Building Products

"Recite Me goes to the very heart of our values. It's helping us build a diverse, inclusive environment where we respect, understand, and value different people – starting with how we recruit them. "

Victoria Jones, Head of Recruitment UK & Europe, SNC Lavalin
How Recite Me Works
Over 1 billion people have a physical, visual, auditory, cognitive, or neurological disability which means they cannot access or process information online the same way as other people. They may struggle with:
Focusing on relevant sections of text

The font, text size, or spacing of the text

Poor color contrasts between the background and foreground

Distractions presented by graphics and image carousels

Web copy that's not in their first language
With Recite Me assistive software installed on a website, these access barriers can be broken down. Users can make single or multiple adjustments to accommodate a broad range of customization needs, such as:
Changing font size, type, and color

Altering background and foreground contrasts

Accessing content as an audio file

Choosing from 100 different on-screen languages and 35 text-to-speech languages

Utilizing the screen mask, dictionary, and built-in thesaurus

Stripping away graphics and page clutter by selecting the 'text only' mode
"We wanted a one-stop option for ensuring our website is accessible to as many people as possible. Now, when engineers and professionals in the sector visit EqualEngineers' website, they can choose whichever accessibility options they need."

Mark McBride-Wright, Founder, EqualEngineers
Furthermore, here at Recite Me we have our very own page accessibility checker that can be used to improve your websites accessibility.
Sector Data
Every month, our toolbar makes thousands of website pages accessible. Our industrial sector data from last month shows that:
The Recite Me accessibility plugin was launched over 5000 times

Over 16,450 industry web pages were viewed using the toolbar

On average, Recite Me users viewed 3.2 pages of an accessible website per visit, above the internet average of just 2.5 pages per visit.

Nearly 50,000 individual styling changes were made by users accessing industry sector sites.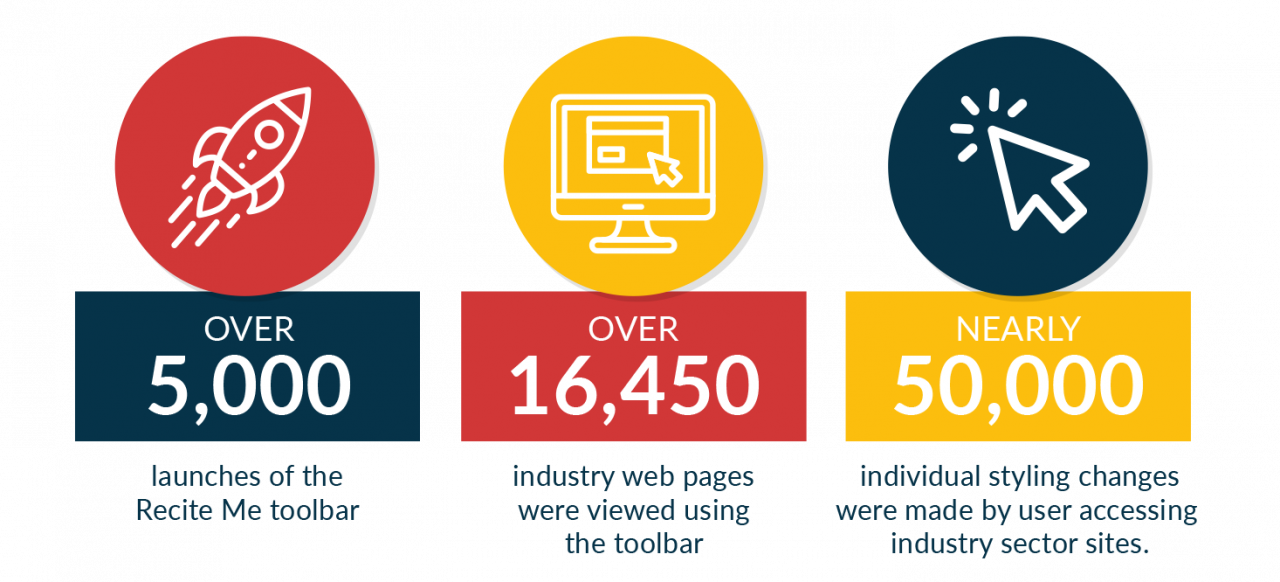 Find Out More
The industries of construction, engineering, and manufacturing are moving forward with inclusion for all. To support a diverse range of website visitors looking for employment, project updates, or company information, accessibility support is needed.
Over 3,500 businesses already use Recite Me to provide prospective customers and employees with an inclusive online experience.
To learn more, contact our team today or book a live demonstration of our web accessibility toolbar. You can also try our WCAG 2.1 Checker for free today with Recite Me.
Articles Sources: Forbes, Click Away Pound, Understood, Stem Stars, WHO