Great customer service prevents business failure. Fact.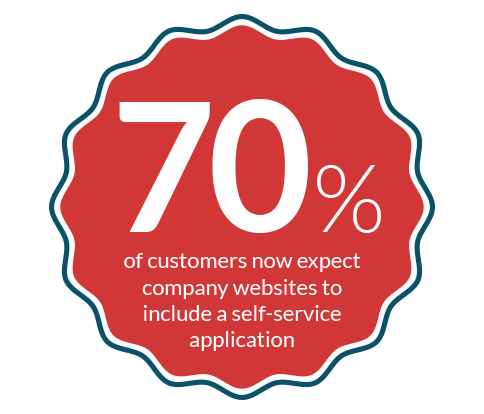 These days, businesses are relying more and more on providing online options where customers can reach out for help. According to SuperOffice, 70% of customers now expect company websites to include a self-service application, which usually comes in the form of an FAQ section, discussion forum, or chatbot.
But just because this service is available, it doesn't mean it's right for, or accessible to, every customer.
Last week our CEO, Ross Linnett, sat down for a webinar chat with Caroline Wells, founder and CEO of Different Petal. Caroline is an expert on customer service and accessibility, serves on many national advisory boards and panels, and in 2020 was awarded Advisor of the Year by the National Centre for Diversity.
Together, they discussed all things customer service, and how website accessibility factors can be a stumbling block for companies looking to provide exceptional experiences online. Here's a summary of what they covered and some important points for businesses to consider…
What Do We Mean by Online Customer Service?
What industry you are in and how your organisation operates will dictate whether the most crucial aspects of customer service occur before, during, or after the provision of services. But one thing that remains constant is the need for customers to have access to support, assistance, and advice when they need it, and in a way that suits their needs.
When it comes down to it, consumers want two things:
Answers to their questions and solutions to their problems as quickly as possible.

To be treated fairly and have the same experience as everyone else.
So when we talk about online customer service, we don't just mean having the right staff available to provide resolutions (although, of course, that is important). We mean ensuring the provision of online customer service portals that account for a wide range of users and their needs and preferences.
Customer Effort Scores
Reducing the effort needed by the customer is key to improving customer service and ensuring loyalty and growth. Yet a study by The Northridge Group determined that:
44% of consumers say they think companies make it hard to contact them.

55% of customers reported using two or more communications channels before their issue was resolved.

Despite low customer effort being a driving factor, the number of businesses measuring customer effort scores was only 29% in 2020.

So where are businesses tripping up?
Bad customer service scores come from treating the entire customer base as one entity, rather than a range of individuals with different access requirements.
What Barriers Do People Face?
Whether people can access the information they need online depends on whether they can see, understand, and navigate through all of the information a website provides. There are several reasons that customers may struggle, including:
Visual impairments such as poor eyesight, deafblindness, and colour blindness.

Learning difficulties like dyslexia, hyperlexia, and dyspraxia.

Neurodevelopment and neurological conditions like ADHD, autism, and epilepsy.

Mobility and physical impairments.

Speaking/reading English as a second language.
Any one of these factors can make information on a website hard to read, focus on, understand, and navigate.
What Are the Real-World Repercussions of Access Barriers?
As a dyslexic himself, our CEO Ross is all too familiar with the pitfalls of not having the tools he needs to communicate with businesses online.
"If a website doesn't have the accessibility adjustments that work for me, it feels like a huge uphill struggle and I often end up not doing things."

Ross Linnet, CEO, Recite Me

 
One particular example Ross highlighted was how he'd missed out on opportunities to save money on his electricity bills at home because switching suppliers online was not possible without significant frustration and hassle. All because the information online is not presented in a dyslexia-friendly way.
This is just one example, but when you think about the number of tasks we conduct online, you can begin to gain an appreciation of the scale of inequity. Inaccessible websites and apps make it difficult or impossible for users with access needs to:
Manage finances – This includes many activities that are considered vital, including transferring funds, trading stocks and shares, paying bills, managing savings and pension plans, or renewing expiring credit and debit cards.

Shop – Whether it's doing the weekly grocery shopping, renewing household goods, or buying clothes, toiletries, and other everyday items, inclusive websites are essential to facilitate purchases.

Apply for jobs – Registering with a recruitment agency can feel like an insurmountable challenge when websites are not accessible, and completing online applications forms is often almost impossible.

Learn – Online learning portals that are not inclusive mean those facing online barriers cannot take part or risk falling behind in their studies.

How Can Organisations Support People Online?
Businesses need to provide clear signals about how they want their customers to communicate with them. However, there still needs to be flexibility in the range of channels available, and all of those channels need to be accessible to everyone.
The key lies in treating each customer as an individual. Historically, companies have shied away from accessibility compliance, seeing it as either too complicated or too expensive. It needn't be a case of spending thousands of pounds on single customers though. As Caroline points out, if you design something well, it works for everyone.
"The flexibility needs to be there for customers to communicate in their preferred way. Businesses should be empowering customers by giving them choice, rather than making them ask for alternatives or work harder to get responses. "

Caroline Wells, CEO, Different Petal

 
Tools like the Recite Me assistive toolbar help businesses to organationalize inclusion by providing an all-in-one resource that allows individuals to change the way a website looks based on their individual preferences. You can view a demonstration of our toolbar here.
The Benefits of Inclusion
Being inclusive isn't just the right thing to do, it comes with many benefits to businesses that put in the effort:
Customer retention – It costs anything from 5 to 25 times as much to attract a new customer than keep a current one, and 51% of customers say they wouldn't do business with a company again after just one negative experience.

New customers – 64% of consumers find customer experience more important than price, and 59% would try a new company to receive better customer service.

Recommendations and endorsements – 69% of customers would recommend a company to others after a good customer service experience. This percentage increases in the case of poor experiences. In the immortal words of Warren Buffet, "It can take 20 years to build a reputation and five minutes to ruin it".

Increased Profits – 70% of consumers said they spend more money with companies that deliver great service, and 84% of organisations actively working towards better customer service reported increased revenue.

Final Notes on Accessibility Support
You may be reading this thinking your business is already inclusive. After all, most companies – and certainly the majority of big brands – have accessibility statements on their website. But what does that statement really mean? Is it there for compliance, out of a genuine desire to help, or simply to pay lip service to the inclusion movement?
If you don't know the answer to that question as a business, it's not likely to help your customers. Not least because 'accessibility' isn't a term people generally search for on websites, or the fact that accessibility statements are normally located in a difficult place to find on most websites.

This is probably the best way to sum up our advice when it comes to improving customer service through inclusion.
We're happy to see that the mentality towards online accessibility is changing, and every year more businesses are seeing inclusion as a positive change rather than something they have to do simply to check the box. But there's still a way to go before we achieve our goal of achieving inclusion for all.
For further guidance on providing a better online service for your customers or on using accessibility software to promote inclusion, feel free to contact Caroline or the Recite Me team directly.