The food and beverage industry is unique in that core marketing operations are split between targeting the general public and driving business by cultivating B2B relationships with retailers, bars, restaurants, hotel chains, etc. 
That means catering to an incredibly diverse audience, and that's before you even factor in internal platforms that ensure employees have the tools needed to engage, interact, and be included in all your brand-related efforts.
The Business Case for Online Accessibility 
To succeed in today's competitive online world, your business needs to be as inclusive as possible. That means making concerted and purposeful efforts to build accessible websites that are welcoming, navigable, and usable by people with disabilities. Not just because it's the right thing to do or because legislation dictates that you have to, but because you'll suffer a real-world hit to your bottom line if you don't.
Engaging with Consumers
Welcoming people with varied access needs promotes your commitment to inclusion, helps maximize sales, and builds stronger customer relationships. Today's consumers are incredibly socially conscious in their purchasing habits and expect their brands of choice to be supportive and care about helping others.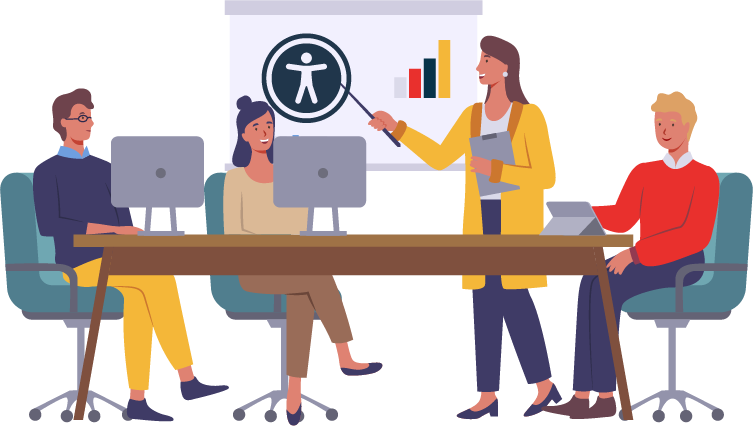 Let's run through a few stats that should put the consequences of choosing not to be inclusive into perspective:
Inaccessible websites not only exclude disabled people, who comprise 20% of the entire market share. They also block you from generating income from non-disabled yet socially conscious consumers, who will only buy from companies with inclusive values.  That's why every facet of your online product offering needs to be available to everyone. In the F&B industry, that includes everything from: 
Browsing your website for product details
Ordering takeout.
Making a bulk shipment order.
Making a reservation
Reading your menu.
Engaging with B2B Clients
Sales reps once epitomized the F&B industry. However, the rep roles for in-person client visits are fast becoming obsolete because the most influential modern business models are based on online client acquisition. B2B buyers now rely heavily on digital information and expect a seamless multi-channel online buying experience. In fact, a survey of nearly 1,000 B2B buyers identified that 43% would prefer an entirely rep-free buying experience. 
Ensuring all of your online communications are barrier-free and accessible is essential. Why? Because the average global disability prevalence is one in five (WHO), and in every potential client's office, there will be buyers with either physical disabilities or hidden disabilities like: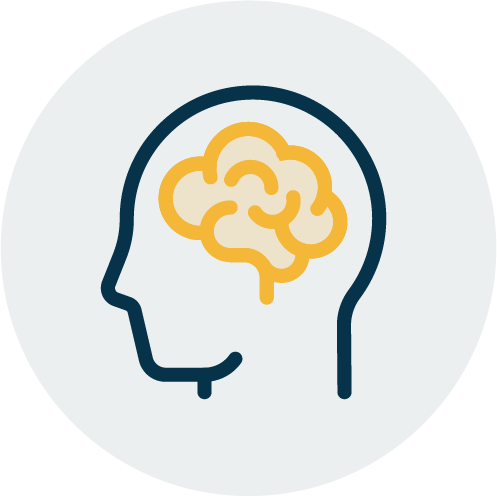 Neurological and cognitive differences
Approximately one in four people are affected by mental or neurological disorders at some point in their lives (WHO).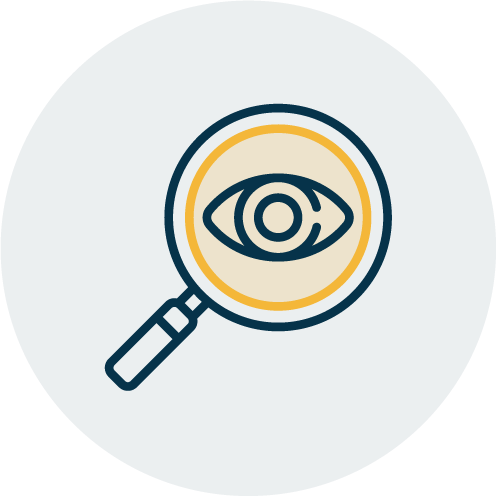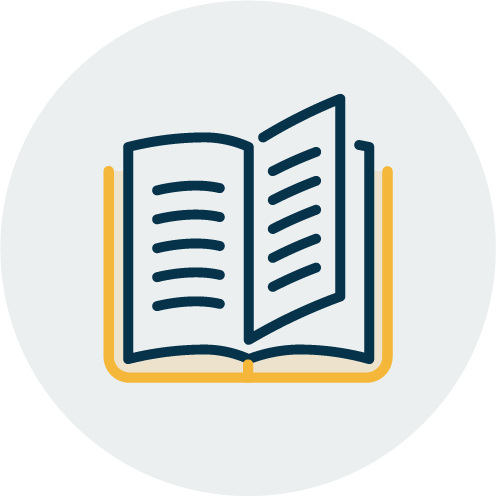 Learning difficulties
Dyslexia alone affects at least 15% of the population (The Reading Well), so the total number of people with learning difficulties is estimated to be around 20%.
Making sure your marketing messages are accessible and inclusive ensures your outreach efforts reach as many leads as possible and have the maximum chance of progressing through your sales pipeline and converting to a sale. That means you need to apply accessibility best practices to all of your online channels, including:
Websites
Social media platforms
Email marketing
Engaging with Employees
Employees are often forgotten when discussing website accessibility. Yet, there are several good reasons they shouldn't be – especially given that almost half the food companies surveyed in a recent Deloitte study said that retaining talent was their top workplace challenge. The problem isn't just holding onto employees once you've got them through the door, but in the entire employee life cycle from attraction to retention:
In summary, fostering an inclusive and diverse organizational culture is key to long-term growth and success, and it's almost impossible to do that without having an accessible website and accessible internal intranets and learning platforms.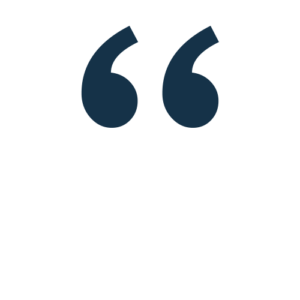 "Our annual engagement survey highlighted that we needed to become more digitally inclusive and provide essential resources to support varied needs. As a responsible employer, it is important we provide opportunities for our colleagues to thrive and be the best version of themselves."
Carina Mardenborough, Diversity, Inclusion, and Well-being Manager, Poundland
What Barriers do People Face Online?
Poorly designed websites make it difficult for people with disabilities to access your content. It doesn't matter how good a website looks. If it's not built with accessibility in mind, the site will fall short because many visitors will not be able to read, navigate, or understand it due to:
Incorrect font, text size, or text spacing.
Insufficient color contrasts between the text and background.
Insufficient options for touchpad and keyboard navigation.
Poorly organized and formatted pages that make using a screen reader challenging.
Distracting graphics and image carousels.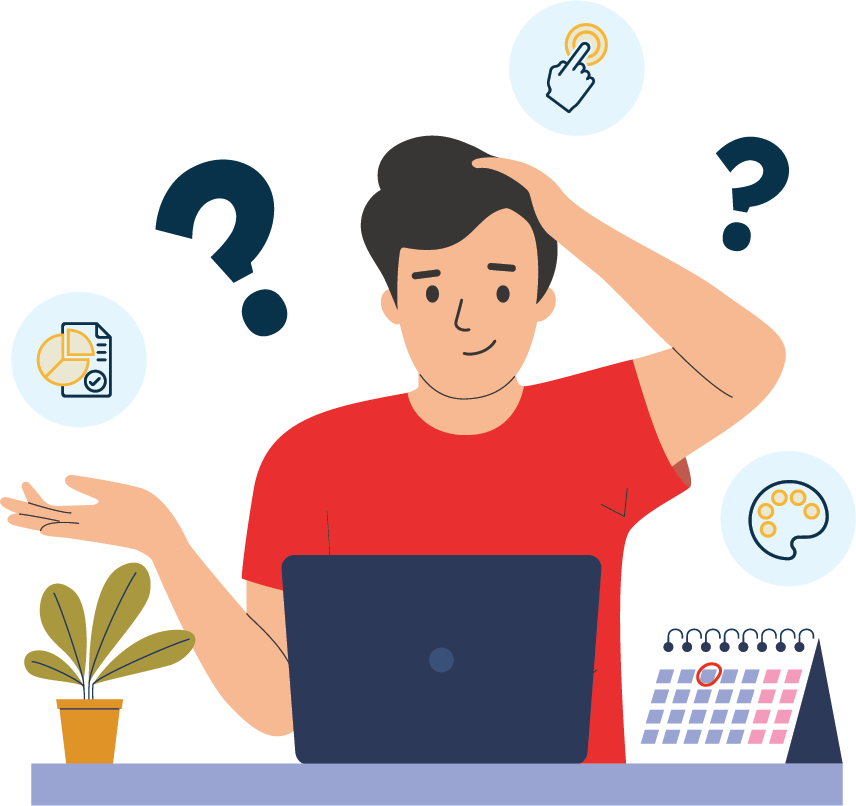 Accessibility and Inclusion Goals
To maximise revenue and meet your organisational goals for sales and growth, having an accessible website is a must. So, how do you go about making your F&B website accessible? 
The Web Content Accessibility Guidelines (WCAG) are the gold standard in accessibility guidelines. Compliance at WCAG 2.1 Level AA level is typically the minimum reference point when discussing 'making a website accessible.' It's also the standard to which accessibility legislation usually stipulates compliance.  
However, creating an inclusive online experience goes beyond guidelines and anti-discrimination laws because compliance alone doesn't provide a fully customizable experience. What makes a website truly inclusive is providing choices so people can customize your website and consume the information in the way that works best for them. Or, as we like to put it: Accessibility + Usability = Inclusion.
How Can Recite Me Help?
Recite Me's innovative suite of accessibility on-demand tools makes websites accessible and inclusive for a diverse range of people:
The Recite Me Checker audits back-end and front-end web development processes by running 396 separate compliance scans in line with WCAG 2.1 and breaking down the issues you should be working to fix.
The Recite Me Toolbar promotes inclusivity by allowing end users with sight loss, cognitive impairments, learning difficulties, physical disabilities, and varying linguistic needs to access your website per their individual needs and preferences.
Improved Accessibility Backed By Real-World Data
Thousands of organizations using Recite Me technology are already benefitting from their investment. Results from our 2022 annual report show that during the previous 12 months:
The Recite Me toolbar was active on over 5000 websites
Individual toolbar usage increased by 59% to over 5.5 million users.
We made 34.4 million pages of web content inclusive.
On average, Recite Me toolbar users viewed 6.33 web pages per session – more than double the internet average of 2.8 pages per session.
Organizations Leading the Way: Recite Me Launches on Coca-Cola
Recite Me's suite of accessibility and language tools are now live on various Coca-Cola websites, including coca-colacompany.com, careers.coca-cola.com, and investors.coca-cola.com, providing inclusive digital experiences to consumers, job-seekers, and investors.
To support Coca-Cola's 700,000 employees worldwide, the toolbar is also live on the company's internal website to aid employees with disabilities, learning difficulties, visual impairments, and those who speak English as a second language.
Together, Recite Me and Coca-Cola are connecting people from around the world with the power of an inclusive website, community work, and the love for Coca-Cola as an iconic global brand.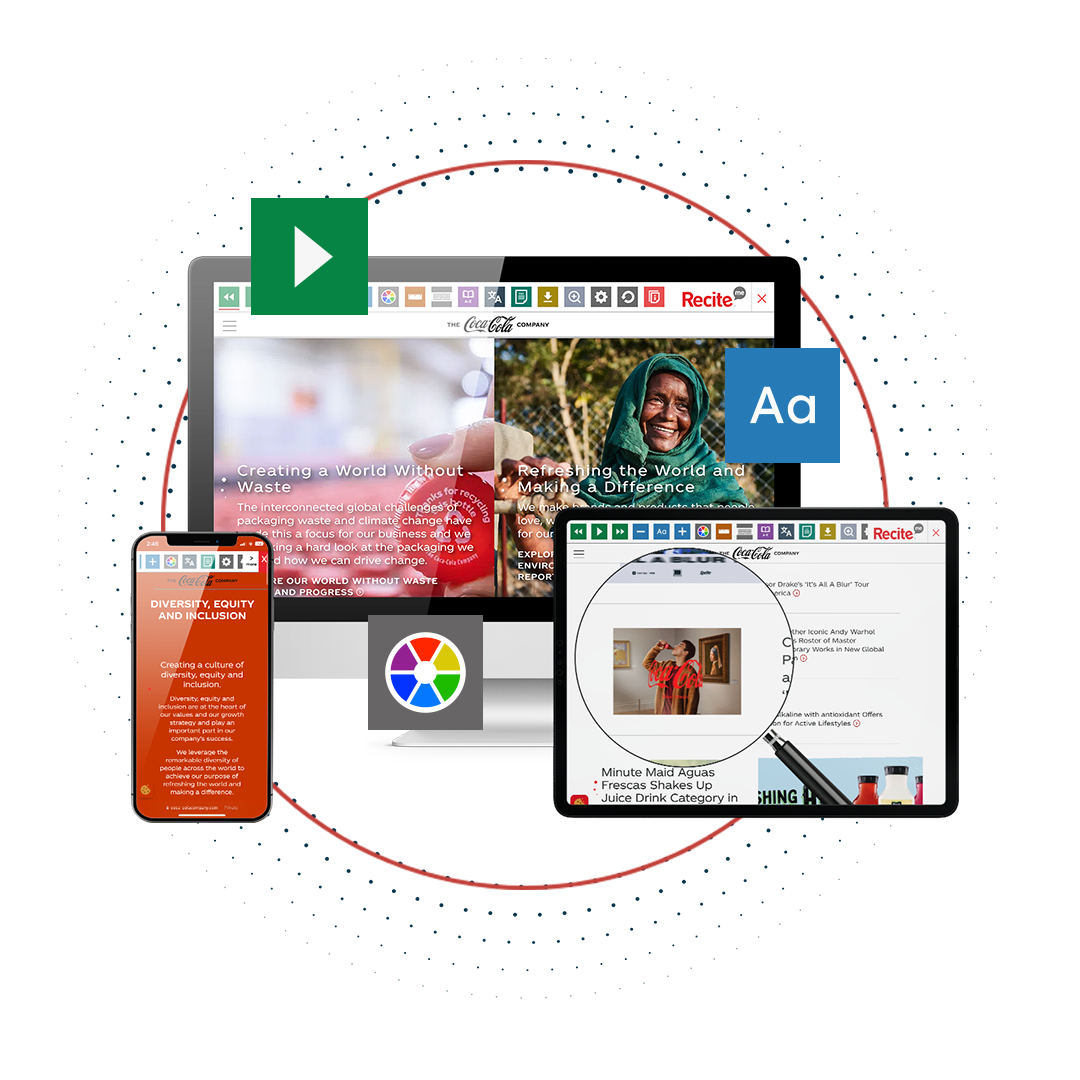 3 Ways F&B Organizations Can Become More Digitally Inclusive
Ultimately, technology that benefits people with disabilities benefits everyone, and upping your game on online inclusion needn't be scary – or an overnight process. Implementing several small and gradual changes makes it much easier for F&B companies to attract a wider audience, convert more leads to sales, and find and retain top talent to continue driving the business forward. 
Make sure your website build is accessible. Good web developers can help you adapt your site by incorporating best practices for accessibility. 
Familiarise yourself with the most up-to-date Web Content Accessibility Guidelines (WCAG), and aim for 2.1 Level AA compliance.
Use assistive technology to bridge the gap between accessibility and usability, creating an inclusive online experience for everyone.
Start Your Web Accessibility Journey
Our team is here to help you on your mission to provide more inclusive online experiences. Get started on your online inclusion strategy today by working through these action points:
Try our toolbar or schedule a free demonstration to see the difference it can make to your customers, clients, and employees.