In today's digital age, websites play a crucial role in connecting communities, providing resources, and fostering inclusivity. However, it is vital to recognize that not all websites are created equal when it comes to accessibility.

At Recite Me, we're passionate about making websites accessible to everyone. That means including people with disabilities, people who speak different languages, and those with varying identities and belief systems. Only by developing websites that are truly inclusive can we create online spaces that embrace the diversity within our global community.

So, what's the best way to tackle digital accessibility and inclusion on websites for organizations offering LGBTQIA+ support and representation? Here's everything you need to know…
Unveiling Common Struggles
Individuals in LGBTQIA+ communities often struggle in their pursuit of equal rights and opportunities. In the same way that disabled people strive to be recognized for their unique contributions, growing up lesbian, gay, bisexual, transgender, or questioning can present significant challenges – especially in a society where heterosexuality is widely considered the norm. Discrimination, social exclusion, and negative feelings associated with 'being different' are just a few of the primary issues shared by the two communities. So, for disabled individuals in the LGBTQIA+ space, inaccessible websites can feel like yet another barrier when all they are looking for is support and advice.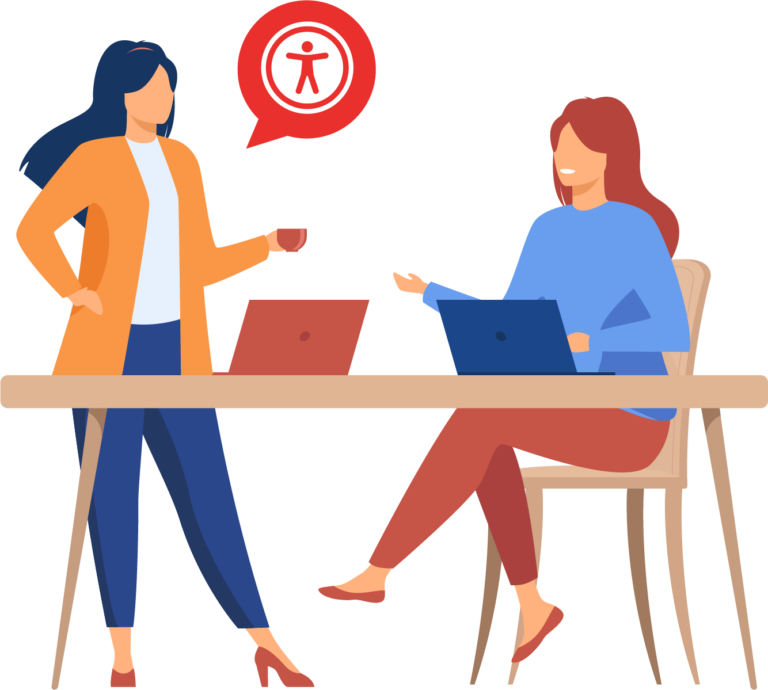 Defining Disabilities
When we hear the word 'disabled,' we tend to think of people in wheelchairs and those with mobility issues. However, statistics reveal that less than 8% of the disabled population require a wheelchair or mobility assistance. In many cases, disabilities can be entirely hidden. In fact, of the 42 million Americans that have a severe disability, 96% of them are unseen.
Hidden disabilities comprise a range of neurological, cognitive, and linguistic issues that affect a significant percentage of the population. It's estimated that overall, one in four Americans has a disability that can make accessing information online challenging.
What Barriers Do Disabled People Face Online?
Disabled members of the LGBTQIA+ community face the same issues as their straight counterparts. Specific online access barriers vary from individual to individual. However, a few common examples include:

Poor website design
– People with cognitive and neurological disorders cannot follow the flow of information if a website isn't clearly written and doesn't run in a logical order.

Insufficient color contrast
 – Users with neurodivergent traits like dyslexia, dyspraxia, and hyperlexia struggle to read websites with insufficient color contrasts between the text and background.

Unsuitable font type and sizing – Vision problems like partial blindness, color blindness, and deafblindness make some font types difficult to read, especially if sizing and spacing are not carefully considered.

Absence of closed captions – Deaf website visitors are denied information when on-page video content is not presented with captions.

Lack of keyboard accessibility – Individuals with physical disabilities may be unable to find their way around a website if keyboard navigation isn't an option.

Missing information – Visually impaired users may struggle to find context when images are missing suitably descriptive alt tags.

Incompatibility with assistive software – Those with severe visual impairments and website visitors who speak English as a second language may need to use a screen reader to have content read aloud.
How to Make Your Online Content Inclusive
To create an online space that embraces and celebrates the diversity within our community, an accessible and inclusive website is a must. Here are the steps to follow:
Educate Yourself About LGBTQIA+ Issues and Terminology
You can't improve LGBTQIA+ user experiences if you don't know what you're doing wrong. The best way to make improvements is to:
Adopt policies that promote diversity in the workplace.
Ask your LGBTQIA+ for their input and feedback.
Include LGBTQ representation in website design, development, and testing processes.
Familiarize Yourself with WCAG Guidelines
Worldwide accessibility guidelines are in place to help you make your website more accessible to everyone. The Web Content Accessibility Guidelines (WCAG) are the gold standard, and level AA is typically the minimum reference point when discussing 'making a website accessible.'
Comply with National and Local Web Accessibility Legislation
There are two critical pieces of website accessibility legislation in the US: Title III of the Americans with Disabilities Act (ADA) and Section 508 Amendment to the Rehabilitation Act. Both exist to ensure website visitors are not discriminated against or treated less favorably online – regardless of ability, ethnicity, sexuality, gender orientation, etc.
Invest in Assistive Technology
A proven way of supporting people online is by utilizing assistive technology. Embedding accessibility software on your website allows you to support a diverse range of users by providing tools that enable them to create fully customizable online experiences.
What Unique Inclusion Barriers Do LGBTQIA+ Website Visitors Face?
The language, imagery, and terminology used on many websites fail to convey diversity, respect, and sensitivity toward individual differences. To foster empathy and create online spaces that are welcoming and cater to everyone's needs, LGBTQIA+-friendly websites need to consider the following aspects carefully:
Language – Using gender-neutral terms is essential, as is providing text fields for website visitors to describe their gender identity in more complex ways than simply male, female, or non-binary. For example, many Native Americans identify as 'two-spirit, which doesn't fit into any of those pre-defined checkboxes.

Images – The images you include on your website have the power to make people feel acknowledged, understood, and respected. Diverse imagery includes people of different races, gender identities, socio-economic groups, ages, abilities, sexual orientations, sizes, cultures, and more.

Data capture – First of all, only ask for information if it's really relevant. For example, if a person's gender isn't relevant to the services they're seeking, don't ask for it. If deemed necessary, include a gender-neutral option like Mx in addition to the standard Mr/Mrs/Ms.

Security information – Small changes can make a big difference in making LGBTQIA+ users feel welcome on your website. For example, with so many young people growing up in same-sex households, old-fashioned security questions like 'What is your mother's maiden name?' must be retired.

Data Security – Data leaks aren't ideal for any customer group. However, they could be especially disastrous for LGBTQIA+ website visitors who are not yet out at work, home, or school, etc. So, your data security policies need to be thorough and transparent to ensure people feel safe and comfortable using your services.
How Can Recite Me Help?
Recite Me's innovative suite of accessibility on-demand tools makes websites accessible and inclusive for a diverse range of people:
The Recite Me Checker audits back-end and front-end web development processes by running 396 separate compliance scans in line with WCAG 2.1 and breaking down the issues you should be working to fix.
The Recite Me Toolbar promotes inclusivity by allowing end users with sight loss, cognitive impairments, learning difficulties, physical disabilities, and varying linguistic needs to access your website per their individual needs and preferences.
Organizations Leading the Way
Recite Me is proud to work with numerous clients in the LGBTQIA+ space already. We are delighted that so many organizations are committed to providing inclusive online journeys for the communities they serve. Our current client list includes:
"Equality New Mexico advocates for the rights of LGBTQ New Mexicans and works to expand access to meaningful opportunities through public policy and political engagement. Using the Recite Me tool on our website helps us reach more Queer and Trans people in New Mexico, whether that be by translating our information to Spanish and other languages our community uses, or by reading aloud information to folks with visual impairments and hidden disabilities."
Start Your Web Accessibility Journey
Our team is here to help you on your mission to provide more inclusive online experiences. Get started on your online inclusion strategy today by working through these action points:
Try our toolbar or schedule a free demonstration to see the difference it can make to your customers, clients, and employees.