Website accessibility refers to the design and development of a website that allows individuals with disabilities to access its content and features. In Australia, there are several laws that regulate website accessibility, including the Disability Discrimination Act (DDA) and the Australian Human Rights Commission Act 1986 (AHRC Act).
Disability Discrimination Act 1992 (DDA)
The DDA is a federal, Australian accessibility law that makes it illegal to discriminate against individuals with disabilities in areas such as employment, education, and the provision of goods and services. The law applies to all individuals and organizations, including websites and online services.
Under the DDA, websites must be designed and developed in a way that allows individuals with disabilities to access their content and features. This includes providing alternative ways to access information, such as text-to-speech software or closed captioning for individuals who are deaf or hard of hearing.
Australian Human Rights Commission Act 1986 (AHRC Act)
The AHRC Act establishes the Australian Human Rights Commission (AHRC), which is responsible for promoting and protecting human rights in Australia, including the rights of individuals with disabilities. The AHRC has the power to investigate complaints about discrimination and to take action to resolve these issues.
If a website is found to be inaccessible in a way that contravenes the DDA, the owner or operator of the website may face legal consequences, such as fines or legal action by the AHRC or individuals affected by the accessibility issues.
It's important to note that making your website accessible to people with disabilities is not just an accessibility legal requirement, but also a moral and ethical obligation. By ensuring that all users, including those with disabilities, can access and use your website, you can improve the overall user experience and help create a more inclusive and accessible online community.
In addition to the DDA and the AHRC Act, there are also industry-specific standards that apply to website accessibility in Australia. For example, the Web Content Accessibility Guidelines (WCAG) 2.1, developed by the World Wide Web Consortium (W3C)World Wide Web Consortium (W3C), are widely accepted as the international standard for web accessibility.
What are the Web Content Accessibility Guidelines (WCAG)?
The WCAG 2.1 provide a set of guidelines and standards for making websites more accessible to individuals with disabilities, including people who are blind or have low vision, deaf or hard of hearing, and those with mobility or cognitive disabilities. The guidelines cover a wide range of issues, including text and images, navigation, audio and video, and the use of technology. WCAG 2.1 web accessibility standards provide comprehensive guidance over three levels of conformance: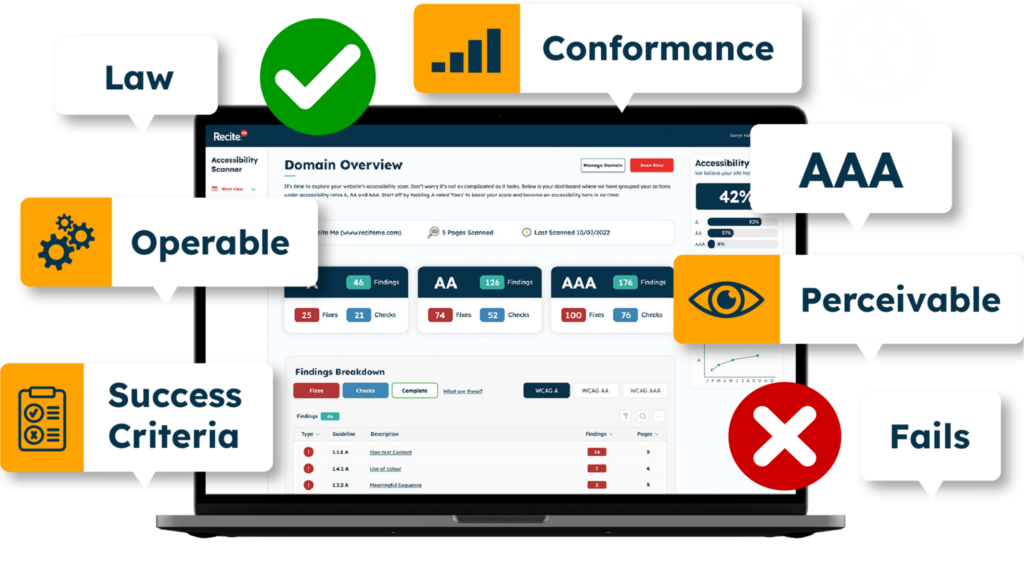 Level ALevel A – Level A criteria comprise a list of things you must do to provide a basic level of website accessibility standards on your website. Level A compliance is typically easy to achieve without much impact on website design or structure.
Level AALevel AA – Level AA criteria include more advanced website compliance points than Level A, comprising a list of things you and your development teams should do to meet an industry-accepted standard of accessibility guidelines. WCAG 2.1 Level AA is typically the minimum reference point when discussing 'making a website accessible' and is the standard to which websites are currently expected to comply.
Level AAALevel AAA – With even more extensive benchmarks, this is the most comprehensive standard of accessibility compliance detailing all of the things you could do to offer enhanced accessibility. For a website to achieve this rating, it must comply with every listed success criterion.
Across these 3 levels of accessibility ratings sit, 78 criteria, 508 testing techniques, and over 1000 technical checks to make sure websites are sufficiently perceivable, operable, understandable, and robust for all visitors.
Good User Experience & Accessible Websites
To be able to provide a website that is accessible to as many people as possible there are two considerations that need to be taken. One is how a website is designed and built and the other is the user's experience.
We all digest content in different ways and that's why having the ability to customise an experience is vitally important. People need to be able to navigate, read content, and engage with products and services in a way to suit their individual needs.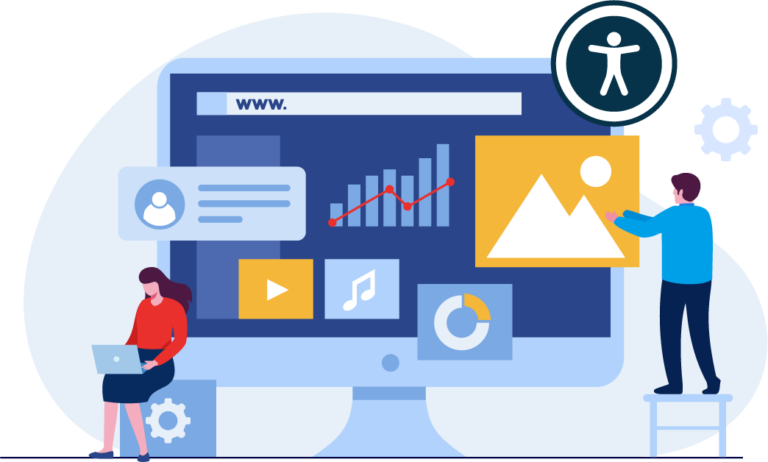 Download Our Digital Inclusion Toolkit to Support ALL Website Visitors!
The Recite Me Digital Inclusion Toolkit has been developed to help businesses make a real difference in people's lives. Download your copy today to learn more about:
Disability do's and don'ts.
Website design tips for an inclusive website.
Inclusive recruitment and workplaces best practices.
How to provide inclusive communications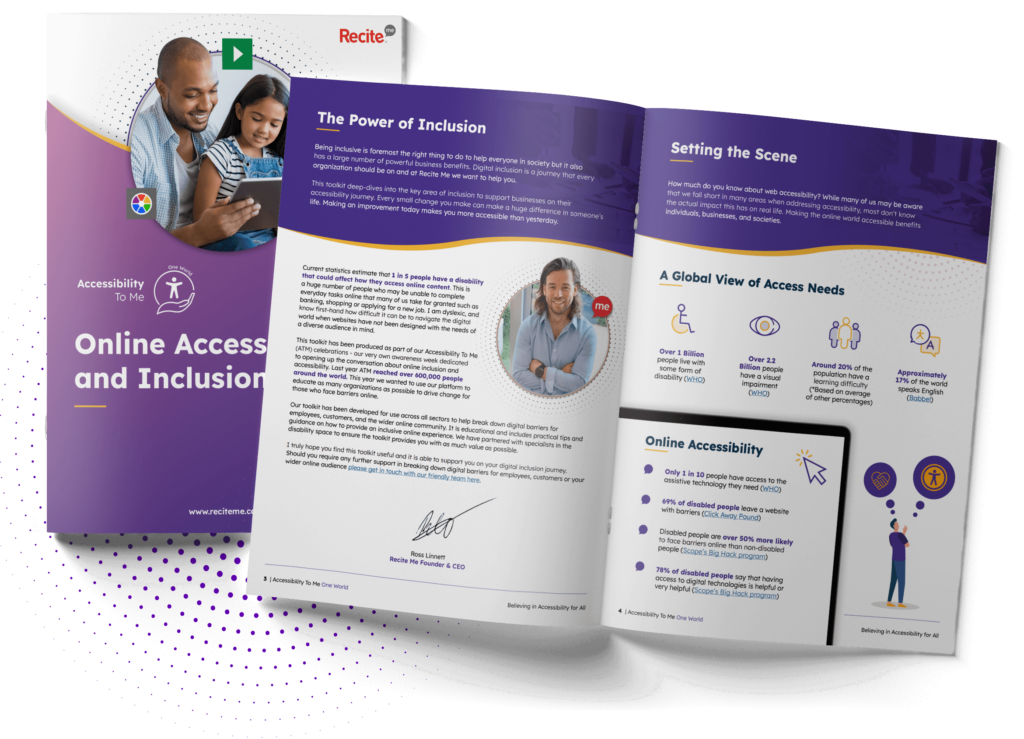 Through a suite of products Recite Me can support any organisation on its accessibility journey, from building a website that is WCAG compliant to providing much-needed additional support to create an inclusive experience.
The Recite Me Checker
A digital environment that is built with accessibility in mind drives your website toward WCAG AA compliance with every new piece of content and helps you to avoid fines and legal complications.
Whether you're taking the first step or accelerating toward accessibility goals, we can help and support you. Tell us where you want to take your accessibility efforts and we'll help you go faster and further.
The way a website is built is an essential consideration in accommodating varied accessibility needs. Our web accessibility checker enables you to: 
Identify any areas of non-compliance with WCAG criteria

Show you what errors to fix and check

Outline how to make the most effective improvements

Manage your fix queue

Track your improvements over time

Help you share your accessibility report to showcase your continuing commitment to digital inclusion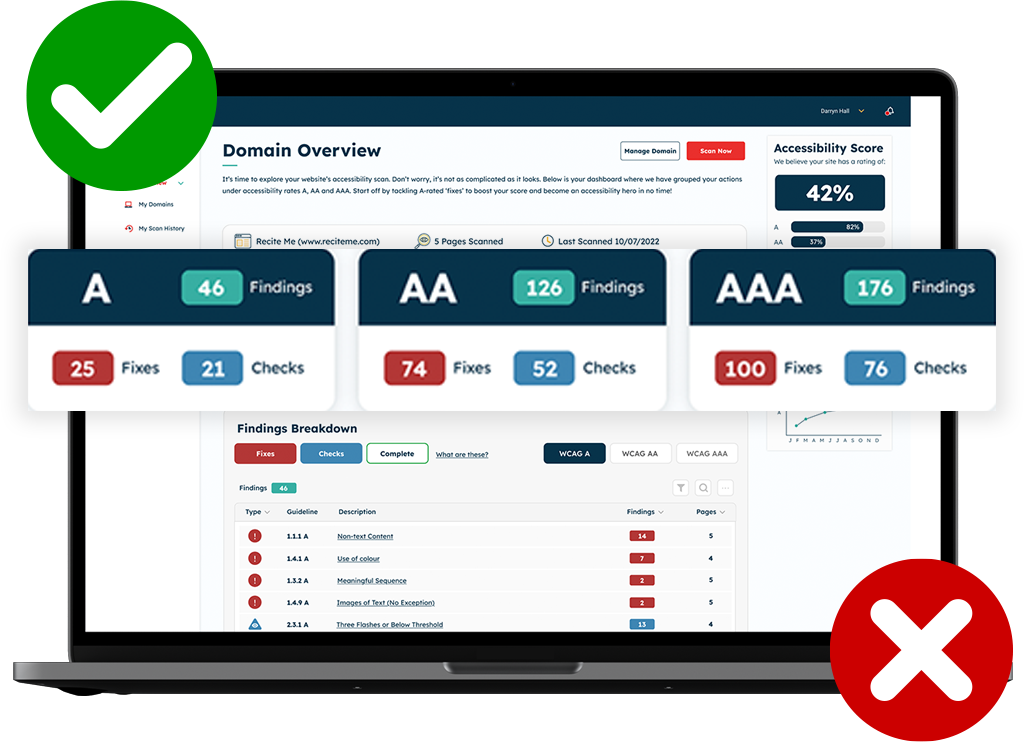 With the back-end website build taken care of, the Recite Me assistive accessibility toolbar boosts your website's usability by allowing website visitors to make individual or multiple adjustments for ultimate ease of use. Users can:
Personalise font size, type, and colour options to make each web page easier to read.
Choose the exact colour contrast between the text and background.
Utilise the mask screen tool, which isolates parts of the page to help with focus.
Use the ruler tool to make reading easier.
Download and save any written web content as an MP3 file as an alternative to reading.
Convert page content into over 100 different on-screen languages.
Have the page read aloud in a choice of over 40 different languages.
Customise PDF documents and have them read aloud or translated.
Zoom in on any part of a webpage.
·  Use the built-in spell-checker and a fully integrated dictionary and thesaurus.
Start Your Web Accessibility Compliance Journey Today
Website accessibility is an important issue in Australia, and there are several laws and standards that regulate it. The DDA and the AHRC Act provide a framework for ensuring that websites are accessible to individuals with disabilities. 
Making a website that is WCAG 2.1 AA compliant and that has additional user experience support, is imperative to create a digital environment that can be accessed by the widest possible audience including people with disabilities. But online accessibility is a journey, not a destination. Recite Me is here to help every step of the way to provide an inclusive and compliant website.
Get to work on your online inclusion strategy today by booking in some time with the Recite Me team.