We all know that e-commerce is big business, and with Black Friday, Cyber Monday, and the Christmas season fast approaching, retailers are doubling down on efforts to maximise their sales and revenue.
But what if their websites are not accessible to all online shoppers? People with disabilities make up the largest minority group in the world. This includes people with visual impairments, hearing deficits, and cognitive, learning, and neurological disorders, as well as those who are physically disabled. And that's without considering the millions of online consumers with diverse language needs.
Not supporting these shoppers would be a big mistake for online retailers.
How Big is the Disabled Shopping Market?
Over one billion people worldwide are disabled, and the spending power of disabled people and their families adds up to $8 trillion. We all know that's a big number, almost incomprehensibly so. So let's have a look at what 8 trillion dollars could get you in laymen's terms:
42 million new high-end cars

Annual salaries for 18 million teachers

145 million kilograms of gold

A home worth half a million for two million people
That's a whole heap of sales for retailers to lose out on because of an inaccessible website. Disability affects approximately one in every five people, so e-commerce businesses that don't have accessible websites actively exclude 20% of the market and lose revenue to their more accessibility-aware competitors.
In the UK, disabled people and their families have a spending power of £249 billion.

The online spending power of people with access needs in Australia is AUD54 million.

The total disposable income for Americans with disabilities is about $490 billion.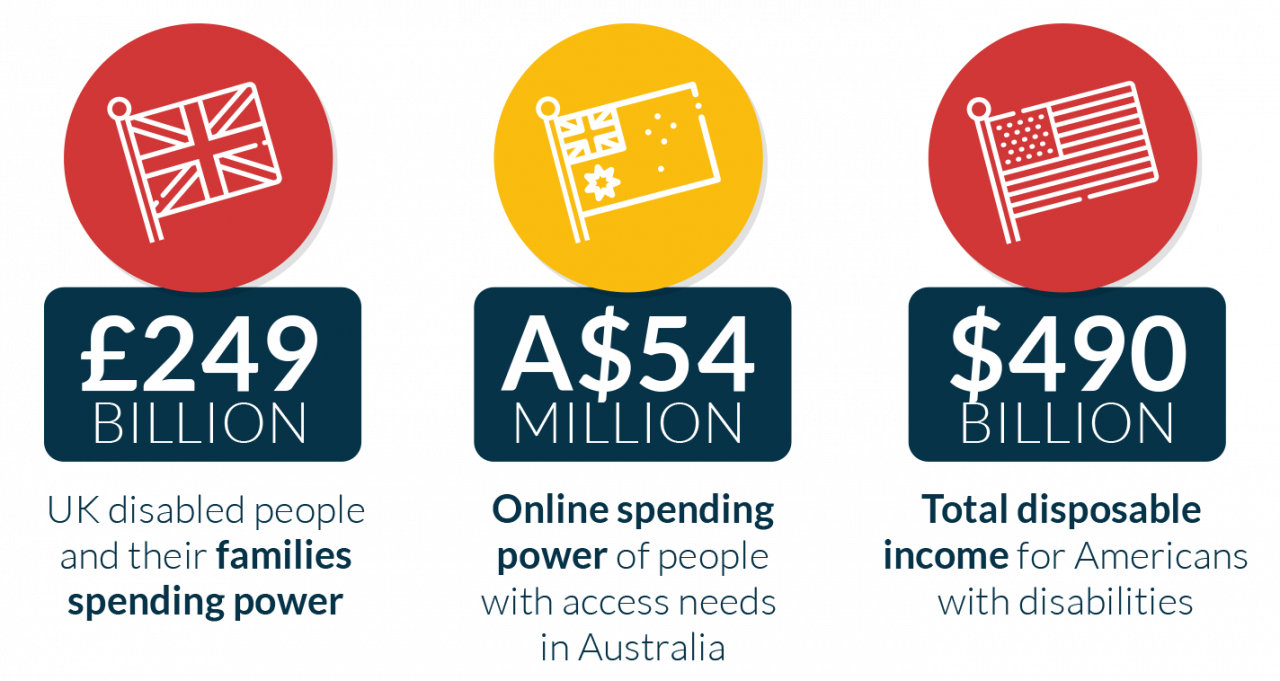 Shopping Online Versus Shopping In-Store
There has been a noticeable shift in preferences towards shopping online in recent years, and the e-commerce sector continues to expand rapidly. The lockdown and social restrictions of COVID-19 have boosted the demand for online shopping services. The advancement of mobile technology coupled with fast and efficient next-day delivery services – and the simple fact that consumers can shop easily from the comfort of their beds and sofas – are also significant contributing factors.
In 2019, only 14.1% of all global sales were e-commerce purchases. By 2021, this figure increased to 18.1%. And by 2023, online sales are expected to account for 22% of global retail spending, totalling a spend of over $6.5 trillion.
What Access Barriers to Disabled Shoppers Face?
There are hundreds of specific conditions that create barriers to accessing information online. But broadly speaking, there are four key reasons why users cannot access a website.
People Can't Read It – Because the size of the text, the font used, or the colour contrast between the text and background is not suitable, and screen readers and text-to-speech options are unavailable.

People Don't Understand It – Because the web copy is not clearly written, doesn't run in a logical order, or is not available in their language.

People Can't Navigate It – Because keyboard-only navigation is unavailable to people whose disabilities make smartphone use challenging.

People Are Scared of It – Because there are distracting flashing images, videos, or photo carousels that make maintaining their place on a webpage too difficult.
What Disabled Users Say
According to Think With Google, 63% of all shopping journeys start online, so the onus is on retailers to ensure that their websites are welcoming to all consumers. Yet, WebAIM's comprehensive analysis of the top 1 million home pages concluded that 98.1% have accessibility compliance failures.
Customer research undertaken by The Purple Pound and Click Away Pound determined that:
73% of disabled customers experience barriers on more than one in four websites they visit.
75% of disabled people and their families have walked away from a business because of poor accessibility or customer service.
71% of web users simply leave a site that they find hard to use.
83% of people with access needs limit their shopping to sites that they know are accessible.
86% of users with access needs would spend more if there were fewer barriers.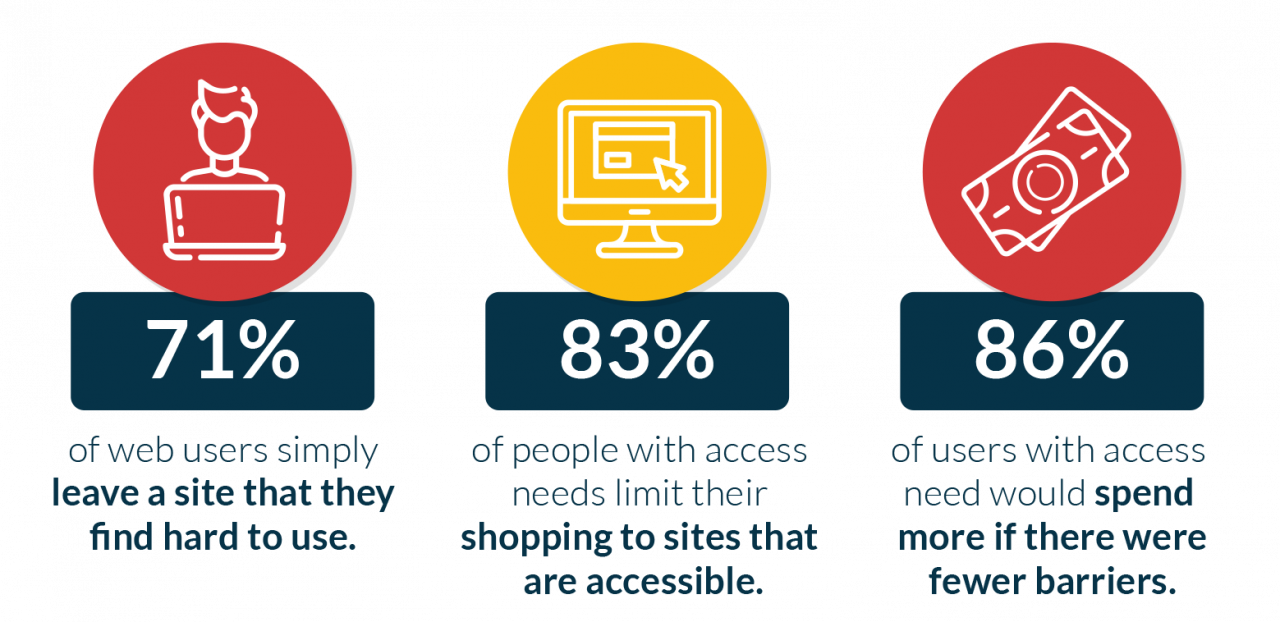 It's possible that many retailers don't realise how inaccessible their products and services are, because only 8% of site visitors will contact the owner to alert them to barriers they encounter. So it's imperative that businesses have a thorough understanding and are proactive on web accessibility factors.
3 Ways Online Retailers Can Support Disabled Customers
Ultimately, technology that benefits people with disabilities benefits all consumers, and upping your game on inclusion is not as scary, complicated, or costly as many people think.
Make sure your website build is accessible. Good web developers can help you adapt your site by incorporating best practices for accessibility.

Familiarise yourself with the most up-to-date Web Content Accessibility Guidelines (WCAG), and aim for compliance level AA.

Use assistive technology like Recite Me to bridge the gap between accessibility and usability, creating an inclusive online experience for everyone.
Being Accessible is The Smart Thing to Do
You've probably already established that being accessible is the right thing to do. But many organizations still hesitate, because doing the right thing doesn't necessarily equate to financial gain. However, where accessibility is concerned, this is simply not the case. Plus, there's a whole list of other benefits to smart companies that take the lead in becoming accessible ahead of their competitors:
Reach a wider audience. By attracting and retaining an additional 20% market share, you can significantly expand your customer base.
SEO Benefits. Many best practices for accessibility are heavily weighted on search engine algorithms. Learn more about Website Accessibility and SEO here.
Improved PR. Many customers consciously only buy from companies with inclusive values. Forbes Magazine recently reported that 52% of online consumers consider a company's values when making a purchase.
Improved Brand Reputation. Customers favour brands that care about helping others, and if your company isn't viewed as inclusive, some customers will simply not spend their money with you.
Companies Leading the Way
We are proud to work with numerous businesses in the retail and e-commerce sector already.
Promo Direct
Tesco
Boots
very.com
Paul Smith
Dunelm
Watford FC Online store
Computacenter

"By making use of cutting edge technologies on our website, we hope to build a future where nobody is left behind. We are committed to delivering a website that is accessible to a wide range of audiences, regardless of their ability and circumstance."

Dave Sarro, CEO of Promo Direct
How Recite Me Can Help Your Online Business
The Recite Me assistive toolbar bridges the gap between accessibility and usability and promotes inclusivity by allowing those with sight loss, cognitive impairments, learning difficulties, physical disabilities, and varying linguistic needs to access websites in the way that is best suited to them. Functions include:
Fully customisable text size, font, and spacing.
The ability to change text colour and background colour contrasts.
A screen mask to provide colour tinting and block visual clutter.
Additional reading aids such as an on-screen ruler and text-only mode.
Text-to-speech functions in 35 languages.
A real-time translation feature catering to over 100 languages.
What the Data Says
Recite me is now installed on over 3,700 websites, and over the last 12 months, our data shows that:
Our assistive toolbar was launched over 3.3 million times
Over 18.5 million web pages were viewed using the toolbar
Over 4.1 million individual styling changes were made
13.5 million pieces of content were translated into different languages
33.8 million pieces of content were read aloud
Want to Know More?
If you'd like to learn more about how your business can make a positive change towards inclusion and boost sales at the same time, please contact our team or book a real-time demonstration of our toolbar. You can also check out our ADA Compliance tester to see how accessible your website is.