Distance and remote learning have always been popular. However, in the ever-changing landscape of 2020 and 2021, many education institutions that offer regular attendance programs found themselves scrambling to switch to online and remote learning formats.
But it's not as straightforward as simply converting materials, lectures, and workshop plans into a digital structure. It is important to consider that not everyone learns in the same way. Different learning styles and different abilities must be accounted for, so digital materials must be inclusive of everyone, not just available to everyone.
The Student Demographic
Some students are disadvantaged in an online environment because information on websites is not as easy to digest as it would be in a normal classroom or lecture hall environment. Examples include students who have visual deficits, physical disabilities, learning difficulties, attention disorders, autism, or literacy and language issues, including speaking/reading English as a second language.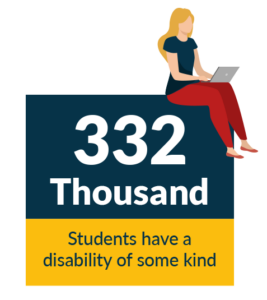 There are nearly 7 million disabled students in schools across the United States.
While numbers for the last academic year are skewed by students returning to their home countries during the COVID-19 pandemic, statistics show that the U.S. has the world's largest international student population with nearly 5% enrolled in higher-level education.
Internal Learning Portals
Introducing Moodle! Moodle is an open-source online learning platform that enables education providers to create personalized learning environments for their students.
Used by many top colleges and universities, Moodle is the all-in-one integrated system that allows students to:
Access course materials and upload work.

See their grades, gain feedback and contact tutors.

Keep a library archive of their coursework from the beginning to the end of their entire course.

Watch online videos and lessons.

Use messaging services and forums 24/7.

From an administrator's perspective, Moodle helps keep student data safe, secure, and easily accessible in one centralized digital location. Tutors can easily share and manage learning materials, communicate with learners, and monitor progress/reports.
Incorporating Web Accessibility
Moodle is a fantastic learning resource and an effective learning platform. But, like any online service, it will only work if every student has equal access. That's where web accessibility software like the Recite Me assistive toolbar comes in.
At Recite Me, we are firm believers that every stage of education should be inclusive. Our unique accessibility software compensates for numerous access barriers including:
Visual impairments

Deafblindness

Color blindness

Dyslexia

Hyperlexia

Dyspraxia

Autism

ADHD

Speaking English as a second language

Epilepsy

Mobility and physical impairments
Comprising several accessibility features that can be used individually or combined, Moodle users at universities that have installed Recite Me software can make multiple adjustments for ultimate ease of use. Users can:
Personalize font size, type, and color options to make each web page easier to read.

Utilize the mask screen tool, which isolates parts of the page to help with focus.

Use the ruler tool to make reading easier.

Download content as an audio file as an alternative to reading.

Convert page content into over 100 different on-screen languages.

Have the page read aloud in a choice of 65 different languages.

Customize PDF documents and have them read aloud or translated.
Recite Me, Birkbeck University of London, and Moodle
Birkbeck University of London has been using Recite Me on its public-facing website since 2017. In the autumn of 2020, the university improved its accessibility rating further by installing Recite Me on its internal Moodle platform.
The results in just a few short months were astounding:
The Recite Me toolbar was launched 81,279 times

11,596 unique individuals used the Recite Me toolbar on the Moodle website.

220,448 individual styling features were clicked
Interestingly for lecturers, our data shows that the most heavily used function was the player, which demonstrates that students do have a preference for having course content read aloud, just as they would in a classroom or lecture scenario.
Brett Lucas, Head of Digital Education at Birkbeck University of London commented, "Adding the Recite Me toolbar to Birkbeck's Moodle site has been a great success for our students over the last year. It is playing an important part in our goal to make all our digital tools and learning materials easily accessible to all our students."
Web Accessibility in the Higher Education Sector
Recite Me is proud to be working alongside many other leading education providers already, including Raritan Valley Community College, Foothills Academy, the University of Sunderland, Cranfield University, York University, and New College Durham.
Data from the last 12 months show equally staggering results to those that Birbeck recorded:
The Recite Me toolbar was launched 1.7 million times

Over 9 million pages were viewed with the Recite Me toolbar enabled

Over 48 million individual styling features were clicked

Again, the most popular function was text-to-speech playback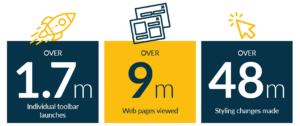 The Future of Remote and e-Learning
In 2020, 43% of academic institutions offering higher-level education courses invested in additional resources to aid remote instruction. Yet, according to a survey by EducationData.org, 76% of higher education institutions still believe that online learning platforms need to be more accessible to students.
Either way, whether due to continued social distancing regulations or simply because universities find it a simpler and more efficient way to teach, remote and distance learning courses look to be here to stay.
33% of post-secondary school administrators indicate they will continue to offer both remote and online course options even after their campuses have reopened and normal operations resume

The online learning industry is projected to pass $370 billion by 2026
A Message to Educators
To maximize opportunities presented by the booming remote learning market, education providers must ensure that information is accessible to all, rather than just available to all. But it is almost impossible for any stand-alone online learning portal to accommodate the broad spectrum of barriers that face their students. That's where assistive technology can help.
If you'd like more information on how your organization can make a positive change towards inclusion by utilizing Recite Me assistive technology, please contact our team or book a real-time demonstration of our toolbar. Together, we can make a difference and provide everyone with equal education opportunities online. If you want to try and optimise your websites accessibility, then definitely check out our WCAG checker for free.