The sport and fitness sectors are well known for creating strong community vibes and are recognized as an important means of promoting social inclusion.

While actively participating in exercise has clear physical advantages, there are also several mental health benefits – and you may be surprised to learn that many of these apply to being a spectator too. Simply being included and feeling part of a team environment can have significant positive impacts, including:
Boosted mood and reduced mood swings
Reduced depression, stress, and loneliness
Better sleep patterns
Increased confidence
Improved concentration.
But more than anything, sport brings people together. Whether it's hitting the gym, going to a football match, taking part in a fitness class, or watching the Olympics, sport unites people across geographical boundaries, cultures, generations, and abilities.
So why should it be any different in the online world?
Why is Website Accessibility Important to Sports Businesses?
The vast majority of fitness centers and sporting venues have already made their premises accessible to those with physical disabilities. But online, there are still many people who can't access the information they need. People look to the Internet for many services, including:
Finding a gym or sports club
Accessing results/scores
Checking dates and times of upcoming fixtures
Buying tickets to events
Purchasing or renewing memberships
Accessing online chats with fellow fans

Hidden Disabilities
Organizations need to remember that it's not just physical disabilities that need to be accommodated. Websites need to be accessible so that people with hidden disabilities like cognitive and neurological disorders, visual impairments, and language barriers can easily access the information they need. This involves making adjustments for internet users with a range of conditions, including:
Dyslexia
Hyperlexia
Dyspraxia
ADHD
Autism
Epilepsy
Deafblindness
Color blindness
Speaking/reading English as a second language
Online Access Barriers
People who struggle with any of the conditions listed above may have problems accessing, reading, processing, understanding, and navigating information online. Specific access barriers include running into problems with:
Focusing on relevant sections of text
Readability due to the font, text size, or spacing of the text
Poor color contrasts between the background and foreground
Distractions presented by graphics and image carousels
Web copy that's not in their first language
How Many People Are Affected?
To get an idea of scale, let's have a look at some global statistics:
2.2 billion people suffer from visual impairments
On average, around 20% of the population has a learning difficulty
Approximately 15% of the population is neurodiverse
Millions of people speak English as a second language
About 2% of the population is Autistic
Over 1 in every hundred people have epilepsy
Sources: WHO, United Nations

Create an Inclusive World to Unite Members and Fans
Sports clubs and facilities normally generate an incredible family atmosphere and can often form the heart of a community. The sector has a longstanding tendency to support the underdog, and sporting communities are well known for standing up for those who are discriminated against or whose voices cannot be heard.
Being inclusive isn't just the right thing to do though. There are significant benefits for your business including improved brand image, increased traffic and sales, reduced legal risk, and enhanced customer satisfaction scores.
Just Think…
People could be joining other gyms, clubs, and societies over yours because the information on their websites is easier to read.
There may be hundreds more people wanting to buy a membership to your sports club, but the application forms on your website aren't accessible to them.
You could fill all of the empty seats at your next event. But people can't navigate your website to find all the details they need to attend.
People want to get more involved and feel included, but neither your website's chat functions nor chat forums are optimized for inclusion.
Which Companies Are Leading the Way?
We are proud to work with numerous organizations in the sport, exercise, and fitness sectors already. Our client list includes:
American Baseball Coaches Association
Everyone Active
HFE
Newcastle United
Watford FC
Leicester City FC
Southampton FC
Middles Cricket
Lords Cricket
Kick it out
Basketball Ireland

"We want to give all supporters easy access to the information they want. We are committed to offering the best online experience to readers worldwide and giving our supporters control of how they view and navigate our website. Investing in Recite Me has brought the accessibility of our sport to the next level."

Paul Carr, Sports Inclusion Disability Officer, Basketball Ireland

 
"Our collective aim is to create a culture as varied as that of the great city we are honoured to represent. This toolbar is a tremendous step forward in ensuring that people can access news and information about our club more easily, which will undoubtedly increase our reach and engagement. "

Lucy Oliver, Head of Inclusion, Newcastle United Football Club
How Does Recite Me Work?
Once the Recite Me assistive toolbar is installed on a website, access barriers can be broken down. By making single or multiple adjustments to create a genuinely inclusive online experience, users can:
Personalise font size, type, and color options to make each web page easier to read.
Download content as an audio file as an alternative to reading.
Access text-to-speeh functions in 35 different languages.
Have text read aloud at varying speeds.
Utilize a screen mask and ruler for better focus.
Convert text into over 100 different on-screen languages.
Make use of the toolbar's built-in dictionary and thesaurus.
Switch to "text-only" mode to strip away graphics and page clutter.
Big Data
Over the last 12 months, Recite Me made thousands of website pages accessible. Our data shows that:
The Recite Me assistive toolbar was launched over 4 million times
Over 25 million web pages were viewed using the toolbar
Over 5 million individual styling changes were made using the Recite Me toolbar
Learn More
Now is the time to embrace online accessibility and make your website more inclusive. Together we can make a positive difference.
Recite Me is quick and easy to implement on your website and can usually be installed in under an hour. Our software is already active on over 3700 websites, and every year we help millions of people to enjoy inclusive journeys online.
We invite you to read more about who needs assistive technology, what people say about the Recite Me Assistive Toolbar, and how you can start goal setting for inclusion in our previous news articles.
In the meantime, if you'd like any further advice or information, please feel free to contact our team for more details or book a live demonstration of our toolbar.
Online Accessibility Guide for Sports Organisations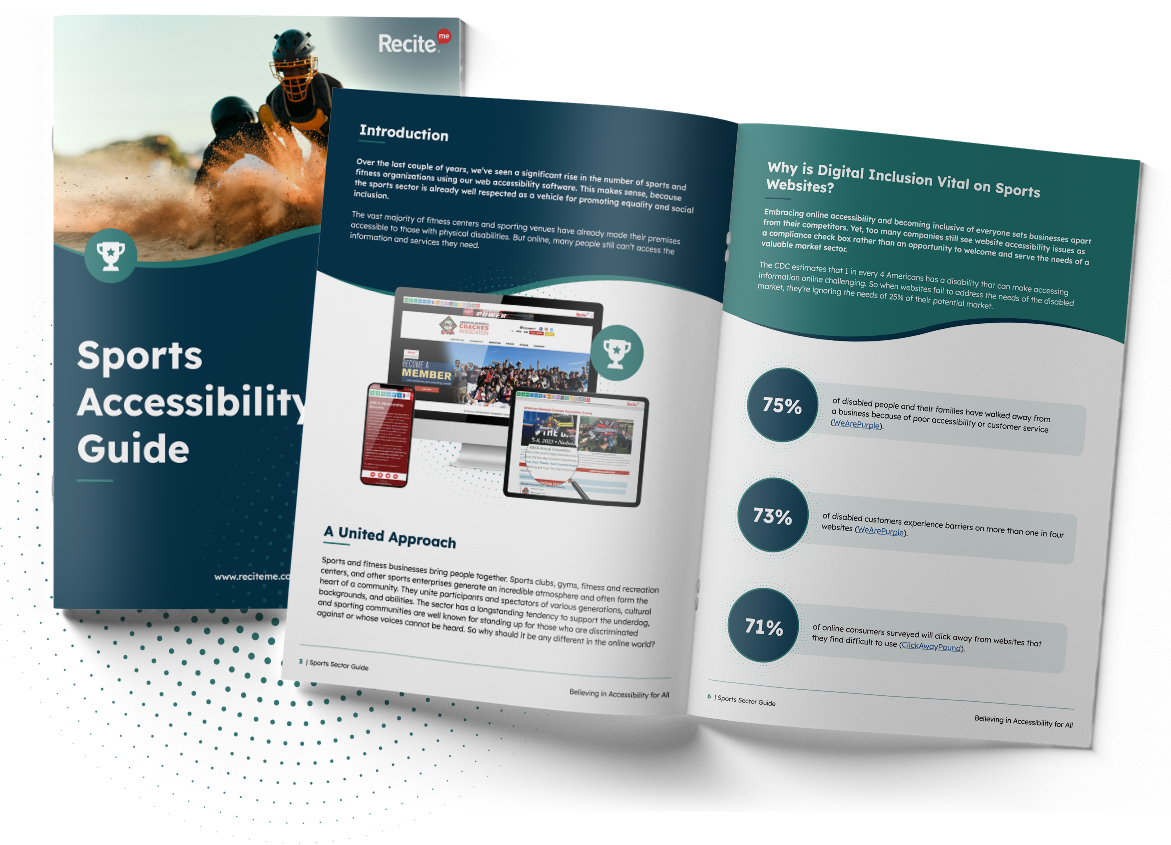 Find out how big the disabled shopping market is, some of the digital access barriers shoppers face, and our top tips for how online retailers can support disabled customers.