In the last couple of years, food insecurity has become a big program in the United States. While government food programs have traditionally assumed the main role in attempting to alleviate food insecurity, in the latest years, private food assistance led by food banks and/or local food pantries have emerged as key resources of food assistance in the U.S.
When we think about food insecurity overall, the major barriers that come to mind are cost and location. But when we shift our focus to inclusivity in online platforms, digital accessibility is a barrier that many food assistance programs have often ignored and left out of their core strategy.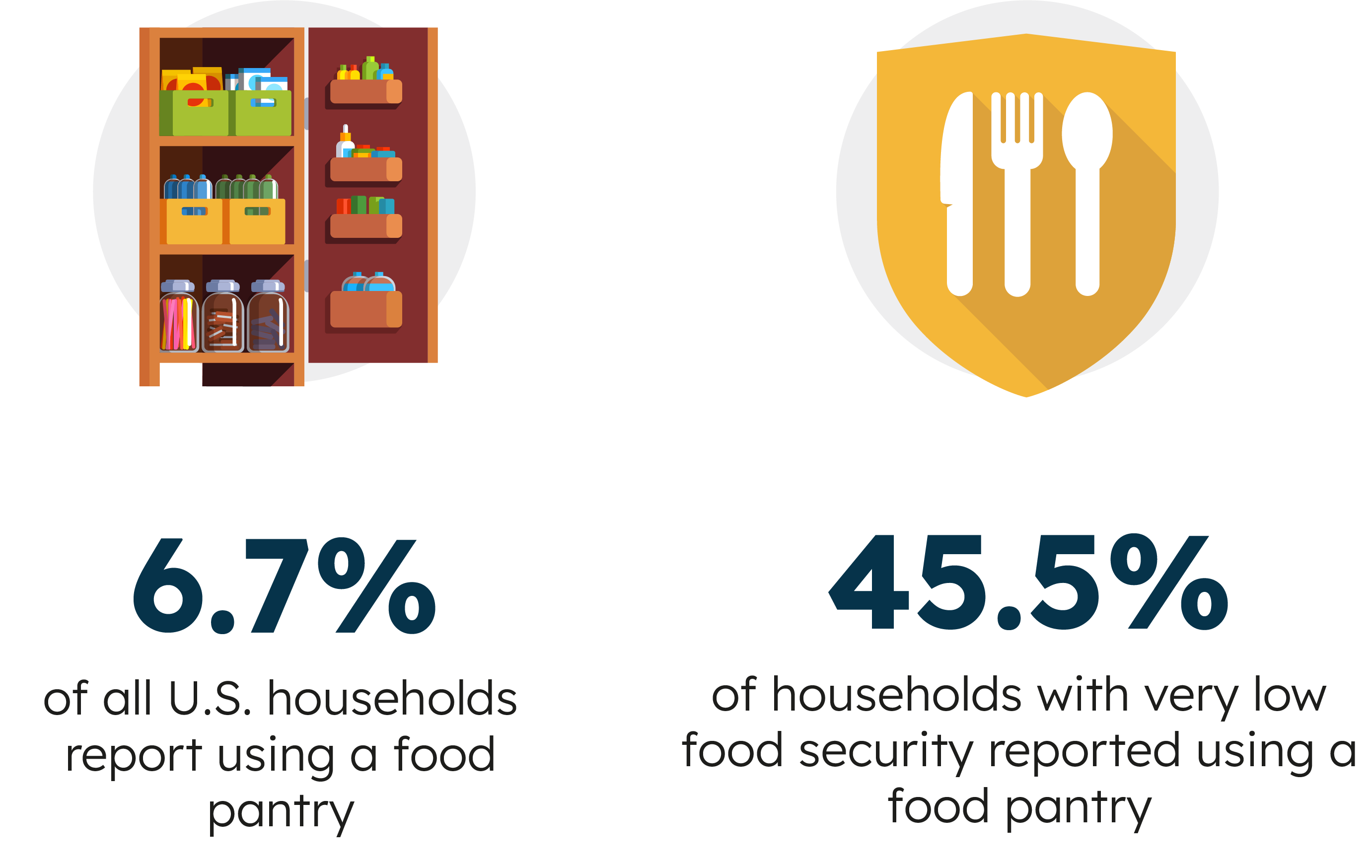 The simple fact is that 6.7 percent of all U.S. households report using a food pantry. USDA defines households as food insecure if they have difficulty providing enough food for all members at some point because there is not enough money for food. Among households with very low food security, 45.5 percent reported using a food pantry.
Barriers to Food Security
Even before the pandemic, it was clear that there was a lack of equity and access to food for those in need, particularly for individuals with disabilities. Most commonly, they faced high unemployment rates, low wages, restrictions around eligibility for social safety net programs, and physical and transportation barriers.
"Think about accessibility within the grocery store. It really shouldn't be an issue in terms of accessibility because of the Americans with Disabilities Act. The ADA was put into place to reduce those barriers in terms of access and whether someone with a wheelchair could get into a location, so that should be reduced..When we go back to location-based [accessibility], what if they can't get onto a bus? What if they do have access to public transportation and the bus is not handicap accessible for whatever reason?"

Lyndi Buckingham-Schutt, Associate Director of Wellness and Nutrition Policy, Harkin Institute.
When the pandemic hit, many food banks faced another hurdle as they had to fast-track their digital transformation to quickly provide food and other resources to more people in need. For people with disabilities, this meant a lot of information and resources wouldn't be as accessible. Additionally, disability and food insecurity have always had a close and well-documented relationship. Disproportions in economic opportunity have made disability a key factor in predicting vulnerability to food insecurity; in turn, increased food insecurity has also been associated with higher rates of disabilities related to chronic illness.
Working in a people-centric way is important, especially for organizations that interact with marginalized groups such as food-insecure individuals who often face stigmas that affect whether and how they seek resources. For that reason, providing a positive, accessible website tailored to an individual's specific needs is crucial.
Benefits of an Accessible Website
The internet can be an intimidating place for those with access barriers, and those lacking the tool they need to understand or communicate adequately are at a significant disadvantage. Food Banks and pantries everywhere are committed to increasing access to healthy, nutritious food for neighbors in need, and the Recite Me toolbar is the perfect tool to help ensure that everyone who needs food can find resources quickly and efficiently.
Recite Me offers a suite of language and accessibility tools that let your website visitors customize the appearance and functionality of each page in a way that works best for them. This includes people with disabilities and people who speak a language other than English at home, both of which may have a hard time understanding and interacting with your online content otherwise.
Accessible websites tend to see more traffic and more time spent on each page, which in turn leads to a greater number of people being able to access information on how to access food. The World Health Organization estimates that one in every five people has a disability, making accessing information online challenging. With many Food Banks and pantries adding information and resources online, individuals who need food assistance the most would be able to access the information they need barrier-free.
We have several partners in the Food Bank industry who have taken the next steps to embrace accessibility and become inclusive to all customers, including Food Bank of Delaware, Greater Baton Rouge Food Bank, and Good Shepherd Food Bank of Maine.
Food Bank Client Spotlight: Greater Baton Rouge Food Bank
Greater Baton Rouge Food Bank has been using Recite Me on its public-facing website since early 2022. The Food Bank has provided food and resources for its community since 1984 and nearly 40 years later, it has become one of the first Food Banks in the country to implement Recite Me language and accessibility tools, providing inclusive support for everyone
In the past 5 months:
The Recite Me toolbar was launched nearly 1,000 times

Visitors used the Recite Me toolbar to view and customize 3,253 pages

7,497 individual styling features were utilized
"For those who either struggled with accessing the information on our website or through our mobile app, Recite Me provides visual and auditory customization each user can change for their individual needs. People who needed food assistance the most who were not able to access the information in the past are now able to get the information they need."

Kristin Bellatti, Communications and Donor Relations, Greater Baton Rouge Food Bank
What the Global Data Says
Recite Me is now installed on over 5,000 websites, and over the last 12 months, our data shows that:
The Recite Me assistive toolbar was launched over 5 million times

Over 34 million web pages were viewed using the toolbar

Over 9 million individual styling changes were made

39 million pieces of content were translated into different languages

Over 57 million pieces of content were read aloud
Download our Online Inclusion Guide for Charities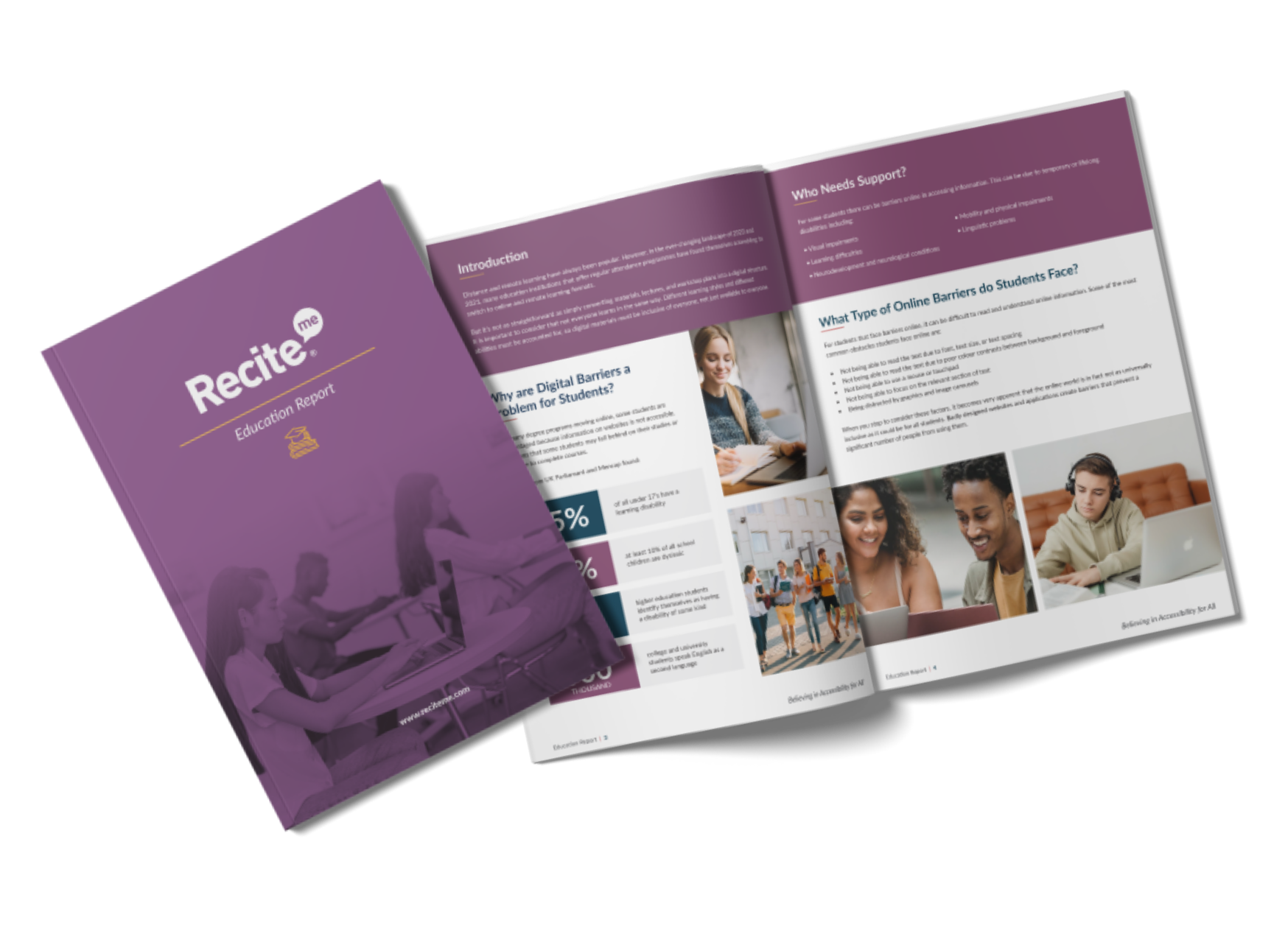 Download our Nonprofit Online Accessibility Guide to find out the benefits of an inclusive nonprofit website, the organizations we support, and our usage data on nonprofit and charity websites from the past year.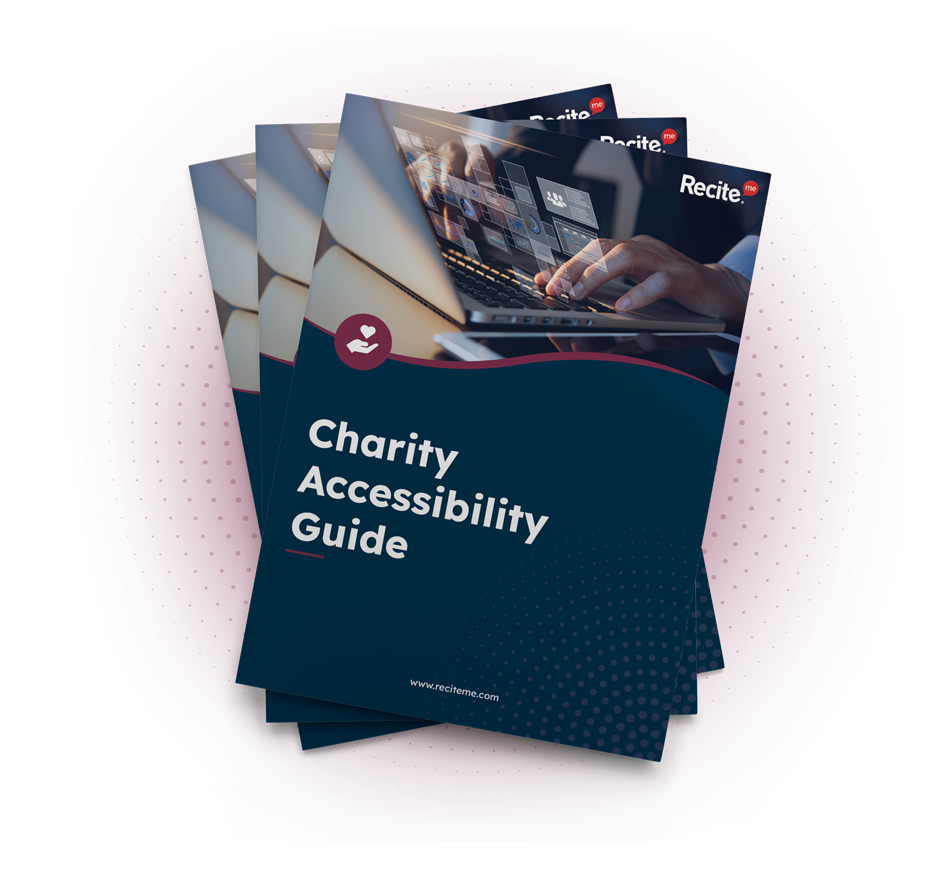 How can Recite Me Support your Food Bank Website?
What makes a website truly inclusive is giving people as many choices as possible to customize and consume the information in a way that is tailored to their individual needs. That's where Recite Me assistive technology comes in.
Our assistive toolbar supports a diverse range of internet users by providing tools to create a fully customizable experience. Our accessibility features can be used individually or combined to make multiple adjustments for ultimate ease of use. Once users have set their preferences, those settings persist across all pages using our toolbar.
Users can:
personalize font size, type, and color options to make each web page easier to read.

Utilize the screen mask tool, which isolates parts of the page to help with focus.

Use the ruler tool to make reading easier.

Download content as an audio file as an alternative to reading.

Convert page content into over 100 different on-screen languages

Customize PDF documents and have them read aloud or translated
Recite Me is simple to implement and, in many cases, can be installed in under an hour by adding just a few lines of JavaScript to your web pages. Our software is already active on over 5,000 websites, and every year we help millions of people to enjoy inclusive journeys online.
Contact our team to find out more or book a toolbar demo to see our software in action.