Louis Armstrong New Orleans International Airport (MSY) serves as the portal to a vibrant city – New Orleans. Renowned for its rich history and culture, delicious food, and unforgettable experiences, New Orleans is bursting with life and excitement the second you step foot out of the terminal! 
MSY provides a passenger-friendly environment that welcomes millions of travelers each year from around the globe. Their goal is to provide safe, modern facilities that meet the demands of each of their customers.
With approximately 5 to 15 million passengers passing through the airport each year, it was important for them to create a unique online experience for each website visitor and traveler.
In the last 12 months, over 5,200 passengers used Recite Me technology to book a flight ticket or obtain information on how to get to and from New Orleans International Airport.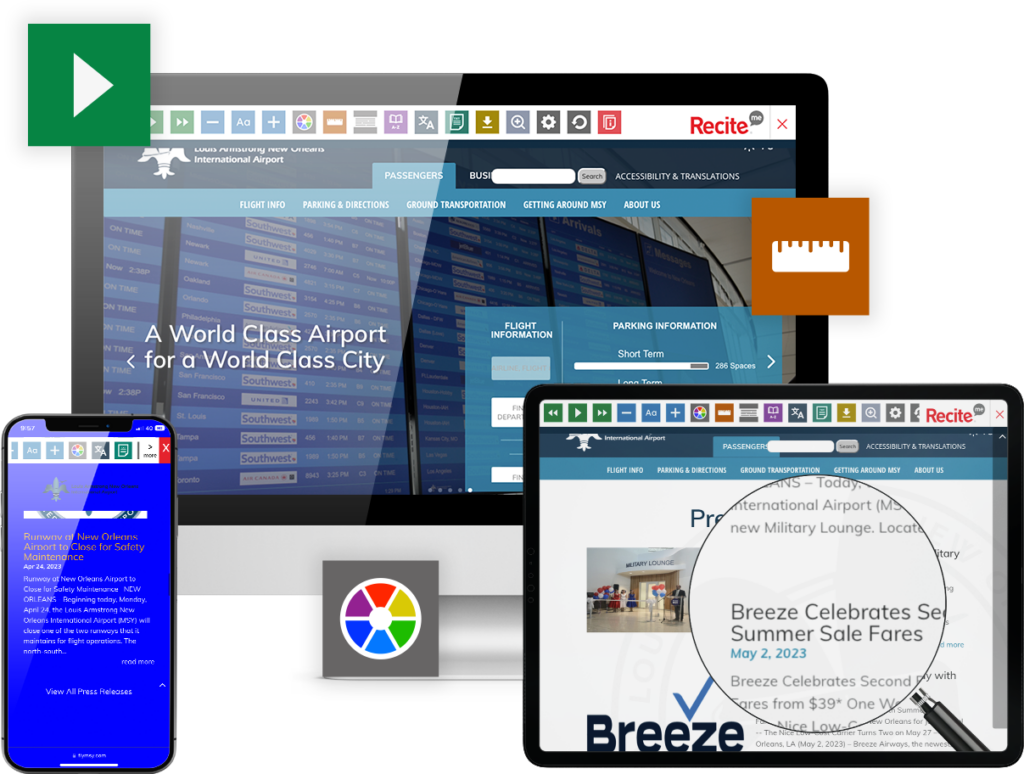 Kevin Dolliole, Director of Aviation, at Louis Armstrong New Orleans International Airport, commented:
"Providing an accessible customer experience is a top priority at Louis Armstrong New Orleans International Airport (MSY). With the Recite Me toolbar on our website, we are able to continue that mission of inclusivity in the digital space with screen reading functionality, reading aids, and a live translation feature. These tools help us improve our communication with passengers and the local community by reducing barriers to accessing important information."
In the past 12 months, 15,438 pages were viewed by over 5,200 people using the Recite Me language and accessibility tools on the Louis Armstrong New Orleans International Airport website. This includes various features such as screen reading functionality, multiple reading aids, customizable styling options, and an on-demand live translation feature that boasts over 100 languages including 65 text-to-speech.
By implementing accessibility tools on airport and airline websites, you contribute to an inclusive online environment and support thousands of people to access vital travel information barrier-free. 
Are you ready to make flying seamless for all of your passengers? The Recite Me team is ready to help you get started! For more information, contact our team or book a real-time demonstration.