Chief Diversity Officer, Diversity and Inclusion Manager, and Head of Social Responsibility. These job titles would have sounded obscure a mere decade ago, but now they are commonplace in organizations across the globe. Why? Because in today's society and within the modern-day workplace, injustices are taken more seriously and attitudes have been changing.
When employees feel comfortable and supported in discussing their discriminative experiences in the workplace, it pushes businesses to improve their organizational culture from top to bottom. It wasn't that long ago that diversity and inclusion (D&I) was perceived as a chore, but nowadays, more and more businesses see it as a means of achieving positive change.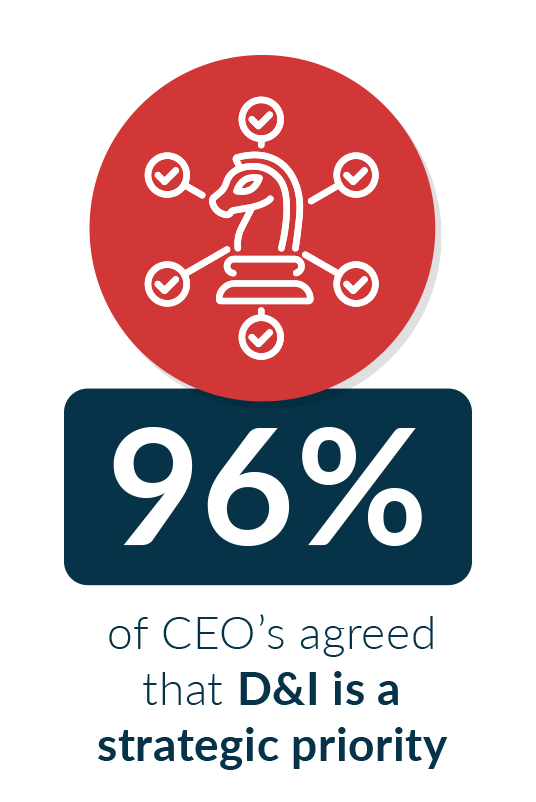 Did You Know…
In Fortune and Deloitte's 2021 survey, 96% of CEO's agreed that D&I is a strategic priority.
Inclusive teams outperform their peers by 80% in team-based assessments (Deloitte).
Diverse companies enjoy 2.3 times higher cash flow per employee (Deloitte).
Companies with diverse management teams drive 19% more revenue than less diverse organizations (Forbes).
Diverse companies with inclusive teams are 87% better at decision-making, are much more likely to capture new 
markets, and are 1.7 times more innovative than their competitors (BuiltIn Beta).

What is Diversity & Inclusion?
Diversity refers to individual characteristics and traits that make each person unique. These include gender, race, age, ethnicity, religious beliefs, sexual orientation, and physical ability. Inclusion represents the introduction of behaviors and social norms that make sure that everyone feels welcome.
"Diversity is being invited to the party. Inclusion is being asked to dance."

Verna Myers, Cultural Change Activist, Author, and Keynote Speaker.
Inclusion is essential if diversity efforts are to succeed. Simply checking the box on diversity hires is not enough. Creating an inclusive organisational culture is paramount to ensure employee engagement, productivity, and the long-term success of a business.
How D&I Representatives Are Driving Change
D&I roles have come a long way in recent years. Far from being a 'check the box' activity as a sub-component of the HR department, diversity and inclusion strategies have evolved into a core business function that businesses of all sizes should be keen to invest in.
D&I managers are responsible for identifying, creating, and executing plans that promote inclusion. They drive change by taking a person-centric approach that puts each person before their job role, ensuring every employee is treated as an individual. On a broader scale, the job role involves:
Developing training programs that enhance employee understanding of inclusion.
Reviewing workplace policies and standard operating procedures to ensure maximum inclusivity.
Supporting the recruitment team to create a brand personality that appeals to diverse applicants.
Working with HR to remove bias from application processes.

Disability & Inclusion in the Workplace
Physical disabilities are included in D&I considerations. However, there is a long list of none physical conditions that put people at a disadvantage. We call these hidden disabilities, and examples include vision problems, neurological differences, cognitive impairments, language issues, and learning difficulties.
Physical and hidden disabilities often act as a barrier to entering the workforce. An article published in The Independent highlights that:
On average, disabled people apply for 60% more jobs before finding one.
Nearly 40% of disabled applicants feel insecure about getting hired as they believe employers will disregard their application based on their impairment or condition.
Only 51% of applications from disabled people result in an interview, compared to 69% of non-disabled applicants.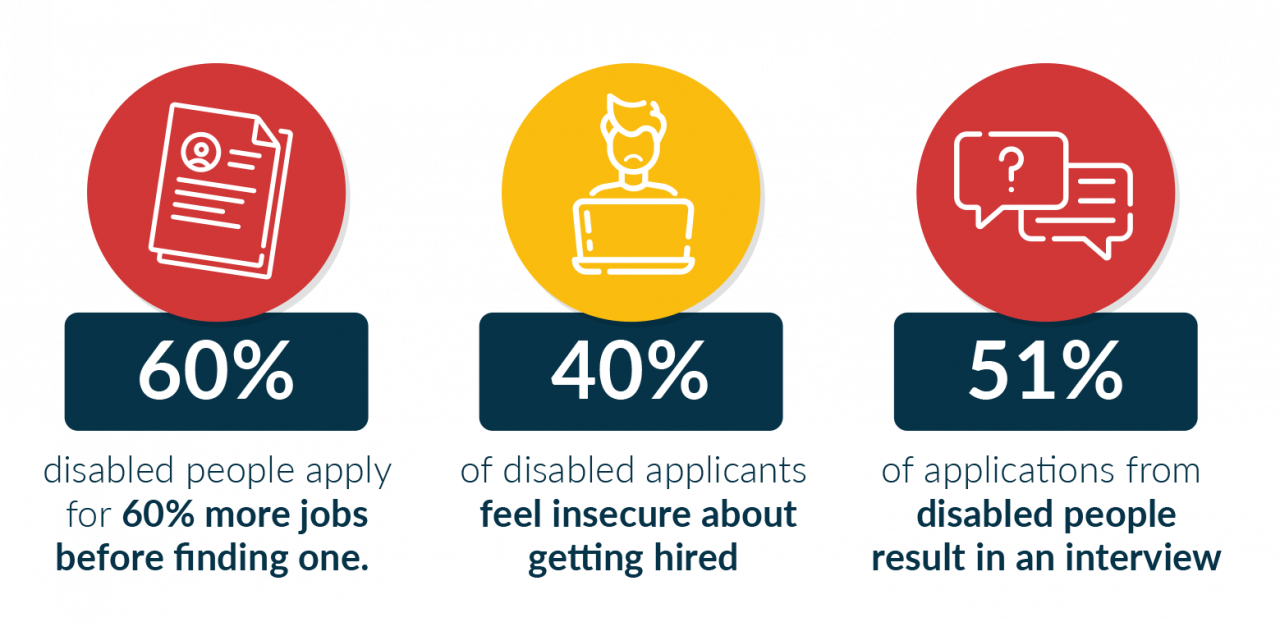 Online Barriers
Applicants and employees with hidden disabilities are at a particular disadvantage online as they cannot assimilate information on websites easily. Accessing content is usually challenging for one of four main reasons:
They Can't Read It – The size of the text, the font used, and the color contrast between text and background can all be barriers to reading.
They Don't Understand It – Web copy should be in simple language, run logically, and include alt tags and link descriptions.
They Can't Navigate It – Website errors like empty links and buttons, missing input labels on forms, and missing document language often make keyboard navigation impossible.
They Don't Trust It – Flashing images, videos, or image carousels can be triggering.
Without making adjustments for this, businesses fail to:
Tap into the broadest talent pool available
Provide an inclusive candidate journey
Support employees with the tools they need to excel
Allow staff to learn and grow to their full potential
Essentially, this comes down to understanding equality versus equity. Equality is giving applicants and employees the same fair treatment and consideration. Equity is giving them the tools they need to succeed. This means making reasonable adjustments that allow disabled employees to perform at the same level as their colleagues.
How You Can Help
There are several ways to improve your diversity and inclusion strategy to attract, support, and keep the best talent:
Adopting inclusive web design principles and ensuring your social media profiles are accessible to a diverse range of applicants.
Make inclusion an organization-wide process, including leadership training in unconscious bias and active listening.
Establish an inclusion council with an active role in goal-setting for recruitment, training, and retention.
Another proven way to support people online is to utilize assistive technology. Assistive software allows adaptions that account for varied digital access barriers.
The Recite Me assistive toolbar is already used by a wide variety of companies to support diversity in the workplace. Our software provides a variety of tools that allow users to create a fully customizable experience by:
Personalizing font size, type, and color options to make each web page easier to read.
Utilizing the mask screen tool, which isolates parts of the page to help with focus.
Using the ruler tool to make reading easier.
Downloading content as an audio file as an alternative to reading.
Converting page content into over 100 different on-screen languages.
Having the page read aloud in a choice of 35 different languages.
Customizing PDF documents and having them read aloud or translated.
If you're interested in making your website more accessible, then check the accessibility of your website for free using our scanner tool.
Champions for Change
We're proud to be helping businesses across a variety of sectors to become digitally inclusive. We are also passionate about working alongside other organizations with the same vision as us – to achieve accessibility for all. We work closely with the D&I managers of our clients to make sure they get the best possible results from using our assistive technology software. Here's what a few of them have to say.
"Online inclusion is a central part of our work and we are excited to be working more closely with the team at Recite Me going forward as we aim to break down the barriers for our employees and customers. "

Mo Kebbay, Diversity & Inclusion Manager, Landsec
"We are delighted to collaborate with Recite Me to support our website visitors with assistive technology options so they can use the website in the best way that supports them, and they can then engage fully with the University "

Justine Gillespie, Equality, Diversity and Inclusion Manager, University of Sunderland
"The University of London is committed to providing an inclusive and accessible experience, regardless of how our audiences and stakeholders wish to engage with us. Recite Me is an excellent way for us to provide additional online tools and services for those visiting our website and increase the level of accessibility quickly and easily. We have also adopted the accessibility toolbar on our intranet and jobs website to ensure everyone can access and modify the content in a way that makes it most useful and usable."

Mark Harrison, Head of Inclusion, University of London
"We are delighted to have launched Recite Me on our club website. Our collective aim at Newcastle United is to create a culture as varied as that of the great city we are honoured to represent. This toolbar is a tremendous step forward in ensuring that people can access news and information about our club more easily which will undoubtedly increase our reach and engagement. "

Lucy Oliver, Head of Inclusion, Newcastle United Football Club
Recite Me Data
Recite Me is now installed on over 3,600 websites, and over the last 12 months, our data shows that:
The Recite Me assistive toolbar was launched over 3 million times
Over 16.4 million web pages were viewed using the toolbar
Over 41. million individual styling changes were made
12.3 million pieces of content were translated into different languages
31 million pieces of content were read aloud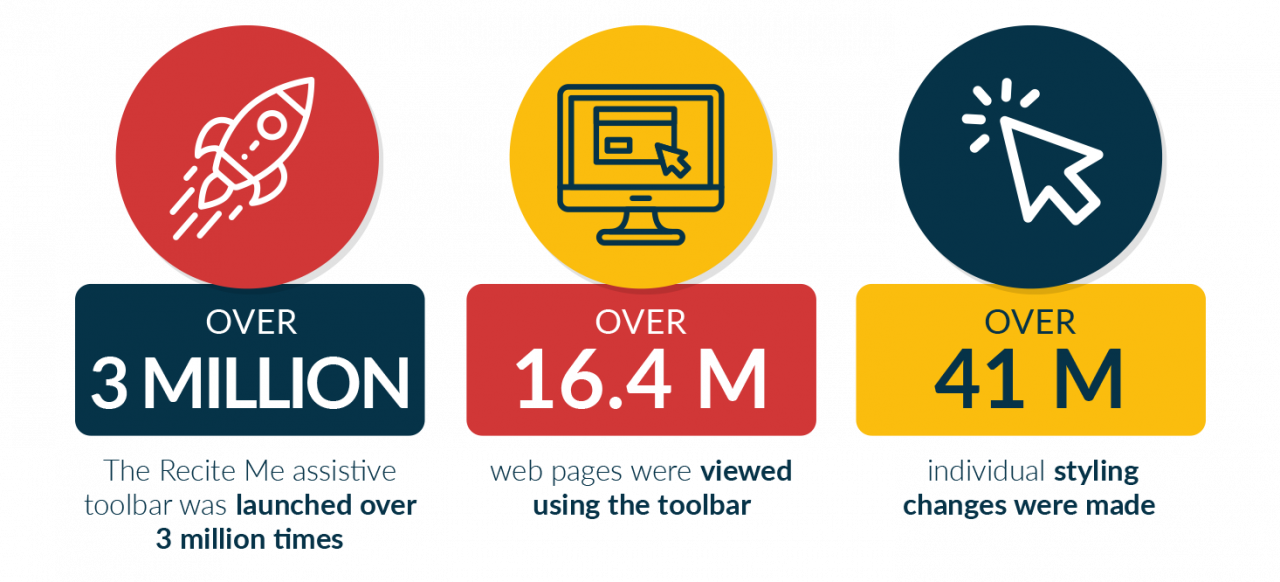 3 Steps to a Digitally Inclusive Workplace
Creating an inclusive work environment is beneficial for everyone. Here's our list of recommended steps to follow.
1. Commit to D& I Policies & Initiatives
Provide an inclusive candidate journey to tap into the biggest pool of talent. Download our guide to accessible online recruitment, compiled in partnership with Guidant Global.
Become a Disability Confident Employer. Disability Confident schemes exist to help employers be more inclusive and explore the benefits of employing disabled people. Over 20,000 forward-thinking companies, including Recite Me, are currently registered as Disability Confident.
Be proactive in regularly gathering employee feedback and ensure that employees with disabilities have a say in decision-making processes.
Create Employee Resource Groups (ERGs) that provide employees with a safe space to meet and discuss common interests and issues.
2. Know the Regulations
Become familiar with the Web Content Accessibility Guidelines (WCAG) and aim for level AA. This standard of compliance is legally required for certain sites and is typically the benchmark criteria used when 'making a website accessible'.
Businesses are required by law to make reasonable adjustments to avoid discriminating based on disability and accessibility. Examples include The Americans with Disabilities Act (USA), The Equality Act of 2010  (UK), The European Accessibility Act (Europe), and the Disability Discrimination Act (Aus).
3. Make Your Website Inclusive
Accessibility software enables people with access needs to view your website and job vacancies in the way that works best for them. Many organizations also use accessibility software on internal systems like intranets and learning platforms to ensure company information is fully accessible and inclusive to their employees.
"Inclusion is intentional. It is about identifying and removing barriers so that everyone can participate to the best of their ability."

Amy Harrison, Inclusion Specialist
If you'd like to know more about how assistive technology can help make your business more inclusive, you can contact our team or request a demonstration.
Online Accessibility Guide for D&I Professionals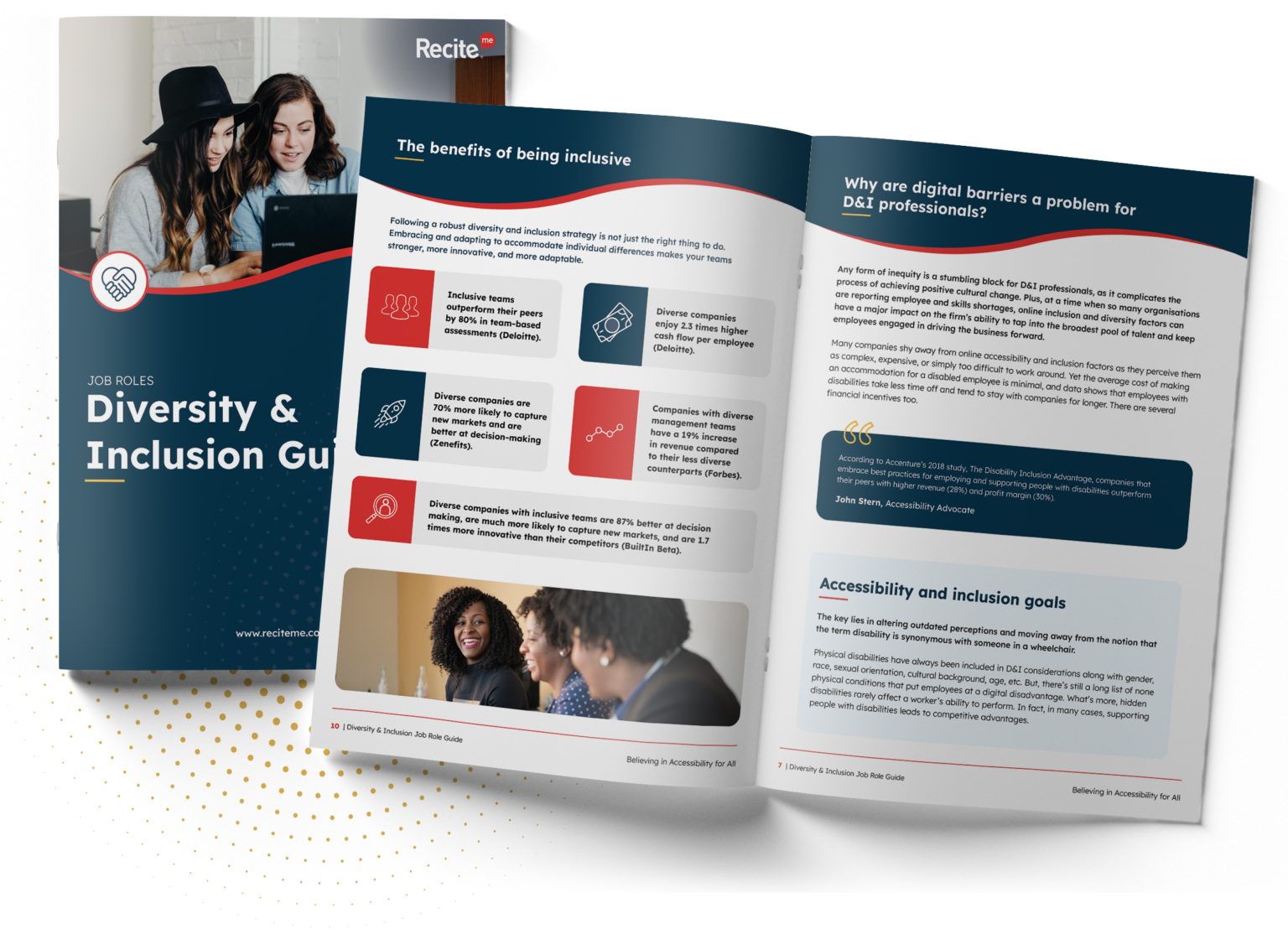 Download our guide to find out why D&I roles play a vital part in today's world, the types of online barriers customers, employees and applicants face, and how you can help to create an inclusive online experience.