Happy National Disability Independence Day!
July 26th marks the 31st anniversary of the signing of the Americans with Disabilities Act (ADA) by President George HW Bush. ADA legislation promotes equal opportunities for people with disabilities and makes it a legal requirement that businesses are accessible.
Read on to learn more about disabilities in America, what we're doing to help, and how you can help too by making your website more inclusive to people with varying access needs.
Disabilities in the US
1 in every 4 Americans live with some kind of disability. This includes both physical disabilities and hidden disabilities like visual impairments, cognitive and neurological disorders, and linguistic disadvantages. In the American population:
Over 10% have attention deficit disorders

5% have visual impairments

Up to 23% have a learning difficulty

Around 15% are neurodiverse

Over 67 million people speak a language other than English at home

Disability Laws
In the earlier years of the ADA, accessibility issues were focused more on physical factors, like having access ramps and elevators in shops and office buildings. However, with the advancement of technology and the continuous growth of e-commerce, online accessibility is now a significant factor.
Current ADA guidelines state that businesses must make reasonable adjustments to accommodate those with disabilities online. This protects people with disabilities against employment discrimination and allows for equal access to goods, services, and communications.
Disability Pride Month
July is Disability Pride Month. Inaugurated in 2015 to mark the 25th anniversary of the ADA, this is an annual international event focusing on inclusion. It's not yet as widely observed or understood as other big awareness drives like Black History Month, but the movement is growing in momentum every year.
Designed as a platform to promote diversity, share experiences, and celebrate all of the big and small wins that make communities more inclusive for people with disabilities, you can expect to see Disability Pride parades in many cities across America throughout the month – and particularly on July 26th.
The Importance of Online Accessibility
Many brick-and-mortar businesses are ADA compliant these days, but websites need to be accessible too. The internet should empower all members of society with the same information and opportunities. So more than anything else, it's just the right thing to do.
"The power of the Web is in its universality. Access by everyone regardless of disability is an essential aspect…The Web is fundamentally designed to work for all people, whatever their hardware, software, language, location, or ability."

Sir Tim Berners-Lee, Inventor of the World Wide Web
Why Create an Accessible Website?
Aside from the moral standpoint and feel-good factor, there are numerous other reasons to create an accessible website.
Revenue – The total disposable income of the US working-age population with disabilities is $490 billion. Ultimately, users will click away from inaccessible websites and spend their money elsewhere. So there is a clear case that making a business accessible online should lead to increased profits.
Branding – Forbes reported that 52% of online consumers consider a company's values when purchasing. Welcoming people with varied disabilities and access needs allow you to promote your commitment to inclusion and set yourself apart from the competition.
Employee Loyalty – Being an inclusive employer evokes feelings of pride that improve staff satisfaction and reduces turnover rates. Being inclusive also allows you to stand out as an employer, helping you attract a more diverse team, gain a wider perspective, and become more innovative.
International Guidelines – The Web Content Accessibility Guidelines (WCAG) and are the premium standards that should be adopted by organizations globally. The next update to WCAG 3.0 is due in 2022.

How Does Recite Me Help?
People who face access barriers online struggle for many different reasons, and often, making a singular adjustment is not enough. With the Recite Me assistive toolbar installed on your website, access barriers can be broken down by making single or multiple adjustments to create a genuinely inclusive online experience. Users can:
Personalize font size, type, and color options to make web pages easier to read. This is beneficial for readers who have dyslexia, dyspraxia, color blindness, or decreased vision in general.

Download content as an audio file, great for people with vision problems.

Access text-to-speech functions in 35 different languages, a fantastic function for site visitors with English literacy issues. Text can be read aloud at varying speeds with either a male or female voice, which is beneficial for autistic users too.

Utilize the screen mask and ruler, allowing those with ADHD and other attention disorders to focus rather than being distracted by other content on the page.

Convert text content into over 100 different on-screen languages, ideal for people who don't speak English as a first language.

Make use of the toolbar's built-in dictionary and thesaurus to check word definitions. This is particularly important for users with conditions like hyperlexia, who can read words but not necessarily understand their meaning.

Switch to "text-only" mode. This feature is favored by those with conditions like Epilepsy, as they can strip away media and graphics that could cause a seizure.
Recite Me Clients
Our toolbar has been integral in providing equal online access for people with disabilities across America and beyond. Here's what some of our clients have to say about the results.
Specialists in a range of retail, telecommunications, travel, and finance verticals, Awin generated over $12 billion in revenue for its advertisers and $901 million for its publishers last year.
"At Awin, diversity and inclusion is not an initiative but core to who we are as a company. Recite Me allows us to ensure an inclusive online environment and positive user experience for all our partners and employees. We couldn't be more thrilled to provide this tool. "

Alexandra Forsch, President of Awin US
A world-leading engineering and project management company with over 50,000 employees in offices in 50 countries.
"Recite Me goes to the very heart of our values. It's helping us build a diverse, inclusive environment where we respect, understand, and value different people – starting with how we recruit them. "

Victoria Jones, Head of Recruitment
MCO is the busiest airport in the state and the tenth busiest in the country, welcoming over 29,000,000 passengers per year.
"We have a long history of innovative solutions to spearhead focus on customer service. Recite Me is a more cost-effective solution for delivering web content in foreign languages and also adds many more accessibility tools to improve the user experience for visitors to our site."

Jerry Harris, Assistant Director of Marketing & Air Service Development
Recite Me Data
Our software is already installed on over 3500 websites, and every day we help thousands of internet users to enjoy accessible and inclusive online journeys. Our most recent 12 months stats show that:
We supported over 2.1 million users

Over 11 million pages were accessed with the Recite Me toolbar enabled
Our accessibility features were used over 35 million times to create unique user experiences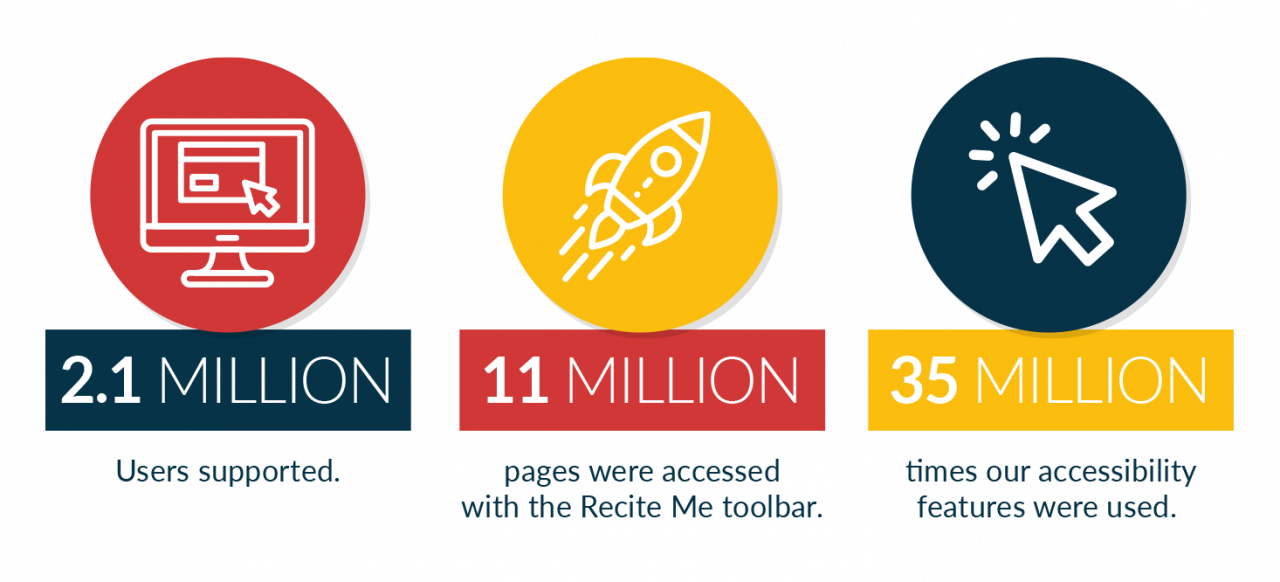 How to Improve Online Accessibility
2021 has been dubbed 'The Year of Inclusion.' More private and public sector regulations are on the way, and search engines are already applying heavier weighting to accessibility factors.
Here are the steps we recommend you follow to improve your website's accessibility scores.
Check that your web design conforms to best practices and principles for accessibility.

Make sure your website meets all relevant ADA legal requirements.

Familiarize yourself with current WCAG standards (version 2.2) and make any required adjustments to get your site updated.

Look into assistive technology software to add further layers of usability to your website.
Here's wishing you a wonderful Disability Independence Day from the whole team at Recite Me.
If you'd like more information on how your organization can improve inclusion by utilizing assistive technology, please contact our team or book a real-time demonstration of our toolbar. Together, we can make a positive difference and provide equal opportunities online.
Article Sources: CDC, DiverseAbility Magazine, Forbes, Accessible 360, WHO, United Nations